Predicting The 2013 Ohio State Recruiting Class
February 3, 2012

Jamie Sabau/Getty Images
National Signing Day has come and gone, leaving Ohio State with a top-five recruiting class. Soon, all the talk of the 2012 recruits will end and a new conversation will begin. Twenty-five players signed their LOIs, and there maybe room for one more, but Urban Meyer is already hot on the trail for 2013. The next class could be even better. 
The Buckeyes already have early commitments from two of the top prospects in Ohio: Cameron Burrows and Jalin Marshall. This could be the start of a loaded class. When ESPN asked Meyer how 2013 recruiting was going, Meyer responded, "Oh, we're killing it. We're all over it." 
It is likely that the class will be around 20 give or take a few. With Marshall and Burrows already in the 2013 fold, who will follow their lead and fill out the 2013 class? I will try to have an early prediction here. Schools in Ohio will only list the name. Out-of-state prospects will list the name of their school, city and state.
1. LB Ben Gedeon, Hudson, 6'2", 220: One of three prospects to receive an offer on junior day and could be the third commit of the 2013 class. Though OSU recruited five linebackers in 2012, Meyer will want more depth.
2. LB Courtney Love, Youngstown Mooney, 6'1", 222: Love already has an offer with Gedeon and will likely be part of the 2013 class unless he feels there is too much depth at LB.
3. RB DeVeon Smith, Warren Howland, 6'0", 215: Jordan Hall will be gone and an extra back would be nice. Smith has an offer from OSU and will likely be part of the 2013 class.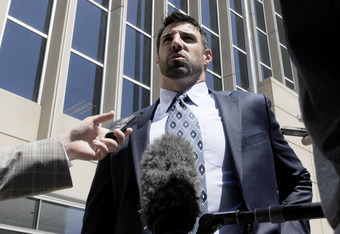 Hannah Foslien/Getty Images
4. ATH Caleb Day, Hilliard Darby, 6'1", 185: Though he could play offense, Day will likely be asked to play DB, either corner or safety. He has an OSU offer but is also considering Notre Dame and Florida as well as Cincinnati.
5. WR Shelton Gibson, Cleveland Heights, 5'11", 175: Gibson seems to be favoring Auburn but has an OSU offer. If current receivers Spencer, Smith and Fields develop and OSU lands Stefon Diggs or Davonte Neal, look for Gibson to go elsewhere unless Meyer really needs him or can convince him to play DB.
6. OL Lovell Peterson, Huber Heights Wayne, 6'4", 280: This will likely be a battle between Nick Saban and Meyer. Though neither Alabama nor OSU has offered yet, look for them to be coming soon. Illinois has offered but will not stand up to OSU and Bama. It will be between Braxton Miller and Trey DePriest on who can convince Peterson to come. Meyer and Saban may take a back seat in the recruiting process for Peterson.
7. DL or OT Billy Price, Austintown Fitch, 6'4", 285: After the massive haul of D-linemen in 2012 and depth from previous classes, there will not be too many DL recruits, but Price will be one. He could also move to OT.  Every Midwestern school, from Notre Dame to Pitt to Michigan, has offered, including Ohio State. My guess is he ends up Buckeye or Irish.
8. QB Malik Zaire, Kettering Alter (D-3/10-1), 6'1", 188: Zaire is an amazing athlete. If he is not a QB, can play pretty much any skill position. OSU will need one QB in this class, and Jalin Marshall is already being mentioned as a Percy Harvin-type player. Could Malik be the one behind Miller? He has an offer and will likely end up scarlet and gray.
9. OT Evan Lisle, Centerville , 6'5", 260: No Ohio State offer yet for Lisle, but the Sooners and Hurricanes have. OSU will always need O-linemen, and Lisle will likely be one of them.
10. DB Eli Woodard, Voorhers, NJ-Eastern, 6'1", 185: Schools like Alabama, Michigan, Notre Dame, Cal and Wisconsin, along with OSU, have offered. Knowing that Meyer will try to add DB depth in this class along with so many DBs from OSU in the NFL, it looks like Woodard will be Buckeye.
11. QB Tra'Von Chapman, Roosevelt, 6'2", 200: Chapman only has MAC offers as of now. Some call him a Braxton Miller clone, but my guess is that Meyer would want him at DB. If he insists on QB, then he will likely not be Buckeye.
12. OT Alex Gall, Moeller, 6'5", 285: No OSU offer yet, but Meyer is from Cincinnati, and don't be surprised if Gall begins a pipeline from Cincinnati Moeller to OSU.
13. RB Derrick Green, Hermitage-Richmond, VA, 5'11", 220: Green has offers galore from coast to coast. He has always favored OSU and considers Eddie George an idol. Look for Meyer to ask No. 27 for some help in luring Green to Columbus, and look for Green to try to wear No. 27 in scarlet and gray.
14. OLB Mike McCray, Trotwood-Madison, 6'3", 220: McCray does not have an OSU offer, but if he gets one he will follow teammate Cameron Burrows to Columbus and continue the Trotwood-Madison pipeline.
15. TE Mike Heuerman, Barron Collier Naples, FL 6'4", 215: Heuerman does not have an OSU offer yet, but would like to play with his big brother. He would come north if the Buckeyes offered.
16. WR Kevin Gladney, Firestone, 6'3", 180: Gladney has an offer from Michigan, so look for Meyer to try to get in on this prospect from Akron. But Jim Tressel is now at UA, so maybe the Zips look more appealing.
17. WR Robert Foster, Central Valley Monaca, PA, 6'2", 190: This is a "must get" player for Meyer, and he will pursue Foster relentlessly.  At 6'2", he is a player that can score whenever the ball is in his hands, and his size will also allow him to go over as well as around defenders. He will be a 5-star prospect, and one that every college will want to have.
18. OT Logan Tuley-Tillman, Manual Peoria, IL, 6'7", 280: Tuley-Tillman has stated that Michigan is his favorite, but Meyer has begun the process. He has offers from almost everyone in the country, but this battle will be between Michigan, Ohio State, Alabama and Notre Dame, with Ohio State or Michigan coming out on top.
19. OT Kyle Meadows, Lakota West, 6'6", 275: No offer yet, but the process is still early. If he gets one, look for Meadows to be Buckeye.
20. OLB Dymonte Thomas, Marlington, 6'1", 180: Already a Michigan verbal, many believe Thomas has always wanted to play with his cousin Bri'onte and that he will flip to OSU. Let us hope he does.
It will be interesting to see how this list compares with the actual commitments come NSD 2013. Some of these names will be deleted and some new names added, but one thing is for sure: Meyer and his assistants will work very hard to make sure 2013 is equal to or surpasses 2012. They already have two of Ohio's best in Burrows and Marshall. Look for more top Ohioans and non-Ohioans to join Meyer and the crew for hopefully many championship runs.