Super Bowl XLVI: 3 Candidates to Become This Year's David Tyree
February 3, 2012

Jim Rogash/Getty Images
Eli Manning may have won Super Bowl MVP honors the first time he faced the Patriots in the title game, but he got a major assist from an unlikely source—David Tyree. A virtual unknown and the Giants' 12th-leading receiver that season, Tyree made the miraculous pinned-to-the-helmet catch that kept Manning's game winning drive alive.
Here's a look at the second unit players most likely to go from unknown to Super Bowl hero on Sunday:
WR Ramses Barden, Giants
The most obvious place to look for Tyree's spiritual successor is in the unit he once belonged to: the Giants' receiving corps. If Hakeem Nicks' shoulder injury gets aggravated to the point of costing him playing time, Ramses Barden will find himself in the spotlight.
The third-year receiver is catching just over eight passes a season for his pro career, but he's not as implausible a hero as he might appear. Barden's 6'6" frame makes him ideally suited for snatching a jump ball for a TD, or in the middle of the field just like Tyree did.
RB Stevan Ridley, Patriots
The running game has been a second-class citizen in New England since Tom Brady's ascension, leaving backup RB Ridley one of the least recognizable members of an elite offense. Then again, he'd hardly be the least successful runner to blow up on the Super Bowl stage.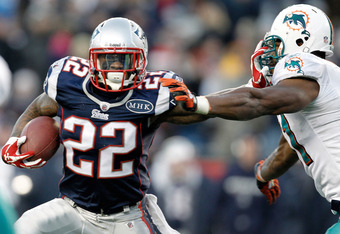 Winslow Townson/Getty Images
The Redskins' Timmy Smith set a record with 204 yards in Super Bowl 22—a figure that equaled one third of his career regular-season production. Ridley, who ran for 441 yards on the season, isn't quite that much of a dark horse. But, his taste for big plays makes him a threat to break a long run at a key spot on Sunday as he averaged 5.1 yards a carry.
WR Julian Edelman, Patriots
Most recognizable for having filled in for an injured Wes Welker in 2009, Edelman is a former Kent State quarterback who's seen little playing time as a pro. He caught four passes for 34 yards in regular season play in 2011.
With New England's offense featuring more tight ends in the passing game, there have been fewer opportunities for second tier receivers like Edelman to get on the field. If Rob Gronkowski is held back by his ankle injury though, Edelman could find himself on the field at the right time to earn a place in Super Bowl history.