Super Bowl 2012: Breaking Down How Patriots Can Slow Down Giants Pass Rush
February 5, 2012

Elsa/Getty Images
New York Giants quarterback Eli Manning won the MVP award in Super Bowl XLII, but a re-vote may have found defensive end Justin Tuck to be the game's MVP. He had two sacks on Patriots quarterback Tom Brady, including a key strip sack that stopped a Patriots drive at the end of the first half.
Headed into Super Bowl XLVI, the Giants have a wealth of pass-rushers who are all capable of wreaking the kind of havoc Tuck did in that game. 
"I thought Justin Tuck was the MVP," ESPN Monday Night Football analyst Ron Jaworski said according to the Hattiesburg American. "They moved Tuck around, got him on Logan Mankins. He's an all-pro player. But he had a difficult time with Tuck's power, speed and quickness."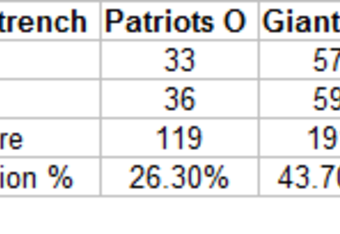 It's a matchup that could favor the Giants, if they're able to create that matchup. But it's not just as easy as lining up Tuck across from Mankins. There are combinations, or "games" as ESPN analyst Tedy Bruschi calls them, that the Giants will run in order to get those matchups:
So you have two defensive linemen and one of them runs at the opposing offensive tackle, who is blocking your teammate. Basically, you pick him and stay on his inside shoulder as your teammate loops under. What it does is put the other player, the offensive guard, into a bind where there are two people who have position on him and he has to make a choice to block while the other guy is still picking on the other lineman, pushing him out of the way. Now it's a two-on-one and that's where you have the problem. Even if the offensive linemen pick it up, what it does is drives them back and puts them into the lap of the quarterback.
If you haven't already heard, though, the Giants have a bevy of talented pass-rushers, and they'll likely use all of them in an attempt to come out of Indianapolis with a trophy.
"The way they play I'll have to face different guys," said Mankins according to The Boston Herald, "so the first problem is to know who you're blocking. Not many teams put four guys in there at one time with their kind of speed. We have to know what's coming and be up to the speed of the game they're going to bring.'' 
That front which Mankins speaks of is a four-man front featuring all defensive ends in Tuck, Mathias Kiwanuka, Osi Umenyiora and Jason Pierre-Paul, and has earned the nickname of the "Nascar" front (probably because they're really fast). Those are the only situations in which Mankins would be faced with Tuck or Pierre-Paul.
The Patriots saw that front a bunch during their Week 9 meeting, and after a shaky start, they were able to make some improvements.
Situation: 3rd-and-6, ball at the Patriots 28-yard line, 11:32 remaining in the first quarter. 
Patriots offensive formation: The 12 personnel grouping—one running back, two tight ends and two wide receivers—was New England's favorite this season. They ran it 70 percent of the time this season, more than any other team in the NFL. Brady is under center with Danny Woodhead lined up behind him.
Giants defensive formation: The Giants come out in the "Nascar" front four. From left end to right end: Kiwanuka, Tuck, Pierre-Paul and Umenyiora. This is also their "big nickel" back seven, with safety Deon Grant playing one of the linebacker spots.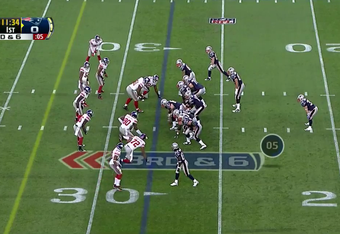 On this play, Mankins is faced with Pierre-Paul. The second-year defensive end is nearly able to swim his way past Mankins, but the Pro Bowl guard holds his ground and gives Brady enough time in the pocket to make a throw.
This play is just one piece of proof that Mankins isn't dead to rights when faced with one of the quicker pass rushers that the Giants have to offer.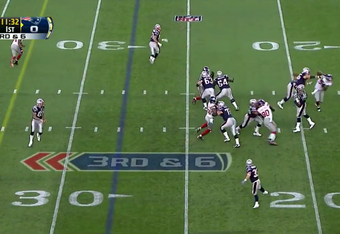 Of course, the Patriots saw that look more than once, though.
Situation: 3rd-and-7, ball at the Patriots 14-yard line, 5:03 remaining in the second quarter.
Patriots offensive formation: The personnel grouping is the same, but Brady is in the shotgun for this play.
Giants defensive formation: Once again, the Giants have their Nascar front four and their big nickel package.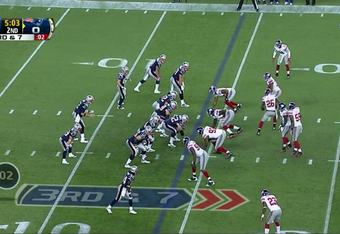 Mankins initially has Pierre-Paul, but a move to the inside puts JPP on backup center Ryan Wendell. When Mankins looks to help in clean-up duty by helping Matt Light against Umenyiora, guard Brian Waters actually blocks Justin Tuck into Wendell, thus knocking him off Pierre-Paul.
With Mankins' attention diverted, JPP has a clear lane to Brady and takes advantage.
Mankins didn't get beat, but he made a bad decision to leave Wendell alone on Pierre-Paul and Brady paid the price.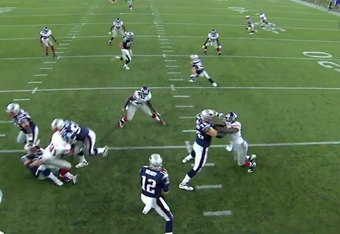 This is what Bruschi alluded to earlier, as the linemen end up in Brady's lap and he can't do much but duck for cover.
The Patriots faced the "Nascar" front four five times in the first half and gave up three pressures and one sack. In the second half, though, they didn't give up a single sack or even a pressure. That's pretty noteworthy. Considering it's the strength of the Giants defense, it probably wasn't by design.
How can the Patriots adjust? 
With quick drops, shotgun plays and even some rolling out from Brady, the Patriots were able to create some time in the pocket. But it also just came down to better blocking. The linemen stayed in their spots a bit better and didn't lose their assignments.
Situation: 3rd-and-7, ball at the Giants 26.5-yard line, 7:18 remaining in the fourth quarter
Patriots offensive formation: The Patriots field the 11 personnel grouping, switching out tight end Aaron Hernandez for receiver Chad Ochocinco. Deion Branch motions across the formation from left to right. Danny Woodhead is lined up in the backfield to Brady's right.
Giants defensive formation: Nascar front, "big nickel" backfield. Lather, rinse, repeat.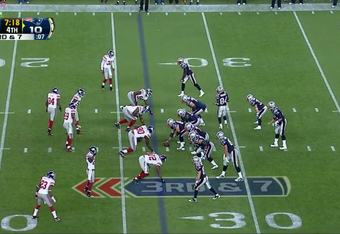 Wendell, the Patriots backup center, snaps the ball slightly to his right, and Brady takes a step in that direction before he even receives the ball.
The strategy works perfectly. There isn't a Giants defender within four yards of Brady.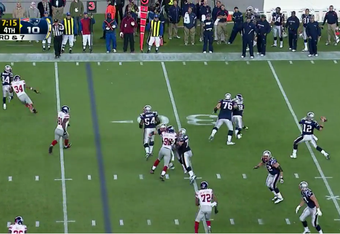 He watches the routes develop as he moves. He finds his target, as it appears Ochocinco will break toward the pylon and get open in the end zone.
Unfortunately, this is one of many footnotes on Ochocinco's 2011 season, as he wasn't on the same page with Brady and the pass falls harmlessly to the turf, incomplete.
However, the play call and design were both beautiful, as it bought Brady the requisite time to make the throw and allowed a big play to develop. This might be something for the Patriots to use with a little more regularity on Sunday if they're unable to keep a pocket around Brady.
But that's not all they can do.
Situation: 2nd-and-15, ball at the Giants 44-yard line, 9:08 remaining in the fourth quarter
Patriots offensive formation: From their bread-and-butter 12 personnel grouping, the Patriots line up in the shotgun formation with BenJarvus Green-Ellis flanking Brady on the right.
Giants defensive formation: The Nascar front is on the field, with the big nickel in the back seven once again.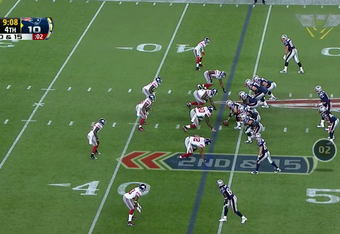 It looks like Brady knows where he's going with the ball before it's even snapped.
Regardless, the play call is perfect to put the brakes on the pass rush. A fake hand-off to Green-Ellis holds up Kiwanuka and Tuck on the left side, and Brady makes a quick throw to Gronkowski.
It's a tight window, but with the suddenness of the throw combined with Gronkowski's sure hands, Brady knows the play should work.
The six-yard gainer isn't much, but it helps turn a daunting 2nd-and-15 into a manageable 3rd-and-9.
And if all that's not enough for you, just look at how much time Brady's line gave him on the very next play.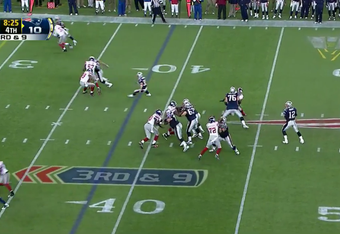 There are plenty of options to slow down a fierce pass rush like the one the Patriots will face on Sunday: short passes, quick drops, shotgun formations, play-action passes, screens, roll-outs and more. 
We only touched on a couple here, but look for screens to be an important part of this game, namely to Danny Woodhead. The little guy had a big game against the Giants in Week 9, accounting for 60 yards on 10 touches. After a season-high 15 touches in Week 1, he had more touches in the Giants game than any other game of the season. His size could present matchup problems against the Giants linebackers. 
Running back screens used to be a big part of the game plan, and the Patriots have gotten away from it somewhat. The matchups they could create with Woodhead against the Giants linebackers, combined with the additional benefit of keeping the Giants pass rush on its heels, make this a perfect time to bust out some of those misdirection plays.
But really, there's no substitute for solid protection from the guys up front. They've proven they can do it all year long, but they have one mountainous task ahead of them on Sunday.
Erik Frenz is the co-host of the PatsPropaganda and Frenz podcast. Follow Erik on Twitter.