Dwight Howard Trade Rumors: 4 Dwight Howard Scenarios to Benefit Orlando Magic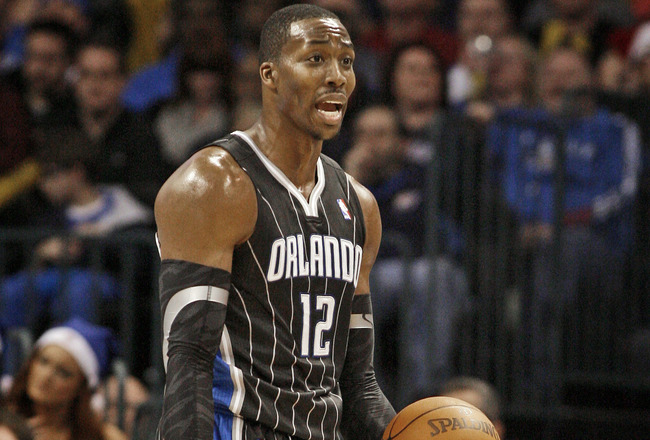 Brett Deering/Getty Images
With the quickly-approaching trade deadline on March 15, the biggest name on the table right now is Dwight Howard.
After the preseason came and went this year, Howard said that he was content to stay in Orlando for the season.
Now, Orlando is struggling to play with any kind of consistency and sitting sixth in the Eastern Conference standings, with a 13-9 record—and Howard is quickly getting anxious.
I will break down the top four Dwight Howard scenarios that could play out between now and March 15.
Dwight Howard to the New Jersey Nets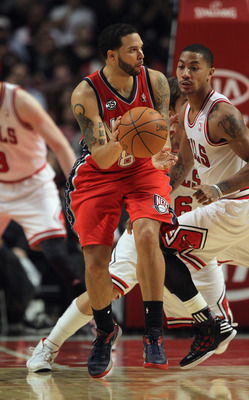 Jonathan Daniel/Getty Images
The New Jersey Nets are in desperate need of someone to help them out.
With Brook Lopez still hurt and no real timetable as to when he will return, the Nets look like one of the most probable locations for Dwight Howard to land.
New Jersey almost worked out a three-team deal with Orlando and the Portland Trail Blazers that would have sent Gerald Wallace to Orlando with the promise of four first-round picks from New Jersey.
Now that Lopez is hurt and the Blazers have become increasingly fond of Wallace, New Jersey has some work to do if they want to be able to pull off a trade of this sort.
Dwight Howard and Dirk Nowitzki Meet in Dallas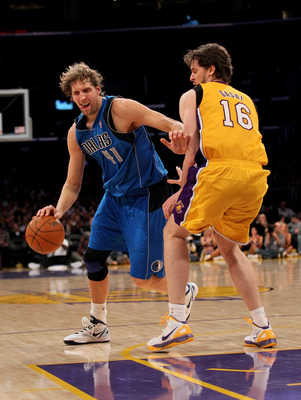 Stephen Dunn/Getty Images
The second-most-probable place for Dwight Howard to land would be in Dallas with Dirk Nowitzki.
For this to happen, Howard would have to spend the rest of the season in Orlando and then become a free agent. If he does stay with the Magic through the end of the season, Howard's odds of ending up with the Mavericks greatly increase.
The only two things that could prevent Howard from ending up in Dallas next season would be if the Magic trade him to another team before the deadline, or if the Mavericks pursue Deron Williams instead.
If Howard and Williams make it to free agency in the offseason, however, there is a possibility that the Mavericks could land both of them.
Dwight Howard and Kobe Bryant Restore the Los Angeles Lakers to Power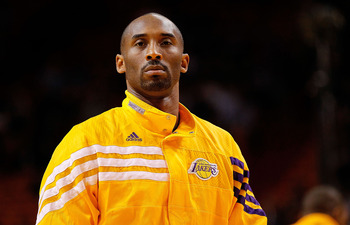 Mike Ehrmann/Getty Images
Some people have speculated that if Dwight Howard is traded before the March 15 deadline, the only possible destination would be to the L.A. Lakers.
Many, though, do not think that L.A. would be willing to sacrifice both Andrew Bynum and Pau Gasol, which is what it would probably take to be able to land Howard in a trade.
That was at the beginning of the season, however. Now, the Lakers, who are currently sitting sixth in the West with a 13-9 record, may need to think more about the possibility of a trade to help get their team back on track.
Orlando Brings Someone to Dwight Howard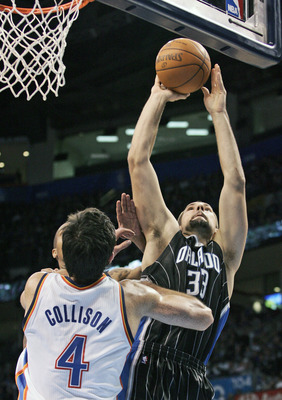 Brett Deering/Getty Images
Probably the least likely of all situations, Dwight Howard could remain in Orlando, where he has been for his entire career.
At the beginning of the season, Howard said that he needed someone else to play with because he can't win a championship by himself. Many people thought that Orlando may have stumbled upon the missing piece with Ryan Anderson, who has turned into Magic's second man.
But is he enough to keep Dwight in Orlando? Only time will tell.
Keep Reading

Orlando Magic: Like this team?