NBA All-Star Game 2012: 10 Players Who Will Light Up Rising Stars Challenge
Jed Jacobsohn/Getty Images

The annual Rising Stars Challenge a great way for die hard NBA fans to see the top young stars of the league on one court.
The NBA has a good batch of young talent in the league right now led by the man pictured above, Blake Griffin.
There is not a whole lot of defense played in this game, so there is sure to be a lot of high-flying action. Here are 10 guys that are sure to play a major role.
Begin Slideshow

»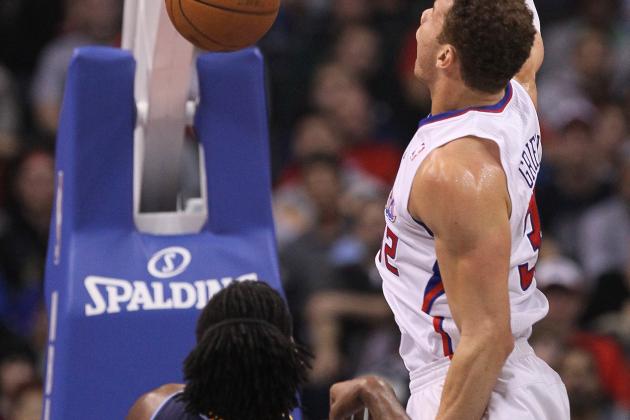 Stephen Dunn/Getty Images

Let's get the obvious choice out of the way, shall we?
Blake Griffin is obviously the guy everyone will try to get the ball to simply to get the crowd going.
As previously stated, there is absolutely no defense during this game, assuring tons of alley oops. Expect Griffin to be on the receiving of quite a few in this one.
Griffin is currently 11th in the NBA — and leads all of sophomores — with 21.4 points per game.
The only issue is that Griffin is unsure of whether he's going to be in the Slam Dunk Contest, according to a story on Yahoo.com. If he pulls out of the dunk contest, the Rising Stars Challenge could be next.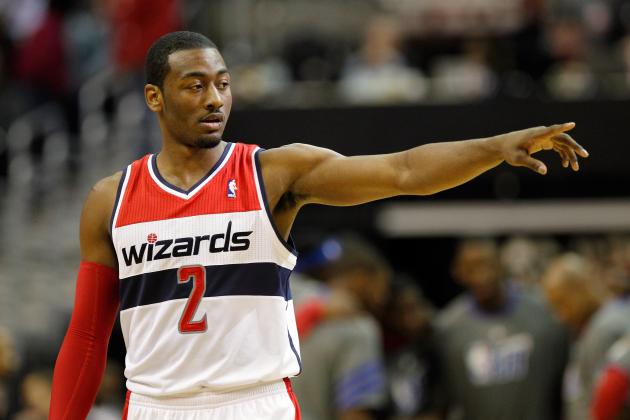 Rob Carr/Getty Images

The man who will more than likely be lobbing those passes to Blake Griffin will be John Wall.
Wall, despite playing for the horrid Washington Wizards, is 10th in the league in assists per game with 7.2.
During last year's Rookie Challenge, Wall recorded a whopping 22 assists and took home MVP honors.
Don't expect to see Wall lobbing passes all night though, as he is definitely capable of scoring points of his own.
Wall is third among sophomores in scoring, averaging 15.5 points per game.
Unlike regular season games, Wall will not have to deal with some stiff defense in the paint. He could take over the game and get into the paint at will.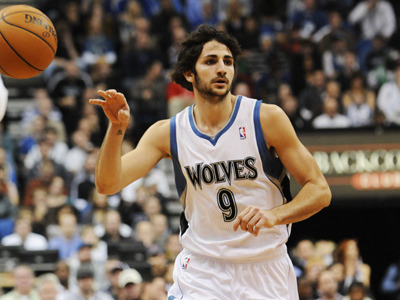 Courtesy of BusinessInsider.com
I have to admit that I was not completely sold on Rubio when he was first drafted by Minnesota in what seems like years ago.
But since he finally he made his debut, I have been forced to change my mind about the guy.
Rubio is one of the best ball handlers I've ever seen and has proven that he can get it done at the highest level in the world.
Rubio is fourth in the NBA in assists per game, averaging almost nine.
He pulls off some pretty crazy things during regular season games. Imagine what he's got up his sleeve in an exhibition game with no defense.
Needless to say, expect to see some even more spectacular passes from Rubio.
Rubio can also be a threat in the scoring department as well, as he averages double figures in points per game.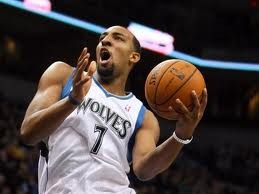 Courtesy of USAToday.com
Ricky Rubio's teammate Derrick Williams is a guy who can simply jump out of the gym.
He may not score a whole lot of points during real games, but his game is tailor-made for the Rising Stars Challenge.
There are usually a lot of dunks during these games and Williams is sure to have more than a few highlights as a result.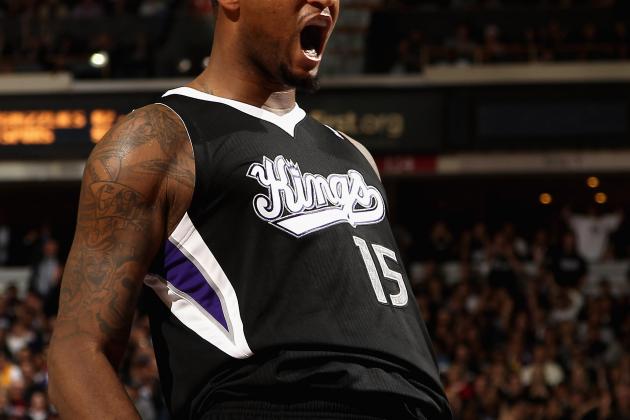 Ezra Shaw/Getty Images

DeMarcus Cousins has not lived up to the hype coming out of Kentucky and has reputation for having a poor attitude.
But pairing him with his former Kentucky teammate, John Wall, could lead to another big night in the Rookie Challenge.
In last year's game, Cousins scored a game-high 33 points, thanks in part to Wall's 22 assists.
In a regular season game, Cousins usually comes close to fouling out (averages 4.2 fouls per game), but in an exhibition game with zero defense and his former college teammate on the floor, he may stay on the floor long enough to produce.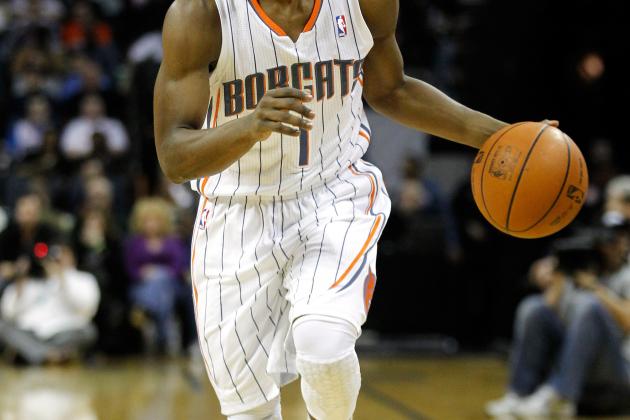 Streeter Lecka/Getty Images

Unfortunately for Kemba Walker, he plays for the sorry, last place Charlotte Bobcats, who currently sit at 3-20.
Walker has done his best, averaging nearly 12 points per game, but the Rising Stars Challenge could be his coming out party and remind people why he was the best player in last year's NCAA Tournament.
Walker isn't going to see a lot of zone defenses during this game, which means he will have the chance to break someone down one-on-one on the dribble.
Look for Walker to have some mean crossovers and to have a lot of finishes around the bucket, possibly stealing the show.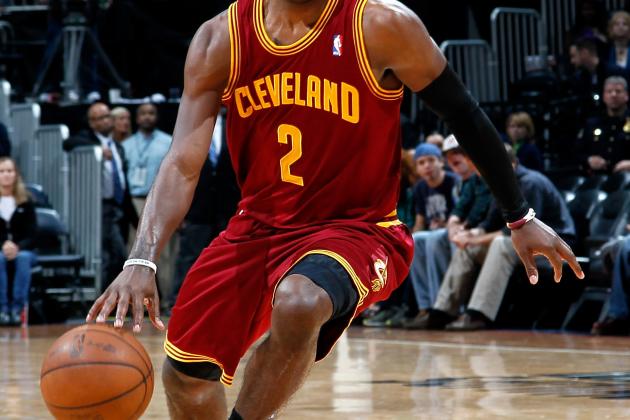 Kevin C. Cox/Getty Images

Last year's No. 1 overall pick Kyrie Irving is playing well in his first season in Cleveland, or at least better than I expected.
Irving leads all rookies with 18 points per game, second among rookies with nearly five assists per game and is the front-runner for NBA Rookie of the Year.
Irving possesses a good balance of scoring and passing and will be a main player to watch.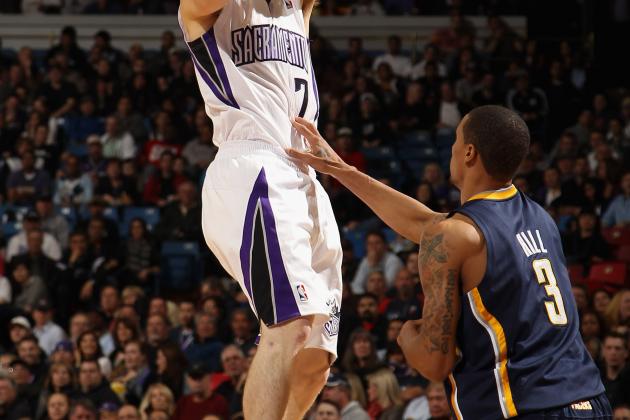 Ezra Shaw/Getty Images

Jimmer Fredette is not the ideal guy in this game. There are a ton of dunks.
But Fredette could take advantage of the lackadaisical defense by standing at the three-point line, likely all by himself, waiting for a kick-out pass and knocking it down.
Fredette could rack up points quickly and could be a dark horse for MVP of this year's game.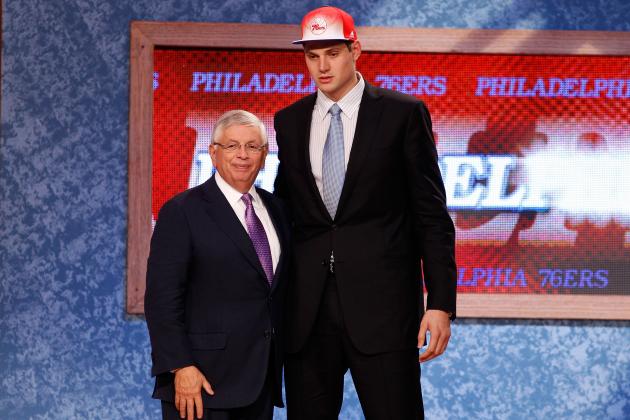 Mike Stobe/Getty Images

Watching Nikola Vucevic, I've noticed that he seems very comfortable on the court, almost as if he's not a rookie.
Vucevic averages only a little more than five points per game, but he is one of many guys who receive minutes for the 76ers.
During the Rising Stars Challenge, Vucevic could go from a relative unknown — unless you're a Sixers fan — to a guy some people may pay more attention to moving forward.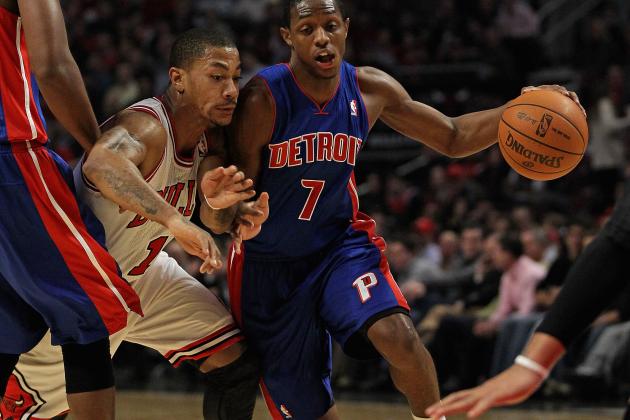 Jonathan Daniel/Getty Images

Knight is the second former Kentucky guard on this list and the third Wildcat overall.
John Calipari knows a little something about recruiting.
Knight is second among rookies with 12.3 points per game for the 4-20 Detroit Pistons.