2012 NFL Mock Draft: Denver Broncos 7-Round Mock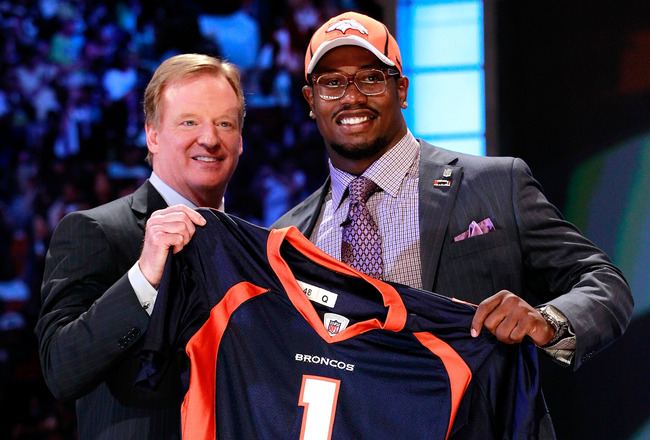 Chris Trotman/Getty Images
It's that time of year again; it's time to start mocking the 2012 NFL draft, and what better time than following the recent Senior Bowl in Mobile, Alabama.
Last year the Denver Broncos struck gold when they selected Von Miller with the second overall pick in the draft. The storied franchise is looking to duplicate that success again this season.
Here is a look at some potential picks in the upcoming 2012 NFL draft.
Round 1 Selection 25: Dre Kirkpatrick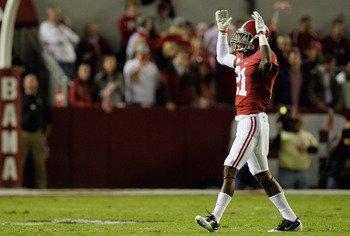 Kevin C. Cox/Getty Images
After watching the two games against the Super Bowl-bound New England Patriots this year it is evident that the Denver Broncos need significant help in the secondary.
Champ Bailey is aging, and it is possible Brian Dawkins has played his last down as a Denver Bronco.
Dre Kirkpatrick would be a great selection here in the first round. Kirkpatrick has some character concerns, especially after his recent arrest for possession of marijuana.
Nevertheless, Kirkpatrick is a quality player and could step in right away for the Broncos.
Kirkpatrick has good feet, smooth hips and has great closing speed. His size (6'2" 190 lbs) allows him to line up on larger receivers and play man-to-man coverage on the outside.
In last year's draft Prince Amukamara fell significantly during the draft and we could see the same trend here with Kirkpatrick. If Kirkpatrick is on the board here the Broncos would be foolish to not take him.
Round 2 Selection 57: Lamar Miller, RB, University of Miami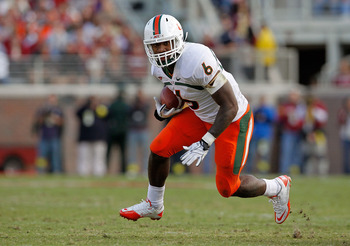 Mike Ehrmann/Getty Images
Lamar Miller is another prospect who may just fall right into the Denver Broncos' lap here.
The running back position has become devalued somewhat in the NFL draft, and the emergence of the two back system could negatively impact his stock.
Miller has a nice blend of size and speed that John Fox loves in his running backs.
Another advantage to Lamar Miller is the lack of wear and tear on his body. The redshirt sophomore hasn't had a large amount of carries in his college career but has still showed potential.
Miller would be an extremely nice addition to the Broncos' No. 1 rushing attack. Pairing him with Willis McGahee could lead to a devastating 1-2 punch for the Broncos.
Round 3 Selection 88: Audie Cole, MLB, North Carolina State University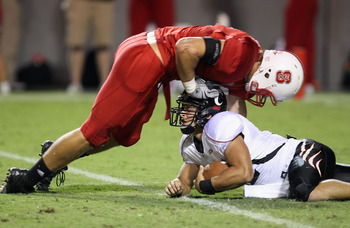 Streeter Lecka/Getty Images
Audie Cole had a fantastic week at the Senior Bowl and is quickly rising up draft boards. Cole is a big linebacker (6'4" 250 lbs) but has unique athleticism to go with it.
As a testament to his athleticism and versatility, Cole played quarterback in high school.
Cole definitely has a mean streak to go along with all that size. He is a former gold gloves boxer and has no problem laying devastating hits on quarterbacks and ball carriers.
Joe Mays and Wesley Woodyard were serviceable this year, but an upgrade is needed. Audie Cole fills a huge need with this selection.
Round 4 Selection 120: Stephen Hill, WR, Georgia Tech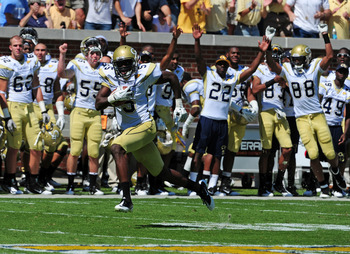 Scott Cunningham/Getty Images
Drops plagued the Denver Broncos this season. Tim Tebow could absolutely use a new target this upcoming year. On top of that, Eddie Royal is a free agent and could be leaving Denver this year.
Stephen Hill is the latest Georgia Tech wide receiver that could make an impact in the NFL.
He only had 28 receptions this year, but those 28 receptions went for an astonishing 820 yards. Georgia Tech's option-run offense really hurt his production.
This season teams enjoyed stacking the box and playing man-to-man coverage on the outside against the Broncos. Tim Tebow could really use another big receiver who is a vertical threat.
Stephen Hill also gives the opportunity for Eric Decker to move inside to the slot, which is where he belongs. Hill is a steal here for the Broncos in the fourth.
Round 5 Selection 129: Michael Egnew, TE, University of Missouri
Eric Francis/Getty Images
Michael Egnew is an interesting prospect that the Broncos have been following closely throughout the draft process.
The big-bodied tight end had a career year in 2010 catching passes from Blaine Gabbert, but his production slipped in 2011.That is a bit of a red flag, but he is worth the risk here in the fifth.
The latest trend in the NFL is big, strong, athletic tight ends who can catch as well as block. Egnew certainly fills this role.
Daniel Fells had timely receptions, but struggled at times throughout the year. Dante Rosario is a free agent this upcoming season.
The young tight ends Virgil Green and Julius Thomas have potential but have a ways to go in terms of development.
Round 5 Selection 152: Chris Rainey, RB/WR/KR/PR, University of Florida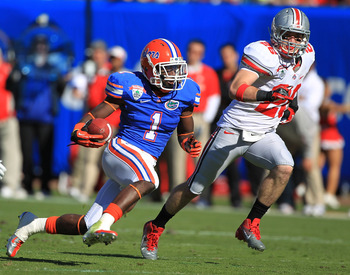 Scott Halleran/Getty Images
Chris Rainey could most certainly be the next Darren Sproles of the NFL. Rainey has blazing speed and gives the Broncos a unique playmaker that can run, catch and return kicks.
Eddie Royal is the Broncos' current version of the slash player but as noted before is a free agent this upcoming offseason. Rainey could step in and take over this role from day one.
This is a low risk high reward pick here in the fifth round.
Round 7 Selection 216: B.J. Coleman, QB, University of Tennessee Chattanooga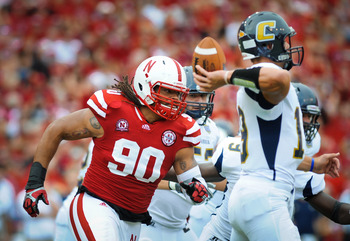 Eric Francis/Getty Images
It is evident that the Broncos will look at quarterbacks this offseason, and B.J. Coleman could potentially be on the radar. Coleman has good size and is an interesting small school prospect.
Coleman was originally a Tennessee Volunteer but transferred to Chattanooga. Coleman has good size and a fair amount of athleticism. He is more of a polished pocket passer than Tim Tebow and Elway could take a liking to that.
B.J. Coleman is another low risk pick here in the seventh round and could be a wonderful developmental prospect for the Broncos.
Keep Reading

Denver Broncos: Like this team?