Ranking ESPN's 40 Best Baseball Commercials Ever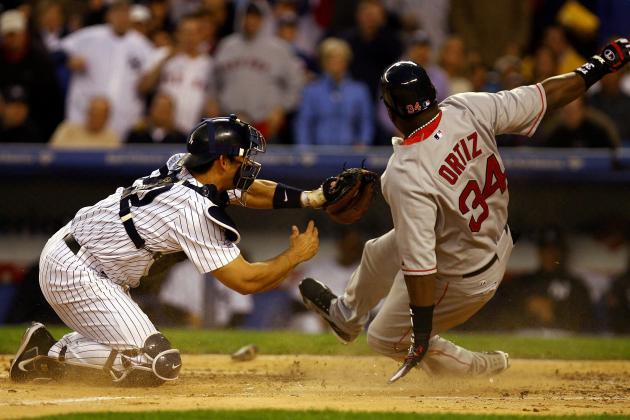 Al Bello/Getty Images
Both Jorge Posada and David Ortiz make multiple appearances on our list.
From the da-na-na...da-na-na of SportsCenter to the opening horns of Baseball Tonight and Sunday Night Baseball, we know these theme songs as well as we know the opening guitar riff to our favorite Led Zeppelin song.
For over two decades, ESPN has featured managers, players and their agents alongside the anchors and reporters who have become synonymous with the network in off-color, funny, oftentimes ridiculous scenarios—leaving us with some of the most memorable advertising television has seen.
I do owe you an apology, though, as the headline is a bit misleading. We don't have 40 spots to rank—we have 42, plus some bonus footage.
Let's get to it.
Begin Slideshow

»
A brief cameo by St. Louis Cardinals slugger Mark McGwire gets this gem onto the list. SportsCenter anchor Charley Steiner proves that he, not Mel Gibson, should have played William Wallace in Braveheart.
Because this is not specifically a baseball commercial, it comes in at the last spot in our rankings, but this is a classic.

Hosts Kenny Mayne and Dan Patrick are visited on set as they near the end of what is likely their fourth or fifth consecutive SportsCenter.
After the director confers with his hosts, he decides that Kenny has had enough and calls for the relief in the form of then-San Diego Padres closer Trevor Hoffman.
Like most starting pitchers, Mayne is none too happy with his skipper's decision.
Rain delays are no longer strictly an outdoor occurrence thanks to the plumbing at ESPN's studios in Bristol, Conn.
Stuart Scott shows us how they handle the situation and sheds some light on how the staff passes the time.
SportsCenter anchor Stan Verrett shows Los Angeles Dodgers outfielder Andre Ethier around the set when they come across ESPN's newest toy, the 3D camera.
Buster Olney gives us some insight into how he gets the job done.
When he is talking to Seattle Mariners outfielder Ichiro Suzuki, Olney says "boku no suki na gaiyashu" (僕の好きな外野手), which translated means "my favorite outfielder."
SportsCenter anchor Karl Ravech finds himself thankful that baseball players in general, especially Boston's Manny Ramirez, do not clean their helmets after games.
Minnesota Twins catcher Joe Mauer schools SportsCenter anchor Scott Van Pelt on his US geography over lunch at the ESPN cafeteria.
SportsCenter anchors Stuart Scott, Karl Ravech and Josh Elliot are questioned by New York Yankees captain Derek Jeter, who fails to grasp the obvious in the ESPN locker room.
Chicago White Sox first baseman Paul Konerko and Oakland A's starter Tim Hudson engage in a deep conversation when Hudson points out what's going on around them.
SportsCenter anchor Jay Harris gets some one-on-one weight training from Texas Rangers outfielder Josh Hamilton.
The fact that the scrolling update at the bottom of the screen is announcing Brett Favre's retirement from football for the 10th time is just icing on the cake.
SportsCenter anchors Steve Levy and John Anderson walk in on St. Louis Cardinals slugger Albert Pujols making copies, a seemingly innocent event. Little do they realize how close they came to meeting an unfortunate fate.
Cincinnati Reds first baseman introduces SportsCenter anchor Karl Ravech to his competition in this year's mustache contest—Reds mascot Mr. Redlegs.
New York Mets shortstop Jose Reyes and SportsCenter anchor John Anderson give fellow anchor Karl Ravech some pointers on his dance moves.
San Francisco Giants ace Tim Lincecum tries to find the perfect voicemail message to use in the office. SportsCenter anchor Karl Ravech only makes his decision harder.
The staff of SportsCenter makes recently retired New York Yankees catcher Jorge Posada feel right at home on a visit to the ESPN campus in Bristol.
Another early commercial in which actor Eric Bogosian portrays a Boston Red Sox fan who has just about reached his breaking point. This originally aired in 1995.
No longer just a baseball tradition, ESPN decides to bring in some old-timers to guest host some episodes of SportsCenter.
As you would expect, things don't go as smoothly as they hoped.
This is an older video, so the quality is not great.

In one of the first bits that ESPN produced, Boston Red Sox ace Roger Clemens and Boston Bruins Hall of Fame power forward Cam Neely struggle to make their way from Boston to Bristol.
This is an older clip, so the quality is not the best.
Chicago White Sox manager Ozzie Guillen needs his closer, Bobby Jenks, to start warming up in the bullpen. Instead of talking to his bullpen coach, he gets SportsCenter anchor Neil Everett.
SportsCenter anchor Dan Patrick receives the greatest gift of all from St. Louis Cardinals slugger Mark McGwire—home run ball No. 62.
SportsCenter anchor John Buccigross is giving his family the tour of ESPN when he comes across Boston Red Sox slugger David Ortiz doing some work. Being big Sox fans, Buccigross introduces Big Papi to his parents and sister, though they are not as excited about meeting him as you would think they would be.
Game 2 of the 2007 ALDS between the New York Yankees and Cleveland Indians was marred by a late-game invasion of midges, a gnat-like insect, who swarmed the infield and more specifically, Yankees reliever Joba Chamberlain.
However, it was not the nearby lakes that turned Chamberlain into a human sugar cube, but rather, an old briefcase belonging to Baseball Tonight host John Kruk.
Texas Rangers second baseman Ian Kinsler and Milwaukee Brewers first baseman Prince Fielder discuss a fantasy baseball trade involving the two of them and San Francisco Giants ace Tim Lincecum. Actor Adam Scott chimes in and changes the whole dynamic.
Texas Rangers outfielder Josh Hamilton draws the ire of New York Mets mascot Mr. Met as SportsCenter anchor Stuart Scott fills Hamilton in on what he's done.
Outfielders B.J. Upton of the Tampa Bay Rays and Torii Hunter of the Anaheim Angels make the necessary adjustments while watching Sunday Night Baseball with actor Adam Scott.
SportsCenter anchor Stuart Scott helps the Milwaukee Brewers mascots, the Brats, get their lunch.
I've had this very conversation with people, and it's just as funny in real life.
The Wake Forest Demon Deacon steals the show in this one, as New York Mets third baseman David Wright discusses the night's plans with SportsCenter anchors Scott Van Pelt and Neil Everett.
Boston Red Sox pitcher Clay Bucholz and actor Adam Scott break out into Neil Diamond's classic "Sweet Caroline," which was long ago adopted by the Fenway faithful as their song, while watching Sunday Night Baseball with New York Yankees outfielder Nick Swisher.
Swisher has no intention of joining in with the festivities.
Actor Adam Scott (Derek from Step Brothers) learns the hard way that he should probably keep his opinions to himself when surrounded by Anaheim Angels manager Mike Scioscia and outfielder Torii Hunter.
We finally get a look behind the scenes at how Peter Gammons operates—from his driving acumen to his negotiating skills, this Hall of Famer does whatever is necessary to get the job done.
Hall of Fame pitcher and infamous doctor-er of baseballs Gaylord Perry leaves his mark everywhere he goes at ESPN.
Pamplona, Spain has their annual running of the bulls. Not to be outdone, SportsCenter's Stuart Scott fills us in on the similar tradition that takes place in Bristol, Conn.
Another one of the more well-known spots, San Francisco Giants closer Brian Wilson explains to SportsCenter anchors Josh Elliot and Jay Harris why everyone should fear the beard.
When the FBI raids ESPN, they find what they've been looking for in the desk of SportsCenter anchor Scott Van Pelt.
Poking fun at what was a major problem in baseball at the time is a welcome change from the incessant reporting on the subject that ESPN subjected its viewers to.
Boston Red Sox slugger Manny Ramirez is being watched...by SportsCenter anchors Jay Harris and Steve Levy, who are both looking for that next "Manny being Manny" moment.
ESPN shows off their latest addition, first-round draft pick Seth Hayes. In his first game action on SportsCenter alongside co-anchor Jack Anderson, he makes the case that experience is perhaps more important than potential.
SportsCenter anchor Kenny Mayne works on his latest catchphrase while watching highlights of Ken Griffey Jr. going deep once again.
Philadelphia Phillies shortstop Jimmy Rollins tries to help SportsCenter anchor Scott Van Pelt break out of his recent slump.
Perhaps the most well-known of the "This is SportsCenter" commercials, Boston Red Sox designated hitter David Ortiz, New York Yankees catcher Jorge Posada and SportsCenter anchor Stan Verrett are having a seemingly innocent conversation about hats.
Atlanta Braves slugger Jason Heyward talks the art of bat-making with SportsCenter anchors Scott Van Pelt and Steve Levy.
The Stanford Tree, Stanford University's unofficial mascot, steals the scene without saying a word.
In what many New YOrk Yankees fans believe to be an accurate reenactment, the Baseball Tonight crew gives us their version of events surrounding Curt Schilling and the infamous "bloody sock" game.
That's Peter Gammons as Red Sox manager Terry Francona, former Mets GM Steve Philips as Curt Schilling and Karl Ravech as...Karl Ravech.
Apparently, we were mistaken.
Scott Boras doesn't only represent baseball players—he takes care of SportsCenter anchors as well, including Scott Van Pelt.
Here, we get an inside look at how Boras negotiates.
This was a spot within SportsCenter so it doesn't qualify for the list.
Had this been a commercial though, this would have been in the running for the top spot.
Insanity and mayhem ensue when Kenny Mayne stops by the Baseball Tonight set.