The 10 Most Significant Moments of the Houston Texans' 2011-12 Season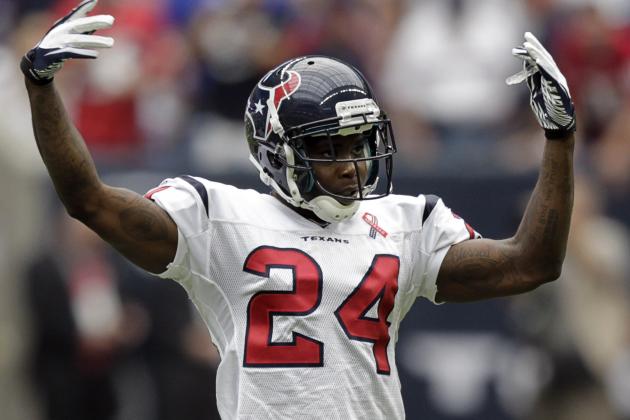 Bob Levey/Getty Images

Regardless of the Texans being at home this weekend for Super Bowl Sunday, only the most pessimistic Houston fan can deny that 2011 was a special season.
It was a season that saw them overcome tremendous adversity with the odds stacked highly against them. But the team reached deep down and found a way to persevere and, in the end, have a season that no true Texans fan walked away from disappointed with.
But let us go back all the way to the end of 2010 and look at ten moments that changed the long-suffering franchise's fortunes in 2011.
Begin Slideshow

»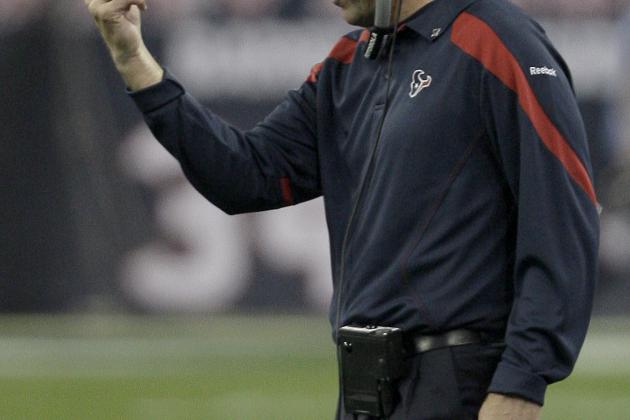 Thomas B. Shea/Getty Images

After a monumental collapse in the Mile High City against the newly appointed starting quarterback known as Tim Tebow, before he was a media darling, everyone thought that the final regular season game against the Jaguars would be the swan song for Gary Kubiak. But Bob McNair decided to give him one last chance, much to the dismay of the Houston faithful.
McNair cited how close he felt the team was to being something special and how he felt all the problems were on the defensive side of the ball. So, he demanded Frank Bush be relieved of his duties as well as some of his staff.
The feedback from the fan base was deafening and even had many saying they were done with the team until Kubiak was relieved of his duty. But Bob realized that winning cures all ills and he looks like a genius now for sticking to his guns and keeping his guy under the headset for one last try.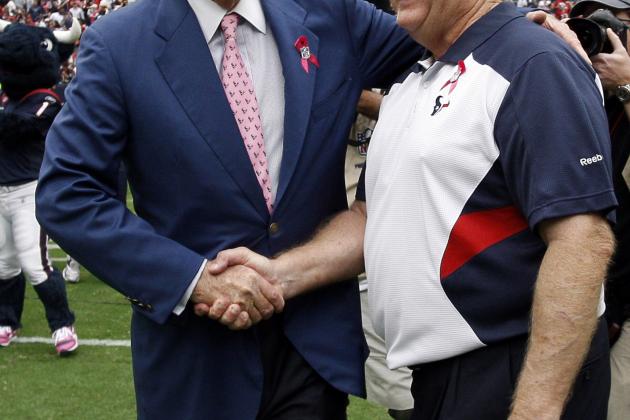 Bob Levey/Getty Images

The groaning among Texans nation simmered down a bit after McNair's next personnel decision, however. He's never come out and said it was all his choice, but many believe after he read the Riot Act to Gary Kubiak, he demanded that the recently available Wade Phillips be brought in to be the new defensive coordinator.
Regardless of who made the decision to bring in "The Son of Bum," he should of gotten a bonus for the move. To do what Wade Phillips was able to do in one season and take a historically bad defense and flip it to number two in all of the league is uncanny.
Immediately after the announcement of the hiring, Wade became the best defensive coordinator in team history. And the added plus to the situation was the thought that he and Gary Kubiak would almost be like co-coaches was enticing to many Texans fans who were starved for a winner in Houston.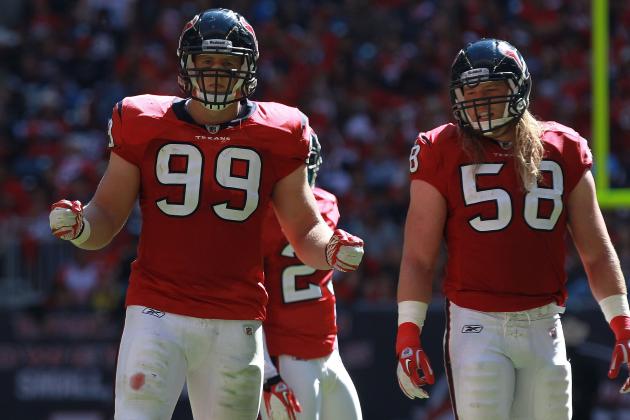 Ronald Martinez/Getty Images

With the NFL lockout looming and no free agency period, this became one of the most important drafts in the history of the franchise. With the prior seasons pick in Kareem Jackson being such a catastrophe, they couldn't afford to blow their early picks in 2011 and not only did they succeed in not doing that, but they hit a home run.
Going defense-heavy, as expected, the team took J.J. Watt out of Wisconsin with the eleventh overall pick and from day one, he looked the part of a stud defensive end in the Phillips scheme. But the real surprise was the first pick in the second round in Brooks Reed out of Arizona. When Mario Williams went down early with a season-ending pectoral tear, Reed stepped in earlier than expected and performed admirably.
This is another one of those situations where everyone wants to hear 100 percent of the praise onto Wade Phillips for those two picks, but I'm going to give the three-headed monster of Phillips, Kubiak and general manager Rick Smith joint credit here. They all three proved their worth in 2011.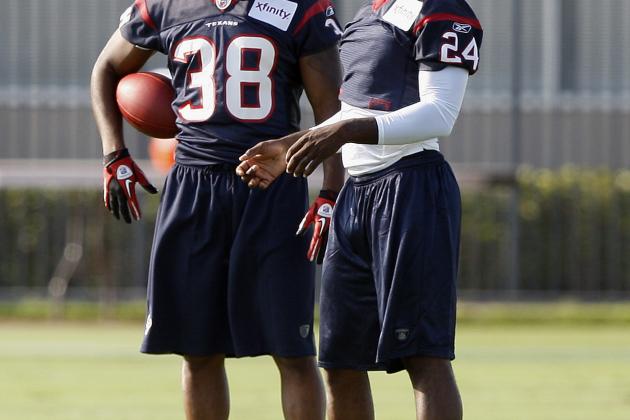 Bob Levey/Getty Images

It was met with both jubilation and curiosity when the team decided to let both of their safeties from 2010 walk. Eugene Wilson just wasn't an NFL quality player anymore and Bernard Pollard, who was a revelation in 2009, came back down to earth and was exposed in coverage in 2010.
But one of the first things that Wade Phillips decided was to do what many fans had been clamoring for since he was drafted and moved Glover Quin back to his natural position of safety. It was met with mixed reactions due to him being the only competent cornerback from the prior season, but the team then answered that criticism with their next two moves in free agency.
Lock down corner Johnathan Joseph was brought over from Cincinnati and Bears outcast safety Danieal Manning joined him. Manning immediately became the best safety this team had ever employed and Joseph was an all-pro. That is what is called money well spent. Just like that, the biggest weakness on the team became above average.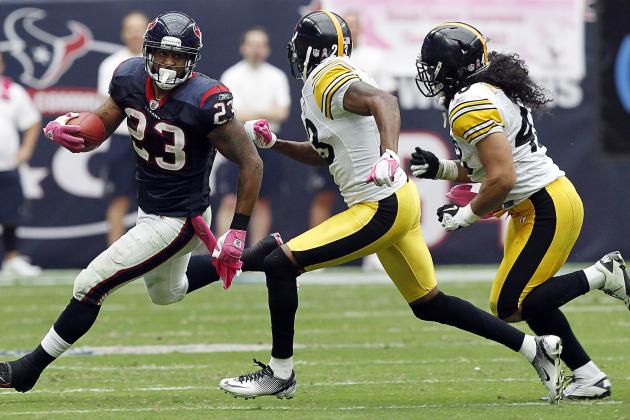 Bob Levey/Getty Images

Something that has always seemed to happen in the Kubiak regime is the team getting off to a slow start and dropping games early that they should have won. They did start 3-1 in 2010, but no one was really fooled. But with games against the Saints and Steelers in the first four, it appeared on paper that another slow start was inevitable.
In falling to 2-1 after losing in a shootout in New Orleans that they probably should have won, it had many thinking that the team would fall back to the all too familiar .500 level with the defending AFC champions coming to Reliant. Especially when Andre Johnson appeared to go down early in the game with a serious injury.
But the Texans were able to do something they had never really done before and that was to win a game by changing their approach. They played what is known as "Steelers Football" and won a tough, grind-it-out game with their defense and running game. Arian Foster was huge with a long run late and the defense was able to clamp down and get the Texans a win in those types of games they usually found a way to lose.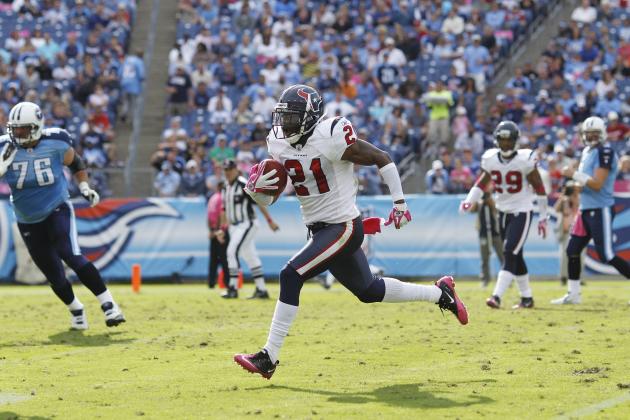 Joe Robbins/Getty Images

The fast start was hit the following week with a familiar statement: losing to a team at home that they were clearly better than. On the final play of the game against Oakland, Matt Schaub threw an interception in the end zone as time expired. This was followed up the next week to a bruising loss to the Ravens in Baltimore that indeed dropped the Texans back to .500 with a trip to Tennessee up next.
Most fans were already on the "Fire Kubiak" bandwagon with the Titans off to a better start than anyone expected and the winner of this game taking sole possession of first in the AFC South. With the Jags looking to be a train wreck and the Colts being Manning-less, the Titans were the Texans' only real competition for the division crown and had to show up in this game.
Not only did they show up, but they blew the Titans off their own field and had the Memphis faithful booing the Titans relentlessly. For the first time since Gary Kubiak arrived in town, the Texans were accused of running up the score in a 41-7 beat down...and it was music to Texans fans ears.
With this one performance, it became so blatantly clear that this division was theirs to lose. It was also the beginning of something special that you'll need to check out the next slide to hear about.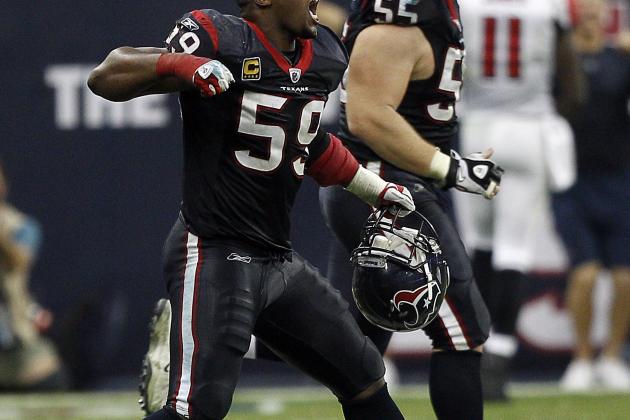 Bob Levey/Getty Images

The parity in the NFL is so great that you don't see the long winning streaks in this league as you would in the NBA or Major League Baseball. Sometimes you'll see a team win three in a row or maybe even finish a month undefeated, but rarely a very long win streak.
But after the convincing win in Tennessee, it appeared that Houston had put everything together and they started playing the best two-sided ball in all of the league. Their defense was in the top three and their offense in the top eight. They weren't just winning, they were crushing their opponents.
This calmed down after the devastating loss of starting quarterback Matt Schaub and had many who were thinking "Super Bowl" to start saying that the team could still get that playoff monkey off their backs finally. And they were right, as backup quarterback T,J, Yates helped expend their winning streak to seven in a row.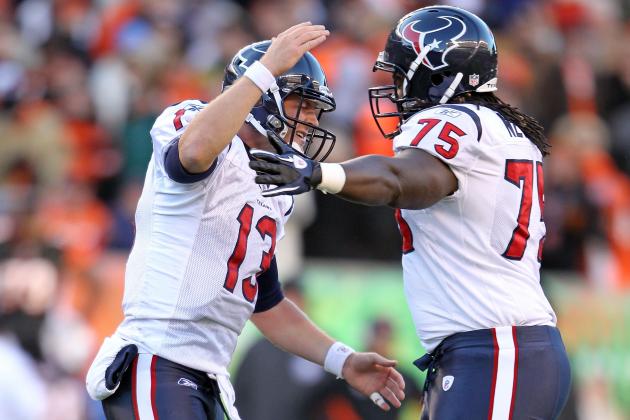 Andy Lyons/Getty Images

In that seventh win in a row, after winning in dramatic fashion, Houston achieved another first in team history as they clinched the AFC South crown and a guaranteed home playoff game for the NFL postseason.
Just like that, years of obscurity and mediocrity were washed away and met with jubilation among the Texans faithful who crowded up at Reliant Stadium to welcome the team home from Cincinnati for a victory party.
Many thought that the celebration was premature and would cause the team to lose focus, but after a decade of really bad football, I say let the fans rejoice. They had earned it by that point.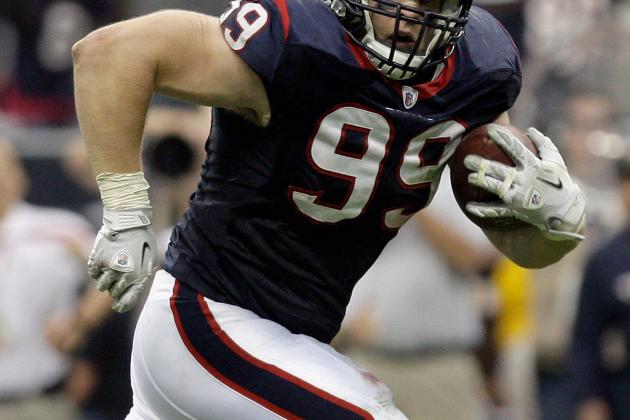 Thomas B. Shea/Getty Images

After dropping their final three regular season games, many thought that the Texans were limping into the playoffs with their wild-card matchup with the Bengals. And after a slow start, many were concerned that the team had lost the magic and injuries had finally began to catch up with them. But then, J.J. Watt introduced himself to the national viewing audience.
With an incredible move for a man his size, J.J. Watt snatched an Andy Dalton pass out of the air and took it to the house for a momentum-changing pick six right before halftime. Being in attendance at that game, I can tell you that I was in fear that the stadium was about to crumble with it being so loud. It was wonderful.
The second half saw the Texans cruise to an easy 31-10 victory and secure their first playoff win ever. It was nice to not have to wait as long for that first playoff win as it was that first playoff appearance. With a new head of steam, they hit the road for a Week 6 rematch with the Ravens in Baltimore.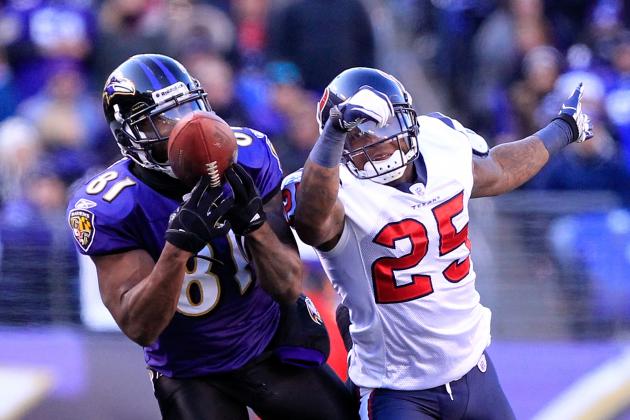 Chris Trotman/Getty Images

Nationally, no one really gave the Texans a chance in this game. And I mean no one. In fact, if you watched the pregame show, they made it sound as if Houston would have saved everyone a lot of time and trouble if they had just missed their flight and forfeit the contest.
Locally, it was quite mixed. There were those who said that it had been a fun ride, but this was where the journey ends. Others were convinced that this was a team of destiny and they were going to find a way to be triumphant against huge odds.
After early turnovers found them in a two-touchdown hole early, it appeared that the former thinking was the accurate one. But the the Texans defense ascended to a higher level of being and channeled the 1970's "Steel Curtain" and just put the clamps down on the Baltimore offense. They contained Ray Rice all day and clearly were getting under Joe Flacco's skin.
In the end, even though they fell short, they had many of the talking heads in the national media play the "if Matt Schaub was healthy, Houston would have won this game" card. It also had most of them proclaiming that if Houston could stay healthy in 2012 that we were looking at the AFC representative in the Super Bowl next season.
There are no moral victories in sports, in my opinion. You either win or you lose. I never play hypotheticals. But I will not lie, it was nice to hear those kinds of things from the national media and by earning that much respect in a loss, that's something to build on.
It's about as close as you can come to a victory in a defeat and a stinging loss like this is what will keep this team hungry headed into 2012.
Mike Kerns is a Featured Columnist for the Houston Texans at Bleacher Report. Feel free to follow him on Twitter and catch his latest Texans podcast on iTunes.