Everyone Knows Indiana University Is Better Than Purdue University Any Day
February 3, 2012

Today the Indiana Daily Student and Purdue's The Exponent began a war of words in which a columnist from each wrote an article on why each school was better than the other. I figured: "If they can do it, why not me?"
I will begin with Anil Rao's article about why Purdue is superior to Indiana. He begins his argument saying that he congratulates IU on being "back" only to mock the gesture by throwing out useless statistics from the last three seasons. Statistics like our sub-.500 record in the Big Ten and 2-32 record on the road under Tom Crean, and who can forget the Boilermakers' 112-84 head-to-head record against Indiana? Good arguments. But not really.
Okay, the last three seasons have been more than a tough road for the Hoosiers and Tom Crean. If Kelvin Sampson happened to any other school (outside of Kentucky, Kansas, UNC and Duke), that school would have been in the basement of their conference for a decade before they could redeem themselves.
Yes, that includes Purdue. In the past two seasons, Indiana nearly cracked the top ten in home attendance. Would that have happened in Mackey Arena? No! IU had a total of 22 wins in those two years and IU fans still showed up and cheered for them.
Rao goes on to argue that even though Purdue is having a down year, they have won three road games. Road games are hard enough to win without your team being dismantled like Indiana's was, so that argument doesn't hold much water either.
Congratulations for beating the Big Ten's bottom dwellers (Iowa, Minnesota, Northwestern) on the road.
Excuse me for not standing up and applauding. Indiana still plays Iowa and Minnesota on the road. Let's not forget the 20-point drumming Purdue received at Penn State.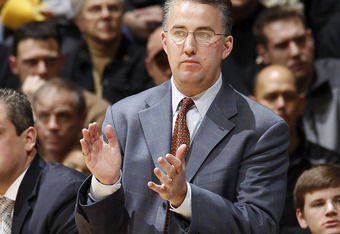 Joe Robbins/Getty Images
Rao's next brilliant argument is Indiana's lack of success over the last 24 years since their last championship. Let's look at the last 24 seasons for both squads, shall we?
Purdue has seven Sweet Sixteens appearances. Indiana has six.
Oh, it gets better. Purdue has two Elite Eight appearances. Indiana has three. Here we go. Purdue has zero Final Fours. Indiana has two! Now, you can applaud.
Are you kidding me? Even in the down years of Indiana basketball, Purdue cannot manage to outplay us.
You can have Big Ten titles. Purdue has six to Indiana's four in that span. You can have useless Big Ten Tournament titles. Rao also boasts about how Purdue has more wins over that span, too. Yes, it is true. Purdue has 526 wins and Indiana only has 484.
However, shall we not forget Indiana's past three seasons? What if we take out those three seasons? Oh wait. Purdue has 444 wins and Indiana has 456. How interesting!
To be fair, I will also cancel out Purdue's worst three seasons in the last 24 years. Purdue, then, has 497 wins to Indiana's 456. There, Rao. That's the argument you were looking for.
I feel so bad for tearing up your entire argument. I decided to be nice and do some journalism for you.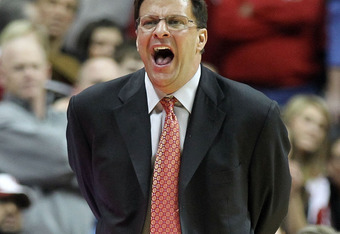 Andy Lyons/Getty Images
Rao's next argument against Indiana is the obnoxiousness of the fans. I cannot defend my student section's support of Kelvin Sampson in his last game, although I was not yet a student at IU.
I also cannot defend and definitely do not condone the grotesqueness of our taunt to Greivis Vasquez when Maryland came to Assembly Hall in 2009. All I can say is that I am ashamed when IU fans become too obnoxious toward other teams, players and fans.
Rao mentions the fans' lack of support for the football team and says we "instead cheer for Notre Dame." If Purdue had as bad a football program as Indiana, you too would root for another school. Let's not bring football into this argument. This is about the basketball game anyway.
Although I have limited research on rankings, I did find a U.S. News & World Report ranking that that ranks IU 71st overall and tied for 9th in the Big Ten. Purdue is merely 10 spots ahead at 61st and only 7th in the conference.
To say you are by far superior in academics is a major exaggeration. I will concur that Purdue's academics are slightly better only because that is what every publication I founds says. I do not agree that it is so much better that an employer would not be interested in an IU graduate.
Rao's last jab at the Hoosiers is from a fellow Indiana alumnus. Bill Benner said: "Boilermakers everywhere are enjoying a hearty last laugh. I never thought I (would) say it, but the bumper sticker I long ago detested is true. Purdue is the Indiana university."
I remember reading this quote. Benner was simply overreacting to Purdue's dominance in a two-year span when they won the Crimson and Gold Cup twice and their academics were ranked higher than IU's. Benner, like a lot of IU fans, is an over-reactor.
It is now proven that Benner was a little premature in crowning Purdue as superior in athletics. Purdue's great basketball class (Robbie Hummel, E'Twaun Moore and JaJuan Johnson) went to two Sweet Sixteens and nothing more.
If you want to know about all of the varsity sports, all you need to know is this. Purdue has 18 varsity sports, the least of all Big Ten Conference foes (even less than Northwestern's 19).
In Purdue's history, they have captured three, count them one...two...three national championships. They have a remarkable 69 Big Ten championships, which only puts them ahead of recently-admitted Nebraska and Penn State, who was admitted into the Big Ten in 1993.
Indiana, meanwhile, has 24 varsity sports, 23 national championships and 163 Big Ten championships. Back to basketball.
Remember when I mentioned the 112-84 record the Boilermakers have against Indiana in their history? Pretty impressive, right? What if I told you that it really doesn't indicate who's winning the rivalry? What if I told you that the Boilermakers were 50-10 against IU from 1901 until 1939?
Of course, 1939 was the year that the NCAA Tournament came to exist. If you can do a little math, you will figure out that since 1939, Indiana is actually winning the series 74-62. Hmm. Is that so?
In fact, the only decades the Boilers came out on top since the 1940s were the Rick Mount '60s years and the Junkyard Dog Glenn Robinson '90s years. That leaves the '40s, '50s, '70s, '80s, 2000's for the Hoosiers. Oh yeah, Purdue is really dominating IU in basketball.
You gotta love this rivalry.