Josh Hamilton's Rumored Relapse: This Story Is Sad but Not Shocking
February 3, 2012

Ezra Shaw/Getty Images
The story streaked across the Internet with as much speed and ferocity as any major online rumor would. 
Josh Hamilton, the 2010 American League Most Valuable Player and the No. 1 overall pick of the 1999 Amateur Draft, whose battles with drugs and alcohol have been well-documented in newspapers, magazines and numerous television stories, had fallen off the proverbial "wagon."
Hamilton was spotted in a Dallas bar drinking this past Monday night. It highlights a number of obstacles that Hamilton faces that most people can barely comprehend.
For most people, the act of going to a bar for a drink is not even remotely noteworthy. It's not an act that can or will lead to a downward spiral of addiction. It won't make you lose your job, your family or your reputation. It's just a drink—nothing more, nothing less.
For Josh Hamilton, it's a totally different world. Not only does Hamilton have a serious drug and alcohol addiction problem, but he also has to battle the pressures that accompany being one of the best baseball players in the league on a team that has been to the World Series the past two seasons.
Is that difficult? I have no real idea. 
I'm not an addict. I count myself among those that can have a drink or two or not have a drink or two, and I definitely don't have to worry about people asking for my autograph or tweeting or texting my whereabouts when I do venture out. 
I have known a number of people in my life who have battled addiction, though. It's not easy. Relapses are the norm, not the exception. The odds of someone who has an alcohol problem seeking help and nailing it on the first try are fairly low.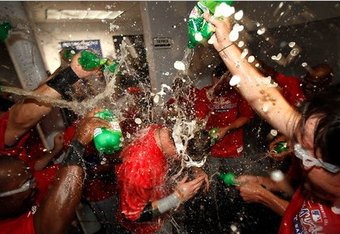 Josh Hamilton doesn't just have an alcohol problem, though. He had major issues with both crack cocaine and crystal meth. Both are drugs that are extremely tough to break free of. Hamilton did, though, and in spite of being kicked out of baseball at one point, he was readmitted and flourished.
All of that is in danger now. It's easy to dismiss this stuff because so much of it isn't familiar to most people. Plenty of people battle addiction—there are also numerous famous athletes out there—and they don't always intersect in the manner in which they have for Hamilton.
Every move Hamilton makes is scrutinized because his talent is so immense. Every Texas Ranger fan knows that having Hamilton clean, sober and healthy is probably a necessity for a Rangers World Series crown.
That scrutiny only adds pressure, though. It makes what is already a difficult circumstance that much more difficult. In the aftermath of this week's relapse, Hamilton will come under even more scrutiny. His contract is up at the end of the 2012 season. He can become a free agent, and as some have reported, this incident could endanger the prospects of Hamilton getting a long-term contract.
None of this means that things will get easier for Hamilton once his baseball career ends. For those concerned not with Hamilton's whereabouts as a player following the 2012 season but with his long-term health and stability, the past week's incident should cause concern not for his upcoming contract but for what happens when this is all over. What happens when baseball is all over?  
Regardless of what team he ends up on, he's going to be very wealthy. He's already 30 years old. In all likelihood, he'll regain sobriety and have an outstanding 2012 season and be a very good baseball player for several more seasons. Once that's over, though, he'll be a guy with a lot of money and a lot of time on his hands. That can be a daunting combination for anyone. For someone who battles the types of addictions that Hamilton does, it could be catastrophic.
Hamilton's plight should be a sobering reminder to all those who dream of fame and fortune. There are plenty of people who could only dream of possessing the type of athleticism that Hamilton has. I wonder if Hamilton would trade it all for being able to just have a beer and relax with a friend sometimes.