NBA Power Rankings: Grading All 30 Teams
The Los Angeles Clippers are turning heads, the Oklahoma City Thunder have a core of players all under 25 and a fresh set of NBA Power Rankings are out to follow up the 2012 Super Bowl.
With a handful of teams floundering worse than previously predicted and others performing well above expectations, it has been a very interesting season to watch thus far.
There are some familiar teams remaining atop the rankings, but other new entrants this season are looking to prove that they will be there all year and well into the postseason.
Begin Slideshow

»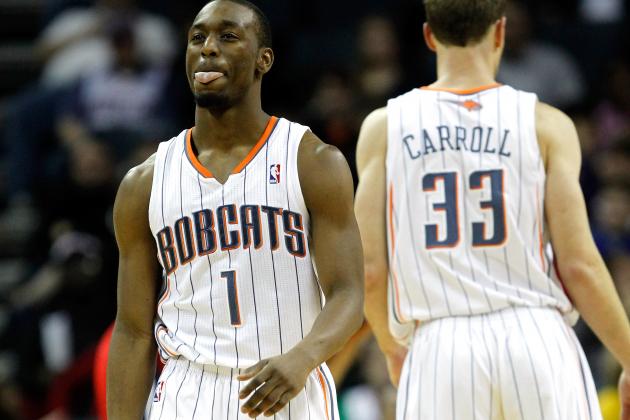 Streeter Lecka/Getty Images

Record: 3-21
Grade: D-
D.J. Augustin (toe), Gerald Henderson (hamstring) and Corey Maggette (hamstring) are all out for Charlotte, and this is a team that doesn't have a great deal of depth in the second unit when everyone is healthy.
Now, the Bobcats will undoubtedly have no choice but to let the youth play, but Michael Jordan has more work to do with this franchise than he might have hoped for prior to the season beginning.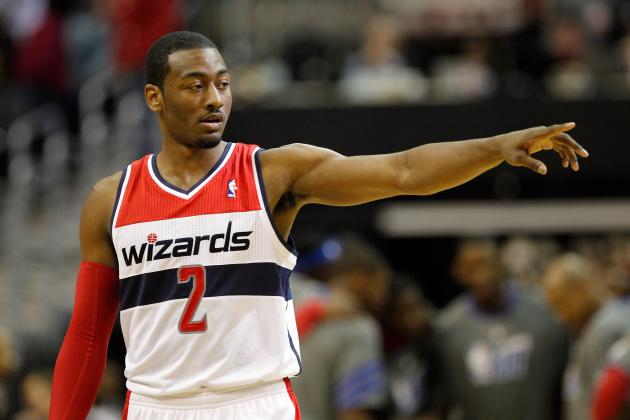 Rob Carr/Getty Images

Record: 4-20
Grade: D
John Wall's development has really been stunted by the lack of execution at the offensive end, and the Wizards just have no semblance in their attack right now.
Randy Wittman continues to preach that his team needs to run up and down the floor to have success, but the constant isolation plays and terrible shot selection have been consistent themes all year.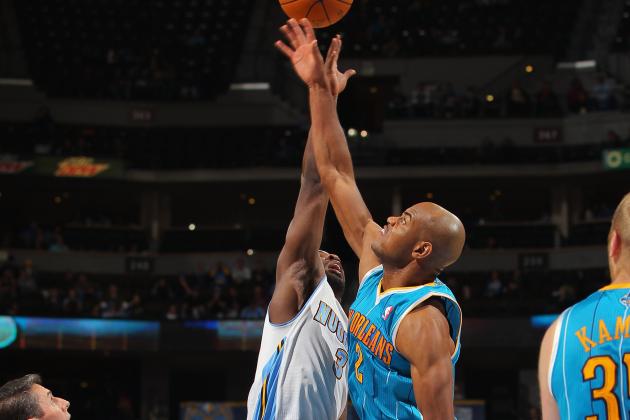 Doug Pensinger/Getty Images

Record: 4-20
Grade: D+

There is something to be said in the NBA for bottoming out before building from the ground up when attempting to turn around a team, but the front office in New Orleans likely had higher hopes than just four wins through the first 24 games of the season.
The knee injury to Eric Gordon has really put a limit on what the Hornets can do this season, but this is one of the more shallow rosters around the league in terms of the depth of talent available to deploy.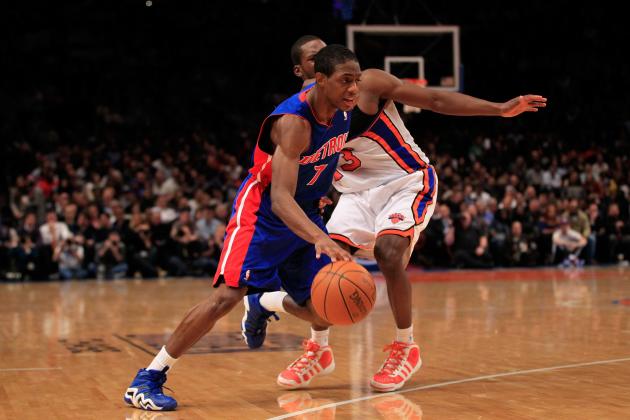 Chris Trotman/Getty Images

Record: 6-20
Grade: D

Detroit has some good pieces for the future, but cumbersome contracts in Ben Gordon and Charlie Villanueva have this team handcuffed for the immediate future.
Both big-money players have spent significant time on the shelf this season, and Joe Dumars could find himself in a ton of hot water sooner rather than later if the Pistons don't show serious signs of some type of progress.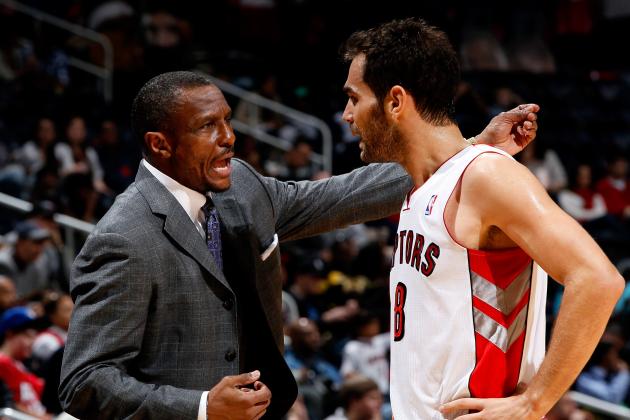 Kevin C. Cox/Getty Images

Record: 8-17
Grade: C

Toronto continues to struggle offensively without Andrea Bargnani (calf), and Dwane Casey is making Don Nelson look conservative in the different types of rotations he deploys.
Nobody expected the Raptors to do anything miraculous this season, and it's incredible to think about where this team might be without the outstanding play of Jose Calderon to date.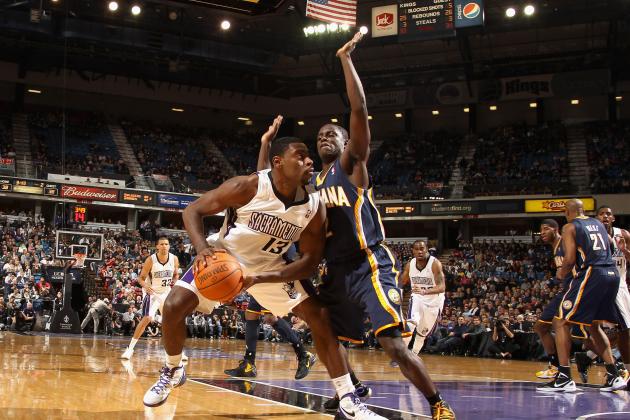 Ezra Shaw/Getty Images

Record: 8-15
Grade: C

There is a different feel to these Kings under Keith Smart than there was under Paul Westphal, and Sacramento has more talent in the starting five than many might think.
Tyreke Evans and DeMarcus Cousins are really solid building blocks for the future, while Marcus Thornton serving as a volume scorer has re-energized the lineup since returning from a thigh injury.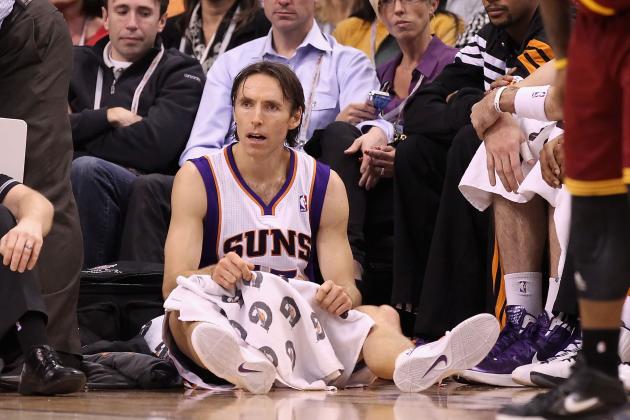 Christian Petersen/Getty Images

Record: 9-14
Grade: C-

Will the Phoenix Suns let Steve Nash play out the whole season in the desert? That's the question on many minds with his team looking like it needs a stick of dynamite taken to the roster and retooling at a variety of positions.
Channing Frye, Hakim Warrick and Josh Childress are all well overpaid on long-term deals, and the visible frustration on Alvin Gentry's face some nights is as telling as it gets for where the Suns currently stand.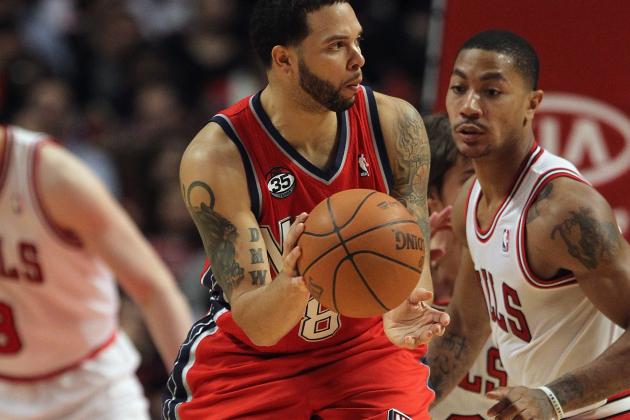 Jonathan Daniel/Getty Images

Record: 8-17
Grade: C

Considering how many injuries have hit this group since just before the season started, it's a minor miracle that the Nets sit at eight wins right now.
Deron Williams has been playing better recently than he had been right out of the gate, but a league-high 4.5 turnovers per game and a shooting percentage of 40.4 percent both need to improve drastically going forward.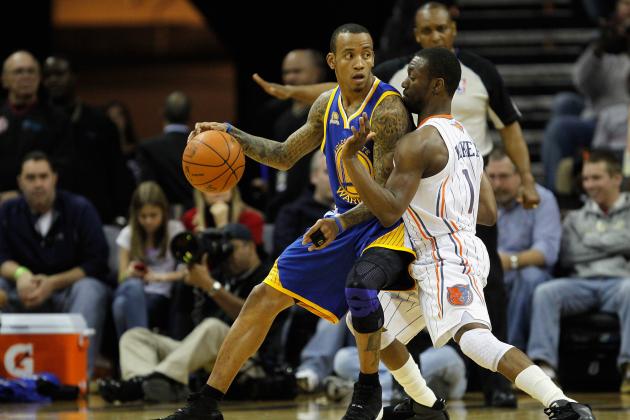 Streeter Lecka/Getty Images

Record: 8-13
Grade: C

Mark Jackson hasn't been shy about guaranteeing his team will make the playoffs, but there is a lot of inconsistency between performances that will have to corrected in order to make the scenario come to fruition.
The largest problem remains production from the center position, where Andris Biedrins' $9 million annual salary is an absolute joke and Ekpe Udoh can't seem to find a steady flow to his game.
Kevin C. Cox/Getty Images

Record: 9-13
Grade: B-

Kyrie Irving is having a historic rookie season, and his play for the Cavs as a 19-year-old in a lockout-shortened season has been nothing short of phenomenal.
He might have been the least hyped top pick in recent years, but it's clear that nobody is looking over him, as he's carrying an underwhelming group toward a respectable record following an abysmal season.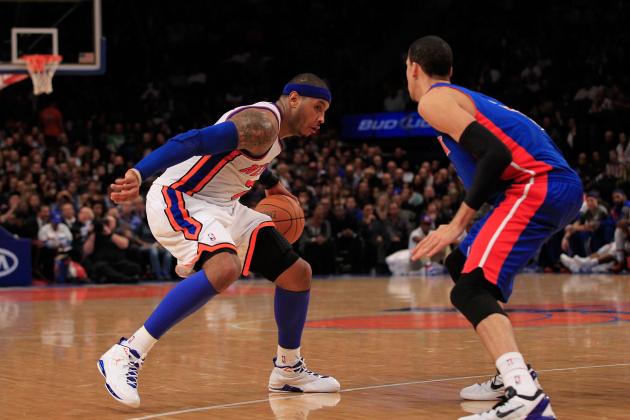 Chris Trotman/Getty Images

Record: 9-15
Grade: C

It took an unexpected explosion from Jeremy Lin at the point guard position for the Knicks to enjoy a win against an undermanned New Jersey team, and that should say a lot about the current state of Mike D'Antoni's offense.
Everyone seemingly forget that a point guard was essential to the facilitation of the approach on the offensive end, nor can chemistry be bought between teammates in a single offseason.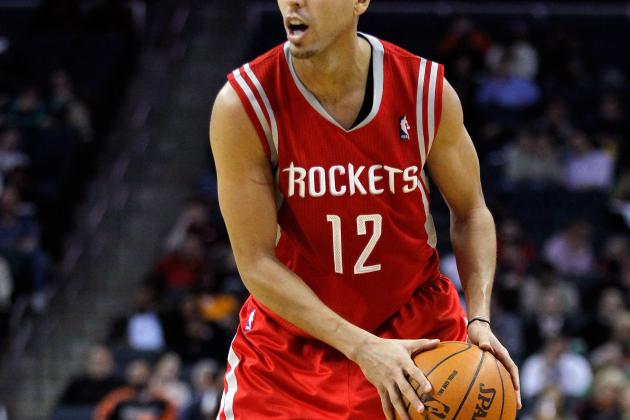 Streeter Lecka/Getty Images

Record: 13-11
Grade: C+

Houston had been on a nice role recently, but both Kyle Lowry and Samuel Dalembert hit a mini-slide, which had a direct impact on the club.
The Rockets may very well have trouble scoring this season when its prime pieces struggle, and the regression of Luis Scola has been difficult to watch.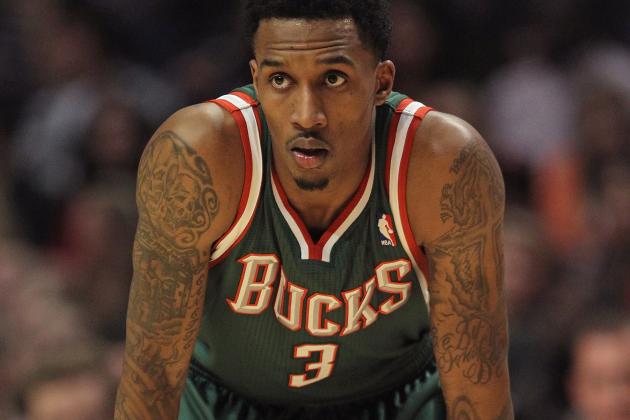 Jonathan Daniel/Getty Images

Record: 10-13
Grade: C+

The Stephen Jackson experiment just isn't working out in Milwaukee, and despite the fact that he's well-received by the players in the locker room, he's just not on the same page as Coach Scott Skiles.
Milwaukee would be wise to look into moving him for some additional offensive help if Jackson isn't going to play, as the Bucks will need help for Brandon Jennings without Andrew Bogut (ankle) available any time soon.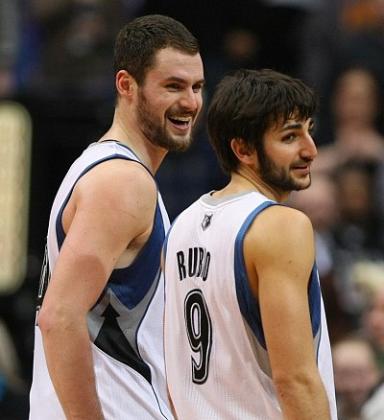 Record: 12-12
Grade: B

The level of chemistry between Ricky Rubio and Kevin Love is obvious, but questionable shot selection and the inclination to fall in love with the deep ball put a ceiling on this team right now.
For the first time in a long while, the Timberwolves are fun and exciting to watch, and this is not a team any other is looking to play in the first round of the playoffs if Minny can find a backdoor entry into the playoffs.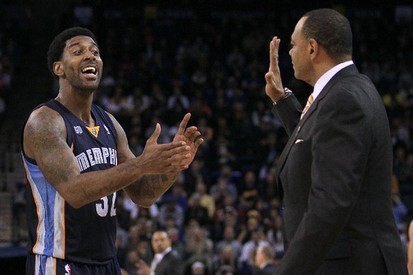 Record: 12-12
Grade: B-

Memphis has turned in some impressive performances without Zach Randolph (torn MCL) available, but the Grizzlies have to be able to do it on a consistent basis before anyone takes the team seriously.
Mike Conley, Rudy Gay and O.J. Mayo are all enjoying very nice seasons, but the production from the second unit (outside of Mayo) leaves a lot to be desired in a year where an emphasis is placed on depth.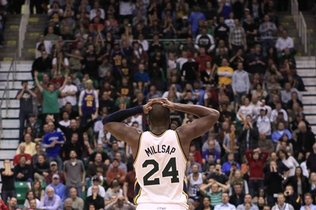 Record: 13-9
Grade: B

The Utah record is impressive considering the lack of expectations from this group before the season began, but 15 of the first 22 games have been inside the EnergySolutions Arena.
With the arena a notoriously tough place for road teams to visit, it will be very interesting to see if the Jazz can continue its success on the road, where the team currently has just a 2-5 record.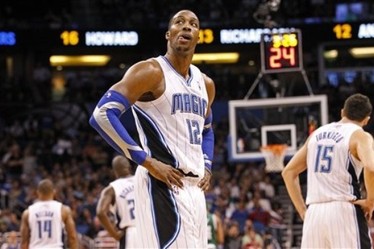 Record: 15-8
Grade: B

The Dwight Howard trade dilemma is having an obvious impact on his team, but Orlando has improved after a tumultuous slide had many questioning just how much talent this roster harbors.
The pieces around Howard are that much better when he's on the court because the opposing defense has to pay attention to him inside.
Howard's team would have an extraordinarily difficult time having the same success without him, no matter what the return would be in a trade.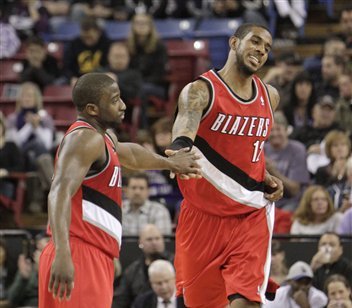 Record: 14-10
Grade: B

Although the Trail Blazers harbor a great deal of talent on the roster, this is another team that really has a tough time finding success away from its home building.
If Wesley Matthews can turn around his slow start and the club gives Nicolas Batum an increased role, this is one club that can shoot up the power rankings in rapid fashion.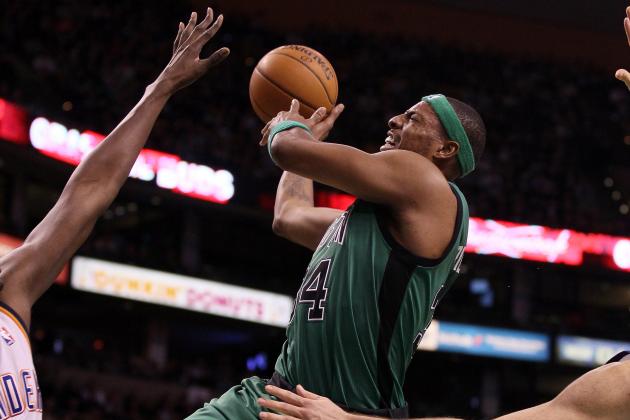 Elsa/Getty Images

Record: 13-10
Grade: B+

There were a lot of fans ready to jump ship on this veteran group following an 0-3 start, but a healthy Paul Pierce can do wonders for his team on the court.
Boston is clicking on all cylinders right now and possess a great deal of chemistry, and it wouldn't be surprising to see this group put together a strong effort in what is likely their final season together.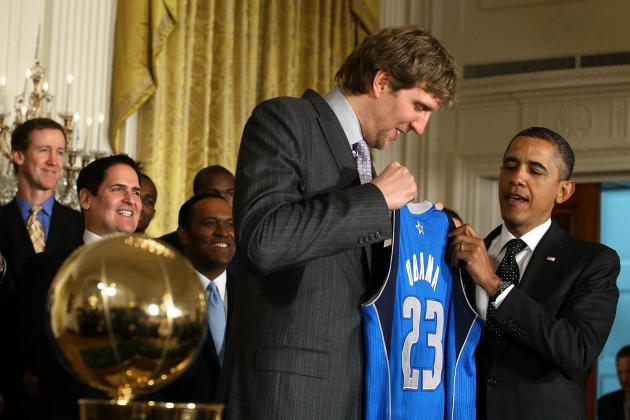 Mark Wilson/Getty Images

Record: 14-11
Grade: B

Dallas might not be scared about any of the opposition in the Western Conference, but a 10-8 record inside the Western Conference indicates otherwise.
There isn't a ton of offensive firepower within this set of players, so when one of the key contributors is having an off night, it's going to be tough to garner that lost production elsewhere.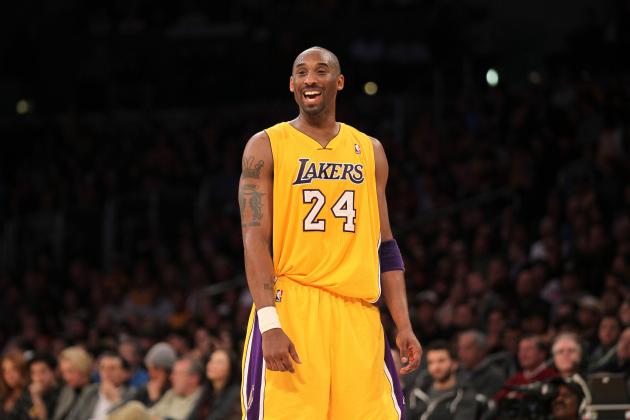 Stephen Dunn/Getty Images

Record: 14-10
Grade: B-

Los Angeles has really struggled away from the Staples Center, but the larger concern here is about where the offense is going to come from beyond Kobe Bryant, Pau Gasol and Andrew Bynum.
The three-point shooting woes continue to really hurt the ability to space the floor, and the fact that nobody besides those three is averaging more than 7.5 points per game is something that has to change before long.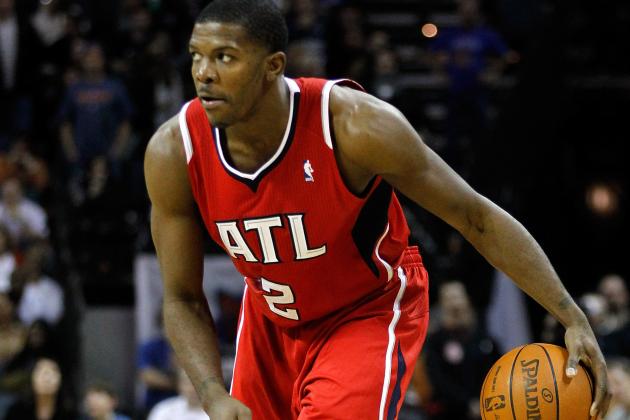 Streeter Lecka/Getty Images

Record: 16-8
Grade: B+

Anyone who is saying that they forecast this type of success for the Hawks after Al Horford (pectoral) went down is lying at this point.
Joe Johnson and Josh Smith both have very compelling cases to make the All-Star team, while Jeff Teague's emergence at point guard has continued to be a major reason why the Hawks have a new feel.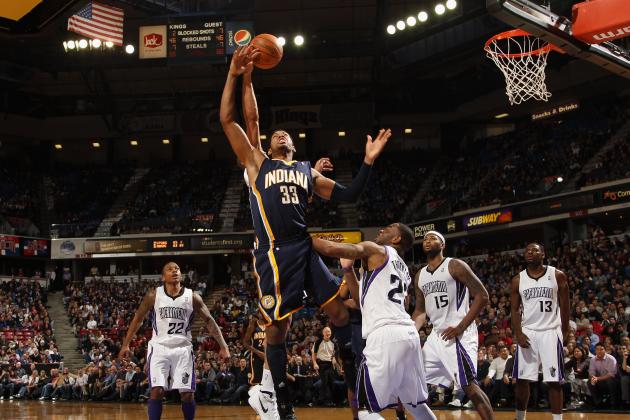 Ezra Shaw/Getty Images

Record: 16-7
Grade: A-

Indiana has a lot to like about the construction of the team, and there aren't enough good things to be said about the job Larry Bird has done putting this team together.
The improved play of Paul George and Roy Hibbert have really allowed this team to turn the corner, and the addition of veteran David West into a youthful locker room looms large in terms of explaining the success.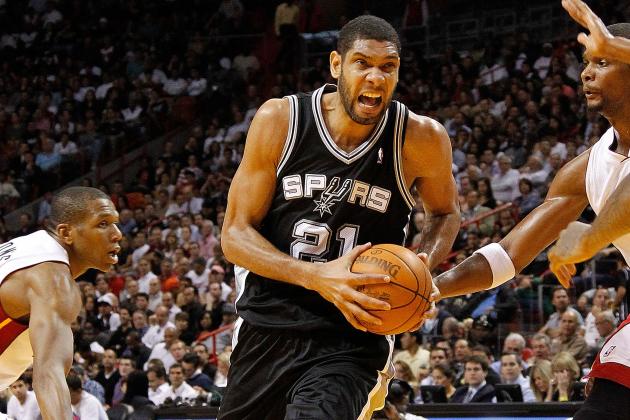 Mike Ehrmann/Getty Images

Record: 16-9
Grade: A-

The Spurs have been downright impressive without Manu Ginobili (broken hand) through the toughest stretch of the season, and Gregg Popovich is a leading candidate for Coach of the Year.
Tony Parker gets lumped in as one of the "old guys" in San Antonio, but he's just 29 years old and his been absolutely rolling since the EuroBasket tournament.
He's a huge part of the success this season as evidenced by his averages of 18.1 points and 7.7 assists.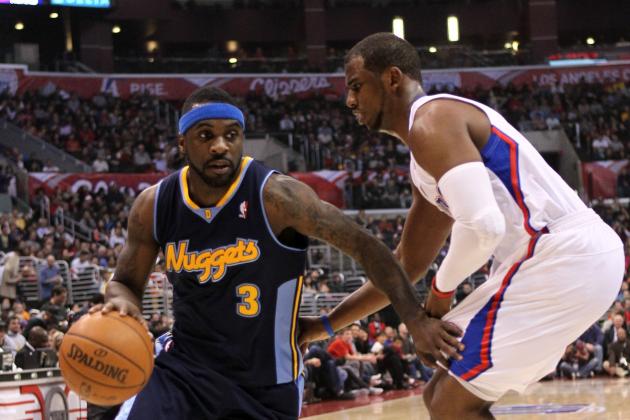 Stephen Dunn/Getty Images

Record: 15-9
Grade: A-

Denver might not have a "superstar," as the public would like to see from good teams, but really good players like Ty Lawson, Danilo Gallinari and Nene have most fans looking well beyond that idea.
Arguably the deepest team in the league, the Nuggets are very much for real, but the question remains how much will the depth matter in a playoff series against a team with heavy firepower in the starting unit.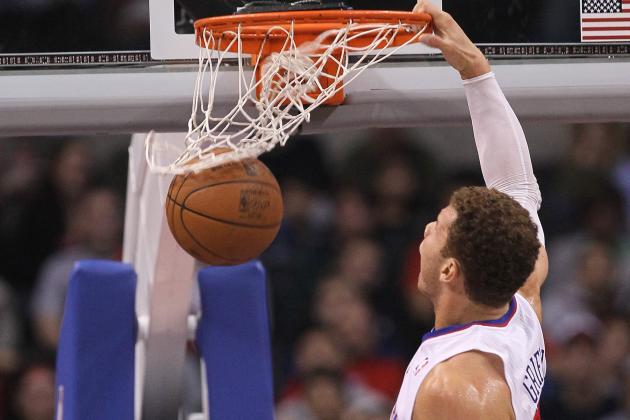 Stephen Dunn/Getty Images

Record: 14-7
Grade: A

Los Angeles is about to get another fantastic boost to the roster, as Kenyon Martin has agreed to join the resurgent Clippers as a back-up big man behind Blake Griffin and DeAndre Jordan.
Martin will provide some much-needed defensive tenacity in the second unit, and more importantly, will allow the team to get some rest for Griffin, who is averaging approximately 37 minutes per game.
The team has two very legitimate MVP candidates in Griffin and Chris Paul, and the Clippers are jelling as a cohesive unit before our eyes.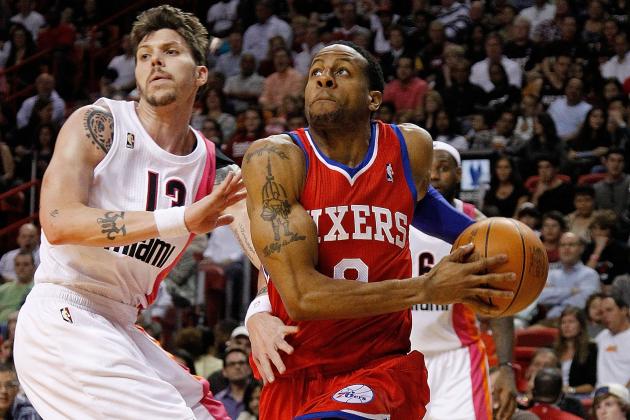 Mike Ehrmann/Getty Images

Record: 17-7
Grade: A

It's uncertain as to why some people still aren't buying into the Sixers, as Doug Collins has this team drinking his Kool-Aid in a big way.
A healthy Andre Iguodala is doing a lot for this club, but the bench mob led by Louis Williams and Thaddeus Young is a defining characteristic of this team in the 2011-12 season.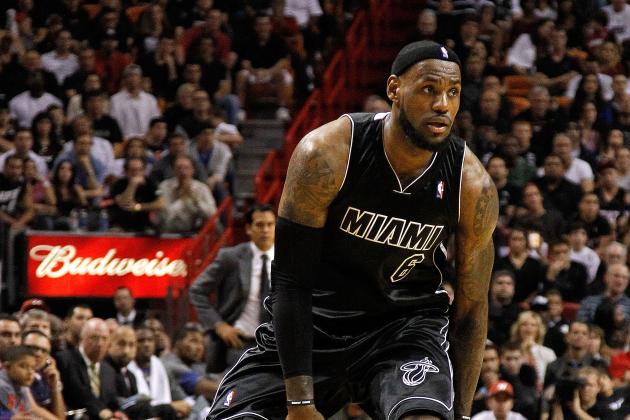 Mike Ehrmann/Getty Images

Record: 18-6
Grade: A

LeBron James' statistical prowess this year is just not getting talked about often enough, and what he's been able to accomplish with such remarkable efficiency is simply mind-blowing.
Having said that, Chris Bosh needs to re-discover the style of play he was enjoying early this season when he was very aggressive in order for Miami to be really going well.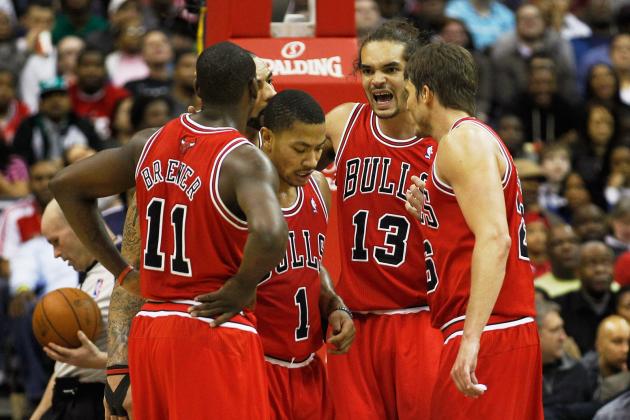 Rob Carr/Getty Images

Record: 20-6
Grade: A

There is still a rather split opinion as to whether the Bulls or Heat are top dog in the Eastern Conference, but the leadership displayed by Derrick Rose for his teammates is an unbelievable characteristic of the young man.
Chicago is a testament to the phrase "team" considering the injuries they've already dealt with and how well the club has been playing throughout the season, and it will be extraordinarily fun to watch the Bulls compete all year.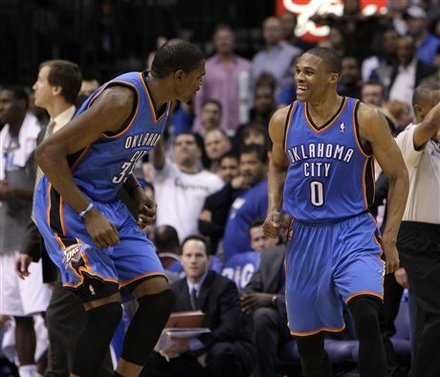 Record: 18-5
Grade: A

In a crowded Western Conference that is defined by a heap of inconsistency and no clear-cut favorites, Oklahoma City stands out in a huge way with what this team has done to date.
The seasons Kevin Durant and Russell Westbrook are having draw the major attention in the public sphere, but the increased contributions from James Harden and Serge Ibaka can't be understated.
With Durant (23), Westbrook (23), Ibaka (22) and Harden (22), the Thunder have an extremely promising future ahead.