Super Bowl 46: Breakdown and Predictions for Giants vs. Patriots
February 3, 2012

Donald Miralle/Getty Images
Super Bowl XLVI between the New England Patriots and the New York Giants is going to be a great game for many reasons. 
There's a ton of talent all around the field, plus the history these two teams have against each other sets up for an epic game. Sunday has the potential to be a Super Bowl for the ages. 
Tom Brady and Eli Manning should both be on their A-game, meaning whichever defense steps up the most will win. 
Of course, both teams have superb offenses, so shutting them down definitely won't be easy. The first time these two teams played this year the game came down to the closing seconds, and the last time they played in the Super Bowl, the game came down to the wire. 
There's no reason Super Bowl XLVI won't be any different, which puts a smile on the faces of every NFL fan out there. 
With that said, here's a breakdown and prediction for the Giants vs. Patriots showdown. 
When: Sunday, Feb. 5 at 6:29 p.m. ET 
Where: Lucas Oil Stadium, Indianapolis, IN 
Watch: NBC 
Betting Line: Patriots (-3) 
New York Injury Report 
*According to CBSSports
RB Ahmad Bradshaw (foot): Probable
WR Hakeem Nicks (shoulder): Questionable 
DE Osi Umenyiora (knee,ankle): Probable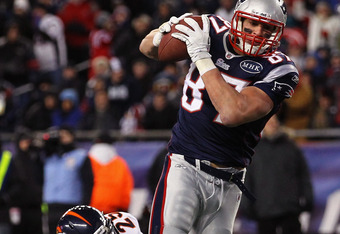 Al Bello/Getty Images
CB Corey Webster (hamstring): Questionable
New England Injury Report 
*According to CBSSports
WR Deion Branch (knee): Questionable
WR Wes Welker (knee): Questionable
TE Rob Gronkowski (ankle): Questionable
LB Brandon Spikes (knee): Questionable
OT Sebastian Vollmer (back, foot): Questionable
OG Logan Mankins (knee): Questionable
New York Player to Watch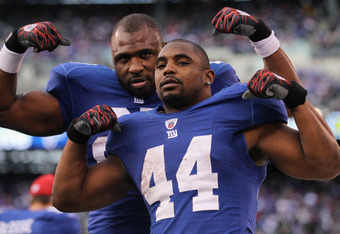 Nick Laham/Getty Images
I'm cheating a little bit here and going with two players, but only because they're practically the same anyway. 
Brandon Jacobs and Ahmad Bradshaw make up the Giants run game, and if they don't step up and play big, it's going to be a long night for New York. 
The passing game will be used a lot, but the run game is what will help set that up. If neither running back is on their A-game, the Giants are doomed. Both players have to make the most of each carry, because if they don't, the Patriots will cruise to another Super Bowl victory. 
New England Player to Watch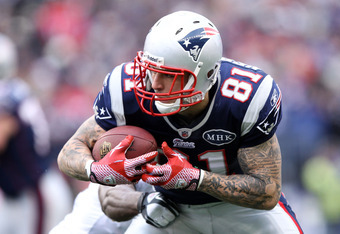 Elsa/Getty Images
With Gronkowski's health status in question, the pressure for Aaron Hernandez to step up grows even more. 
Hernandez has done a great job this year, but it's Gronkowski that has truly been the dominant force on offense. If he's unable to play, Hernandez has to fill the void and make monster plays just like Gronkowski would be doing if he were 100 percent. 
The Patriots offense heavily relies on great play by the tight end, which means Hernandez has to come through on Super Bowl Sunday. 
Keys to New York Win 
In addition to needing a solid ground and pound, the Giants also have to get consistent pressure on Brady. 
New York has a stellar pass rush, but if it gives Brady too much time it won't end well for the Giants. Brady can easily pick apart New York's secondary if he has all day to throw. 
Flustering Brady is the key to creating turnovers, which will increase New York's chances of winning. The Giants must also protect the ball, because giving Brady more opportunities to score will ruin New York. 
Keys to New England Win 
The Patriots have to hold onto the ball, or else the Giants will run away with this game.
Manning and his talented receivers are playing extremely great football, which means the Patriots offense needs to chew up the clock and keep Manning and company off the field. 
Plus, the Patriots' secondary has to elevate their game and be ready for anything. Should the defense get burned early, the key will be to not get frustrated, but to stay focused.
Making in-game adjustments—especially on defense—is the best way New England is going to get a victory. 
Prediction 
Expect another wild and crazy game that is decided in the final minutes. After all, there's nothing better than the close matchup in the biggest sporting event of the year.
In the end, I like Brady to lead the Patriots on a come-from-behind, fourth-quarter victory to win the game, thanks to a superb catch by Gronkowski in the end zone.
(I wanted to say Chad Ochocinco, but that's just too crazy, right?) 
Patriots 30, Giants 28