Power Ranking the Freshmen Performances of the 24 2011 McDonald's All-Americans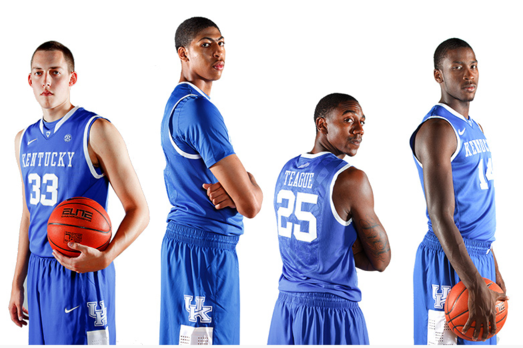 Photo by Derek Poore - http://www.derekpoore.com
If you are selected as a McDonald's All-American, you're good.
It is arguably one of the biggest distinctions given to high school basketball players on an annual basis.
Some of the elite players currently in the NBA (such as Kevin Durant, LeBron James and Dwight Howard to name a few) exploded onto the national scene because of their MVP performance at this yearly All-Star classic.
We are more than two-thirds the way through the 2011-12 season college basketball season, and the 24 players who participated in the 2011 McDonald's game have had a wide range of success/failure during their respective freshmen seasons.
Here is a power ranking of the 24 2011 McDonald's All-Americans (partial) freshmen performances:
Begin Slideshow

»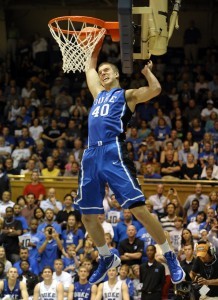 Marshall Plumlee was not ready to play at Duke. Period.
He lacked the strength and development to legitimately compete for playing time this season.
The best decision was to redshirt him and allow for him to work on his body and game with the team.
Coach K was not interested in turning the fact that he had three brothers in the program into a spectacle.
He said, "I'm not going to do something crazy like put a zone with three 6-10 guys, just for the sake of playing them together."
Hopefully for the Blue Devils, Plumlee will add some bulk and skills by next year that he didn't bring with him to Durham.
By next season, Miles Plumlee, the only senior on this year's roster, will have graduated.
And depending on how Mason does the rest of 2011-12, he could be gone via early entry in the 2012 NBA draft.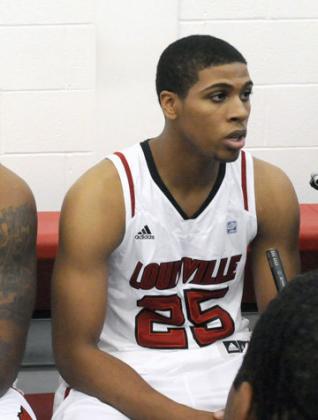 Rick Pitino was excited about what Wayne Blackshear was going to bring as a true freshman on this year's Cardinals team.
Fall practices started, and Blackshear injured his shoulder (torn labrum) and was thought to be out for the season.
The 6'5" wing from Chicago started practicing with the team a couple weeks ago and has continued to workout on a limited basis.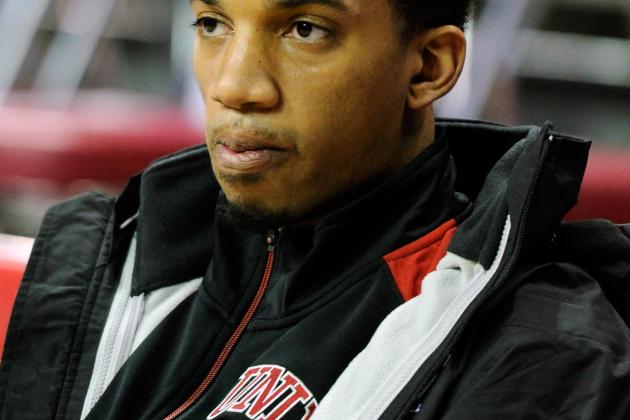 Ethan Miller/Getty Images

Khem Birch was supposed to be a standout frontcourt player at Pitt.
He was going to bring athleticism and elite-level shot blocking to Jamie Dixon's Panthers.
But, Birch played in only 10 games for Pitt, averaging 15 minutes per game and a disappointing 4.4 points and 5.0 RPG before announcing that he was leaving school and transferring.
After a short search, Birch decided to take his talents to Vegas and play for Dave Rice and the UNLV Rebels.
He is sitting out the remainder of this season and will have to stay out until the end of the first semester next year.
Birch and Mike Moser (the NCAA's No. 3 rebounder) could make a menacing duo.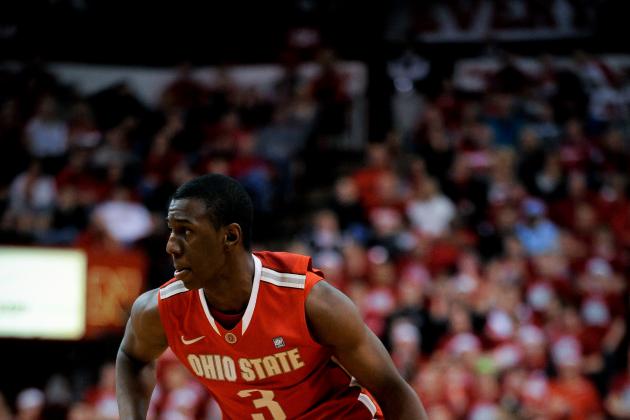 Eric Francis/Getty Images

Shannon Scott is a pass-first PG who is learning as he is backing up the Buckeyes' skilled sophomore floor leader, Aaron Craft.
Scott is playing 11 minutes per game and averaging 1.7 PPG, 1.2 RPG and 2.0 APG.
One of the things that Scott will need to work on if he is going to become a potent PG of the future is his shooting from beyond the arc. So far this season, he has only hit 1-of-14 from three-point range (7.1 percent).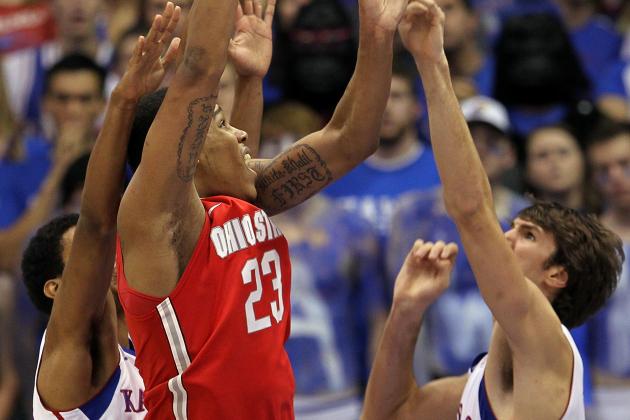 Jamie Squire/Getty Images

Amir Williams is learning all about what it's like to bang from his Buckeyes teammates.
Williams is playing eight minutes per game and averages 2.1 PPG and 2.6 RPG.
There's an excellent chance that the 6'11", 220-lb backup center will move into the starting lineup next season after Jared Sullinger moves on to the NBA.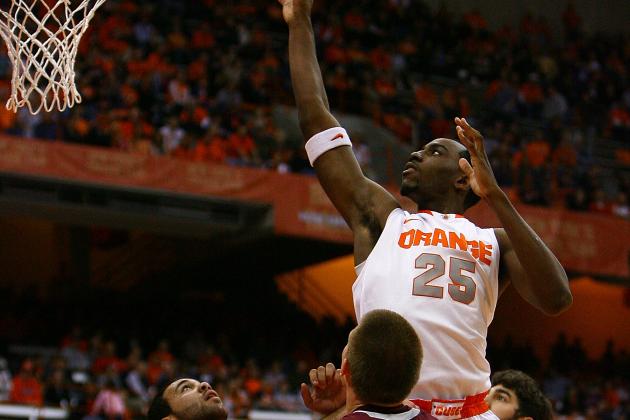 Nate Shron/Getty Images

Rakeem Christmas is providing some quality minutes off the bench for Syracuse this season.
He is averaging 3.3 PPG and 3.3 RPG while playing around 13 minutes.
Christmas definitely shows promise that he will be a significant factor in Syracuse's future.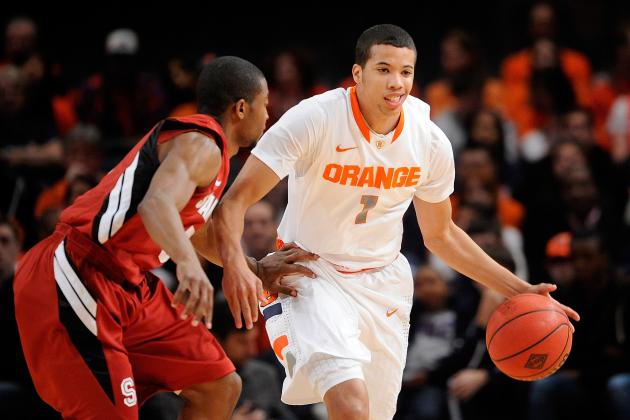 Patrick McDermott/Getty Images

Though MCW is still a year or so away, he has shown flashes of what he will bring somewhere down the road.
Against St. John's recently, Carter-Williams dropped in 13 points off of 3-of-4 shooting from beyond the arc. He also grabbed four rebounds and handed out three assists.
Because of Jim Boeheim's backcourt depth on this Orange team, he can bring Carter-Williams along slowly this year so that he can throw him in next year.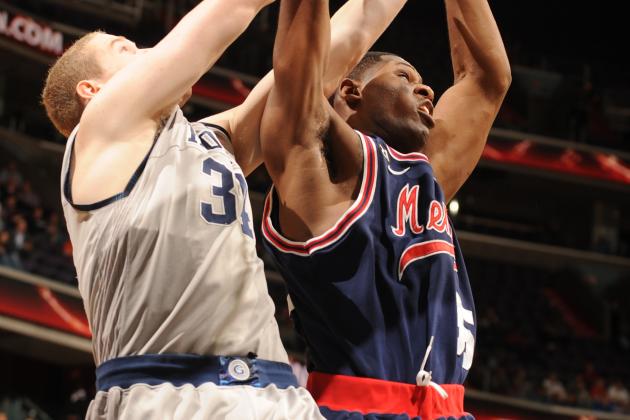 Mitchell Layton/Getty Images

Adonis Thomas is an up-and-coming star.
He was having a solid freshman year for the Tigers until he injured his ankle, which required season-ending surgery.
Thomas averaged 9.7 and 3.6 rebounds over 16 games.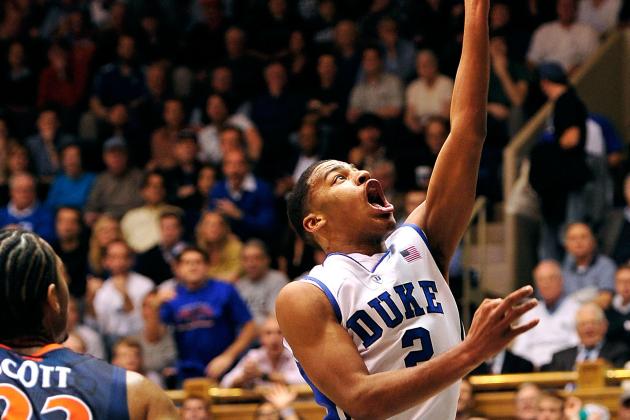 Grant Halverson/Getty Images

Quinn Cook has had an uneven freshman year so far, mostly coming off of Coach K's bench.
The 6'0" PG battled preseason knee problems, and it has bothered him throughout the year.
Cook is averaging five points and 2.1 assists per game while playing 12 minutes per game.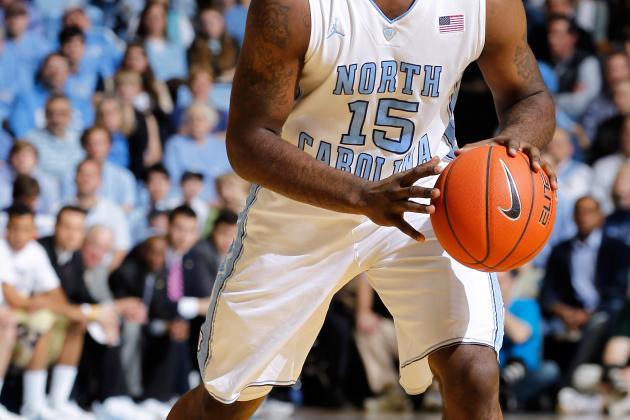 Streeter Lecka/Getty Images

P.J. Hairston is a long-distance shooting specialist that started off his freshman season nicely, hitting 17-of-35 (48.6 percent) from beyond the arc over his first eight games in Chapel Hill.
Since then, the 6'6" shooting guard has shot 13-of-62 (21 percent) from three-point range.
Hairston is averaging 6.9 PPG and 2.3 RPG on the season and is still an important part of the Tar Heels chances of making a deep run in the NCAA tournament.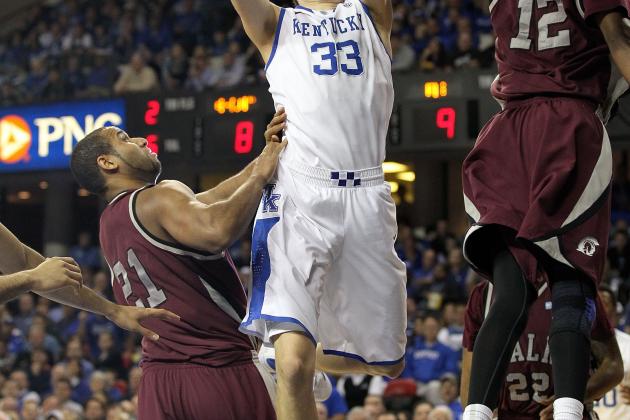 Andy Lyons/Getty Images

On just about any other D-1 roster, Kyle Wiltjer would be the leading scorer and rebounder.
But when you play on the same squad as Terrence Jones and Anthony Davis, there's a good chance you are coming off the bench.
The 6'9" forward from Portland has been productive as a reserve, averaging 5.9 PPG and 2.3 RPG while playing just under 14 minutes per game.
Nobody expects either Jones or Davis to return for next season. Wiltjer should be inserted into John Calipari's starting five.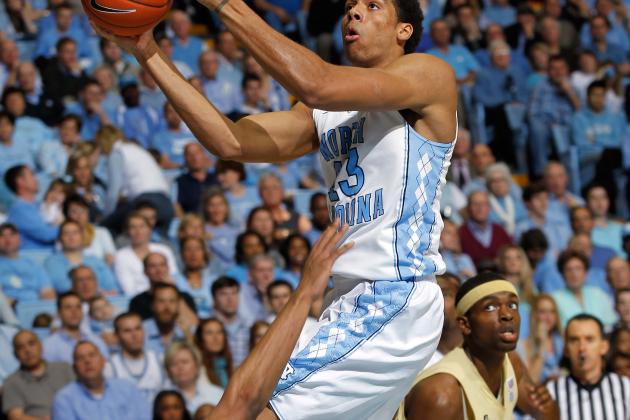 Streeter Lecka/Getty Images

James Michael McAdoo, like Wiltjer, would be a likely starter on most D-1 teams.
But at North Carolina, he, as a freshman, plays behind John Henson and Tyler Zeller.
The 6'9" forward from Norfolk has made a solid contribution to the Tar Heels' season, averaging 5.2 PPG and 3.6 RPG in 14 minutes per game.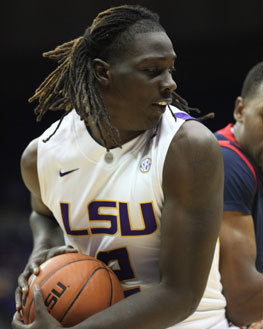 Johnny O'Bryant has had a rock-solid start to his collegiate career at LSU.
O'Bryant missed five games in early January, but has come back to average nine PPG and eight RPG over the last three games.
On the season, the 6'9", 250-lb. forward plays 20 minutes a game and averages 8.1 PPG and 6.5 RPG.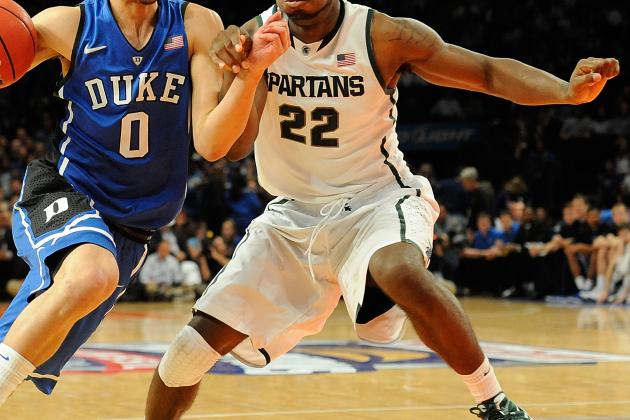 Patrick McDermott/Getty Images

Branden Dawson's game matches the Tom Izzo's style: hard-nosed, physical ball.
The 6'6", 220-lb. guard has elevated his production over the last four conference games, averaging 13 points and six rebounds.
On the season, Dawson plays 20 minutes per game and averages 8.7 PPG and 4.6 RPG.
Prediction: When Draymond Green graduates after this season, Dawson will step in and be one of the Spartans leaders into their future.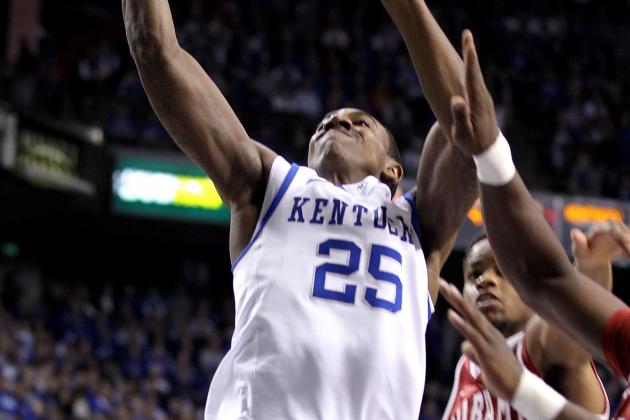 Andy Lyons/Getty Images

Marquis Teague has some of the biggest shoes to fill of any D-1 player: PG at Kentucky.
You try to follow Brandon Knight and John Wall!
Teague has had an ordinary freshman season: some ups, some downs, lots of unexciting.
The 6'2" PG from Indy averages 9.6 PPG, 2.5 RPG and 4.3 APG with a decent assist-to-turnover (1.5) ratio.
Teague may not enter the NBA draft like his predecessors, but he will become a top PG by the time he is through in Lexington.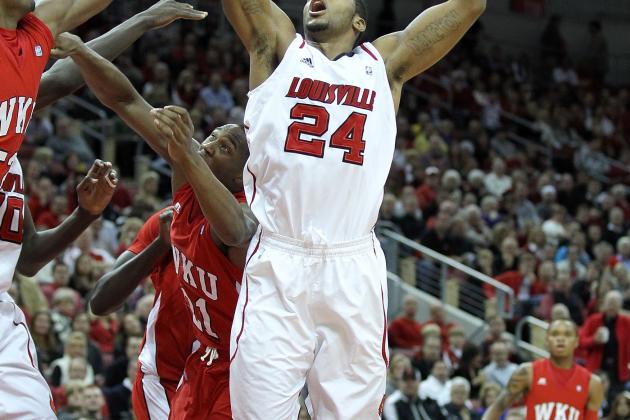 Andy Lyons/Getty Images

Chane Behanan's freshman season keeps getting better.
Even though he started his collegiate career with two double-doubles (against Tennessee-Martin and Lamar), Behanan's last five games have been excellent, where he has averaged 15 points and 9.5 rebounds.
On the year, the 6'6", 250-lb. forward is dropping in 9.7 PPG and grabbing 7.7 RPG.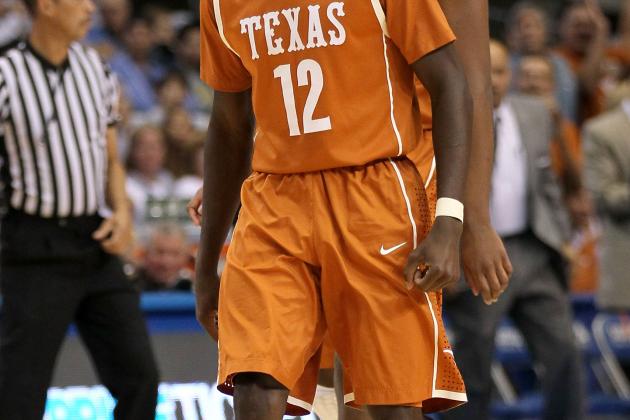 Stephen Dunn/Getty Images

Myck Kabongo (one of the best names in college basketball) has the tough job of playing PG on a team that is almost entirely reloading its roster.
And so far, Kabongo has stepped up to the challenge, averaging 9.8 PPG, 3.1 RPG and 5.2 APG.
His 1.73 assist-to-turnover ratio shows that he is taking good care of the ball for a Texas team where four of the top five scorers are freshmen.
While his numbers aren't as good as T.J. Ford's freshman stats (10.8 PPG, 3.8 RPG and 8.3 APG), Kabongo has established himself as the next great Longhorn floor leader.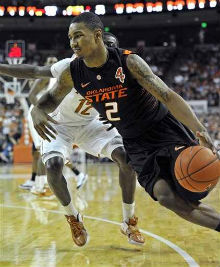 Le'Bryan Nash has given Oklahoma State another tough-as-nails wing player who can dominate games at both ends of the court.
The 6'7", 230-lb G/F is the Cowboys' No. 2 scorer (13.3 PPG) and No. 3 rebounder.
In his last four games, Nash has elevated his scoring, averaging 17 points on 48 percent shooting.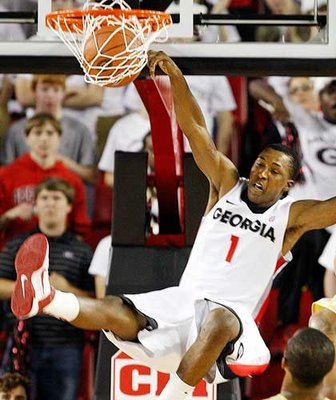 Kentavious Caldwell-Pope is a bright spot in what has become a disappointing year (10-12, 1-7 SEC) for Georgia.
The 6'4" guard leads the Bulldogs in scoring (14 PPG) and is their No. 2 rebounder (5.2 RPG).
He is the first freshman to lead Georgia in scoring since Jumaine Jones, who also averaged 14 points during the 1997-98 season.
There's no question that Caldwell-Pope is the kind of player that Georgia head coach Mark Fox can build the program around.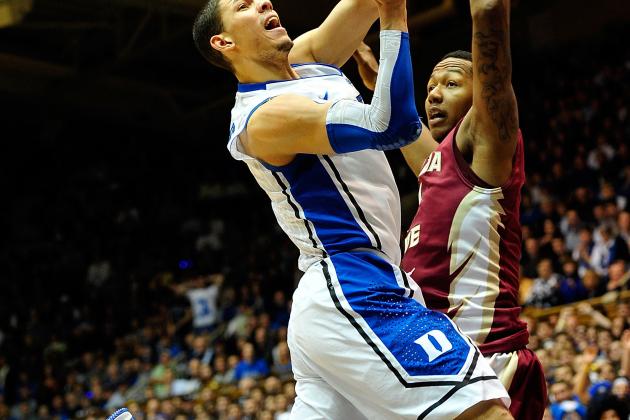 Grant Halverson/Getty Images

Austin Rivers has never been afraid of high expectations. It's a good thing, because people inside and outside the program have expected nothing but the best from the 6'4" SG from Winter Park, Fla.
While Rivers leads the Blue Devils in scoring (14.3 PPG) and is Duke's No. 2 assist man (2.1 APG), his performance, most of the time, has not been awe-inspiring.
So far, he only shoots 68.4 percent from the FT stripe and has more turnovers than assists.
With an outstanding stretch run and a tremendous NCAA tournament, Rivers still could be a lottery pick. But it appears that the Boston Celtics coach's son could benefit from an additional year under Coach K's tutelage.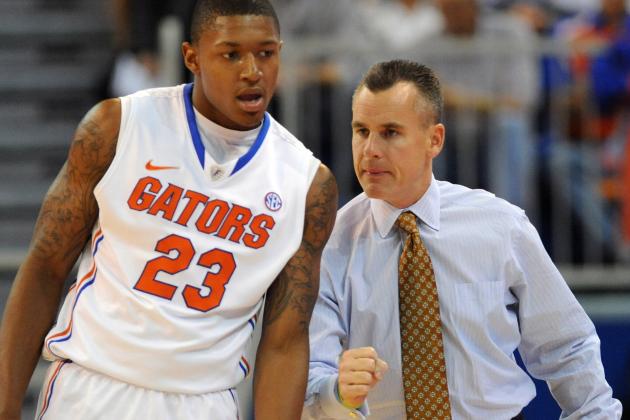 Al Messerschmidt/Getty Images

Bradley Beal has stepped right into a Gator lineup that already had two outstanding guards in Kenny Boynton and Erving Walker.
Billy Donovan hasn't hesitated one bit in putting all three perimeter players on the court together.
When you average 14.3 PPG and 6.1 RPG, you make many of your own opportunities.
Beal has cranked it up a notch lately, averaging 17.3 points and 7.3 boards over Florida's last three games.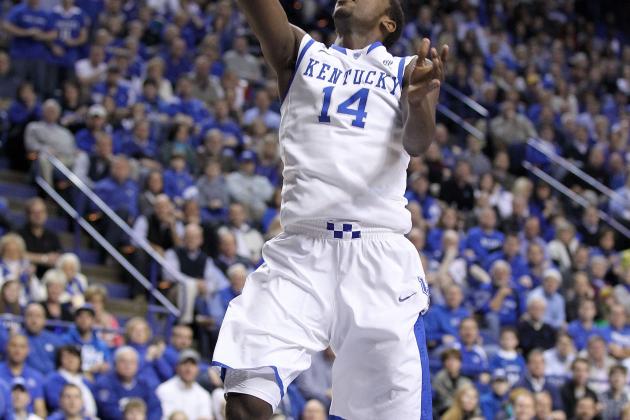 Andy Lyons/Getty Images

Michael Kidd-Gilchrist is one of the best SFs in college basketball.
In most programs, Kidd-Gilchrist would easily lead the team in both scoring and rebounds.
But when you play for Kentucky, being the team's No. 3 scorer (12.6 PPG) and No. 2 rebounder (7.5 RPG) is no slap in the face.
While Kidd-Gilchrist is currently in a mini scoring slump (8.0 PPG on 7-of-21 shooting) over the last three games, he still is battling teammate Anthony Davis for National Freshman of the Year honors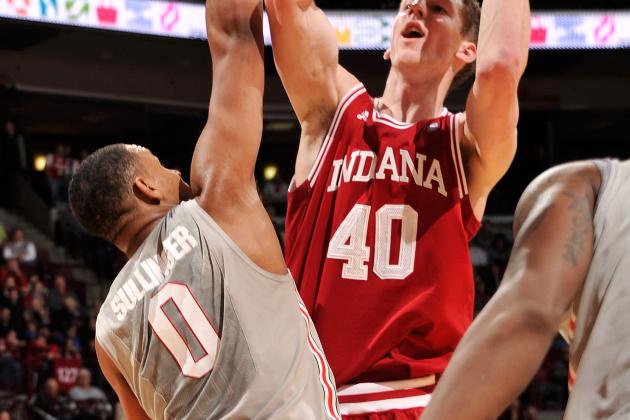 Jamie Sabau/Getty Images

Cody Zeller is one of the biggest reasons why Indiana basketball has moved back into the Big Ten conversation and onto the national polls (No. 20 in last week's rankings).
Zeller leads the Hoosiers in scoring (15.1 PPG), rebounding (6.4 RPG) and shooting percentage (64.9 percent, No. 9 in the nation).
The 6'11", 230-lb. forward has bumped things up a level over the last three games, averaging 18 points, eight boards and 68 percent shooting.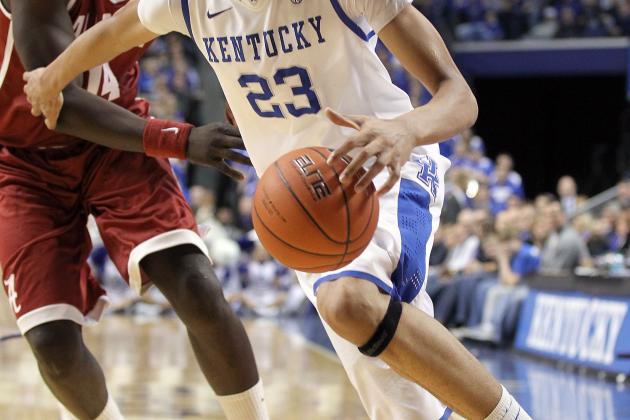 Andy Lyons/Getty Images

Anthony Davis has exceeded his recruiting reputation as being one of the elite level players in the class of 2011.
Davis' length and athleticism causes opponents to panic on both ends of the court.
He not only leads the Wildcats in scoring (13.9 PPG) and rebounding (10.1 RPG), the 6'10", 220-lb. forward leads the nation in blocked shots (4.8 BPG) and is No. 5 nationally in shooting percentage (66.3 percent).
Davis is in line for any and every freshman honor, AND he "is in the thick of things" for National Player of the Year awards, too.