Arsenal FC: Gunners Could Miss out on Champions League with No New Striker
February 3, 2012

Laurence Griffiths/Getty Images
Robin Van Persie needed back up at Arsenal, and with no such reinforcements in January, Arsene Wenger and his Gunners could now miss out on the UEFA Champions League next season.
As was painfully clear in the 0-0 draw at Bolton Wanderers, the North London side need a new striker, whether it be a partner upfront for Robin Van Persie or someone to replace him when he's out injured, needs a rest, etc.
The legendary Thierry Henry will make do for the next month, but until the end of the season Arsenal will be painfully short of quality upfront.
And given their established back four are returning together with Bacary Sagna back from injury, it's goals the Gunners need more than anything.
Out-of-favour forwards Marouane Chamakh and Park Chu-Young are hardly going to provide that for the rest of the season, due to the lack of trust Arsene Wenger has in them as much as their evident lack of quality.
Indeed Van Persie will be Arsenal's key man when it comes to scoring those all-important goals, but the problem is the reliance on the flying Dutchman to find the net.
He currently tops the Premier League goalscoring chart with 19 to his name this season. Arsenal's next best league goalscorer is Gervinho, with four goals.
That tells its own story, and shows Arsene Wenger needs a new, proven goalscorer who can instil confidence in the team.
Of course, it is nice for Wenger to balance the books at the Emirates and keep Arsenal sweet in the eyes of UEFA, and not bringing in a new forward permanently may be the bit of trust that inspires Chamakh or Park to goalscoring glory.
But given their dire form, that's very unlikely, while a new signing could almost pay for itself with Champions League qualification.
One striker Wenger should've gone for was Moussa Sow, who ended up sealing a £10 million move to Fenerbahce from Lille OSC.
Sow was a target for Liverpool as well as Arsenal, and while he would've missed his first month at the club with Senegal at the African Cup of Nations, in terms of the rest of the season, he would have been a key player.
The 26-year-old was a proven goalscorer, netting 31 Ligue 1 goals in 54 games for Lille, and was garnering respect across Europe.
He would have been a big-name signing to keep the fans happy, and if Van Persie wasn't playing, would give the likes of Theo Walcott, Aaron Ramsey and Mikel Arteta more confidence when they put crosses and play balls into the penalty area.
Plus, he'd have a great understanding with former Lille teammate Gervinho, so a fruitful partnership could've been formed there.
Or, given his stature and strength—which would've made him a big success in the Premier League—a change in formation and partnership with Robin Van Persie, which some Arsenal fans have been crying out for, would work.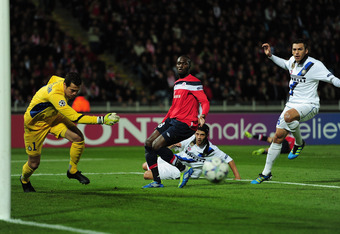 Jamie McDonald/Getty Images
And at £10 million, he wouldn't have been Wenger's most expensive ever transfer outlay. 
Failing the signing of Moussa Sow, his Senegal teammate Papiss Cisse would have been another good option.
He went to Premier League rivals Newcastle United for just £9 million, with the Toon now set to reap the rewards of his partnership with Demba Ba.
Cisse wouldn't be the type of player tactically who could form a partnership with a player like Van Persie, but he would have been the best possible backup option, and exactly the sort of striker to keep the fear factor in Arsenal's attack without their main goalscorer.
And again, his fee wouldn't have been astronomical. 
Olivier Giroud and Alexandre Pato would've also been great, albeit more expensive, options, whilst any hugely prolific unknown striker with a big point to prove would also give Arsenal the incision they need.
Burak Yilmaz, linked with the Gunners, and Artjoms Rudnevs would fit the bill—two strikers more prolific than Van Persie with international pedigree, a lower fee, and most importantly a big point to prove in a top European league.
Without a new striker with proven quality, it's hard to see Arsenal having enough firepower to make it to the Champions League.
The Gunners currently languish seventh in the table, five points behind fourth-placed Chelsea, having scored less goals than all of the current top four, and a staggering 21 less goals than leaders Manchester City, despite having the most prolific striker in the league.
Even with Van Persie, they've struggled for goals as of late, and without him, the team barely offers a direct attacking threat.
Arsene Wenger deciding not to sign a new striker could actually be a typical Wenger masterstroke that sees Van Persie continue to get the goals without a problem, and inspires Park, Chamakh and the midfielders to find their goalscoring form with clear trust shown in them by the boss.
It could also see Arsenal qualify for the lucrative Champions League without the need for extra money in January on a transfer fee and wages, meaning they deliver end of season profits and have enough cash in the summer to sign a real superstar that makes Arsenal a key player in next season's Premier League title race.
But with the way things are going at the moment, it's more likely that Wenger's decision not to sign a striker will end in disappointment, with Arsenal failing to qualify for the Champions League, Wenger's job coming under more scrutiny than ever before and the Gunners hopes of winning an elusive trophy fading once again.