Alabama Recruiting 2013: A Brief Glimpse at the Crimson Tide's 7 Commits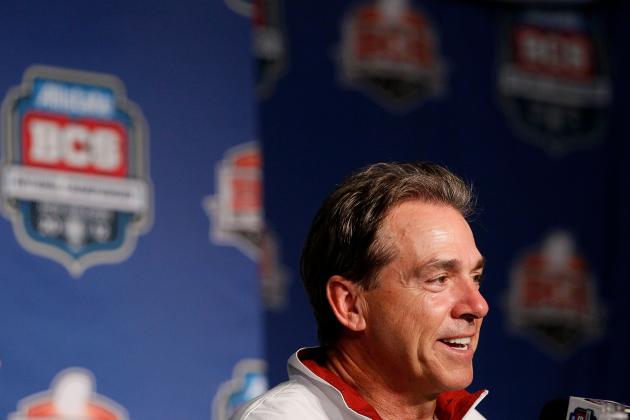 Chris Graythen/Getty Images

With the 2012 National Signing Day behind us and the spring game still months away, it's a good time to take a look at what the Tide expect to get in the next recruiting class.
With only one 4-star and one 5-star commit so far, the 2013 class still has a long way to go before even challenging the 2012 class for "best in the Saban era." However, almost a year ahead of time, it's a pretty good start.
Here are the 2013 commits in alphabetical order.
*Stats from Scout.com
Begin Slideshow

»
The offensive line will lose some great players at the end of the 2012 season. Crimson Tide fans are thankful for the fact that some returned for their senior years, but they will eventually have to be replaced.
After that, the replacements will need to be replaced. It's a never-ending battle on the college gridiron to keep talented players at specific positions. If they're good enough to bring home a national championship, they have a shot at leaving after their junior years.
Alabama does a good job of reloading instead of rebuilding.
Bozeman measures 6'5" and weighs 315 pounds. That's definitely a package worth double-teaming, even before he hits the weights at the Capstone.
Commit date: 6/8/11
Scout has him listed as a CB, and his 6'1" 175-pound frame speaks to that end.
Updated content: my original video was of Arthur Burns, not Artie. This video makes a lot more sense.
Artie Burns is a lethal corner and displays a ton of positives in the featured video from sunshinepreps.net. As you can see, there will be no question of what position he will try out for.
Although the camera isn't focused on him at the time, the first play in that video shows his ability to bait a quarterback. He stood off to the side, waited for the throw and jumped the route for the interception.
A healthy addition to the Tide for 2013, and a future "lock-down" corner.
Commit date: 12/1/11
After the 2012 season, the Tide may get a lot of these knocking on the door.
The expectations placed on the upcoming season with regard to the receiving corps are extremely high. If they perform as expected, Tide receivers will soon be as feared as Tide running backs.
Falkins stands at 6'3" and 190 pounds. He may not be a headliner by the time this class is all signed up, but he has plenty of potential to become a headliner on the field.
Commit date: 1/28/12
Foster is listed as an OLB on Scout. He plays both sides of the ball in high school as a linebacker and a running back.
Just watching the video garners more excitement for his potential on the Tide's defense. (We'll be fine at running back in 2013.)
Standing at 6'1" and weighing 240 pounds, he would be a force wherever he got placed. With a 40-yard time of 4.65, expect him to play defense with a smattering of punt/kickoff returns to his credit.
Commit date: 7/18/11
The tight ends on the Crimson Tide get a ton of work. At 6'5" and 225 pounds, Howard is already comparable in size to Brad Smelley (6'3" and 219 according to ESPN).
Howard will be a valuable asset to the Tide, should he stay with his commitment. With the Tide's current use of the tight end position, I don't see him backing away.
Doug Nussmeier's influence on the offense could change that, but don't expect much to change offensively for the Tide. (Deeper routes and more complex plays on occasion, but the basic Crimson Tide offense will remain intact.)
Commit date: 7/18/11
Stewart is another quarterback commit for the Tide. I don't mind signing a quarterback every year, but seeing a guy like Philip Sims get almost completely lost in the shuffle makes me wonder if Alabama should skip a class. (Sims could get as little as one year slinging for the Tide, if McCarron stays for his senior season.)
Ultimately, the coaches will do what's best for the players. (Based on Nick Saban's book via RollBamaRoll, I truly believe that.)
Look what he did with Cade Foster on Nov. 5, 2011. That game was all about player development, not a "whatever it takes to win" attitude from the staff.
Ardarius Stewart's addition to the Tide will give Alec Morris a challenger. (Of course, either one of them could always make the switch from gunslinger to receiver. That wouldn't bother anyone.)
At 6'1" and 170 pounds, Stewart isn't a weakling, either. (Plus, these boys will all bulk up before they see the college field.)
Commit date: 1/28/12
The Crimson Tide, no matter how potent their receiving game gets, will always rely on balance to be most effective. Since 'Bama is a destination school for running backs, expect to see a great one coming in every year or two.
Tenpenny fits that bill, and could be the headliner in 2015. (Assuming Yeldon pans out and ends up in the 2015 NFL draft.)
Tenpenny is listed at 6'0" and 203 pounds with a 4.42 40-yard time. That is definitely the recipe for a headliner.
Commit date: 1/28/12