Edwin Jackson: One-Year Deal Could Be a Big Mistake
February 3, 2012

Pool/Getty Images
It was announced today that the Washington Nationals and right-handed pitcher Edwin Jackson have agreed to a one-year deal worth anywhere from $8-12 million. This deal, pending a physical, will see Jackson suiting up for his seventh team in what will be his 10th season in the league.
Jackson has literally been one of the most average pitchers in baseball history in his nine seasons, recording 60 wins, 60 losses and a 4.46 ERA. He owns a pedestrian SO/BB ratio of 1.82, as well as a WHIP of 1.476.
This deal comes on the heels of a strong season for Jackson, one of the few he's had as a major leaguer. He went 12-9 with the White Sox and Cardinals, with a 3.79 ERA in 199.2 innings of work.
His best season came in 2009, a season in which he made his only All-Star appearance. In 214 innings for the Tigers, Jackson pitched to the tune of a 13-9 record with a 3.62 ERA.
Jackson reportedly turned down a three-year, $30 million deal recently to sign a one-year deal with the Nationals instead.
Clearly, switching cities is nothing new to Jackson. If I were him, though, I would be looking to settle down and become accustomed to my new surroundings. Maybe that's why he has yet to find consistency in this league.
Also, what happens if Jackson has a down year? If he turns in a season similar to his 2010 season with the Diamondbacks and White Sox (10-12, 4.47 ERA), he may stand to lose a lot of his value next offseason.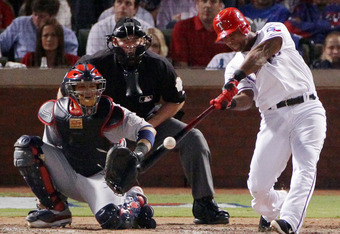 Doug Pensinger/Getty Images
When Jackson signed this contract, Adrian Beltre's one-year deal with the Red Sox came to mind. In his 2009 season with the Mariners, Beltre hit just eight home runs with 44 RBI. After the down season, he could have accepted a multi-year offer from the A's, but they withdrew their offer after he let it sit for too long.
A multi-year offer would have been ideal for Beltre, as there was no guarantee he would ever go back to his former levels of production. He proved all of his doubters wrong, though, winning the Silver Slugger and Gold Glove awards in his stellar season with the Red Sox.
Following the season, he cashed in with a six-year, $96 million deal with the Rangers.
Jackson runs quite a risk with this one-year deal. If he produces, he will most certainly cash in next offseason. If he doesn't, he most likely won't be making a multi-year commitment following the season.
Although this deal could be a big mistake, it may be difficult to argue with his logic. After all, Scott Boras orchestrated both Beltre's and Jackson's one-year deals, and just look where that got Beltre.