College Football Recruiting Wrap-Up: 3 Big-Time Recruits Still Undecided
February 3, 2012

The hype and hoopla surrounding National Signing Day is palpable in the Internet age.  From Tuesday evening to the end of Wednesday, I had as much or more activity on my Twitter account than most college-football Saturdays.  So yeah, it is a big deal.
But, it isn't the be-all and end-all of college-football recruiting; the door is not closed on the 2012 class.  Even past the fact that some kids still have to qualify and the vast majority are months away from setting foot on campus, there remains the few that didn't sign on the dotted line. 
National Signing Day isn't the day you have to pledge yourself to your school, you see; it is simply the first day you are allowed to—short of enrolling early.
Now as you can tell, most prospects either decide well before NSD, or they choose to do everything that day.
For a few Big Ten schools, there are still a couple of names floating around that could be potentially huge commitments.
Jordan Diamond, a four-star offensive tackle out of Chicago, is a player that most hardcore Michigan recruiting gurus know well.  Diamond is the former teammate of current Wolverine guard Christian Bryant, and the latter's recruitment in 2011 seemed to all but set Diamond up for an early commitment to the maize and blue.
Obviously, that didn't happen.  Diamond held Michigan as a leader for a long time before deciding to take all his visits.  And after those visits, it was usually reported that he was some variation of "blown away" and that a commitment would possibly be forthcoming.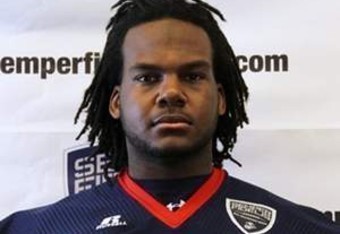 Again, it didn't happen.
Diamond is one of the most prized offensive-line recruits left and plans to announce his college decision sometime today.  The likely destinations are Arkansas, Auburn, Wisconsin and Michigan, with Ohio State rumored to have been dropped from consideration for the last week.
For Michigan, this would help solidify the best offensive class this side of Stanford (which, like whoa, who expected Stanford to clean up like that without Harbaugh?).  The Wolverines already have a five-star guard, a four-star tackle and two other high three-star line prospects. Bringing in Diamond would solidify the Michigan offensive-line class as the best in the conference and help build depth at a position (offensive tackle) that is dangerously thin right now.  
Wisconsin, on the other hand, now has a large hole in the offensive-line depth chart after four-star Ohio offensive tackle Kyle Dodson switched his commit to Ohio State this week.  Dodson is a higher-rated prospect, but a pledge from Diamond would help ease the pain for Badger fans.
Another offensive line prospect still on the fence is Colorado offensive guard Alex Kozan, a four-star player that, as of last weekend, was committed to Iowa (over other finalists Auburn and Michigan).  That was last weekend.  As of Wednesday, Kozan did not fax in his letter of intent, and on Thursday, the rumor spread that the lineman had delayed his final decision after he had a dream in which he went to another school.
Kozan would be a boon to either Michigan or Iowa's class.  The Hawkeyes have three linemen currently committed, but only one is a four-star prospect.  The other two are borderline two-/three-star guys—one of which is a JUCO transfer. 
Kozan would be one of the highest rated recruits in the Iowa class, which currently only has three other consensus four-star players.  For Michigan, Kozan potentially fills an important need. 
With the graduation of four-year starter David Molk, the Wolverines are light on centers.  Two senior guards have the ability to move inside, which should ease the transition this year.  But, behind them is lone redshirt freshman Jack Miller.  Going into the 2013 season, Michigan will have only one true center on the roster that isn't a freshman if the Wolverines aren't able to pull in a commitment from Kozan.
Finally, the biggest fish left on Big Ten boards is five-star receiver Stefon Diggs, out of Maryland. The 6' receiver would most likely be the top receiving prospect in the nation if it weren't for Dorial Green-Beckam doing his best Calvin Johnson impression for the last couple of years.  
Diggs has been high on Florida for some time, with interest in Auburn and Maryland, as well as any number of the more than 30 other schools that offered him a scholarship.  However, with the hiring of Urban Meyer, Diggs' interest in Ohio State has gone through the roof, leaving them as a possibility.  
Diggs is holding off on signing for at least another week, but Ohio State is in as good a position as anyone to land the talented receiver, and he would instantly become the jewel of Urban Meyer's first class.