Josh Hamilton Alcohol Relapse: 10 Reasons Texas Rangers Must Not Extend Him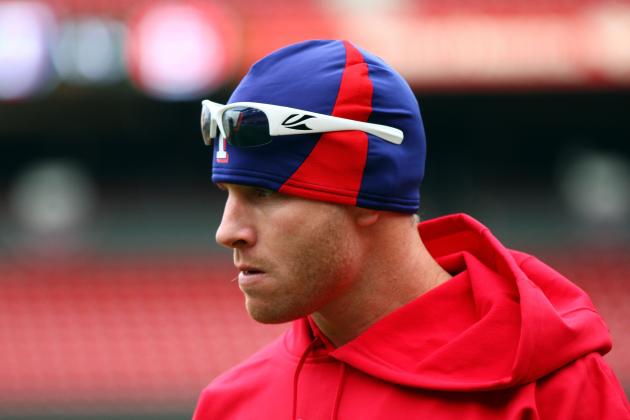 Dilip Vishwanat/Getty Images

Texas Rangers outfielder Josh Hamilton had a relapse with alcohol Monday night at a Dallas-area bar, according to Gerry Fraley of the Dallas Morning News. Hamilton is a recovering addict to drugs and alcohol, and had a similar relapse in January 2009.
For the Rangers, this is a shudder-inducing development. Hamilton, 30, usually has an "accountability partner," who remains with or near him at all times in order to ensure he does not backslide in his commitment to sobriety. Drugs and alcohol nearly ruined his life and derailed his career after he was selected first overall by the Tampa Bay Rays in the 1999 MLB amateur draft.
Hamilton is due to hit free agency after the coming season, and the team has talked about an extension with the man who won the 2010 AL MVP on their behalf. Such a deal would be a massively dangerous investment, and they need to avoid it unless on extraordinarily favorable terms. Here are 10 reasons Hamilton's a bad bet.
Begin Slideshow

»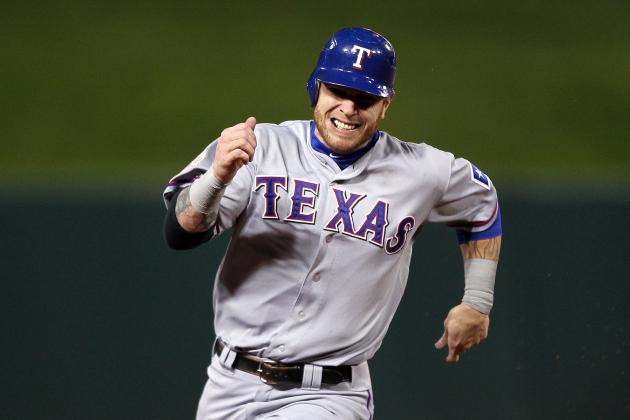 Ezra Shaw/Getty Images

Hamilton has played more than 133 games just once in his career, and that was 2008.
He has strained his hamstring, his oblique, his Achilles and his ribs; broken his arm and several ribs; had two sports hernia surgeries; and battled chronic patellar tendinitis.
He is not durable, and when he plays through pain, he is often completely compromised on the field.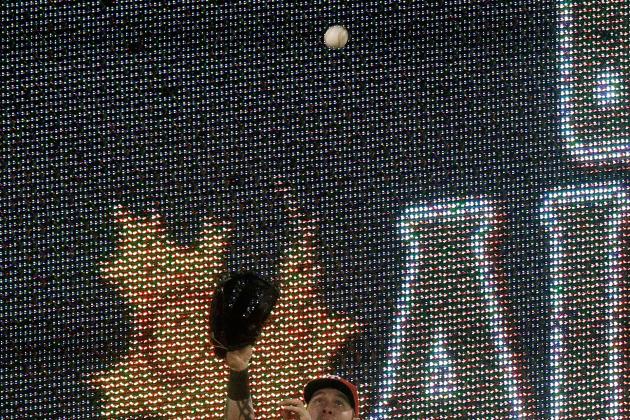 Bob Levey/Getty Images

Too many people view Hamilton's hustle, intensity and refusal to slow down as positive traits. They are, in his case, quite the opposite.
Despite his fragility, Hamilton throws himself into walls and onto the ground, chasing fly balls and dodging tags.
His broken arm came in April 2011, sliding into home plate headfirst on a play that never should have happened.
His broken ribs happened when he crashed full-speed into the center field wall during a game against the Minnesota Twins in September, 2010.
He is a huge man, lacking the lithe grace of a Ken Griffey, but refuses to play with the length of an MLB season in mind.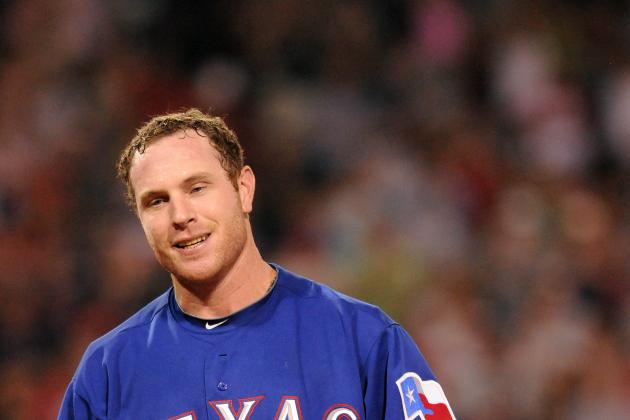 Darren McCollester/Getty Images

Prolonged drug use puts more than one's brain cells at risk. Though Hamilton will turn just 31 in May, it's fair to wonder whether his body is in effect 10 years older.
Hamilton was addicted to cocaine and alcohol for roughly four years, and to other things intermittently. The prolonged cocaine abuse increased his vulnerability to infection, and permanently damaged the body's delivery system for sending blood to voluntary muscles and other tissues.
His on-field fragility, not to mention his two bouts with pneumonia as a big-leaguer, likely trace back to his substance abuse. This effect is unlikely to reverse itself now that Hamilton is past his natural peak physical age.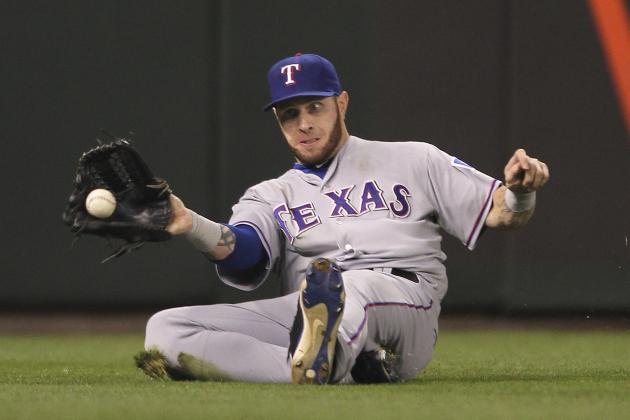 Otto Greule Jr/Getty Images

Once an above-average defensive center fielder, Hamilton is now relegated to left field in Texas. The stated reason (the need to keep him healthy) is bad enough, but the truth is worse: Hamilton can't play center anymore.
He's too big, too lumbering, and the explosive athleticism is beginning to erode on him.
He's no longer a plus runner, and never had plus defensive instincts in center. He's stuck in a corner outfield spot, and that diminishes the value of his bat somewhat.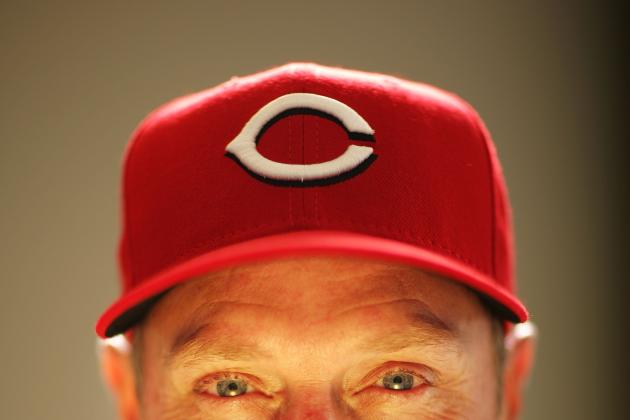 Al Bello/Getty Images

Jerry Narron had been Hamilton's "accountability partner" while working for the Rangers as an assistant hitting coach, but left the team for the Milwaukee Brewers prior to the 2011 season. Hamilton has not had a partner this winter, and the results showed up Monday night.
Clearly, Hamilton still is not an independently trustworthy and responsible adult. He's certainly trying to do better, and he is not a bad person for failing, but he is failing nonetheless.
Texas can't afford to subsidize his dependency by keeping someone on retainer just to babysit Hamilton.
If he is that high-maintenance, he ought not to be placed under the pressure and scrutiny that come with $100 million or more.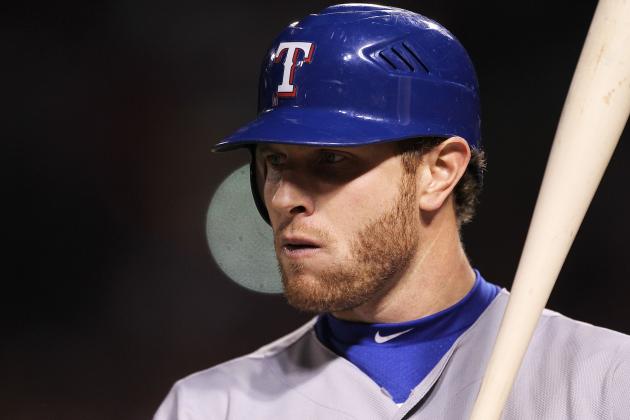 Ezra Shaw/Getty Images

Hamilton is, of course, not in any real trouble for his actions Monday night. He drank alcohol, but there's nothing illegal about that, even if one is a recovering addict. Thank goodness for that; we do not need more punitive discipline for addicts. Quite the opposite.
Still, this incident serves as a reminder of what will happen if Hamilton ever does relapse more seriously. Hamilton undergoes three drug tests per week, the failure of one of which could lead to a lengthy suspension and forced substance abuse treatment under MLB supervision. It's not likely to happen, but if it did, the Rangers would be left holding the bag.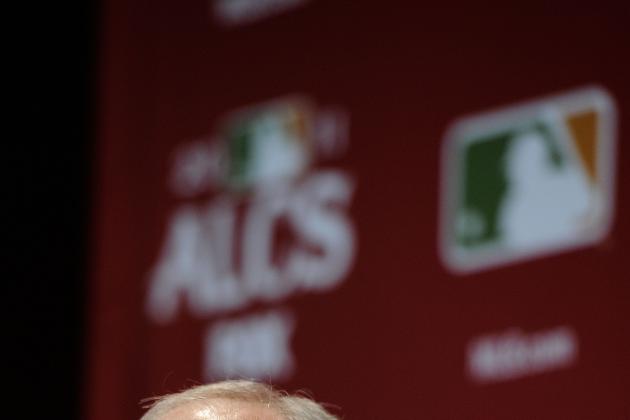 Kevork Djansezian/Getty Images

It's standard procedure. When any team wants to sign a player to a major contract (especially one reaching into nine figures), they begin by finding someone willing to insure that investment.
One reason the Detroit Tigers were able to sign Prince Fielder was that insurance will pay roughly 75 percent of the salary Victor Martinez will earn in 2012, despite Martinez's torn ACL.
Finding someone willing to insure a long-term contract for a recovering drug addict with two relapses and a laundry list for an injury history will be impossible.
Hamilton will be an uninsured commodity, and if he shreds his knee in year three of a five-year deal, Texas will find themselves eating millions of dollars, on top of their competitive losses. That adds a whole new dimension of risk to the proposition of signing Hamilton.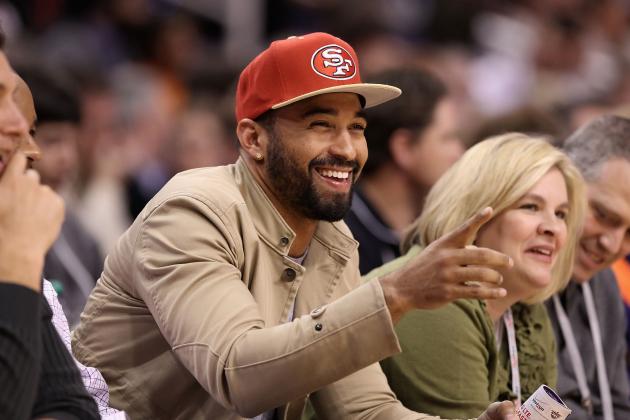 Christian Petersen/Getty Images

Dodgers superstar Matt Kemp, 27, signed an eight-year, $160-million contract extension earlier this winter. I can see this as the model for any deal Hamilton would want to discuss, but the comparison is laughable.
Kemp just had a tremendous season, stayed healthy for the third year in a row and was 26 for 90 percent of the campaign.
The coming year will be Hamilton's age-31 season.
The four-year gap between them means signing Hamilton to a deal even remotely commensurate with that of Kemp would be much more akin to the Cubs' late-2006 acquisition of Alfonso Soriano than to Kemp.
It's easy to forget, given his relative inexperience, but Hamilton is not a young man.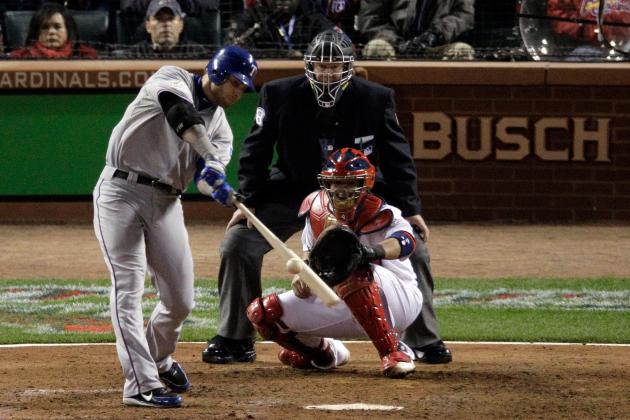 Rob Carr/Getty Images

In his MVP year in 2010, Hamilton hit .359. His on-base percentage, though, was just .411. In 2011, his average dipped, and his OBP slipped all the way to .346. For his career, he stands at .366, with a walk rate of 8.2 percent.
Hamilton ranked 10th among qualifying batters in 2011, swinging at over 40 percent of all pitches outside the strike zone. His swing rate on all pitches ranked fourth, at 57.1 percent.
Because Hamilton hits the ball very, very hard, he comes up with plenty of home runs and a good batting average each year right now. In as little as a year or two, though, aging-curve research suggests his ability to sustain high line-drive rates and batting averages on balls in play will dip. His aggressiveness could seriously limit his value within a few years.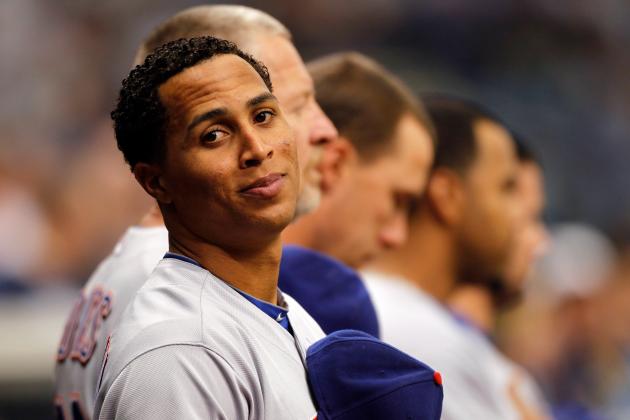 Mike Ehrmann/Getty Images

Right now, Josh Hamilton is the best left fielder the Rangers could field. Pretty soon, that will not be true.
Elvis Andrus currently plays shortstop, with Ian Kinsler at second base. Soon, however, Jurickson Profar (one of the best four or five prospects in baseball) will arrive in Arlington, and then things get complicated. Profar plays shortstop, and is likely to be as good there as Andrus. He could be better.
Andrus can move to second base, though, and still have value. That's one reason some feel Kinsler will not get much chance to sign long-term with Texas.
He should, though. The Rangers should strive to keep Kinsler on a long-term basis, and move him to the outfield when Profar arrives.
That means left field.
Leonys Martin is the center fielder of the future, and moving him to accommodate Kinsler would be foolish.
With Kinsler in left, though, the Rangers would continue to have an elite foursome of defensive players with solid on-base skills. They would also save millions, relative to what it would cost to keep Hamilton instead.
Given the risks and opportunity cost of keeping Hamilton, the Rangers are better served to look in another direction.