NHL Trade Deadline Deals That Paid off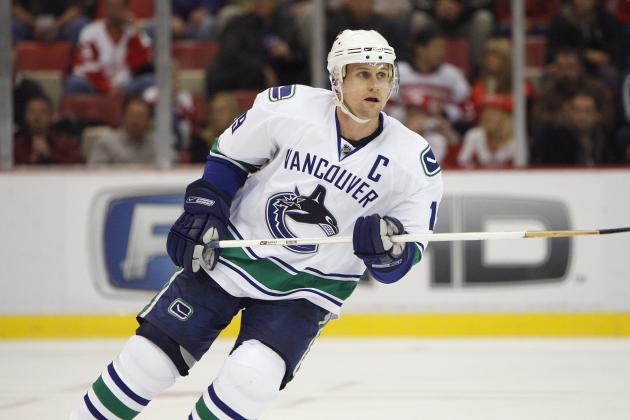 Gregory Shamus/Getty Images

This year's NHL trade deadline is February 27. Leading up to that day, there will be plenty of trade talk, and who knows, maybe some of that talk will actually turn to reality.
Deadline day is one of those days that has hockey fans sitting by their computers hitting refresh every few minutes to see if a trade has gone down. The day is right up there with draft day and the first day of free agency as far as excitement level goes for hockey fans.
In advance of the trades that are sure to come, let's take a look at some of the significant trade deadline day deals that did work out, at least for one of the teams involved.
Begin Slideshow

»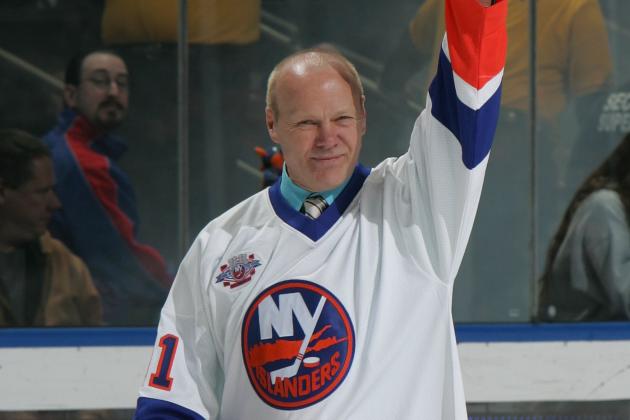 Bruce Bennett/Getty Images

Looking back, it's easy to think that Butch Goring was always a member of the New York Islanders, but he wasn't. Goring played parts 11 seasons before being traded to the Islanders on March 10, 1980 in exchange for Billy Harris and Dave Lewis.
Harris and Lewis were by no means flops during their NHL careers, but Goring would go on to the Islanders and be a part of the dynasty that would run off four straight Stanley Cup victories between 1980 and 1983. Goring would also take home the Conn Smythe in 1981.
While not a totally lopsided trade, the Islanders clearly won big in this deal.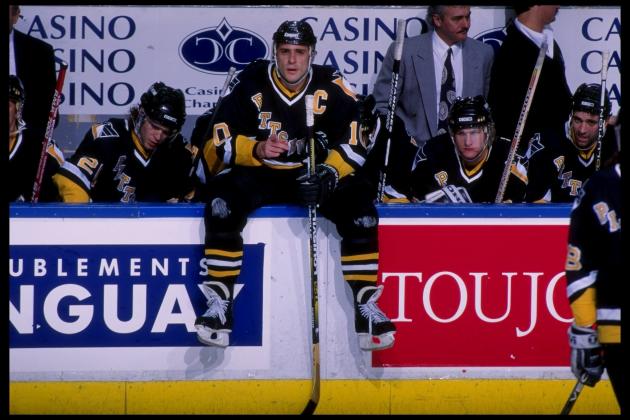 Robert Laberge/Getty Images

On March 4, 1991, the Hartford Whalers sent their former captain Ron Francis to the Pittsburgh Penguins along with Grant Jennings and Ulf Samuelsson in exchange for John Cullen, Jeff Parker and Zarley Zalapski.
Francis would go on to play parts of eight seasons with the Penguins and would go on to captain the team. Samuelsson would play fewer seasons in Pittsburgh, but he would be responsible for scoring the Stanley Cup-winning goal in the 1991 playoffs. Francis would be responsible for scoring the Cup-winning goal the following season.
Cullen, who had scored 92 and 110 points during the 1990 and 1991 seasons, respectively, would never again hit those levels after the trade. Parker would only play four games for the Whalers before he was out of the NHL. As far as Zalapski, he would hit a career high of 65 points with the Whalers.
Any trade that results in an immediate Stanley Cup is a winner.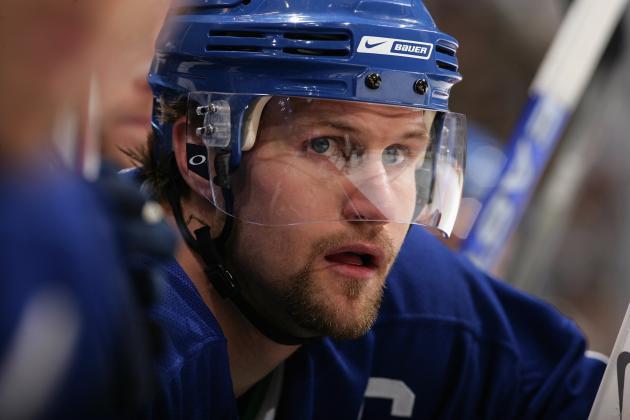 Jeff Vinnick/Getty Images

In the trading game, there are usually winners and losers, sometimes there are even big winners and big losers. And then you have trades like this, where there is a monumental winner and a stunning loser.
On March 20, 1996, the Pittsburgh Penguins traded a young player by the name of Markus Naslund to the Vancouver Canucks in exchange for Alek Stojanov.
Naslund would go on to become one of the most beloved players in Canucks history, wearing the captain's "C" on his sweater for eight seasons in Vancouver. He would also capture the Lester B. Pearson Award in 2003 as the NHL's most valuable player as voted on by the players.
Stojonav would play 45 games with the Penguins, never returning to the NHL. In total, he played 107 games in the league, scoring seven points. Naslund, he would play 1,117 NHL games, putting up 869 points during his career.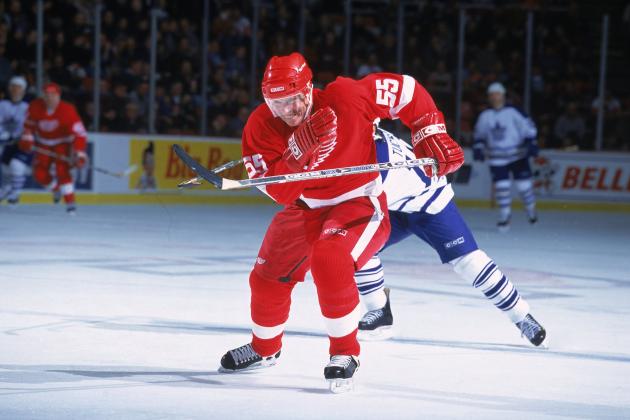 Tom Pidgeon/Getty Images

Many thought that the long-tenured defenseman, Larry Murphy, was on his last legs when the Toronto Maple Leafs sent him to the Detroit Red Wings in exchange for future considerations on March 18, 1997.
In his first two seasons in Detroit, Murphy would lift the Stanley Cup over his head, he would also put up solid plus/minus numbers in his first two full seasons as a member of the Red Wings, having a plus-35 and a plus-21.
Murphy would retire with Detroit after the 2001 season.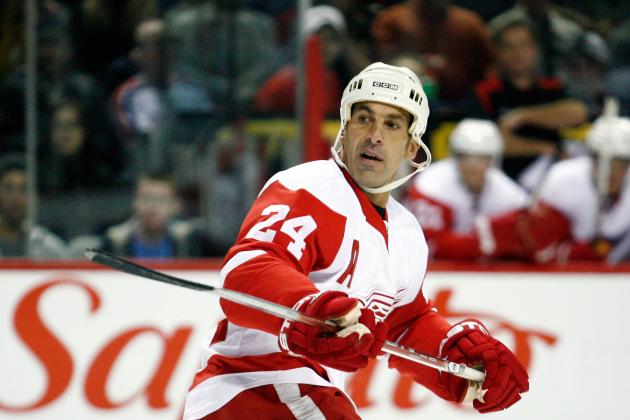 Richard Wolowicz/Getty Images

On March 23, 1999, Chris Chelios went from the Chicago Blackhawks to the Detroit Red Wings, a trade that some diehard 'Hawks fans have still not forgiven Chelios for. It is something he addressed as recently as December 2011, telling the Daily Herald:
I swore I'd never play for (Detroit) and things changed overnight. They're going to forgive me for that someday, they've got to. I played for the USA in other buildings during these World Cups and Canada Cups and Boston hated me, Philly, but when I'd go there with the USA jersey they all cheered for me, so they've got to forgive me here sooner or later.
Chelios would go on to play parts of 10 seasons for Detroit, winning a Stanley Cup with the team in 2002, the same year the would lead the NHL in plus/minus with a plus-40. Chelios would add a second Stanley Cup during his stint in Detroit, raising the Cup over his head in 2008.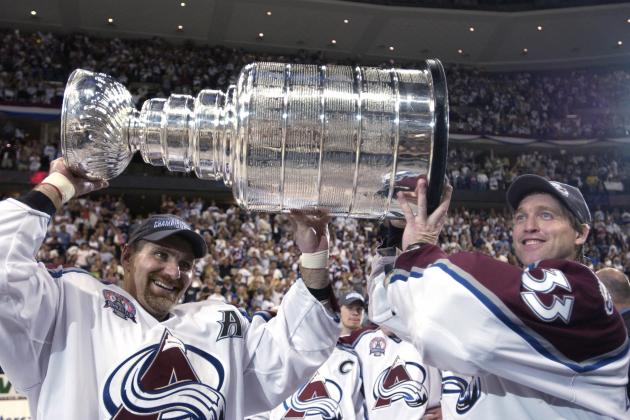 Elsa/Getty Images

Technically, the trade that sent Ray Bourque to the Colorado Avalanche took place a few days before the 2000 trade deadline, but it has to be included in this list.
Bourque was a mainstay on the Boston Bruins blueline for more than 20 years when the Bruins sent him to Colorado along with Dave Andreychuk in exchange for Brian Rolston, Samuel Pahlsson, Martin Grenier and a 2000 first-round draft pick. The logic seemed to be that playing in Colorado would give the aging defenseman a crack at taking home the first Stanley Cup of his career.
The plan did not work in 2000, as the Avalanche would fall to the Dallas Stars in a seven-game Western Conference series. In 2001, the team would rebound, capturing the Cup in seven games over the New Jersey Devils.
Bourque would retire following the 2001 season.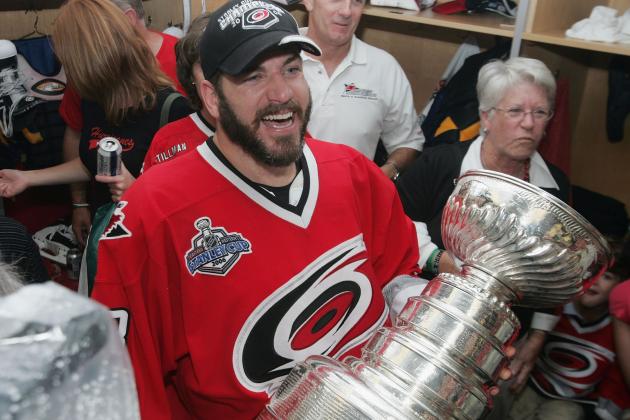 Jim McIsaac/Getty Images

There are times when a team is looking to add that one final piece of the puzzle at the trade deadline. Such was the case on March 9, 2006, when the Carolina Hurricanes traded Niklas Nordgren, Krystofer Kolanos and a second-round pick in 2007 to the Pittsburgh Penguins in exchange for Mark Recchi.
Recchi would play 20 regular-season games for the 'Canes, putting up seven points, but when the playoffs rolled around, the veteran showed that he still had an extra gear, notching 16 points in 25 games and capturing the Stanley Cup with Carolina.
Recchi would then re-sign with the Penguins in the offseason.