Iona-Manhattan: Rivalry Match Between Jaspers and Gaels for First Place in MAAC
February 4, 2012

If Saturday's game is anything like the first matchup of the year between Iona and Manhattan, everyone in attendance will be in for a treat. When the two battled in New Rochelle on January 12, the Jaspers battled back from down 17 points to win on a buzzer beater three-pointer by freshman Emmy Andujar, capping off a 27-7 run over the final 7:42.
At that stage of the season, Manhattan appeared to be a sleeper to keep up with Iona, Fairfield and Loyola (MD) for a MAAC championship, but very few thought the Jaspers would enter the first weekend in February locked with the Gaels and the Greyhounds for first place in the MAAC at 10-2.
Throughout the 2011-12 season, Manhattan (17-7, 10-2 MAAC) has been the surprise team in the MAAC. In fact, the Jaspers have the best turnaround from last season in all of Division-I basketball, already increasing their win total from six to 17.
Iona (18-5, 10-2) is the most talented team in the MAAC—there is not much dispute about that. However, the Gaels have had trouble holding on to large leads in conference play. Both of their MAAC losses came after holding double-digit leads in the second half, and they nearly blew a 19-point lead at Fairfield last week.
The intensity and stakes will be high tonight, and here is what each team will need to do in order to enter next week with at least a share of first place in the MAAC.

Keys for Iona
Control the inside
Manhattan and Iona have two of the better frontcourts in the MAAC this year. The Jaspers have a pair of solid but inconsistent forwards in Rhamel Brown and Roberto Colonette, but the Gaels have Michael Glover, who leads the MAAC in scoring, and up-and-coming forwards Taaj Ridley and Randy Dezouvre.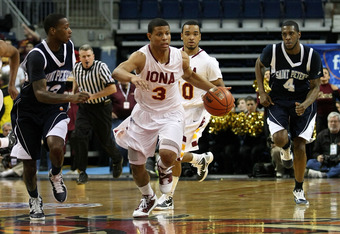 Chris Chambers/Getty Images
In the first meeting, Manhattan controlled the inside, outscoring the Gaels 30-18 in the paint and outrebounding them 36-34. Most of the Jaspers' points during their comeback came from the inside.
If Iona lets Manhattan dictate what happens in the paint and on the boards, it could end up being a long night for the Gaels.

Play for 40 minutes
This is an obvious one. While Iona always seems to build big leads early on, it has continuously had trouble holding on. The losses to Manhattan and Siena were a clear example of this, and the near-loss to Fairfield, despite showing some improvement in this area, also made Iona fans question whether or not their team had the killer instinct that a team needs in order to dominate.
The Gaels should not let up at any point during this game, or any other game this year for that matter. When you give the Sienas and Manhattans of the nation a second chance, it could come back to haunt you.
Keys for Manhattan
Get offense out of Rhamel Brown
Despite outstanding games from a number of players back on January 12, Brown was ultimately the key to Manhattan's comeback. The sophomore forward posted a double-double off the bench with 17 points and 11 rebounds. During the final 10 minutes, he had 10 points, four rebounds and two blocks.
Manhattan can always expect defense from Brown, who leads the MAAC in blocked shots. However, when the Jaspers get offensive output out of him, the offense really starts to jell.

Decrease number of turnovers
Manhattan's weakest area this season has clearly been turnovers. The Jaspers turn the ball over 16 times per game.
In order to sweep the most talented team in the MAAC, the Jaspers will need to play as close to perfect as possible.
Iona forces some turnovers off its pressure defense, but that is not where the problem lies for Manhattan. The Jaspers cannot afford to have any unforced turnovers. Every possession in this game will be valuable, and they will struggle if they throw away any of them.
Stats you should know:
- George Beamon has 986 career points entering Saturday night. The junior has scored in double digits in 38 consecutive games.
- Brown moved to No. 3 on Manhattan's career blocks list with three against Marist on Thursday.
- Lamont Jones posted a career-high 43 points against Canisius this week.
- Scott Machado leads the nation in assists with 10.0 per game. He is currently No. 3 in MAAC history in career assists with 784.
- Iona leads the all-time series 42-36.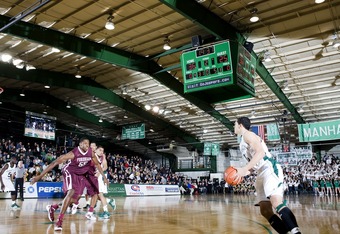 Iona Stats
Leading scorer: Michael Glover, 18.5 ppg
Leading rebounder: Michael Glover, 9.1 rpg
Leader in assists: Scott Machado, 10.0 apg
Best three-point shooter: Sean Armand, 46.2 percent (48-of-104)

Manhattan Stats
Leading scorer: George Beamon, 17.4 ppg
Leading rebounder: George Beamon, 5.5 rpg
Leader in assists: Michael Alvarado, 3.4 apg
Best three-point shooter: George Beamon, 39.6 percent (40-of-101)
My pick

It's tough to root against the home team, but the odds favor Iona in this one. Although Manhattan plays well in front of a large home crowd, the chances of the less talented Jaspers sweeping the Gaels is a little too far-fetched. Still, expect a close game, one that could once again come down the final shot.
Iona 77, Manhattan 73


Follow Jesse Kramer on Twitter @Jesse_Kramer for more college basketball news and information.