Super Bowl Snacks: Delicious Bacon Dishes That Will Make Your Party an Epic Win
February 2, 2012

You know what would make your Super Bowl party awesome?
Bacon.
Bacon makes everything awesome, my friend. Trust me. I always have some bacon handy when I do my taxes, clean out my gutters or read my Bible (which is now indecipherable due to all the bacon grease). 
Take a mundane task, add bacon to it, and you've got yourself a downright enjoyable task.
Take a Super Bowl party, add bacon to it, and you've got yourself an epic win. An actual epic win, mind you. The kind of epic win that was epic before the Internet overused the phrase and made it significantly less epic.
If that's the kind of Super Bowl party you want to have, then you better listen up. You're going to need a lot of bacon, and you're going to need to use it to make all of the dishes listed below once you acquire said bacon.
Ready? Engage!
Note: All recipes are Google-able.
Bacon Donut Burger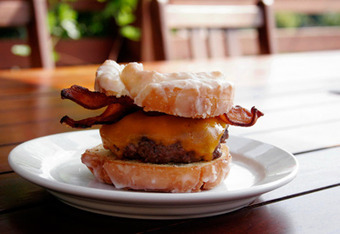 This is just what it sounds like and just what it looks like. It's a bacon cheeseburger, except with a donut in place of a bun.
Why, you ask?
Two reasons. 
The first, in the immortal words of Homer Simpson, is a simple matter of this being a case of, "Mmmmm...donuts." It is a real thing. A phenomenon, really, and it must be respected.
Secondly, it has bacon in it. 
Check and mate.
How you can work this off: Carry two buckets of water up 900 flights of stairs. Twice.
Maple Bacon Latte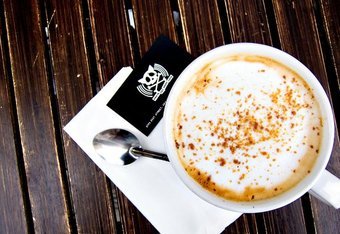 Some people think San Francisco, a city I live 20 minutes away from, is a strange place where only hippies and liberal creeps reside.
This is true, but I feel it is my duty to notify the world that San Francisco invented the Maple Bacon Latte. Or so I'm told.
Specifically, a joint called the Pirate Cat Radio invented it. In the words of UrbanDaddy.com, it's "a double espresso latte spiked with organic maple syrup and homemade bacon, sprinkled with Bac-Os."
You're going to need this because you're gonna have to drink something, so you may as well drink something with bacon in it.
How you can work this off: Kill the unholiness with a shot of whiskey, and then run wind sprints.
Bacon Weave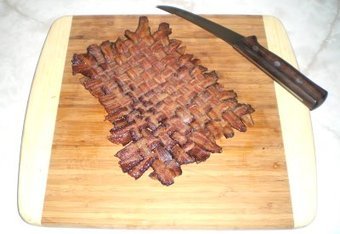 Only wussies do underwater basket-weaving. Real men (and marriable women) do bacon-weaving.
This is another thing that's just what it sounds like. You take bacon strips and weave them into a crosshatch pattern. Then you stick it in the oven. Then you win.
For tutorials on how to properly make a bacon weave, consult EpicMealTime. Most of their meals contain bacon weaves these days, as well they should.
How you can work this off: Flap your arms until you start flying. Repeat until you've circled the globe.
Chicken Fried Bacon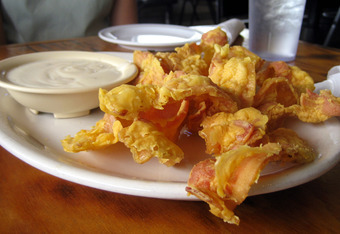 I can personally vouch that chicken fried steak is the single most delicious thing in the world.
However, let the record show that I have never eaten chicken fried bacon. It sounds delicious to the point of being dangerous.
It probably is dangerous, but this is one of those risks that's worth taking. If you want to test your awesomeness (and that of your guests), you'll serve this with a side of pure lard—not ranch dressing or gravy.
How you can work this off: Spend a day working out with Tim Tebow.
Apple Cinnamon Bacon Brownies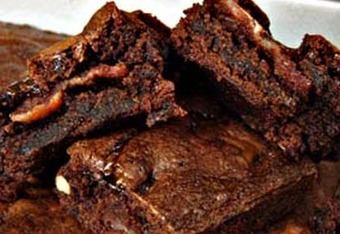 If you're still alive after you've finished your Super Bowl-intensified bacon gorge, you're going to need one last thing:
Dessert.
Might I recommend apple cinnamon bacon brownies? I've never had them, but I like apples, cinnamon and brownies nearly as much as I like bacon. Combine the four of them, and you will actively start petitioning for a new definition of the word "happiness."
How you can work this off: Consult Arnold Schwarzenegger.