On Wednesday, all of the tension that had been simmering for the past 12 months came to a rolling boil among Arsenal supporters.
No rational person could blame them, but Arsene Wenger, fans' primary target of their scorn, deserves much less harassment than those that sit in the highest positions within the club, despite the lack of results on and off of the pitch.
In the past year, the Gunners have collapsed in the EPL to the point where they had to play their way into the Champions League, sold off two of their best players and failed to replace them with sufficient summer signings. This year's squad has failed to be a dominant force in the league and currently sit seventh, in serious jeopardy on missing out on Europe's top competition.
All the while, the fans saw the writing on the wall and clamored for a voice of reason to force the club to do something about Arsenal's lack of depth and talent at key positions.
Instead, the club did what it always does best: passed on making any type of impact, opting to sign Thomas Eisfeld, a teenager who has had a history of injuries. It's like he had the Arsenal crest tattooed on his forehead.
Less than 24 hours after the transfer window closed, the Gunners took to the pitch against Bolton and delivered an absolute vintage Arsenal performance when you look at the club's trophy-less streak. Star players missed great chances, and there wasn't enough energy off of the bench to give the spark needed to win.
Who Is To Blame For Arsenal's Struggles?
In the immediate aftermath, the fans have revolted, demanding changes and answers, neither of which are coming any time soon. Meanwhile, Wenger has been attacked for his stubbornness, as if he's the end-all and be-all at the Emirates.
If you want a target for Arsenal's struggles, look no further than the people who have the most power. Wenger has a say, there's no doubt about that, but the malaise that hangs over the club starts with the majority shareholder Stan Kroenke and chief executive Ivan Gazidis.
Kroenke added the Gunners to his collection of franchises, and ever since, he has been a distant figure, the complete opposite of Liverpool owner John Henry, who has thrown himself into the club's operations and been a very visible presence at Anfield.
Instead, Kroenke has put his efforts into acquiring the Los Angeles Dodgers, a pursuit that has drawn the ire of Arsenal fans everywhere. The man is willing to pour millions of dollars into pursuit of a baseball team but isn't doing the same for the Gunners, who could have used a serious influx of cash in the past few transfer windows.
As fans clamored for any sort of action that would stabilize a crumbling 2011-12 campaign, Gazidis had the nerve to claim that Manchester City, tied atop the league table, should be jealous of what Arsenal has.
Per Sky Sports, Gazidis explained:

We're in three competitions this year. Manchester City would love to be in three competitions. They're not. So money is not everything in this game.

I don't disagree that it's important. But we do things based on a value system. We're about creating star players, not about buying them.
There is an utter lack of ambition within the club's hierarchy, and the notoriously competitive Wenger is the board's fall guy. You will find few people in the Premier League who hate losing more than the legendary Arsenal manager, and I have a hard time believing that he's okay with using a roster with massive holes in it and running players into the ground because of those flaws.
Jack Wilshere's injury woes and Aaron Ramsey's sluggish play can be directly tied to the shape of the roster, and all the while, the club has sat on a stockpile of cash. Instead of investing that money back into the team, allowing Wenger to compete with the best sides in the league, they've sat on it, forcing the manager to work with the deck stacked against him.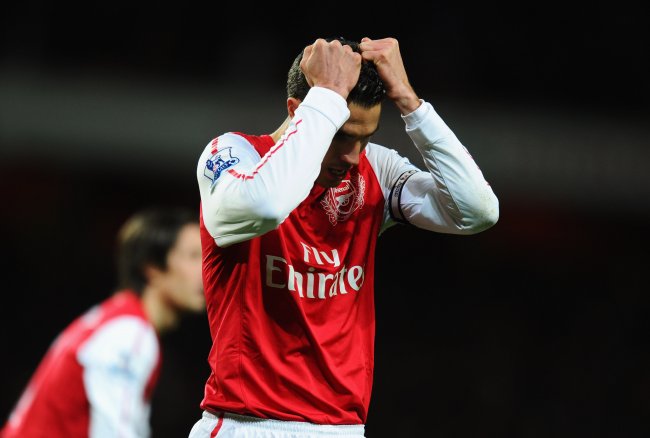 Mike Hewitt/Getty Images
Yes, Wenger believes in building through the youth system, but he's not a miser and he's not a total penny-pincher. There are players to be bought, and I believe the board is behind the determined effort to avoid spending, and it's going to continue to handicap this group unless it changes.
If anyone at the Emirates believes that Robin van Persie is going to waste his remaining years playing for a club that refuses to address obvious needs all because he plays for the mighty Arsenal, than they need a rude awakening, because he will take his prodigal scoring talents elsewhere, and no one will blame him.
Right now, Arsenal is a rudderless club with a lack of vision at the top. It is time for someone to step in and guide the Gunners into what can be a bright future with some inspired, intelligent spending on quality players.
If Kroenke and Gazidis aren't those men, then they should hand their titles over to people who can, because the fans who spend hard-earned money on overpriced tickets and concessions deserve better than what they've gotten this season.