Everton FC: 10 Steps to Get the Glory Days Back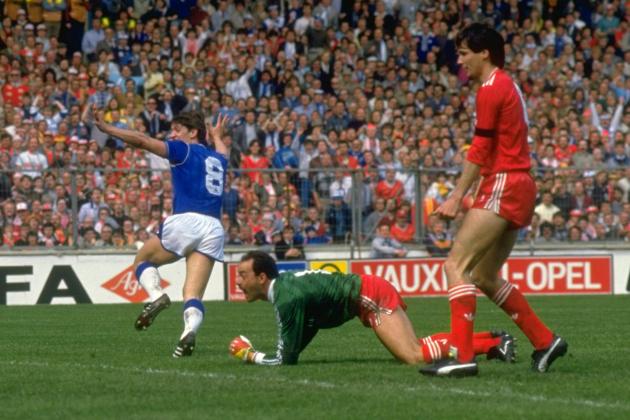 David Cannon/Getty Images

It's premature to think that Everton's glory days are back after a shocking 1-0 upset of league-leading Manchester City. The three points were well-earned, and a makeshift center of defense stymied any attack by one of the world's best front lines.
However, the Toffees' valiant victory is unlikely to turn their fortunes enough for a top-six finish. Everton are 25 points behind Man City at the top of the table, and nine points back of sixth-place Liverpool. It would take an effort of Herculean proportions for the People's Club to once again contend for Europe, an effort that even with their new signings is probably beyond their grasp.
What Evertonians want is a return to the glory days of the 1980s, a time when Everton fought for league titles and European appearances. A club with record longevity staying in top-flight English football should not be middling in mid-table obscurity year after year. They should be fighting for Champions League spots, for domestic cups and for Premiership titles.
If the Toffees want to bring back their glory days, consider this 10-step process as an option.
Begin Slideshow

»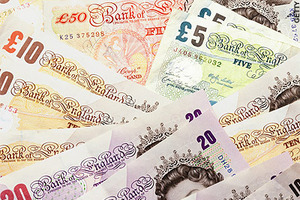 Perhaps their greatest hindrance in search of a return to glory, Everton's desperate financial situation has crippled any forward progress the club makes year to year.
In a league now dominated by teams willing to splash the cash on international stars, Everton simply cannot keep up. True, Everton have just come off a well-earned win over Sheik Mansour's Sky Blues, the poster boys of this spend-first, win-later revolution, but those kind of upsets don't come around every day.
Chairman Bill Kenwright has to "set the team free" as many fans signs have protested, and there is evidence that he is trying to do so. If the club's next owner, they'll be better able to compete talent-wise with the big names in English football.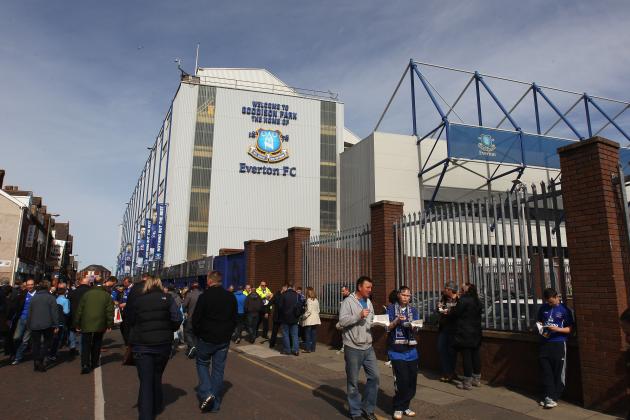 Alex Livesey/Getty Images

Along with the ability to sign better players, solid financial backing would allow Everton to either renovate Goodison Park or move to a new stadium entirely.
Built in 1892, the Grand Old Lady has been retrofitted over the years to accommodate modern technology, but there is no denying that the team could use a new stadium in this new millennium. When compared to recent constructions like the new Etihad Stadium, it's clear which is the better ground.
Renovating Goodison is one option, but the Everton brass has recently looked to build an entirely new field for the club. The now-defunct 2006 Kirkby Project aimed at moving the team to an all-new, state-of-the-art ground in Kirby, but the government eventually rejected the plan in 2009.
Whatever route the new owner decides to follow, the destination of a new stadium should be the same. Everton needs a new stadium whether by relocation or renovation, and it needs one soon.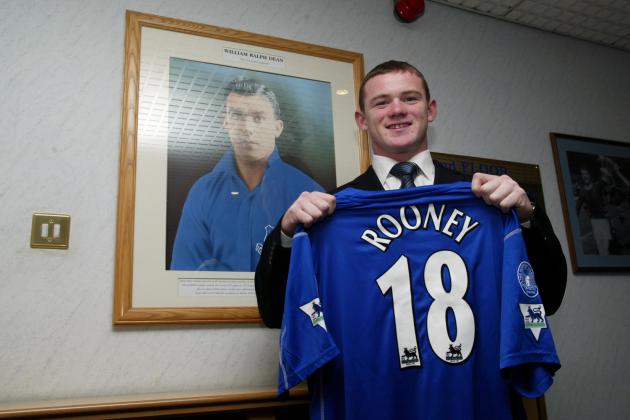 Getty Images/Getty Images

Jack Rodwell. Leon Osman. Ross Barkley. Victor Anichebe. Wayne Rooney. These are only some of the relatively recent graduates of Everton's youth academy, one of the club's greatest strengths.
With the financial stability a new owner would bring, the Toffees would not have to rely on their youth development as much, but that's no reason to take their focus off of it. Having strong youth development is a sure-fire way to stay competitive, not only for their infusion of talent but with the signing fees they'll boast should a transfer occur.
Building from the inside gives Everton more flexibility going forward, and does wonders for chemistry if a handful of first-team players grew up playing together. A solid youth system builds the prestige of a club for the future, and is one way for Everton to bring back its days of glory.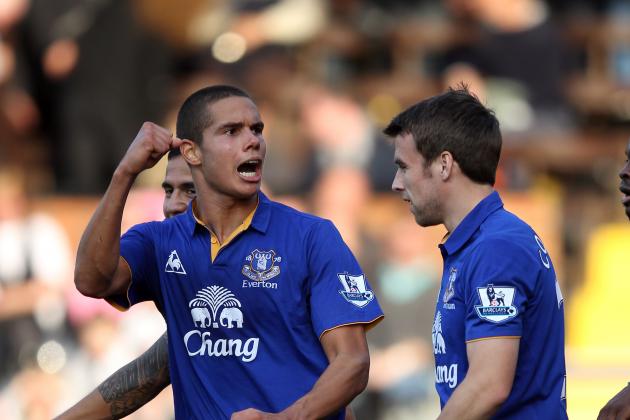 Clive Rose/Getty Images

Of course, it's one thing to develop players from the youth squad, but it's another to keep them once established in the first team. While an exorbitant fee should always be considered, Everton should make an effort to hang onto their budding youths for a while after breaking in with the senior squad.
Case in point: Wayne Rooney. It's debatable that the Toffees could have gotten more had they held on Wazza for longer, but what isn't is the production Everton would have gotten in return for the longer stay. Imagine where Everton would be had they held onto Rooney for two, three more years. His value would have only gone up, and the club would have gotten some of his best years and probably some silverware.
Selling Rooney, like so many other young Toffee prospects, is inevitable in the long run, but why not try to get the absolute most out of them before a sale? It isn't easy to judge when the right time to sell is, of course—point well-taken.
All I'm saying is that for the glory days to return, the Toffees should focus on keeping their young stars as a first option rather than selling them off.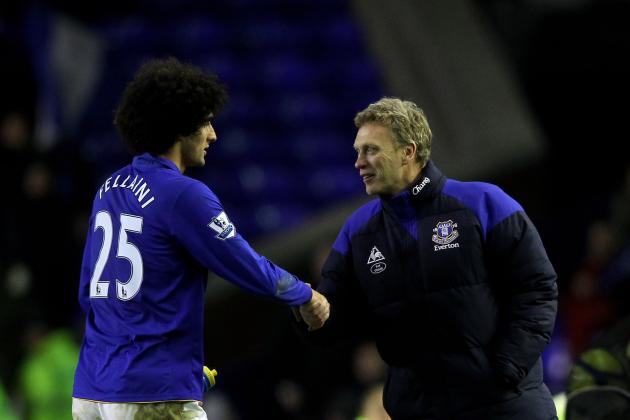 Alex Livesey/Getty Images

Few managers in the Premiership—nay, the world-have done more with less year after year than David Moyes. The stern Scot consistently stews a feast from a bare cupboard, and should be Everton's manager of the future for a long as he'll have them.
Recently, the season finishes haven't been up to par with what Evertonians expect, but do you ever hear one of them criticize the manager? With so many other fanbases quick to roast theirs on a spit (Blackburn) due to poor showings/finishes, few if any Evertonians blame the team's poor showings on Moyes.
He isn't the best tactician in the world, but Moyes' shrewd transfer decisions with limited resources have bordered on genius. The players clearly love playing for him, and the fans love his devotion to the team. He's had many chances to desert an Everton franchise stuck in the mud over the years to possibly more lucrative positions, yet Moyes showed true loyalty to stay in Merseyside.
With Moyes at the helm, the glory days will soon follow. He's only a few players away.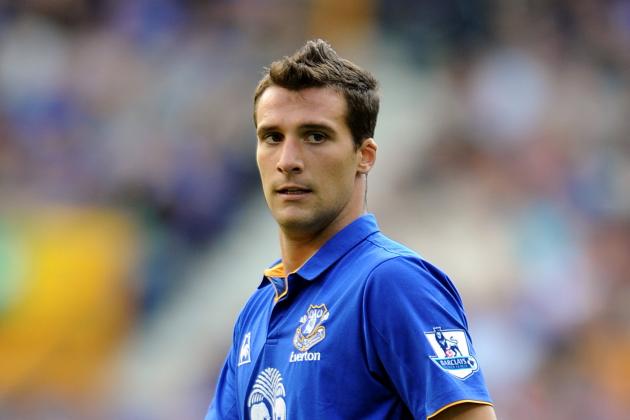 Chris Brunskill/Getty Images

Along with young talent grown at home, Everton should promote themselves as a solid destination for any prospective youthful loanee to get a bit of top-flight experience.
The fees won't be low, but the new owner should give the team more room to work in terms of pounds and euros. Taking young players on loan from the continent or elsewhere is a win-win for both sides. Everton gets the raw talent and creativity it needs, and the players get experience.
The club looks to be going more and more this direction already, with Apostolos Vellios being signed from Greece. While not a loaner, David Moyes has seemed keen on young, possibly overlooked overseas talent. While I'd be hesitant to support the outright purchase of every young star who wants in, loans for Vellios-type players should certainly become the norm.
While players from Europe and South America would of course be preferred due to their history of great talent, there is one country in particular that Everton should look at exploiting…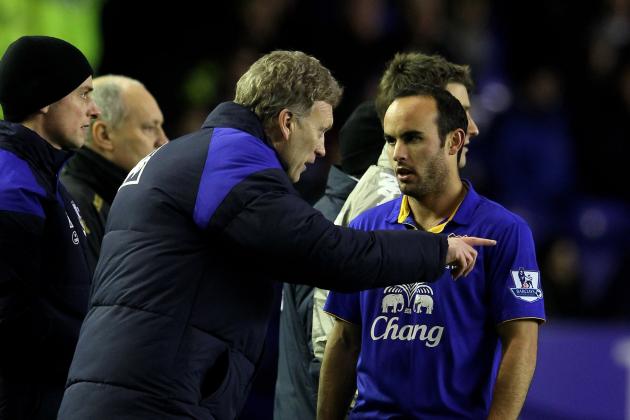 Alex Livesey/Getty Images

This seems to me a no-brainer. Sure, anti-Americanism is no small perspective in world football, but that's no reason to write off the whole country as defunct, especially when the upside is so monumental.
Think about it. With more and more Americans falling in love with the game due to the relative success of their men's and women's national teams, the profile of football has never been higher. The world's largest market is beginning to pay serious attention to the world's game—just ask John Henry and Stan Kronke.
With new fans struggling to find a club to support in a foreign country across the sea, there's room for a Premiership side to become "America's Team." Why not Everton?
The Toffees are about as American as the league gets already. With Tim Howard in goal, Landon Donovan on loan and Marcus Hahnemann in the wings, Everton already has serious red, white and blue credentials. Only Fulham and Bolton can boast Americanness anywhere close to Everton's right now, and Stuart Holden is still injured.
Everton should take advantage of the American market by becoming its de facto side in England, and also take a look at recruiting some young American talent. There are plenty of American players that need experience playing top-flight, competitive football that the MLS cannot provide. Why not give them a shot on the cheap?
Football is growing steadily in the States, and Everton should get in on the ground floor. The money from overseas support alone should be incentive enough, but expect the thanks of a grateful nation as well.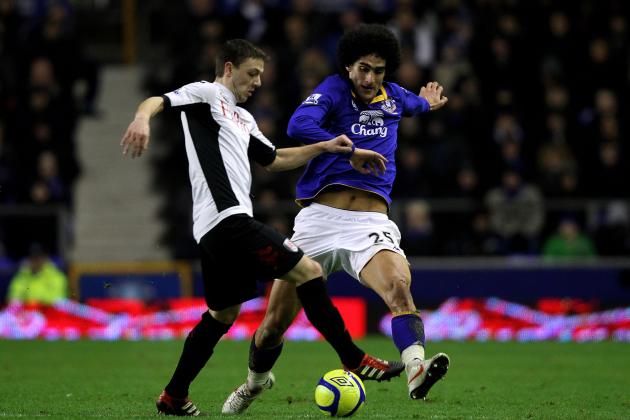 Alex Livesey/Getty Images

Everton should be dedicated to winning a cup every year, and this year, the FA Cup is in their sights. A stirring 2-1 win over Clint Dempsey's Fulham in the American Bowl, otherwise known as the tournament's fourth round proper, was a step in the right direction.
Evertonians are right to expect silverware from their club every year, and cup play is one way to make sure that happens. Most of the top sides don't play their first teams, making mid-table clubs like Everton prime contenders for the trophy.
Realistically, winning either the league or FA Cup yearly shouldn't be pie in the sky. Consistent trophy wins are harbingers of glory days, meaning that the Toffees should pursue them at all costs.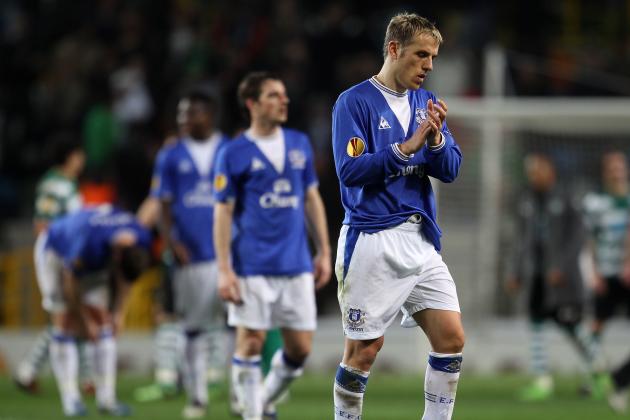 Julian Finney/Getty Images

Along with stepping up the effort in cup play, qualification for the Europa League should be the yearly goal as well. Making the Champions League would be nice, but the lesser international competition would be appropriate for the team at this time.
Sure, the Europa League is a slog to get through, and the payoffs aren't that great, but it would be nice for the fans to see their side compete on a larger stage. It would raise the club's profile in other countries, bring in a bit of money and allow some of the squad players who won't normally see the pitch in league games to get a run-in.
More importantly, what qualification to the Europa League really implies is that Everton is doing well domestically. Whether by winning cups or finishing in the top six, actually competing in the league is icing relative to the cake of qualification.
Competing yearly in a European competition would be a huge glory-day indicator. Once Everton starts showing up in the top six, you'll know they're back.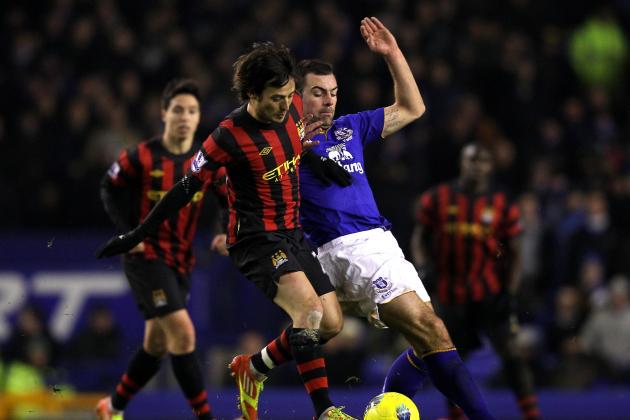 Alex Livesey/Getty Images

One of the incredibly endearing things about Everton is their positive play, not just in a tactical sense, but in a mental sense as well.
Everton won't always push forward for the win, but they will always compete with heart. Take their recent win against Manchester City, a team that has an overwhelming talent advantage at pretty much every position. Yet at the end of the match, it was Everton 1, City 0. How?
Everton played with a positive, collective mentality. They showed so much heart, so much pride in the shirt and their fans, that it was hard not to like them. They defended en masse, and drove forward as one.
They don't play their hearts out every game, but Everton often do enough to respect their positivity. Their win over City encapsulated what the side is about: hard work, verve, passion and positivity.
For more on Everton, glory and days, read Matt Cheetham's brilliant article.