Could Eric Staal Be the New Centre the Toronto Maple Leafs Are Looking For?
February 3, 2012

Bruce Bennett/Getty Images
Toronto Maple Leafs general manager Brian Burke's job is apparently difficult these days.
He has already stated that he is going to make a move by this year's trade deadline, and has all Leaf fans projecting his move.
The need for a No. 1 centre is glaring, and is his top priority. This to me suggests his job is not difficult at all: Get a No. 1 centre.
The list of centres that meet the criteria of being a No. 1 (plays in all situations, performs well in all situations, has leadership, etc...) is relatively short when you consider their availability, and includes:
Ryan Getzlaf (Anaheim)
David Krejci (Boston)
Paul Stastny (Colorado)
Jeff Carter (Columbus)
Mike Ribeiro (Dallas)
Stephen Weiss (Florida)
Mike Richards (Los Angeles)
Brandon Dubinsky (New York Rangers)
The list is further shortened when you ask which of the above names actually meets the needs of the Leafs. These needs are personified by a player who can play at a level which sets an example and standard for the abundance of young players throughout the Leafs lineup.
Ryan Getzlaf (Anaheim)
Eric Staal (Carolina)
Mike Richards (Los Angeles)
I feel that any of the three would be capable of giving Phil Kessel a glare the next time he bails out on a puck coming towards him along the boards, and at the same time would play at a high level.
So now all Brian Burke has to do is put together a package that brings either Getzlaf, Staal or Richards to Toronto.
Here are the notable pieces which he has to work with:
First-round draft picks in all the upcoming drafts
Second-round draft picks in all the upcoming drafts
Keith Aulie
Tyler Bozak
Joe Colborne
Matt Frattin
Jake Gardiner
Mikhail Grabovski
Carl Gunnarson
Nazem Kadri
Nikolai Kulemin
Luke Schenn
To obtain either Ryan Getzlaf, Eric Staal or perhaps Paul Stastny, the opposing GMs would have to be sold on the ideal of rebuilding their respective clubs. This also implies that Jim Rutherford of Carolina would consider trading Cam Ward, and that Bob Murray of Anaheim would consider trading Corey Perry.
On the other hand, to obtain Mike Richards, Los Angeles GM Dean Lombardi would want players that could fit in with an already playoff-bound team (but has a relatively young nucleus of players).
The best-fit player in my opinion is Eric Staal.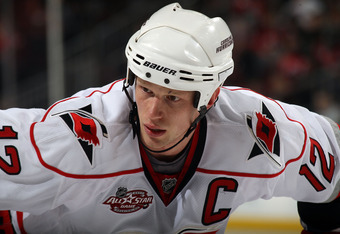 Bruce Bennett/Getty Images
He has already won the Stanley Cup, and plays with the kind of edge and nastiness that is missing from the Leafs top line. So then what's the package Brian Burke has to put together?
Similar trades that have occurred in the past:
In 2005/06 Joe Thornton was traded from the Boston Bruins to San Jose Sharks for Marco Sturm, Wayne Primeau and Brad Stuart.
In 2008/2009 Chris Pronger was traded from Anaheim to Philadelphia for two first-round draft picks, Luca Sbisa and Joffrey Lupul.
In 2010/11 Mike Richards was traded from Philadelphia to L.A. for forwards Brayden Schenn, Wayne Simmonds and a second-round pick in the 2012 draft.
If these trades are guidelines, then the Leafs could afford to pay the price it costs to put Eric Staal in a Maple Leaf jersey.
A rebuilding team needs young players and draft picks.
This means that Nazem Kadri would likely have to be included, along with one other young player (possibly Keith Aulie) and at least one first-round draft pick.
Burke has the ammunition and the gun—can he pull the trigger?