2012 NFL Mock Draft: Cincinnati Bengals Full 7-Round Prediction, First Edition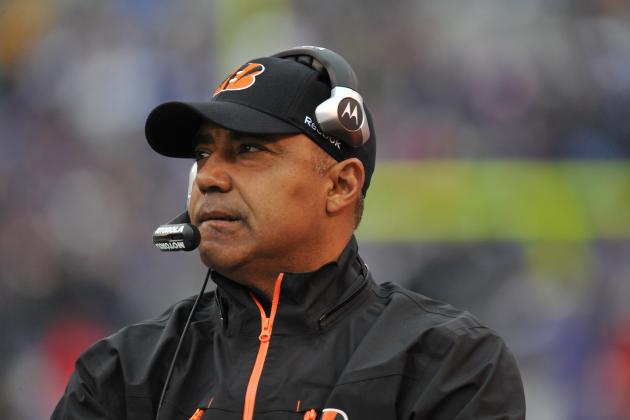 Larry French/Getty Images

The 2012 NFL draft is arguably the most important in Cincinnati Bengals' history. After an absolutely outstanding draft in 2011 that has ensured the Bengals' future for years to come, the team must keep the trend of great drafts going to take the final step and surpass Baltimore and Pittsburgh in the AFC North.
The 2012 NFL draft provides an opportunity to do just that. The Bengals are fortunate enough to have an extra first-round pick thanks to Mike Brown wising up and sending the "retired" Carson Palmer to Oakland to rot, and have an extra fifth-rounder by sending "reality star" Chad Ochocinco to New England to warm the bench.
This mock will take all nine picks into account and attempt to accurately predict what Mike Brown and Marvin Lewis will ultimately do come draft day.
For a franchise that hasn't been relevant in over 20 years, this is the draft that could buck that trend:
Begin Slideshow

»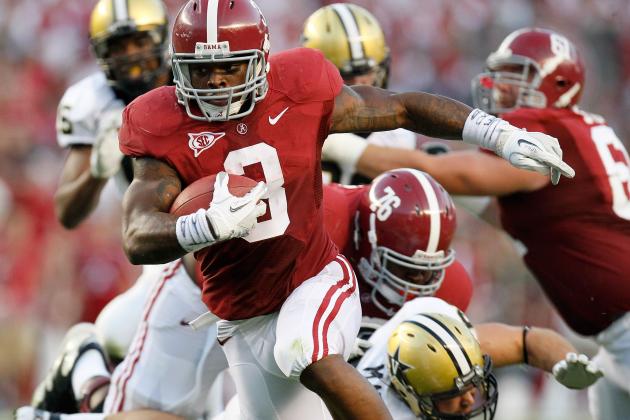 Kevin C. Cox/Getty Images

Surprise! The continued devaluation of the running back position combined with the lack of teams before the Bengals that actually need Richardson allows Cincinnati to land the best running back in the 2012 NFL draft.
Many will contest Richardson's fall because he is the best back to enter the draft since Adrian Peterson. Keep in mind Peterson slid to seventh overall despite the running back position being much more important at the time. Richardson is also shorter and slower than Peterson.
The only running back taken in the first round of last year's draft was Richardson's predecessor, Mark Ingram, who slid all the way to 28th overall.
With that in mind, there isn't much to say about Richardson that most fans don't already know. He is a complete back that will be an immediate starter for the Bengals and easily be an upgrade in place of the deteriorating Cedric Benson. Richardson joins the youth movement on the Cincinnati offense and contributes in a big way.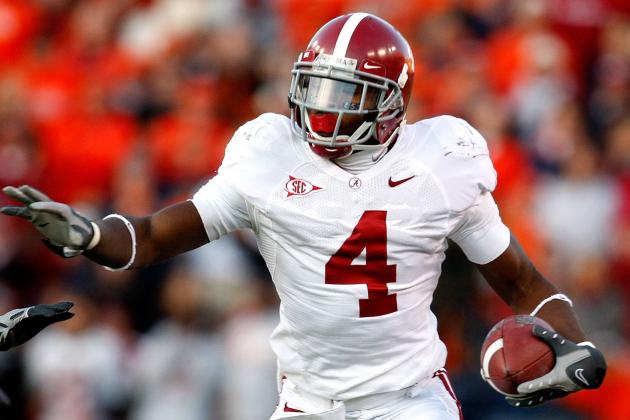 Kevin C. Cox/Getty Images

The Bengals have lacked that hard-hitting, feared AFC North safety for decades. Here Cincinnati takes another Alabama player and hopes he can be just that. Last season truly exposed the Bengals defense for its one flaw—the secondary. The cornerback position was hit by injuries, and the strong safety spot was just plain bad.
Mark Barron is a dominant force against the run, and is solid against the pass. When playing the strong safety position in defensive coordinator Mike Zimmer's scheme, that's exactly what is needed. Barron makes the correct read on most running plays and will prevent the massive runs the Bengals defense was allowing late in the season. He can also match up well with tight ends and back in coverage when asked to.
Barron slides to Cincinnati at 21 because he isn't as versatile as some teams would like. That isn't a concern in Cincinnati, and Bengals fans should know this after the amazing production Zimmer has gotten out of a group of mostly no-names the past few years. Barron is an immediate upgrade over Chris Crocker and Taylor Mays.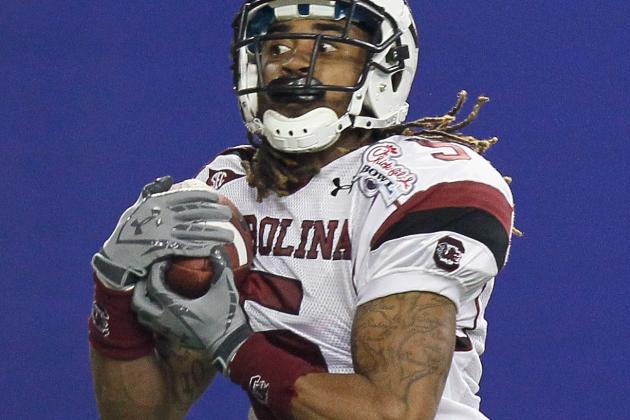 Kevin C. Cox/Getty Images

With Leon Hall suffering a serious injury with an unknown recovery time, Nate Clements aging and having one year left on his deal and Adam Jones possibly facing another suspension, it's time for a renaissance at the cornerback position for the Bengals.
Enter Stephon Gilmore, a corner who would likely be a first-round pick if this draft class wasn't so deep. Gilmore is a tall, physical corner standing at 6'1" and has incredible ball skills. Scouts will knock Gilmore's stock because of his lack of bulk and eye-popping 40-yard dash numbers, but what matter is how he performs on the field.
Gilmore is incredible at reading a quarterback's eyes and using his height to his advantage when the ball is in the air. He is also one of the more aggressive corners in the draft, seeking contact on a regular basis when defending the run. He also has a rare elusiveness that could see him returning punts in the NFL. Finally, Gilmore has received praise from coaches throughout his career as a quiet guy with an impeccable work ethic.
Who? The Cincinnati Bengals seem to be developing a habit of taking small school players and molding them slowly into contributors, and that trend continues here. Speaking of trends, the Bengals offensive line has averaged the heaviest in the league for a while now, and that continues with the selection of the 325-pound Amini Silatolu.
While it's true that Silatolu dominated at a small school, it's also true that many small school offensive linemen have gone on to do that in the pros as well (think New Orleans' Jahri Evans). Silatolu played left tackle at Midwestern, but will slide inside for the Bengals, who desperately need talent there.
The Bengals have a plethora of offensive linemen hitting free agency, and they can't all return. Bobbie Williams might be back for a victory lap and second-year man Clint Boling will continue to progress. Silatolu will have the chance to learn from the bench, but also has the ability to play if called upon.
The Bengals need a more consistent pass-rush from the defensive end position. Frostee Rucker finally emerged as a threat last season, but Robert Geathers continued to be ineffective and Carlos Dunlap was hurt when it mattered. The team has great depth at the position, and adds even more after taking Jake Bequette.
Bequette is a pass-rush specialist from the defensive end position, and terrorized SEC quarterbacks at the collegiate level. He won't stun anyone in the running game, but has an endless motor in pursuit of the ball. Bequette is another rotational guy that Mike Zimmer would love to have, and there is nothing better than giving an already elite defense another tool to utilize.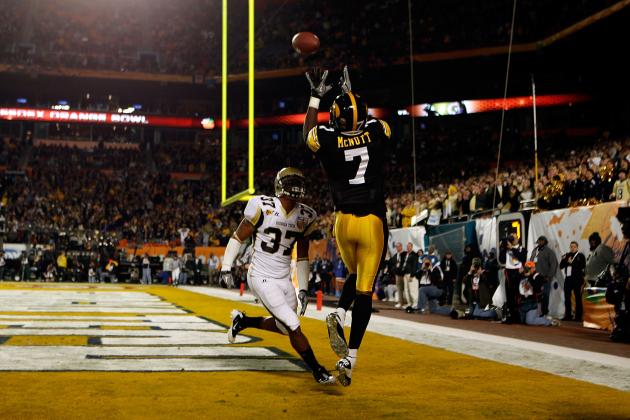 Marc Serota/Getty Images

The Bengals may or may not address the wide receiver position in free agency. Jerome Simpson might never play again, Jordan Shipley is coming back from a serious injury and Andrew Hawkins is a situational guy at best.
Marvin McNutt entered college as a quarterback, and left it as one of the better wide receivers in the Big Ten Conference. He is a massive target at 6'2" and 215 pounds, and would make a great possession receiver in a division like the AFC North. Large, reliable targets that run pristine routes like McNutt are hard to come by and will only help quarterback Andy Dalton to continue to develop.
For being a former quarterback, McNutt is an extremely talented receiver. He made the switch three years ago and is still learning the intricacies of the position. That's an exciting proposition for a coaching staff that got the most out of a guy like Jerome Simpson and transformed a seventh-round pick like T.J. Houshmandzadeh into a NFL reception leader.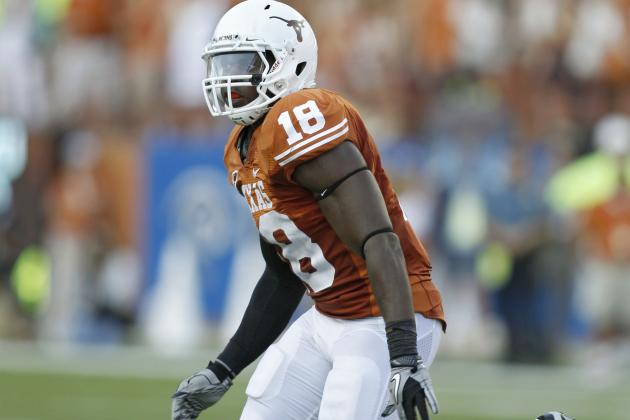 Erich Schlegel/Getty Images

The Bengals have a question mark at the outside linebacker spot. Manny Lawson is a free agent, and Keith Rivers is slowly earning the title of "bust." Thomas Howard was one of the better free agent acquisitions in the last few years, but the list ends there. Dan Skuta saw spot-duty on the outside, but is more natural at backing up Rey Maualuga in the middle.
Emmanuel Acho is a prototypical pass-rusher from the outside spot, and is also very effective in pass and run support. Acho will fall in the draft just like his brother fell to the fourth round last year. By the way, after falling to the fourth, Sam Acho notched 40 tackles, four forced fumbles and seven sacks for the Arizona Cardinals.
However, the Bengals will find something special in Emmanuel. He has an outstanding positive attitude and work ethic to go with his impressive all-around skills.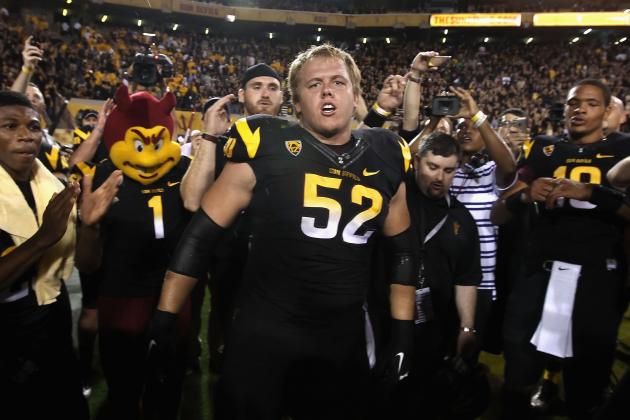 Christian Petersen/Getty Images

The Bengals need to continue to find help along the offensive line, and get some in the form of Garth Gerhart. Bengals center Kyle Cook isn't going anywhere, but behind him the team doesn't have a true backup, until now.
Gerhart is the younger brother of Minnesota Vikings running back Toby Gerhart. Like his brother, he is a smart player with a great attitude and work ethic. While a bit small, Gerhart's ability overcomes that by the way he fights in the trenches. He won't be asked to start for a while, if ever, and that's fine because Cincinnati needs him for depth and nothing more.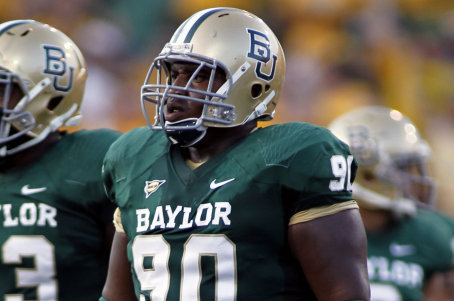 The Bengals are strong on the defensive line, but could lose some depth if Pat Sims leaves via free agency. Geno Atkins has been and will continue to be a star, while Domata Peko will continue to be a solid tackle. Adding depth in the form of Nicolas Jean-Baptiste is the right move here.
Baptiste's natural strength and size are what makes him appealing to the Bengals. At 335 pounds, he is a natural run-stuffer that would fit nicely into the Bengals defensive line rotation. He won't get much pressure on the quarterback, but he will eat up blockers, allowing others to apply the pressure. Once again, adding talent to an already strong point won't do anything but help the Bengals down the road.