Which Former Pittsburgh Steelers Players Will Make the Hall of Fame?
February 3, 2012

Harry How/Getty Images
The Super Bowl is one of the greatest achievements that an NFL player can ever reach, and a new champion will be crowned this weekend to join the select few who have won a championship over the past 46 years.
As great of an accomplishment that a title is (it is why you play the game, right?), there is no greater individual honor than being elected to the Pro Football Hall of Fame. There are four former Pittsburgh Steelers out of the 17 finalists who may be enshrined into Canton as a part of the 2012 Pro Football Hall of Fame Class.
On of Pittsburgh's greatest players of all time, running back Jerome Bettis, in his second year of eligibility, leads the list of Steelers nominees. Joining Bettis as a finalist again this year is center Dermontti Dawson. Former Steelers linebacker Kevin Greene and former Steelers defensive back Jack Butler are senior candidates.
The Hall of Fame candidates that spent all or part of their playing time are looking to join the 20 current Steelers currently in the Hall of Fame plus five others who spent part of their respective careers with the Steelers (see the full list at Steelers.com).
Greene played with the "Blitzburgh" defense from 1993-1995 and had 35.5 of his 160 career sacks playing outside linebacker in the Steelers' 3-4 scheme.
Despite ranking third all-time on the NFL's sack list, Greene has been eligible for eight years and is a first-time finalist this year. Though he may eventually get enshrined, he is a long shot this year with the competition that he faces.
Bettis may suffer the same fate.
He ranks sixth on the all-time NFL rushing list (13,662) and 10th in touchdowns (91). He established himself the best 'big back' of his era while playing in Pittsburgh from 1996 though 2005.
Pittsburgh had one of the best rushing attacks in the league when Bettis was in the backfield and he was a six-time Pro Bowl selection and was named to the All-Pro team three times. 
Bettis also earned the AP NFL Offensive Rookie of the Year award.
Bettis finally won the elusive Super Bowl title in 2006 when the Steelers defeated the Seattle Seahawks in his hometown of Detroit, Michigan, allowing him to retire on top.
There is little doubt that Bettis will get into the Hall of Fame, but I do not believe it will be this year. He has competition from Curtis Martin, the NFL's fourth all-time leading rusher, as well as former teammate Dawson.
Will more than one former Steelers player get voted in this year?
It may not be the year for Bettis, but it should finally be time for Dawson. After being eligible for seven years, he has been a finalist the last three and is inching closer to the Hall of Fame call.
Dawson was the greatest center of his era and he dominated in the middle of Pittsburgh's offensive line from 1988 to 2000. He continued the great lineage of Steelers' centers, which included Ray Mansfield and Mike Webster.
Dawson was a six-time Pro Bowl selection and was named AP First Team All-Pro six times. He was also named to the NFL's All-Decade Team of the 1990s. He was named offensive lineman of the year in 1993 and 1996.
The argument can be made that Dawson was the greatest center ever to play the game, given his intelligence, strength and athletic ability.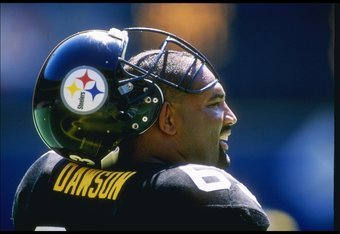 Rick Stewart/Getty Images
Dawson was excellent in the center of the Steelers' line—making the calls, handling interior lineman and had enough athleticism to pull on outside runs.
When he was first a finalist, Dawson received high praise from former Steelers coaches, players as well as one of Sunday's Super Bowl coaches, Bill Belichick.
"He was one of the best players that we have ever played against at that position," Bill Belichick told the Pittsburgh Post-Gazette, who coached against the Steelers twice a season while with the Cleveland Browns in the 1990s. "He had exceptional quickness."
Dawson's former head coach, Bill Cowher had nothing but praise as well.
To me he was the best athlete to ever play that position, said Cowher He was very powerful and explosive, just a rare combination of quickness, explosion and he was a very dependable player. This guy hardly ever missed a game (via the Post-Gazette)
Dawson played in 170 consecutive games at one point of his career.
Dick LeBeau, who coached against Dawson as well as with him reiterated how Dawson revolutionized the position.
"He's the first guy I ever saw as a center pull and lead sweeps," said LeBeau.
Dawson was a special player who changed how the center position was played and deserves the Hall of Fame nod. He should get it this year.
Butler should join Dawson as well. He played his entire nine-year career in Pittsburgh, beginning in 1951, and made 52 interceptions, which ranks 26th all-time. During his final three years, Butler was an All-Pro and he was named to the NFL's All-Decade Team of the 1950s.
Beyond his outstanding playing career, Butler also has credentials as a contributor to the game as the Director of the BLESTO scouting combine for over 40 years. All of his achievements can be found at a website dedicated to Butler's Hall of Fame enshrinement.
It could be a fine year for the Steelers and the Hall of Fame as both Dawson and Butler are overdue for enshrinement.
The Pro Football Hall of Fame Class of 2012 will be announced 5:30 p.m. ET live on NFL Network.
Follow me on Twitter @ChrisG_FC