Super Bowl 2012: New England's Wes Welker Will Sneak by Giants, Score Big
February 3, 2012

Jim Rogash/Getty Images
Wes Welker is going to sneak by the New York Giants on Super Bowl Sunday, and he's going to owe his success all to the man we affectionately know as Gronk, Rob Gronkowski, and fellow tight end Aaron Hernandez.
I don't know if the sneaky mind of head coach Bill Belichick is planning this out or if it's just the way the cards are falling for the Patriots, but either way there seems to be a severe lack of attention to Welker in the week leading up into the Super Bowl.
Now, believe you me, I'm not dumb enough to believe that because the media isn't fixated on him the Giants won't be either, but I do think Gronkowski is going to play a huge role in the great game from Welker.
Let's break it down
The media plays a role in this, albeit a small one.
Everybody and their mother is fixated on Gronkowski and his injured ankle. Is he going to be able to play? Is he going to be able to be effective? How can the Giants capitalize on his possibly weak ankle?
I guarantee the Giants are thinking long and hard about that last question. If Gronk does indeed play they are going to want to throw him off his game. That means defensive ends chipping him at the line or linebackers being physical with him in order to knock him off his route.
If he's playing well, it means shading a safety over and putting a spy on him.
The more physical the Giants can be with Gronkowski the better, but let's not forget that takes personnel.
If the linebackers worrying about Gronkowski they have less time to react to Welker slanting across the middle.
If Gronkowski is able to pull the safety down close to the line of scrimmage that's one less person for Welker to beat going deep, and we all know Tom Brady will get him the ball.
Gronk going to play a huge part in getting Welker open.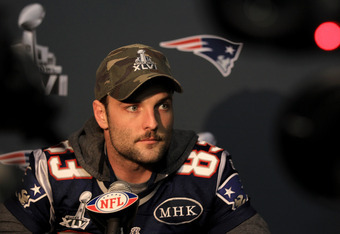 Scott Halleran/Getty Images
As if that weren't enough, though, add in a second star tight end in Aaron Hernandez, who can do just about everything Gronkowski can, and a quarterback like Brady, and the Giants are in trouble.
Welker is going to do what he does best against the Giants, which is get open and make plays, and he's going to use his teammates demand to help him to do so.
He's a sneaky man.