Patriots vs. Giants: New England Stars Who Won't Live Up to Hype in Super Bowl
February 2, 2012

Elsa/Getty Images
When television talking heads have two full weeks to breakdown a single game like the Super Bowl, it tends to get a bit redundant. The hype machine starts working at full capacity and fans are left to figure out which information is useful and what is simply filling time until kickoff.
With that in mind, here are three New England Patriots who won't reach their respective expectations this weekend.
BenJarvus Green-Ellis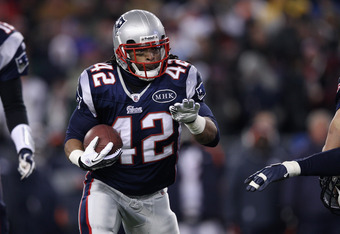 Elsa/Getty Images
It's going to be a long night for Green-Ellis. The Giants are going to be focused on stopping the run early in an attempt to make the Patriots one-dimensional. Even if it means giving up a couple extra first downs through the air early, the Giants want to make sure there's no confidence in the running game.
Green-Ellis is a throwback runner. He's going to pound straight ahead regardless of the circumstances. That will lead him right into a mass of Giants clogging the box to stop the run, especially in the first half. It's simply not a recipe for success, so look for a lot of Danny Woodhead.
All told, the "Law Firm" will be lucky to break 50 yards rushing. He's more of a priority to the Giants than fans would probably expect.
Chad Ochocinco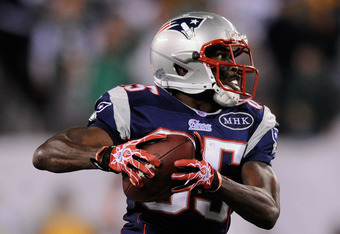 Patrick McDermott/Getty Images
Since when does being invisible for most of the season lead to a player becoming a popular pick for unsung hero of time game? Ochocinco has received more air time over the past two weeks than fellow Patriots who will have 10 times the impact he will on Sunday.
He didn't have more than two catches in any game this season, and he hasn't made a single grab in the playoffs. To think that the Patriots will suddenly change the offense to get him more involved in the most important game of the year is crazy talk.
Ochocinco will continue to be a non-factor like he has been for the previous 18 games. His signing can be considered nothing more than a bust.
Vince Wilfork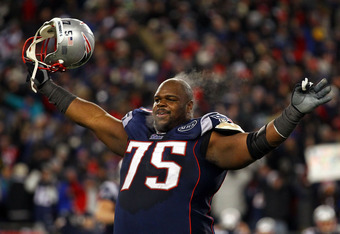 Al Bello/Getty Images
Wilfork has been a force in the team's first two playoff games, so it's no surprise that he's been talked about so much. That said, the Giants know how dominant he can be when he gets rolling, so the offensive line will be expected to keep him under control with constant double teams.
Even for a monster like Wilfork, that type of attention is hard to overcome. It will also put a lot of pressure on the Patriots' other pass rushers and run-stoppers to make sure the Giants offense doesn't control the game.
While Wilfork might not get the credit he deserves on a national level, that added respect won't come because of his performance on Sunday. It won't be one of his better days.