Nick Diaz, Dan Henderson and the Top Chins in the UFC by Division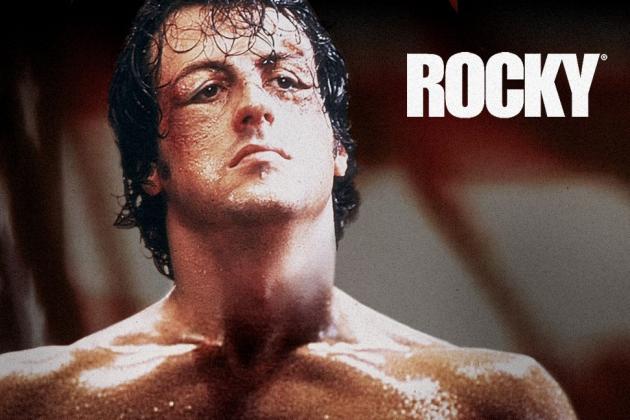 Rocky couldn't be knocked out by a sledgehammer
An integral part of professional fighting is the ability to take a punch. All fights start standing up, increasing the odds of having you chin tested early in a fight.
The deterioration of fighters' chins come by years of taking punishment. Fighters like Wanderlei Silva, Chuck Liddell and Mirko Cro Cop could not take nearly the amount of damage they could at the end of their career as they did in the beginning.
Fighters presently in the UFC have a wide range of chins, from the weakest, such as Wanderlei Silva, to the strongest, which we will examine by division.
Fighters on this list are only UFC fighters, although guys like Patrick Cote and Fedor Emelianenko definitely contend as top-notch punch takers.
Begin Slideshow

»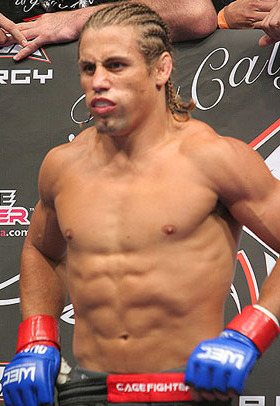 All hail the almighty Faber Chin!
Between all of his fights in the WEC and UFC, Mike Brown was the only man to knock out Urijah Faber. He was Faber's kryptonite.
Other than being finished by Mike Brown, Faber has proven that his chin is close to unbreakable.
Through bouts with Dominick Cruz, Brian Bowles, Eddie Wineland and the always-powerful Jose Aldo, Faber has continually shown that he possesses a chin of pure granite.
He is aggressive in his game, which may be enabled by his ability to take a punch.
In addition to that, he must also have legs of steel, seeing how Jose Also tenderized them for five rounds without Faber quitting.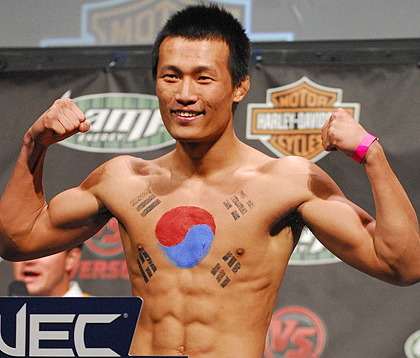 The only known Korean Zombie in existence
Was there ever any doubt about this one? I mean, come on, his nickname is "The Korean Zombie" for a reason.
Chan-Sung Jung can absorb massive amounts of punishment from the heaviest of hitters. He has paraded his chin in bouts against Leonard Garcia (twice) and George Roop, who eventually knocked him out with a head kick following a ton of abuse.
He is constantly pushing forward though bombs like a true zombie. If he were a professional wrestler, he would be the guy who would take chair shots to the head and not go down.
He is just a beast like that.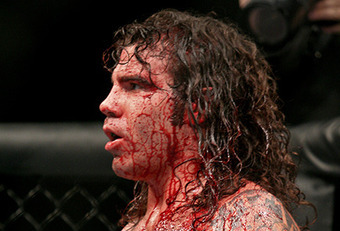 Is that your blood, Clay? Probably...
I was debating putting Frankie Edgar in this spot, but "The Carpenter" is just too hard to put away with strikes.
If you want proof of that, just go back and watch his fight against Diego Sanchez. He was pushed up against the cage for what seemed like a couple minutes and took a barrage of punches that would send the Incredible Hulk crying for his mother.
To add to that, he was briefly floored by a devastating head kick that DIDN'T knock him out cold. This man has a jaw of steel.
Other fights where he has shown great resistance to punching power is against Ben Henderson and Roger Huerta, among others.
Clay is a warrior, and it definitely helps that he is nearly unable to be knocked out.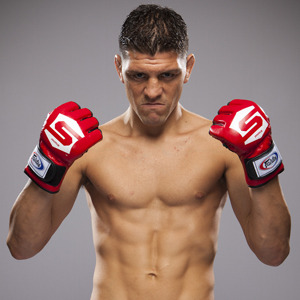 Mean mugging isn't the only thing his head is good for.
It must be really disheartening to punch a guy in the head really hard, just to see him continue to keep his hands at his waist, talk more trash and continue to take really hard punches to the head.
That is exactly what Nick Diaz does.
Diaz does not look like the most physically intimidating fighter, but once you give him some of your best punches and it only makes him trash talk more, you may begin to question why you even bother hitting him.
Diaz has taken punches to the head by power strikers like Robbie Lawler, Paul Daley and BJ Penn. None of these reputed knockout artists have been able to put the top welterweight contender to sleep.
Frank Shamrock is right; fighting this guy is frustrating.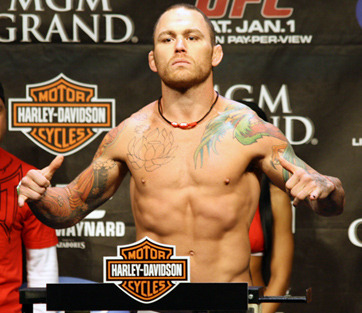 You can't "cripple" this guy's chin.
If there were an "American Zombie," Chris Leben might be the guy to take that title.
Leben not only can take a punch better than a majority, he is actually more dangerous when he is rocked. He will continue to push forward until you yourself are on dream street. Aside from Anderson Silva and Brian Stann, nobody has been able to finish this guy with strikes.
Leben is so confident in his chin that he will stand with top strikers in the division with success. Among power strikers he has traded with and dealt devastation to are Wanderlei Silva, Alessio Sakara and Yoshihiro Akiyama.
Hopefully he can come back from his suspension with his act cleaned up, because the division misses a guy like Leben. The fans wish to see "Zombie Leben" in the Octagon.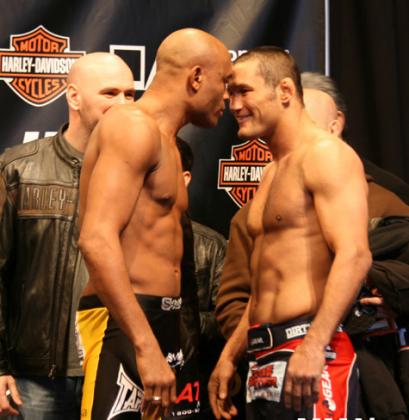 The definition of strong chin
There are a few fighters at light heavyweight that have very strong chins, but Dan Henderson is the poster boy for having a diamond chin.
Henderson has exchanged strikes with some of the most deadly strikers in the world, such as Anderson Silva, Fedor Emelianenko, Rampage Jackson and Wanderlei Silva.
And he has never lost by knock out. Not once. Ever.
He walks through bombs like a mosquito is landing on his face. He is unfazed by punches. He is almost a freak of nature in terms of absorbing punishment.
In his fight against Emelianenko, he faced some adversity after being caught by a haymaker, but recovered quickly to turn the table and send Emelianenko into a slumber.
He may have the best chin in MMA.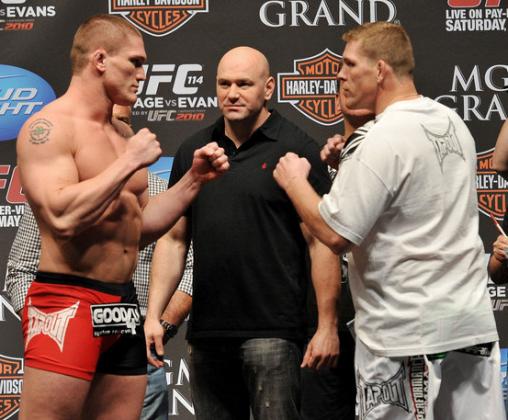 Greatest comeback in UFC history
The heavyweight division was a toss-up between Russow and Shane Carwin.
After seeing how Russow performed against Todd Duffee, he gets the nod. Not only did he take every punch like a champ, he delivered a comeback knockout in possibly the greatest come-from-behind victory in UFC history.
Russow is one tough dude, having never succumbed to knock out in his career. Todd Duffee should have put him to sleep in the first round, but Russow is just that tough.
We have not really seen Russow show off his chin in his last few fights, but that may be beneficiary for his career in the long run.
If Brock Lesnar had Russow's chin, he still may be the heavyweight champion today.