Giants vs. Patriots: Why This Year's Super Bowl Has Overtime Written All over It
March 23, 2017
Ezra Shaw/Getty Images
We have seen the impossible happen in the previous 45 Super Bowls. Upsets, incredible plays and brilliant individual and team performances have shaped the NFL's showcase game. The only thing missing has been overtime, but that will change with the New York Giants and New England Patriots this year. 
There have been a few games in the past that we assumed were ticketed to go longer than 60 minutes, only to have it snatched away at the last second. The most famous recent example involved the Patriots against St. Louis in 2001. 
The game was tied at 17 with 90 seconds left, and the Patriots got the ball with no timeouts. The prevailing theory was they would play for overtime, but this turned out to be the game where the legend of Tom Brady was born. He drove them down the field, and Adam Vinatieri kicked a 48-yard field goal to win it. 
The Giants and Patriots are so evenly matched that it would actually be a surprise if it didn't go into overtime. 
Neither team is great on defense, though the Giants will get a slight advantage due to the strength of their defensive ends. Justin Tuck, Osi Umenyiora and Jason Pierre-Paul have been dominant throughout the postseason, making life miserable on opposing quarterbacks.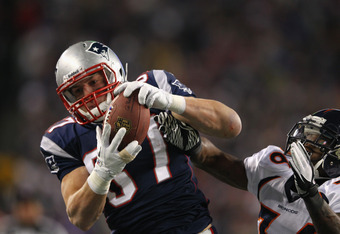 Al Bello/Getty Images
Both offenses are stacked with playmakers. We know all about Brady and Eli Manning, but don't forget Wes Welker, Hakeem Nicks, Aaron Hernandez, Victor Cruz and Rob Gronkowski. The two Patriots tight ends are matchup nightmares, and they should be able to exploit holes in the Giants pass defense. 
Special teams will always be a big factor in a close game—just ask the San Francisco 49ers. The Giants and Patriots boast two of the best kickers in the NFL. Lawrence Tynes has been cool under pressure throughout his career, sending the Giants to the Super Bowl on two separate occasions. 
Stephen Gostkowski doesn't get the credit that he deserves, mainly because the Patriots score over 500 points every year and he had the misfortune of taking over for Vinatieri. 
Neither kicker will be intimidated by the stage that they are on, which is critical in a game between two teams so evenly matched. 
Another factor that you have to consider is that the Patriots always play three-point games in the Super Bowl. The only things you can count on in life are death, taxes and the Patriots winning or losing this game by three points. They haven't gone to overtime, but that will change this year. 
No matter how you dissect this Super Bowl, the Giants and Patriots are too evenly matched for this game to end after 60 minutes. We are going to see a lot of great things in this game, with the most memorable being the first decided in overtime.