10 Reasons the UFC Needs to Absorb the Strikeforce LHW Division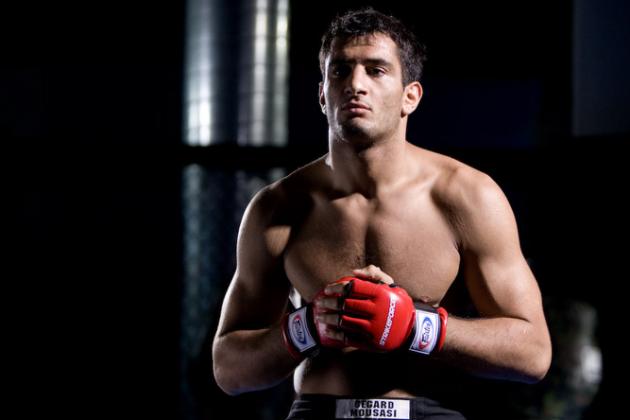 Gegard Mousasi; photo cred: Showtime
Last year, the sport of mixed martial arts took a huge turn as Zuffa, the subsidiary of the UFC, had purchased their biggest competitor in Strikeforce.
Now that these two organizations are in bed together, we have already witnessed many crossover battles featuring the likes of Alistair Overeem, Cung Le and Nick Diaz—all former Strikeforce champions.
The San Jose-based promotion has since done away with the heavyweight division; however, their 205-pound class would benefit by merging with the UFC's.
Begin Slideshow

»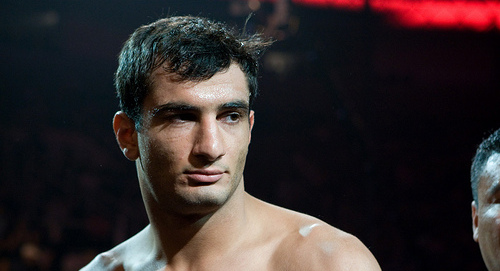 Gegard Mousasi; photo cred: Showtime
One of the world's best hailing from Armenia, Gegard Mousasi has become a world renowned fighter, first beginning his rise as a middleweight before transitioning to the light heavyweight division.
A two-time Dream Grand Prix champion, Mousasi first took home Strikeforce gold with a vicious, first-round knockout victory over UFC vet Renato Sobral. A K-1 veteran and underrated submission specialist, Mousasi is a difficult opponent for anyone he faces.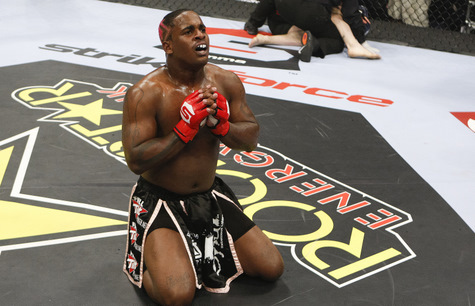 Lorenz Larkin; photo cred: Showtime
Though he may be small, Lorenz Larkin packs a wallop.
This light heavyweight dynamo has quickly risen up the ranks thanks to his fan-friendly style of fighting, which has garnered him lots of praise.
A natural athlete, Larkin's speed, movement and incredible array of strikes makes him a tricky opponent for anyone to face, given the fact that his takedown defense has steadily improved in his last few fights.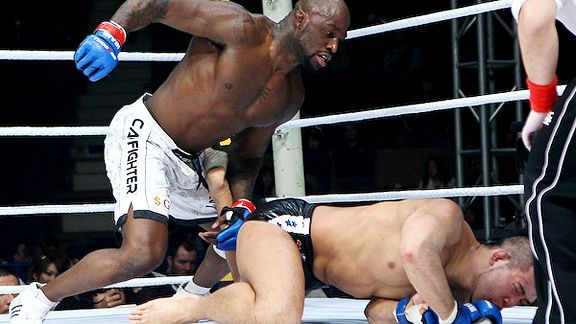 Muhammed Lawal (left); photo cred: ESPN.go.com
A world-class wrestler is bad news for anybody, but a grappler who can also pack a punch is a nightmare.
Such is the case with Muhammed Lawal, though, fans known him simply as "King Mo."
The self-professed ruler of surfs, Mo has used his natural talents in order to secure victories over the likes of UFC vets Travis Wiuff, Mike Whitehead and the aforementioned Gegard Mousasi—which earned Mo the 205-pound title in April of 2010.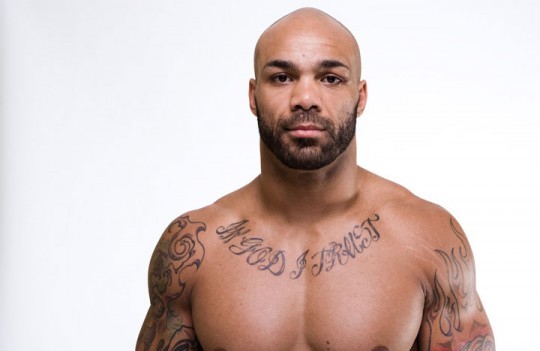 Mike Kyle; photo cred: Esther Lin for Strikeforce
Once one of the heavyweight division's most promising stars, Mike Kyle has since realized his potential as a 205-pounder.
So far, Kyle has managed to stay undefeated in the division, garnering a 5-0 record whilst defeating the likes of Tony Lopez, Marcos Rogerio de Lima and former champion Rafael Cavalcante—knocking him out within the second round.
A one-punch knockout-puncher, Kyle is a dangerous opponent for any man that enters the cage with him.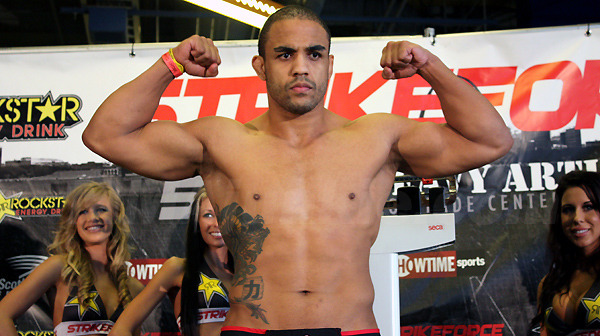 Rafael Cavalcante; photo cred; MMAJunkie.com
This Black House fighter, who is a regular training partner of UFC middleweight great Anderson Silva, Rafael Cavalcante has shown that his skills are indicative of a world-class fighter.
The Brazilian first earned fame under the now-defunct EliteXC banner, going 3-0 before making his way to Strikeforce. After an upset knockout loss to Mike Kyle, Cavalcante rattled off a three-fight win streak, which included a third-round finish of Muhammed Lawal—dethroning "King Mo" for his 205-pound title.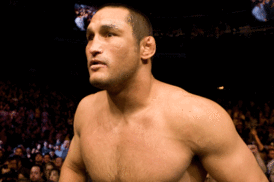 Dan Henderson; photo cred: sports-at-work.com
Merging the Strikeforce elite into the UFC sends a clear message to the MMA community, which in turn would establish meaning to their 205-pound roster.
Essentially, should the higher-ups decide that the Strikeforce light heavyweight class is worth bringing to the Octagon, it will instill a sense of importance to said fighters, suggesting that all are worthy of entering the UFC and should not be relegated to the "B-Team."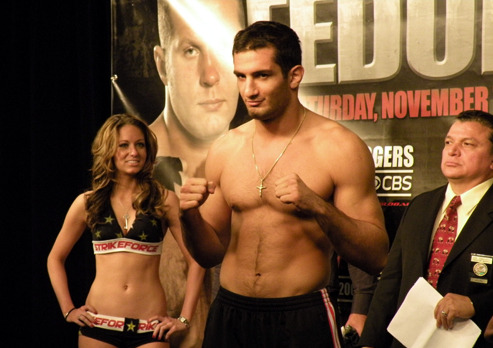 Gegard Mousasi; photo cred: MMAMania.com
Much like the recently whittled-down heavyweight division, the 205-pound class is struggling to find footing in Strikeforce.
There are only just a few notables within Strikeforce, whereas the UFC has cultivated many stars just in the light heavyweight division alone. All parties considered would benefit, as the UFC would have a new batch of would-be contenders while Strikeforce fighters can finally earn a pay grade thanks to the prestige that becoming a UFC fighter brings.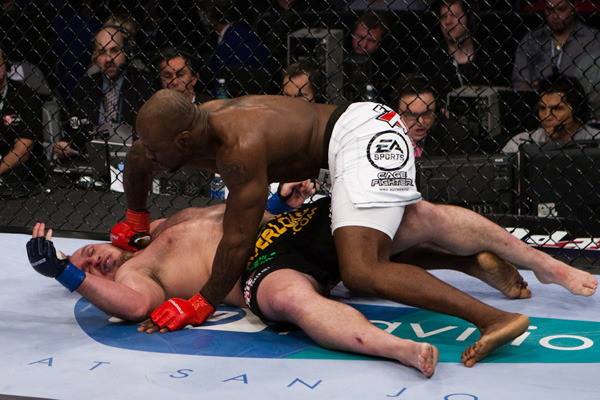 Muhammed Lawal (top); photo cred: MMAJunkie.com
The light heavyweight division of the UFC is chock full of talent, though, as of late, it seems as the organization is playing Ring Around the Rosie with the same familiar faces.
Rashad Evans has been the No. 1 contender to the title for nearly two years, while guys like Quinton Jackson, Forrest Griffin and Lyoto Machida always take top billing over most.
Now with a new batch of talent entering the Octagon, the ebb and flow of the division would shift, creating new matches, new outcomes and new possibilities for future bouts.
With the addition of Strikeforce stars like "King Mo," many battles that were previously thought only to be fantasy, can now become reality.
A Lawal vs. "Rampage" battle could be a big sell in the UFC should Lawal continue on a deliberately destructive path through the light heavyweight division.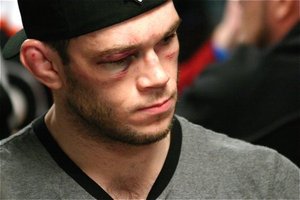 Forrest Griffin; photo cred: MMABay.co.uk
The UFC's light heavyweight division has remained stagnant over the years.
Big personalities like Rashad Evans, Quinton Jackson and Forrest Griffin have dominated the face of the division. However, it's time for a change.
With Griffin's impending retirement, Jackson's renewed interest in becoming a boxer and Evans' talks about changing weight classes, a new batch of fighters being injected into the 205-pound mix would aid the UFC's endeavor in acquiring new talent for the division.