He took his Broadway show to Canada's capital city and skated away with three goals, four points, MVP honours and plenty of rave reviews.
It was indeed a great performance by Marian Gaborik at the recent All-Star Game in Ottawa, but certainly not an unexpected showing by one of the game's elite offensive stars.
Playing on Team Chara, Gaborik, who had 25 goals heading into the All-Star break, was voted MVP of the 2012 contest, as chosen by members of the Professional Hockey Writers' Association.
The New York Rangers forward recorded the 16th hat trick in NHL All-Star Game history, all by 1:23 of the second period, and recorded an assist on Chara's game-winning goal in the third period of Team Chara's 12-9 victory.
Gaborik also fashioned a plus-3 rating and six shots on goal. The first two of Gaborik's three goals came in the first period against Team Alfredsson goaltender and Rangers teammate Henrik Lundqvist.
The Slovakian native couldn't have been more satisfied with his third All-Star appearance.
"I'm glad I could play along with Marian (Hossa) and Pavel Datsyuk, and I was glad that Zdeno picked me in the draft," said Gaborik, who already has six game-winning tallies in 2011-12. "He got me sweating there a little bit at the draft, picking me late. But it was a fun event. And I had a lot of fun."
Gaborik, who was named to his first NHL All-Star Game in 2002-03 and won the fastest skater competition, lapping the rink in 13.713 seconds, also had some fun scoring on Lundqvist, something he admits isn't an easy feat, in practice or game conditions.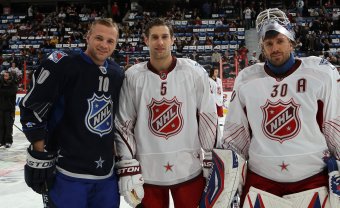 Bruce Bennett/Getty Images
"I was just fortunate to be lucky against him," said Gaborik, who was selected third overall by the Minnesota Wild in the 2000 NHL Entry Draft. "I was trying to get into his mind over the whole weekend. And I think it was a pretty good challenge against him, and worked a little better for me. But I think he's one of the best, if not the best, goalie in the league, but I am glad I could get a couple of goals against him."
Lighting the lamp has never been a problem for Gaborik, who spent eight seasons in Minnesota (he's the Wild's all-time leading scorer in goals, assists and points) before signing with the Rangers in 2009.
He turned heads in his rookie NHL season in 2000-01, scoring 18 goals and 36 points for the expansion Wild. The following campaign, he notched his first 30-goal season and also recorded his first NHL hat trick near the beginning of the season.
In 2007, Gaborik recorded a six-point game against the New York Rangers with five goals and an assist, making him the first player in Wild history to score five goals in one game.
One year later, he appeared in his second All-Star Game.
Gaborik, who'll turn 30 on Valentine's Day, is showing no signs of slowing down. He's a player whose lethal combination of speed, skill and finesse continues to make him a constant scoring threat every time he touches the puck.
"You work very hard to make your dream of playing in the NHL happen and after it does, you have to work harder and harder," said Gaborik, who scored 42 goals in both 2007-08 and 2009-10. "Every game, you have to be at your best to play against the best players in the world."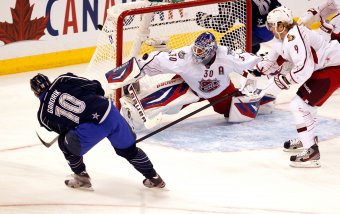 Gregory Shamus/Getty Images
He'd love nothing more than to get another opportunity to contest for the Stanley Cup. Gaborik has been to the playoffs on four occasions, including a nine-goal and 17-point total over 18 games in the 2002-03 postseason.
Last year, the Rangers were ousted in five games in the Eastern Conference quarterfinals at the hands of the Washington Capitals. One season earlier, New York failed to qualify for the playoffs and in 2008-09 lost a seven-game set in the opening round, also to the Capitals.
In 2011-12, the Rangers find themselves in the upper echelon of the East, one of the most consistent teams in the league.
Gaborik is hoping a strong second half will give New York a boost once the curtain rises on the postseason.
"It's always so close in the standings and there are so many good teams," said Gaborik, a two-time Olympian with Slovakia and a bronze-medal winner at the 1999 World Junior Championships. "You have to be ready all the time and give your best."
That was once again evident in Ottawa less than a week ago, when one of the sport's world-class players put on another crowd-pleasing show.
Unless otherwise noted, all quotes were obtained firsthand.
Related Content
Video: Players Playbook - Sneak Peek
Video: Marian Gaborik Interview at 2012 NHL All-Star Game
At the Hart of All-Star Weekend
Video: Henrik Lundqvist - NHL All-Star Fantasy Draft