University of Akron Reportedly Set to Hire Jim Tressel As Administrator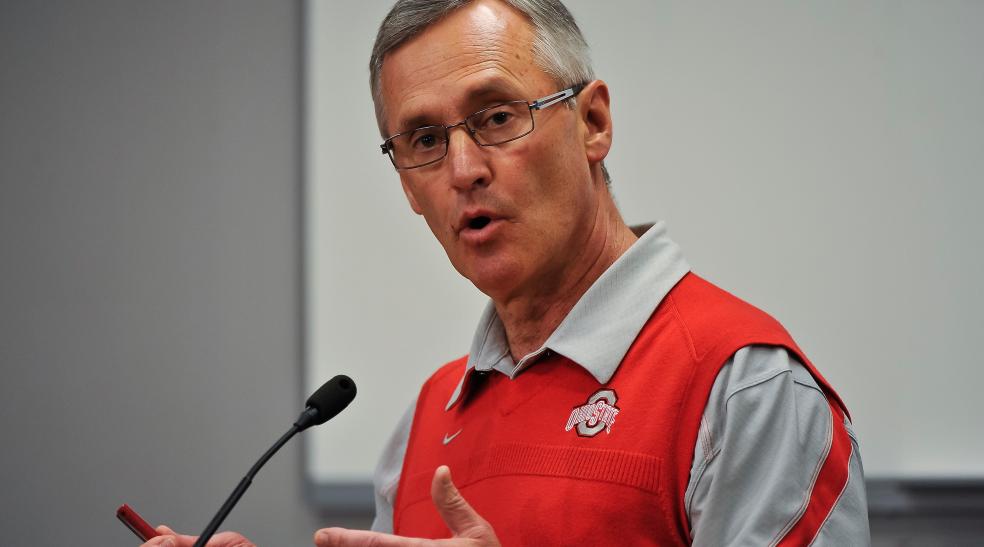 After leaving Ohio State in disgrace prior to the 2011 season due to his inaction regarding players receiving improper benefits, Jim Tressel became an assistant with the NFL's Indianapolis Colts. Now, he is heading back to college.
According to WEWS NewsChannel5 in Cleveland, Ohio, the University of Akron is set to hire Tressel today. The hiring would be in an administrative role rather than football, however, according to Pat Galbincea of the Cleveland Plain Dealer.

Mike Waterhouse of NewsNet5 is reporting that the position may be that of a vice president and that Tressel is expected to make about $200,000 annually.
What It Means
It was determined that any school that hired Tressel in a football capacity following his transgressions at Ohio State would be subject to discipline by the NCAA. Because of that, Tressel was essentially blackballed when it comes to being a college coach.
Tressel's rumored position at Akron is not football related, though, so the sanctions wouldn't apply. According to Galbincea, Tressel who started his coaching career as a graduate assistant at Akron, aided in the school's search for a head football coach and began exploring the possibility of a different position with the university.
What's Next?
With the announcement expected to become official at 10 a.m. EST on Thursday, there will certainly be plenty of talk regarding whether this was the right move for Akron. It shouldn't have any effect on the Zips' football team since Tressel will be working with students, but there are still morality issues to consider.
One would think that universities look for the highest possible character in their administrators. For many years it appeared as though the sweater-vest-clad leader of the Buckeyes had exactly that. After failing to report "Tattoo Gate" in which many of his players exchanged Ohio State merchandise for tattoos, however, that is now in question.
Should Akron hire Jim Tressel as an adiministrator?
Should Akron hire Jim Tressel as an adiministrator?

Yes, he has a lot of experience in a college setting and would be an asset to the university.

No, he has proven that he isn't trustworthy and there is no room for that at Akron.
Ultimately, it seems as if hiring Tressel is more trouble than it's worth for Akron right now. Not only will the media scrutiny be high due to Tressel's issues at Ohio State, but it just doesn't seem like a good fit.
The players at Ohio State are mostly to blame for the scandal that forced Tressel out of power, but he withheld important information from the NCAA. Since Tressel has already done it before, who is to say that he wouldn't hide information while at Akron if his job was on the line?
From Tressel's perspective this is likely a great job opportunity since there is a new regime with the Colts and coaching in college is basically out of the question. The hiring is going to get Akron attention, but that attention will be for all the wrong reasons.