7 Easy Steps to Get the Montreal Canadiens Back on Track for 2012-13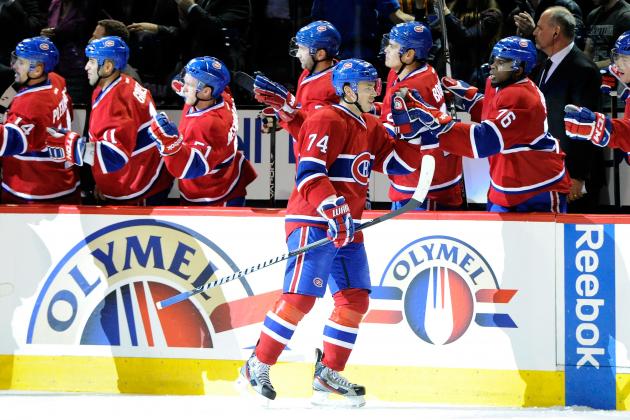 Richard Wolowicz/Getty Images

The Montreal Canadiens started this season like most sports teams in a new season—with a healthy optimism. No rational fans felt they could compete for a Stanley Cup, but most probably believed the team had a legitimate shot at the playoffs.
After all, this team had come up only one game short of eliminating the eventual Stanley Cup champion Boston Bruins in the first round of the playoffs last year.
That dream is dead.
Fifty-three games into this NHL season, the Canadiens sit in 14th place in the Eastern Conference, tied with the Carolina Hurricanes with 49 points. They have 11 points and six teams separating them from a playoff spot.
Only Anaheim, Edmonton, Columbus and Carolina have been worse than Montreal so far this year. A hot Anaheim team, 6-2-2 in its last 10 games, looks destined to pass the Canadiens.
The NHL trade deadline is Feb. 27th this year, a mere three weeks away. By the time it arrives, Montreal will need to be a seller ready to dump the assets it will lose in unrestricted free agency this summer.
Montreal currently has been flailing around in a panicked, random fashion, and that has to stop. These are the seven steps, as I see them, that the organization needs to take, and the order in which it needs to take them, to recapture some of the squandered momentum that it had built in the previous two seasons.
There are some tough measures that need to be taken to get the team progressing again. Some are just painfully self-evident.
Begin Slideshow

»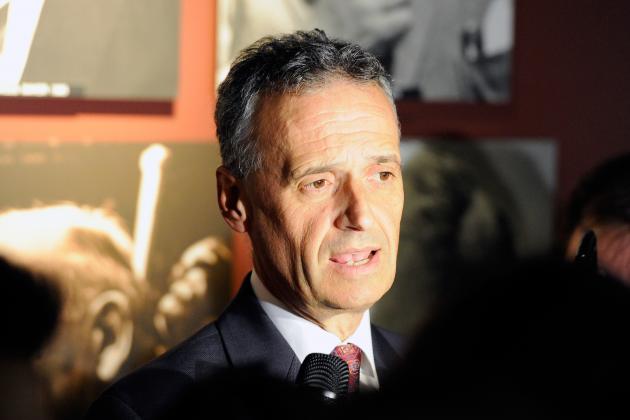 Richard Wolowicz/Getty Images

Before he trades again, GM Pierre Gauthier must be fired.
This one is the most obvious of the moves that need to be made. When the Montreal Canadiens were not performing to Gauthier's inflated expectations, he started firing coaches. He took a team that was barely out of a playoff spot and plunged it into a chaos which has led it, well, here.
His last panicked move involved trading Mike Cammalleri to the Calgary Flames for power forward Rene Bourque. This was at best a sideways move, not really representing a huge improvement for either team. Calgary got the slightly younger, smaller, more talented, more injured player. Montreal got a bigger, tougher player with skills but less top-end potential.
Montreal is not a team that can afford to get "less" talented. It also can't afford to allow a man, whose main motivation seems to be to stay employed by making short-sighted, near-term deals, run the team.
Pierre Gauthier needs a quick fix to stay employed. Montreal needs to continue the gradual building program it's embarked on to get better. Those two goals are mutually exclusive.
The trading of Cammalleri has opened another gap in the Montreal lineup that will eventually have to be filled. Another hockey man needs to be brought in to run things in Montreal.
Normally, I'd wait until the end of the season to get rid of a general manager. Unfortunately there are trades that need to be made before the end of the season, and Gauthier can't be trusted with them.
Bruce Bennett/Getty Images

The trade deadline is fast approaching (Feb. 27th). The Montreal Canadiens have some veteran players who will be unrestricted free agents in the offseason and might have some value to teams who are hoping to make a run in the playoffs.
Checker Travis Moen and hulking defenseman Hal Gill both played big roles on Stanley Cup-winning teams. Chris Campoli is a veteran puck-moving defenseman who could be useful. Andrei Kostitsyn is undependable but offensively talented. He might be a nice pickup for a team looking for offensive depth in the postseason.
The last UFA on the roster is 35-year-old energy player Mathieu Darche. He had a career-best 26 points in 59 games last year but is unlikely to command interest.
There may not be a lot realized from trading these UFAs, but it would be useful to extract some value from them as Montreal is unlikely to attempt to re-sign any of them but Darche. Draft picks and prospects are what the Canadiens need to stockpile.
Montreal needs to be a seller. It doesn't need to be making any more sideways deals, like Cammalleri for Bourque. The Canadiens need talented youth and draft picks.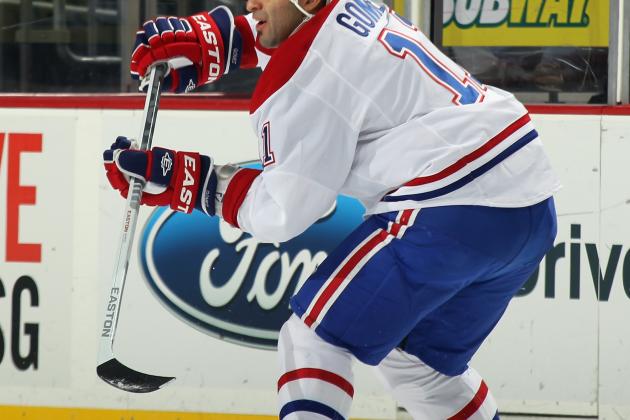 Bruce Bennett/Getty Images

An effort was made by then GM Bob Gainey back in the summer of 2009 to completely retool the Montreal Canadiens using a model the Philadelphia Flyers had succeeded with back in 2007.
The Flyers missed the playoffs during the 2006-07 season despite a very talented lineup. They finished last in the league that year.
The Flyers began to add players that season including Martin Biron, Scott Upshall and Braydon Coburn. That offseason, they signed Daniel Briere, Kimmo Timmonen and Scott Hartnell. They drafted James Van Riemsdyk. They traded for Joffrey Lupul and Jason Smith. They finished sixth in the East and made it to the Eastern Conference finals.
While suffering from cap and goaltending problems since then, they have still been consistently competitive.
Bob Gainey's additions in the 2009 offseason were not quite as successful. They signed six veterans through free agency: D Jaroslav Spacek, D Hal Gill, LW Mike Cammalleri, RW Brian Gionta, D Paul Mara, RW Travis Moen. They traded for center Scott Gomez.
The Canadiens enjoyed similar playoff success that first year, making it to the Eastern Conference final just like Philadelphia did. Their additions, however, weren't as good or as successful as the Flyers' additions were.
Scott Gomez in particular has been an underperformer in Montreal. Really, to expect more than the 59 points he put up in 2009-10 would have been unrealistic. However, the seven goals and 38 points he managed in 80 games last year were the second-worst totals in the league for a first-line center.
David Desharnais playing in 43 games. He played fewer minutes and had none of the abundant power play time Gomez was being given. He scored eight goals and had 22 points. This season, playing for the injured Scott Gomez, he has 10 goals and 36 points in 51 games. He has more than adequately replaced Scott Gomez's almost non-existent offense.
The time is long past to stick Scott Gomez and his $7.357 million cap hit in the minors. You can't trade a player making that much money and scoring as little as he does. There are still two years and almost $15 million left on this contract; you don't want to buy him out.
He needs to be waived through the league and reassigned to the AHL so the team doesn't spend the offseason with that salary counting against the cap.
Getting rid of that cap hit gives the team the opportunity to bid on the more exciting free agents that may still be available in July, like Zach Parise and Ryan Suter. It also frees up cap room that could be better invested in restricted free agents like Carey Price, P.K. Subban and Lars Eller.
The organization declared the 2009 experiment a failure when the best player they signed that year, Mike Cammalleri, was traded. It's time to move Scott Gomez out of the way. He's untradeable and unusable.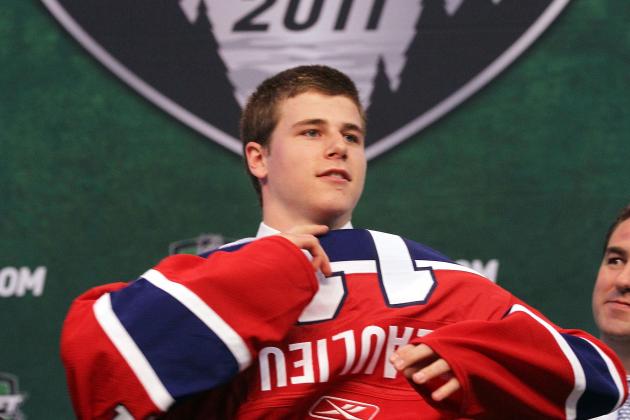 Bruce Bennett/Getty Images

The Montreal Canadiens are currently tied at the bottom of the heap in the East with the Carolina Hurricanes with 49 points. In the West, the charging Anaheim Ducks and Edmonton Oilers both look like they will finish stronger than Montreal.
Montreal is in the middle of the pack of potential lottery-pick drafters for this year's NHL entry draft in June. It could finish as low as 29th in the league with only Columbus beneath it.
A lottery draft pick will give the Canadiens a chance to draft to fill one of the organization's huge gaps, either through picking up a first-line center (Mikhail Grigorenko, Alex Galchenyuk, Radek Faksa) or a top quality defenseman ( Ryan Murray, Griffin Reinhart, Mathew Dumba).
The biggest need in Montreal has to be at center. It is easy to see the difference Ryan Nugent-Hopkins has made in Edmonton. Montreal needs the same sort of offensive game-changer in their lineup to upgrade the team's talent.
Tomas Plekanec and David Desharnais look much better as second- and third-line centers. By drafting a better player, Montreal suddenly becomes deep at center.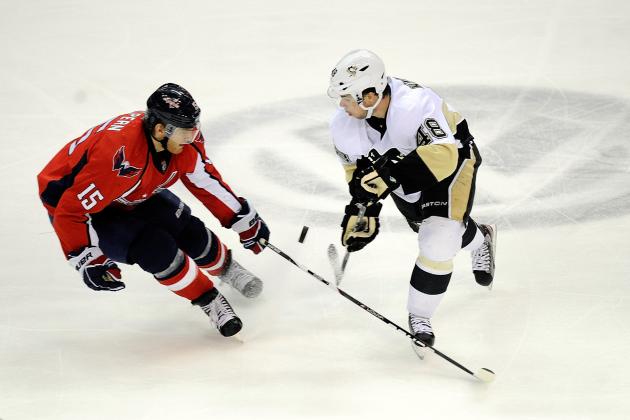 Patrick McDermott/Getty Images

The Montreal Canadiens have some huge, obvious gaps in their lineup. They have been missing a legitimate No. 1 offensive center for years now. The last man to come close to filling that role was Saku Koivu, and he was never among the league's best.
There are no real scheduled UFAs who could fill that role. This might be the time when a creative GM (not Gauthier) could make a deal for Jeff Carter in Columbus. The key here is that if you are going to take a poison contract off a desperate team's hands, you don't give up prospects.
As it becomes more obvious that Andrei Markov will be unlikely to ever regain his spot as the best defenseman in Montreal, the Habs need a No. 1 defenseman. They have developed some pretty good defensemen on their own. P.K. Subban is the best so far. Jarred Tinordi and Nathan Beaulieu hope to be good at the NHL level.
Still, Montreal lacks that No. 1 guy that can lead the defense and make everyone else better by bumping them one place down on the depth chart.
The obvious free agent to sign here is Ryan Suter. If the Canadiens bury Gomez's contract in the minors, then they can at least take a shot at Suter, along with the rest of the NHL.
The Canadiens need a checking center who can win faceoffs. Former Hab Jeff Halpern will be a free agent again, and he filled nicely the last time he was there. Otherwise, there are Dominic Moore, Jim Slater, Scott Nichol, Zenon Konopka, Samuel Pahlsson—really, a long list of players better in the faceoff circle than the defensive centers Montreal has tried out so far this season.
It will nice to have the cash to make a run at the top quality free agents that might still be on the market by July 1st. It's nice to imagine having a Zach Parise or Ryan Suter or Shane Doan in the lineup.
If none of that works out, you know Montreal can find and sign a checking center, hopefully for more than one year.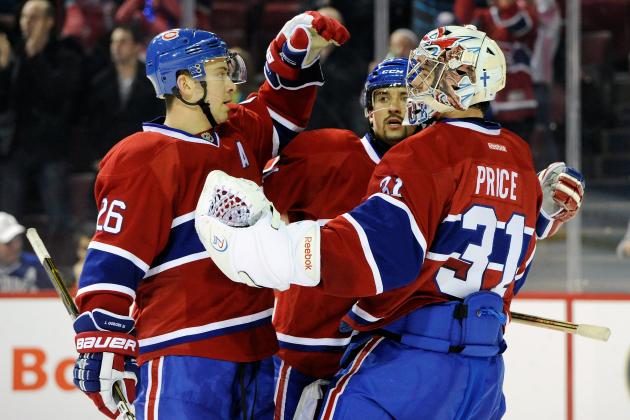 Richard Wolowicz/Getty Images

When a team is losing as much as the Montreal Canadiens are right now, the temptation is to completely clean house and start again. That's obviously easier than carefully evaluating what you have, keeping the good and adding to it.
After the great Montreal Canadien playoff run in 2010, I put together an admittedly meagre list of the top talents the team has to build around.
At the time, I felt those talents were Jaroslav Halak, Mike Cammalleri, Carey Price, P.K. Subban and Andrei Markov, if he could recover from injury. Tomas Plekanec got an honourable mention but was excluded because I feared he would leave through free agency.
Currently, only three of those players are left: Price, Subban and Plekanec. Cammalleri and Halak were both traded for lesser talents. Markov doesn't look like he will ever be healthy enough to be a useful NHL player again.
That's not the direction you want your talent to be moving in. You want more talented players at the end of each year, not fewer.
On the positive side, Max Pacioretty seems to have developed into a legitimate NHL power forward. he has 40 points so far this season and is on pace to score 28 goals. Free-agent pickup Erik Cole has been great with 19 goals and 52 points so far this season. It's hard to build around a 33-year-old with injury problems, but he is filling a slot now.
David Desharnais has proved to be a more than adequate offensive replacement for Scott Gomez. There have been some teething pains among the young defensemen in the lineup right now—Emelin, Diaz and Webber. It looks like one or two them could evolve into every day NHLers in Montreal.
As well, there were some prospective youngsters playing at the world juniors who could be in Montreal contributing soon. Jarred Tinordi and Nathan Beaulieu will hopefully slot themselves in the Montreal depth chart on defense in the next couple of years.
Brendan Gallagher was an exciting offensive contributor at the world juniors and looked like one of the best Canadiens in training camp this year. Hopefully, he is ready to join the big club and add some offensive depth, perhaps replacing a departing Kostitsyn.
Michael Bournival had a good tournament for the bronze medal-winning Canadians at the world junior hockey championships. He looks to be more like a checker than a scorer at the NHL level. The former Avalanche draft pick looks to provide depth in Montreal.
This meagre team has to be developed. Montreal must avoid the talent it has being wasted or squandered in a bad deal by a desperate GM. The Canadiens need to build on the talent it has, not toss away the bits it has accumulated already.
Mike Ridewood/Getty Images

There is a frenetic pace that surrounds hockey in Montreal. Everyone wants to win. They want to win right now, and there seems to be a constant demand for activity in the face of losing.
Finishing last in the East is not the worst thing that could have happened to the Montreal Canadiens this year. The team's talent level and long-term success should be improved by a low, lottery pick-worthy finish.
Hopefully, by next year, some of Montreal's younger players will have improved. Hopefully, some of Montreal's high-potential prospects will make the big club. Hopefully, some of the more apparent gaping holes in the lineup will get filled. And hopefully, this results in a Canadiens team that is not only playoff bound but is competitive once it gets there.
The Montreal Canadiens are not that type of team this year.
Hopefully, the team gets management that can build on what it has and keep seasons like this last one to a minimum. The ownership, management, fans and press will have hopefully all cooled it by next year, and the team will have made its first steps back to respectability.