WWE Fantasy: Friday Night SmackDown 2/3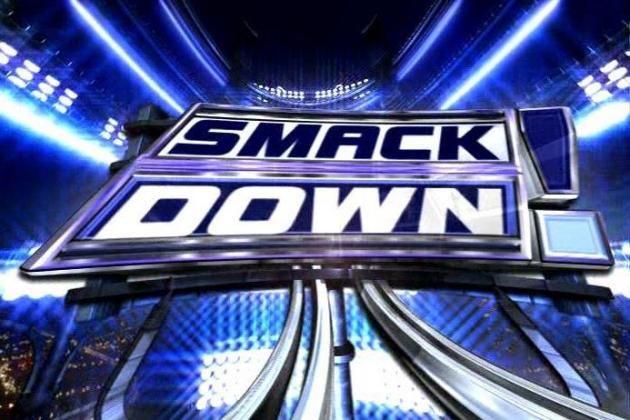 Image Courtesy of: wrestling-match.com
This is the 16th edition of Fantasy Friday Night SmackDown.
For those who are not up to date yet, check out the 15th episode here.
For those further behind, I will post a full list of episodes at the end of the article to help those who missed a week.
If you missed it, check out the Royal Rumble here.
Check out this week's edition of Raw here.
Also, check out the second episode of NXT here.
Sorry about my tardiness, there was a huge miscommunication that caused me to delay releasing this article. There should be no problem going forward.
Remember to rate the show at the end out of 10, i.e. "8/10," as this is a competition of SmackDown (Kevin Berge) vs. Raw (Will Owen and Michael Broughton). Also, there will be voting details at the end of the show that pertain to the next Fantasy PPV for those who have not yet voted.
Now, on to the show.
The intro rolls, then we are treated to a recap for the Royal Rumble.
The brawl and subsequent win by Cena are shown as Ziggler faints from blood loss.
Kurt Angle and Daniel Bryan's match is shown in highlights of hard grappling with Bryan winning with the move that Angle convinced him to use, the Dragon Suplex.
Finally, Punk and Miz are wrestling in a steel cage with Punk ending the match with a flying elbow off the top.
Punk stands tall with the WWE Championship. Green Day then plays.
Begin Slideshow

»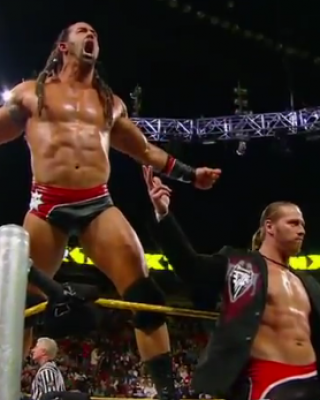 Image Courtesy of: therekkingcrew.com
The night begins as Curt Hawkins and Tyler Reks hit the ring. Both men already have mics in hand as they get in the ring. Hawkins begins.
Hawkins: "Who was the longest-lasting star in the Royal Rumble? Lasted an amazing 23 minutes? It wasn't Zack Ryder. It wasn't John Morrison. Wasn't Kofi Kingston, Rey Mysterio, Christian, Kofi Kingston, John Cena or even the monster Kane. It was me, Curt Hawkins.
"Me and Reks helped eliminate an impressive five stars in the match. Three of them former World Champions. Sure, some of you might say that that was only one match, and neither of us won. Well, on this latest episode of What Have You Done For Me Lately, we have quite a tale for you.
"Reks, who made it to the final five of the WWE Number One Contender Battle Royal a month back?"
Reks: "Oh... I think that was... Hawkins and Reks."
Hawkins: "And then who beat two fan favorites several times in Zack Ryder and John Morrison?"
Reks: "Pretty sure that was us."
Hawkins: "Little growing trend here, huh? And then who defeated both John Cena and Dolph Ziggler in the main event of SmackDown?"
Reks: "That was definitely Hawkins and Reks."
Hawkins: "You know, me and Reks, we aren't given many opportunities, but, when we get those shots, we almost gain World Championship shots, and I pin John Cena. So, why are we out here? I thought was obvious. Reks and I are demanding a serious opportunity in this company."
Reks: "And we are not leaving this ring until we get it."
The two stand there in the ring, looking toward the entrance ramp. Hawkins quickly starts getting restless and motions toward the announcing area for a set of chairs.
As he is doing so, CM Punk hits the ring with a smile on his face, much to the crowd's delight. Hawkins turns around, forgetting about the chairs as Punk gets in the ring.
He asks one of the two for a microphone, and Reks gives him the microphone.
Punk: "You two are doing a lot of bragging for guys who have never really won anything or done anything significant in their careers, and you know what you know what? You caught my attention. I've always been a sucker for guys who demand what they don't get.
"I know what it's like to be put down by management. Of course, I'm the best wrestler in the world, and you guys are... umm... well, developing."
Hawkins: "Really, Punk? You don't think we deserve a chance?"
Punk: "What? At the tag titles? Sure."
Hawkins: "As if we care about the tag team titles. We already know we're the best tag team WWE has. We are after something much bigger."
Punk: "Well, I hear Cody Rhodes was looking for challengers."
Hawkins: "No...-"
SD GM Michael Cole hits the ring with microphone in hand.
Cole: "Can I have you attention please? Punk, I first want to congratulate you for your successful win at the Royal Rumble. We've never seen eye to eye, but you have shown that you deserve to hold that belt. Now, Hawkins and Reks, I agree one hundred percent. You deserve an opportunity.
"The next pay-per-view as you know is No Way Out, a SmackDown exclusive, where we will see an Elimination Chamber match to rival Raw's Chamber match at New Years Revolution. In fact, I want to be even bigger and better than theirs. We need to succeed. (aside to himself) Otherwise, Hunter..."
"We will have six men in a huge Elimination Chamber under normal five minute entrant rules. The winner will be our champion going into WrestleMania, so I hope that this hellacious structure will allows the best of the best to rise up.
"That said, five qualifiers will be set up to find the top competitors. As such, I will choose ten stars who have proven themselves lately to be deserving of this one shot. Hawkins and Reks, you will be included in that group...."
Suddenly, Daniel Bryan comes out with the Money in the Bank briefcase in hand. He goes right up to the SmackDown General Manager Cole and asks him for the microphone.
Bryan: "I don't mean to interrupt such a great idea by our esteemed general manager (sarcasm evident), but I knew I had to come out and make something clear. The winner of that Elimination Chamber match will face me at WrestleMania. I don't care what Seth Rollins, the Royal Rumble winner, has to say.
"I will cash in this briefcase for my main event match at WrestleMania."
He gives the microphone back to Cole.
Cole: "Well, you heard it. The qualifiers start right now as you, Tyler Reks, face Zack Ryder."
Cole begins walking to the back as Reks gets prepared in the ring, Hawkins goes to the outside, and Punk decides to head to the announce booth. We go to commercial break.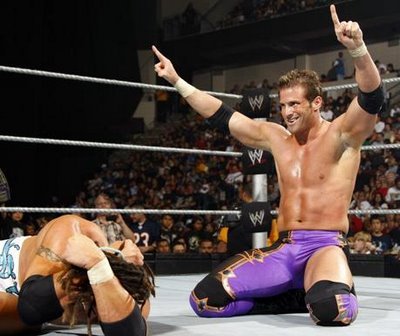 Image Courtesy of: sergio-wwextrema.blogspot.com
With Reks already in the ring as we return, Zack Ryder comes out to a good pop from the crowd. He makes his usual entrance, as an angry Hawkins can be seen at ringside glaring at Ryder.
Ryder bounces on his feet until the bell rings then locks up with Reks. Reks gets a hold of Ryder's right arm and pulls it up, wrenching at the limb. He gets it over his shoulder and pulls at the arm, slamming it against his shoulder.
Reks throws Ryder over his shoulders onto the ground, still holding the arm. He pulls at the arm in a modified armbar while throwing out a serious elbows to the arm. He lets up some so that he can rise and stomp on the arm several times.
Ryder has to roll to a corner to regain his composure, holding his arm. Reks comes in with a boot to the skull of the sitting Ryder, but Ryder ducks it as Reks goes through a rope with his leg slamming against the steel post.
With him down, Ryder takes control grabbing Reks' back and throwing him up by both shoulders, causing Reks' trapped leg to twist around the middle rope. Reks rolls himself around and rises in the corner, with Ryder grabbing him and throwing him into the other corner with an Irish whip.
Reks gets up and limps a little bit on the leg, but he catches Ryder who runs at him hitting a quick reverse STO right into the turnbuckle. He covers for two.
Reks then goes right back after the arm, pulling Ryder to his feet and wrenches at the arm. He uses his leverage to hit a big shoulder block to the arm, then a leg drop still holding the arm. He applies an interesting submission hold where Reks wrenches the arm around his own leg.
In this position, he thrusts Ryder onto his back and pulls the arm up with it around the leg. Serious pressure is on Ryder's right shoulder at this point as he crawls with the full weight of the monster on his back toward the ropes. Ryder makes it breaking up the hold.
Ryder rises, only to take a huge big boot by Reks causing him to stumble to the outside. We go to commercial break as Hawkins smiles on the outside and Ryder looks fazed, with Reks in the ring taunting Ryder.
As we return, Reks is standing above Ryder, stomping on him. He hits a series of forearm clubs then lifts him up for an elevated gutbuster, but Ryder wriggles out and hits a big lariat. He then hits a leg drop and covers for two.
Matthews: "This has been a strong match back and forth since the outset. Are one or both of these men impressing you in this match, Punk?"
Punk: "You know, I've always supported Ryder, but Reks has been impressive in this match. Being such a big guy, I figured he just got into the company because he had 'the look.' He has been incredibly solid in this match though, going all out showing wrestling skills."
Striker: "Reks has always been an impressive specimen and able to really go with anyone, though I feel with Hawkins in his corner Reks has really elevated his whole game. These two have evolved together into a force to be reckoned with."
Punk: "True, I don't underestimate either star, and I would be lying if I said I wasn't a little apprehensive about having to deal with both men in the Elimination Chamber match."
In the ring, Ryder hits the Broski Boot, and he is getting ready for the Rough Ryder. However, Reks notices it and stays in the corner. Ryder backs into the other corner. They stare down, and Ryder taunts him to come at him.
Reks runs at Ryder, who hits him with a double high knee. Ryder goes to the top rope and hits a big dropkick, covering for two. He pulls Reks to his feet, and he tries to hit a Hangman's neckbreaker; however, the twist of the move agitates the right arm of Ryder that had been pressured all match.
Reks using the opportunity to hit a flapjack sending Ryder to the corner. Ryder rises to be met by a stinger slash. Reks pulls Ryder to his feet and gets him up for the Burning Hammer. Ryder reverses it into a quick roll up for a long two count.
Ryder then kicks Reks in the face as he tries to pick up Ryder again, then hits a swinging neckbreaker for a long two count. Ryder once again goes for the Rough Ryder, but this time Reks catches him and reverses it into the Burning Hammer for three.
Tony Chimel: "The winner of this match qualifying for the WWE Championship Elimination Chamber match at No Way Out, Tyler Reks." (Time of contest: 13:12)
Ryder is down on the mat holding his arm which got twisted on the fall from the Burning Hammer. Hawkins gets in the ring and celebrates with Reks as the two gloat over Ryder.
Punk: "Impressive. Tyler could be a...dangerous opponent to face in the Cell."
Striker: "Are you going to come back out to watch the other qualifiers, Punk?"
Punk: "No, I'm not leaving. I'm gracing you guys with my commentating all night."
Matthews: "Are you sure?"
Punk: "I don't have a match tonight, and I have scouting to do. I figured, well, why not?"
Striker: "I have just been told that three more qualifiers are scheduled for tonight. Curt Hawkins will face John Morrison. The Miz will face one half of the WWE tag team champions Kofi Kingston. And Cole has decided to sign Jeff Hardy to a full contract, and he will face the cruiserweight champion Christian for the final spot."
Punk: "Wow, I've got high fliers, champions and losers all to face tonight. Exciting."
We cut to commercial break.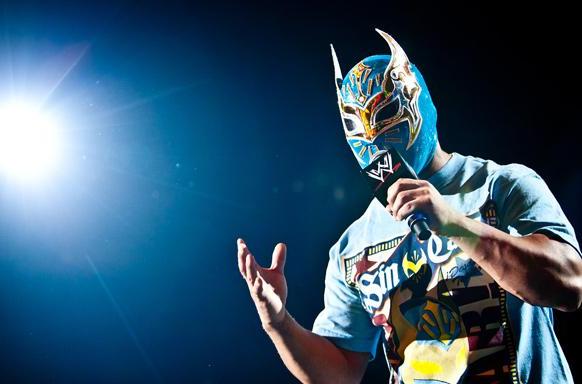 Image Courtesy of: xwlleague.forumotion.com
We return as Sin Cara Azul makes his way out to the ring. He looks focused in his stance as he asks for a mic.
He speaks in Spanish toward the locker room area. He seems to be calling Negro out to settle their score once and for all.
Sin Cara Negro hits the ring and runs down the ramp. The two begin brawling heavily, wrenching at each other's masks. Negro gets the advantage and reverses a kick into a takedown. He looks prepared to rip the mask off Azul.
Suddenly, Richie Steamboat runs down and enters the ring. He still has a cast on his bad arm, but goes after Negro with his good one, pulling him off. Azul gets to his feet and tries to attack Negro. Steamboat gets in the way keeping them apart.
Michael Cole runs out to the stage with the microphone.
Cole: "Wow, wow, wow! Stop this right now! I cannot have this! Not now! We need order here. So Sin Cara, both of you, you will finish this is in a mask vs. mask match next week on SmackDown. In order to keep things honest, Richie, you will be the special guest referee."
Cole glares at the company, and security is now in the ring blocking the two competitors. We head to a commercial break.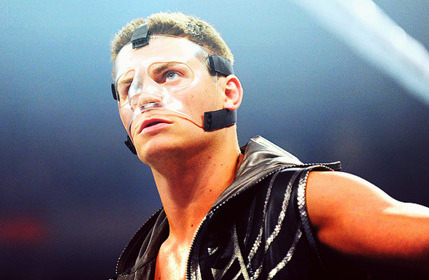 Image Courtesy of: luchalucy.com
Cody Rhodes comes out with a deep scowl on his face. He gets into the ring and yells at the commentary area for someone to get him a mic. He gets it and immediately goes off.
Rhodes: "Seven days... I have had to listen to the taunts, the jokes, the stupid remarks, as everyone made fun of me. Not because of my face, but rather my loss. Yes, after saying for weeks that no one could beat me, Santino Marella, of all the people in the world, beat me.
"He had the moment of his career as he pinned the greatest Intercontinental Champion of all time. Well, even the greatest of underdogs can win when they cheat. Santino and his ridiculous oaf of a mentor, the Big Show, tricked me into one quick, insignificant win.
"So Santino... how did it feel? Savor it because you will never defeat me again. Understand? You are a joke. No amount of training and work will change that...-"
Santino Marella hits the ring though he is without Big Show. He comes down on his own, grabs a mic, and gets into the ring.
Santino: "You knows what Cody Rhodes? You can call me whats you want, but do you know what we all know? I beat you. You fell for my very tricky ploy, and I won."
Rhodes: "I..."
Brodus Clay hits the ring also looking annoyed. He makes his way quickly to the ring with a mic in hand.
Clay: "You know, Santino, you surprised me too, but let's just say... I don't like surprises. You beat me two weeks ago, and now I am going to beat on you. And you do know that."
Clay inches toward Santino as Rhodes also takes the hint. They surround Santino who is helpless. After a clothesline by Clay, they both beat on Santino, brutalizing him.
During this, Matt Striker gets up from the announcer table and enters the ring. He attacks Rhodes, pulling him off and hitting a big boot. He then grabs Clay, hitting an overdrive.
He pulls Santino to his feet and grabs one of the mics left in the ring.
Striker: "In order to convince Josh to return over the week, I had to promise him that in an opportunity like this, I would take up the reins. I'm not here to steal anyone's spotlight, but you want to fight? How about to fight a team? Why don't you guys give him a little time, and we can settle this later tonight in a tag team match?"
Rhodes and Clay growl and nods their heads, so the match is set. We cut to commercial break with Striker heading toward the back, leaving Matthews and Punk at the commentary booth.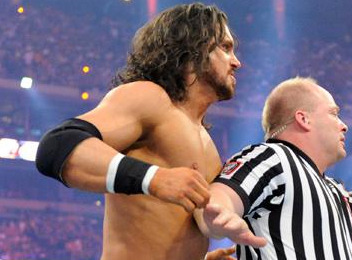 Image Courtesy of: videoproductionwwe.blogspot.com
We return with Curt Hawkins making his way down to the ring with Tyler Reks at his back. He gets in the ring and shows a cocky grin.
John Morrison is out next, and he is quick to make his way into the ring. The two stare down, and they lock up as the bell rings. Hawkins knees Morrison in the gut, and he bounces off the ropes hitting a swinging neckbreaker. He covers for a quick kick out.
Hawkins then takes control with a headlock, consistently elbowing the neck with his free right arm as Morrison struggles. Morrison gets to his feet with Hawkins latching in the second arm and kneeing Morrison in the back, allowing him then hit a variation of a backbreaker on the knee still in the headlock position.
Hawkins keeps Morrison in the center of the ring as he presses the elbow hard against Morrison's neck. Morrison works his right arm behind his head and locks it on Hawkins' right arm. Morrison pivots to throw Hawkins forward with Morrison's grip around Hawkins' arm.
Morrison is slow to rise, holding his neck using the ropes as leverage. He is met by a high knee from Hawkins to the head. Morrison falls to the mat as Hawkins stomps on the neck several times. He chokes out Morrison with his boot until the referee has to pull him off.
Matthews: "I've never seen this kind of aggression from Hawkins. He is really taking it to Morrison's neck."
Punk: "That right there is the precision of a championship-caliber athlete. Hawkins looks lie a true wrestler tonight. He really is taking his opportunity and running with it."
Hawkins is trying to hit a military press slam on Morrison, but Morrison slips out and hits a quick DDT. He covers for a two count. Morrison gets up at the same time as Hawkins, and he bounces off the ropes and hits a running pele kick.
Morrison goes to the top rope and hits a diving crossbody for another two count. Morrison is still holding his neck as he rises and hits a Russian legsweep. He then goes for a standing moonsault, only for Hawkins to get up a knee.
Hawkins and Morrison get up at the same time, and they charge at one another. They pass each other, bounce off the ropes, and hit side by side clotheslines. Both men collide to the ground with Morrison seeming hurt, as the move hit his neck.
Hawkins pulls Morrison up and goes for a spinning spinebuster which Morrison reverses into a hurricanrana, throwing Hawkins out of the ring, toward the entrance ramp. Morrison goes for a suicide dive on Hawkins, where Hawkins catches him enough to hit a sitout facebuster.
We go to commercial as both men are down outside. We return with Hawkins hitting a neck snap. He then taunts Morrison and hits another one. Morrison is holding his neck in pain with Hawkins standing and taunting the fact that Morrison's neck is hurting.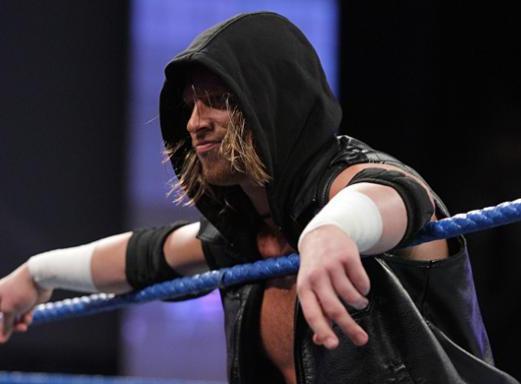 Image Courtesy of: wwe.com
Hawkins goes for a boot to the face of a sitting Morrison, but Morrison ducks. As Hawkins comes off the ropes, he is met by a cartwheel kick. Hawkins backs onto the ropes, where Morrison clotheslines him out of the ring. He hits Hawkins with a baseball slide as tries to enter.
Punk: "What is this big oaf (Tyler Reks) doing here anyway? He just seems to stand there."
Matthews: "He is probably an insurance policy for Hawkins to help him in a tough spot."
Punk: "Yes, I know that Josh. I have wrestled before. I'm wondering why he hasn't gotten involved yet. Not that hard to distract a referee. If I got up and yelled out 'Jack', the ref would be distracted."
Matthews: "Why Jack?"
Punk: "Um...because the referees name is Jack Doan. I thought that was obvious."
Matthews: "You know the name of the referees?"
Punk: "Yeah. Are you sure you should be doing this job? Don't even know the names of the refs in the matches..."
Morrison and Hawkins are inside the ring, and Morrison hits a standing moonsault side slam. He pulls Hawkins in position and goes for the Starship Pain. He connects and covers: ...1........2........ Hawkins get his leg on the bottom rope.
Morrison can't believe it. He goes to the top rope again, but he is caught by Hawkins. Hawkins fights him down and goes for a superplex, but Morrison bats him back. Hawkins is knocked off the top rope. As Morrison goes for a move, Reks gets on the ropes.
Morrison is distracted by Reks as the referee tries to get him off. Morrison kicks Reks hard in the back of the head causing Reks to fall hard to the floor below. During this exchange, Hawkins has rolled to the other side of the ring. Morrison gets down.
Morrison walks toward Hawkins, who pokes him hard in the eye. The referee didn't see it, allowing Hawkins to hit a twisting flipping leg hook belly-to-back suplex, landing Morrison right on his head. This causes more pain to the neck. Hawkins covers: ..1.......2......... kick out.
Hawkins is frustrated and picks up Morrison, going for the Taste of Pain; however, Morrison counters out for a combination of a STO backbreaker into a neckbreaker. He covers: ...1........2....... kick out.
Morrison is frustrated and argues with the referee. He waits until Hawkins has risen and goes for the Flying Chuck. Hawkins ducks and clotheslines Morrison. He then hits a dazed Morrison with a lifting DDT though he doesn't go for the cover.
He lifts up Morrison and takes him into the center of the ring. Hawkins then hits the Taste of Pain, making sure that Morrison lands so that his head rams into the mat surging into his neck. The force is brutal. Hawkins covers: ..1...........2............3.
Tony Chimel: "The winner of this match and qualifying for the WWE Championship Elimination Chamber match at No Way Out, Curt Hawkins." (Time of contest: 17:26)
Hawkins and Reks celebrate in the ring as Morrison is out.
Punk: "They both deserve to be in the match. Those were great displays by both men, but they'll soon learn that teamwork ends when the WWE Championship is on the line."
We go to commercial break.
Image Courtesy of: wwepictures.co.cc
As we return, Cody Rhodes comes out with Brodus Clay at his back. The two uneasy heels get in the ring and show off on their own.
Matt Striker comes out next with Santino by his side, as they head to the ring to face down the heels.
Striker begins in the ring with Clay. The two lock up with Clay, immediately taking Striker down. He taunts Striker as he rises. Again, a lock up with the same result. Clay makes some ridiculous postures, holding his back, taunting as though he was an old man. Striker gets up and stares him down angrily.
Clay offers another lock up, but this time Striker goes right at Clay with punches and kicks. Clay backs up as the hits force him into a retreat.
He moves his front body behind the ropes forcing Striker to back up. Clay angrily comes after Striker, who ducks a clothesline and hits an arm drag on Clay. He then applies a fujiwara armbar to the behemoth. He wrenches at the arm of Clay, as Clay moves around a bit in pain.
The crowd is cheering for Striker as Clay crawls toward the ropes. As he nears them, Striker wrenches him back and moves into a single leg Boston crab. Clay is in trouble, but Striker tries to reposition his hands in the move allowing Clay to use his size and strength to throw Striker off him.
Clay gets up and grabs Striker hitting a big headbutt to the chest. He keeps holding and hits a front powerslam. He covers for a quick two count. He then throws Striker into the corner and tags in Rhodes.
Rhodes kicks and stomps down Striker, continuing to beat down on him. He pulls Striker up and hits the Alabama Slam for a long two count. He and Clay continue to beat on the veteran Striker and trade off tags until we go to commercial break.
When we return, Santino is in the ring, with Rhodes having him in a headlock. A replay is shown with Striker ducks a moonsault by Rhodes and gets the tag. It flashes to a second point where Santino takes down Rhodes, until Clay illegally runs in with a quick scoop slam to Santino.
Santino fights out of the headlock and bounces of the ropes, only to get hit by a dropkick. When Rhodes rises, he takes a downed Santino and immediately goes for Cross Rhodes. Santino fights out and whips Rhodes right into his corner where Rhodes' head crashes into Clay who falls to the mat below.
Rhodes is wobbling backward, when Santino grabs Rhodes and hits a belly to back suplex. Then he calls to the crowd and asks if he should tag in Striker, who is asking for the tag. They cheer, and Santino obliges.
Striker comes in, and, as Rhodes rises, Striker slaps on a rear naked choke. Rhodes is still too disoriented and unable to battle out. Clay runs in to try and make the save, but Santino knocks Clay and himself right out of the ring. Rhodes taps out.
Tony Chimel: "The winners of this match, the team of Matt Striker and Santino Marella." (Time of contest: 10:17)
Stirker and Santino are happily standing in the ring with their arms raised as we cut to backstage.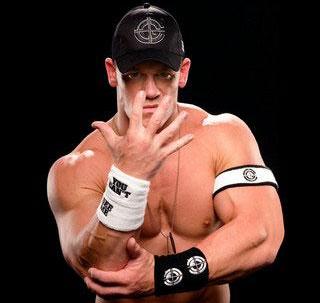 Image Courtesy of: wwechampion2011.blogspot.com
John Cena heads right into the General Manager's office. He heads right over to Cole's desk.
Cole: "Cena? This is unexpected. What are you doing here?"
Cena: "Look, Cole, you heard what I said on Sunday. I want that WWE Championship. I am a man of my word, and I promised Rock would be facing a WWE Champion at WrestleMania."
Cole: "Yeah...about Sunday. You went against my orders and illegally entered the Rumble match. Would you please tell me what the hell you thought you were doing?"
Cena: "Taking my opportunity. Figured if Dolph can't compete, I should fill in for him. Why?"
Cole: "That stunt you pulled? You never were even in the match. The twenty-seventh competitor was Ziggler, whether you went in the Rumble or not. You could have ruined the whole match with that recklessness!"
Cena: "By the way, why was the Rock of all people in that match? You don't let me in, but the Rock?"
Cole: "He is a huge star. Felt the crowd could use a show. He didn't win, so it is fine."
Cena: "NO! That is not fine. Michael, you want to be a business man? Well, be one. Give me a chance. One more chance. I have done enough for this company to warrant it until the end of time. You said yourself before that I am helping your whole company with my presence as a draw.
"Give me a shot at the Elimination Chamber match at No Way Out. I don't know if you know, but I have won three Elimination Chamber matches in my career. That is more than any current full-time wrestler. Put me in one more time, and I will give you the biggest WWE Title match ever."
Cole: "Triple H is breathing down my neck. My show is on the brink, but...whatever John, you win. Under one condition, you face the one man who couldn't fight tonight, next week. You fight Dolph Ziggler one more time. The winner qualifies."
Cena: "Haha, okay then, thank you. One more time...shouldn't be difficult..."
Cena walks out of the office, smiling as we cut to commercial break.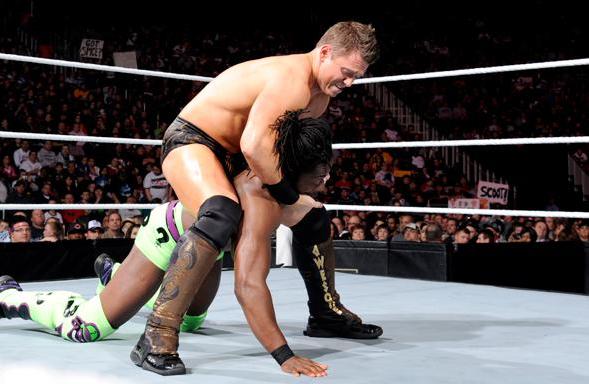 Image Courtesy of: wwe.com
Out first after the break is Kofi Kingston, who comes out without Evan Bourne. He gets in the ring, breathing in and out slowly to try and get focused. The crowd gives him a pretty good reaction.
The Miz comes out next, looking annoyed and frustrated. He doesn't look at the crowd, and instead of going to the ring he goes around and heads over to Punk. He gets right in Punk's face. Punk rises, and the two stare each other down.
Miz mouths two simple words: watch this. He gets in the ring, and he goes right at Kofi as the bell rings. The battle is quickly lopsided, as Miz kicks Kofi to his knees and hits his snap DDT on Kofi. He pulls Kofi to his feet only to hit a big knee lift. Miz then snaps on a strong hold bent around left arm and head.
To add extra pressure, Miz gets his right foot on Kofi's back and pulls back with even more force. At ringside, Punk is talking with Matthews about the Miz.
Punk: "Can someone tell me what Miz did to deserve this shot? Seriously, I swear that I have beaten him three times... in a row."
Matthews: "The Miz is a big wrestler on the brand. He has put up good fight against you and is a former WWE Champion."
Punk: "I think you mean the Miz is Cole's pet, so he gets anything he wants. Seriously. There are more than enough deserving superstars for this contest. Why does 'The Grand Mizard of Lust' get to take away that opportunity from anyone else?"
Matthews: "The what?"
Punk: "Seriously, Josh, don't you know anything about wrestling history? Well, I guess...that was a dark time in wrestling. It's okay though. He's 'awesome' now."
Miz hits an inverted facelock backbreaker followed by a neckbreaker slam, and he covers for two. He then waits for Kofi to get up using the ropes, and big boots him right out of the ring. Miz follows and beats on Kofi. He throws him into the steel post and hits a snapmare driver on the ground.
He takes Kofi and puts him on the steel post again and hits a serious of shoulder blocks. He rolls Kofi into the ring and gets in to cover for two.
Matthews: "Are you really going to keep bashing Miz as he controls the entire pace of this match?"
Punk: "Sorry, I have trouble taking a man who once played host to bikini contests on this show and mirrored himself as a reality TV star pretending to be a wrestler."
Matthews: "But you have to admit that he has done an incredible job with what little he knew originally."
Punk: "This business isn't about improvement. It's about being a real wrestler. Or at least it should be."
Miz is going for a neckbreaker, which Kofi turns into a SOS. He covers for two as we have to go to break.
Image Courtesy of: wwe-universe-orkut.blogspot.com
We return as Kofi jumps off the top rope for a huge crossbody. He covers: ...1........2.... kick out.
Kofi waits for Miz to rise and hits a jumping back elbow. He hits another one and then goes the Boom Drop. He hits and covers: ...1......2...... kick out.
Kofi hits a downed Miz with a double foot stomp. He goes for a Russian legsweep, but Miz battles out of it and pushes Kofi into the corner. Miz charges, only to get hit by a pendulum kick. Kofi goes to the top and goes for a spinning heel kick as he flies, but Miz ducks it.
He grabs a dazed Kofi as he lands and hits a bulldog. He then stomps on Kofi, picking him and slamming him to the mat with a half nelson facebuster. He covers: ..1......2....... kick out.
Miz tries to set Kofi up for the Skull Crushing Finale, but Kofi reverses it into a quick scuffle right into a crucifix pin attempt: ...1.........2....... kick out. Kofi and Miz both take the time to rise. They lock up.
Kofi gets the advantage and hits a flapjack landing on a European uppercut. He covers: ...1.........2....... kick out. Kofi goes to the top rope, but he is caught as he flies by Miz. Miz drops him down and hits a Skull Crushing Finale.
Hoever, he doesn't stop. He picks up Kofi and hits a second one. He then pulls Kofi to his feet and hits the Reality Check. Miz looks over at Punk. He points at Kofi, mouthing 'you're next.'
Miz finishes up with a snap DDT to a propped up Kofi and he covers: ...1...........2................3.
Tony Chimel: "The winner of this match and qualifying for the WWE Championship Elimination Chamber match at No Way Out, The Miz." (Time of contest: 10:12)
Miz ignores the referee's attempts to raise his hand, and he grabs a mic.
Miz: "Tick, tock, Punk. I'm done playing around with you. You beat me on Sunday. You have beaten me before, but it was all a set up, a way for me to scout you for this big moment. Finally, that title comes back to me. No antics, no excuses, I will win regardless of what happens in that Chamber.
"Because I'm the Miz.... and I'm... awesome."
He drops the mic and walks off to the back as Kofi is only now starting to be able to move. We go to commercial break.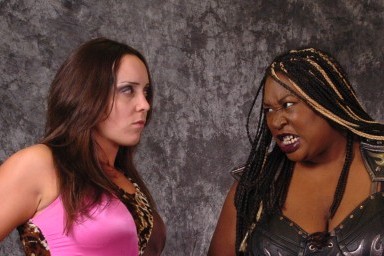 Image Courtesy of: my123cents.blogspot.com
As we return, Kharma and Death Rey come down to the ring. Rey has a microphone with both getting into the ring.
Rey: "Three. Three women that I have crushed in my way. Three women still remain. None will ever give us a real challenge. It's sad really. I went out and eliminated two men in the Royal Rumble before John Cena himself had to ruin my run.
"No woman in wrestling history can say the same. No woman in history has ever entered this company with more talent, and soon none will ever have the same amount of success. So I've decided. Kharma and I are moving on. We don't need to finish what we started because the message is clear. Nobody wants—"
Natalya's music hits, and she comes out from the back with Gail Kim by her side. She has a microphone in hand.
Natalya: "Death Rey..., quite the name. I admit you have been impressive so far, but this stops now. Rey, you push around every one. Even that monster behind you, Kharma, is just another way for you to assert your authority, isn't it? Are you worried she might one day figure out she can be better than you?—"
Rey: "Stop that! Kharma is not able to compete yet. I have been helping her get back what she has lost. I am a friend to her. I don't push her around, no matter how good either of us are. We are a team...above all of you."
Natalya: "Before you leave us behind you, how about you finish your run? You and I have never faced, but I know Gail here would love to get her hands on you after what you did to her months ago. It is time you paid for these attacks. You will learn quickly that the women here will not simply lay down.
"Next week, you test me to see just how high up you are or how low you truly are."
Rey: "Uh oh, I'm being challenged by a Diva. What ever will I do? Of course! I'll accept because a wrestler will never be beaten by a Diva."
Both women lower their mics and stare down as we cut to commercial.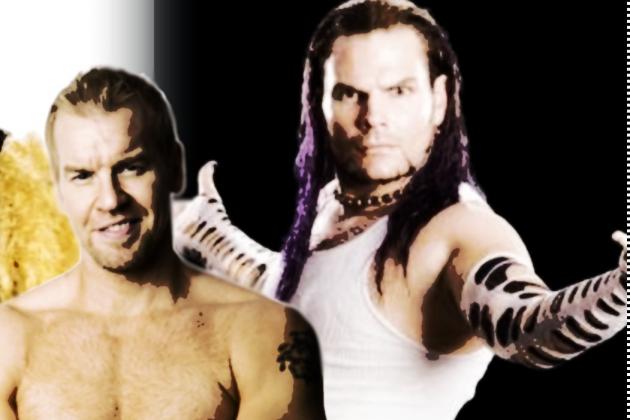 Image Courtesy of: wallpapers-wwe.com
As we return, the newly signed Jeff Hardy makes his way down to the ring to a big ovation by the crowd. He gets in the ring, soaking up the crowd reaction as Punk puts him over as a good competitor.
Christian comes out next with a microphone in hand and his title on his shoulder. He is getting a good negative reaction.
Christian: "As you all know, I am already a World Champion in the WWE, but I have come to realize that no one is up to par with me. I have beaten everyone in my division, so I feel it is time to become the first ever champion of both weight class divisions.
"The cruiserweights, where speed and cunning matter, and the heavyweights, where the strongest survive. Luckily, I am strong enough, fast enough, and, of course, smart enough. Punk, you can sit over and act all high and mighty, but, on the inside, you're just a scared little kid looking at a legend.
"Jeff, you're back! Isn't that great to see? Not as though it is going to last long. I give it one month before you are jumping off a ladder through a table just to feel the rush again. Stupidity doesn't change over time. Understand? Just don't put me below you when you jump. I care about my career, and WWE actually needs me."
Christian smiles and drops the mic. He enters the ring and goes up to the top rope to taunt. When he turns back around, Hardy attacks Christian, who jumps down, but can't stop the quick series of blows. The referee pulls him off, then immediately rings the bell so the two can quickly go at it.
Hardy goes right back after Christian, who clocks Hardy with a huge shot to the left side of the head. Hardy backs up after the shot allowing Christian to come at him with a stiff couple hits with his fists and feet. He grabs Hardy's head and synches in a headlock.
He keeps Hardy on the mat for twenty seconds before Hardy battles back. He pulls Christian up as Hardy elbows him successively in the chest, then bounces off the ropes, only to take a knee to the gut, sending Hardy tumbling over the knee to the mat.
Christian picks him up and taunts for a DDT, which Hardy reverses out of into a jawbreaker attempt. Just as Hardy jumps up to hit the jawbreaker, Christian kicks him in the gut then lands an impact DDT for not even a two count.
Christian takes Hardy by the hair and pulls him in for an inverted facelock backbreaker. He covers for two, which Hardy reverses into a school boy for two. Both men get up, with Christian hitting an uppercut and a dropkick. He goes to the top rope, only for Hardy to get up before he can try anything.
Hardy hits an enzuigiri kick that sends Christian tumbling to the outside. As he tries to rise, Hardy hits a baseball slide, sending Christian back to the ground. Hardy comes out and is attacking Hardy on the outside with lefts and rights. He whips Christian into the steel post, with Christian stopping himself.
Hardy gets on the barricade and runs at Christian jumping at him, hitting a senton into Christian, who rams into the steel post. Hardy picks him and throws him onto the apron, head out. Hardy gets on the apron, hitting a running leg drop. Hardy rolls into the ring to break the count.
Christian slowly gets to his feet as Hardy runs at him, hitting a suicide dive—only for Christian to move quickly and grab Hardy in midair, crashing Hardy into the barricade. Christian takes control here as we head to commercial break.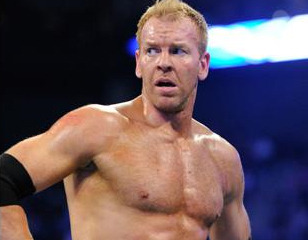 Image Courtesy of: thebignewsday.com
We return with Christian hitting fireman's carry gutbuster. He covers for two. He then applies an extended armbar where he turns Hardy onto his back and pulls the arm up near his chest.
Hardy gets to the ropes to release the hold. He rises and flips a charging Christian over his head who lands on the apron. Hardy looks around to look at Christian, who slaps him. He tries to get back in the ring, but Hardy kicks him in the head and hits a lowered sitout jawbreaker, sending Christian crashing back into the ring.
Matthews: "Punk, you know both of these opponents are veterans of the game. You have seen them both compete and wrestled both men before. Who do you want to see make it through this match and face you in the Elimination Chamber match?"
Punk: "They are both great competitors, phenomenal veterans. One loves to fly, and one loves to run his mouth. I can respect both of those things because, honestly, I love both. Who would I rather face? I would rather face both instead of Miz again."
Matthews: "So you aren't scared to fight either?"
Punk: "I am the WWE Champion. I will face anyone and everyone who wants a shot on my belt, veteran, rookie, or otherwise. Doesn't matter, as long as they earn that shot."
Christian and Hardy are exchanging blows until Hardy catches Christian in the chest with a mule kick. As Christian rises, he turns around right into a Whisper in the Wind. He covers for a long two.
Christian slowly rises, only for Hardy to hit him with an inverted suplex slam and go to the top rope. He executes the Swanton Bomb, but Christian ducks under and hits a Spear. He covers: ..1.......2......... kick out.
Christian can't believe it. He is freaking out, complaining to the referee. He looks back over at Hardy and picks him up to hit the Killswitch. Instead, Hardy pushes him off and hits the Twist of Fate. He covers: ...1......2........ kick out.
Hardy glares at the referee, but he doesn't want to waste any time. He pulls Christian to his feet and throws him into the corner and runs at the corner, only to take a pendulum overhead kick. Christian goes to the top rope.
Hardy catches him and knocks him down into the tree of woe. Hardy hits the Hardyac Arrest and then goes to the top rope, hitting a downed Christian with the Swanton Bomb. He covers for three.
Tony Chimel: "The winner of this match and qualifying for the WWE Championship Elimination Chamber match at No Way Out, Jeff Hardy." (Time of contest: 18:42)
Hardy gets up and walks right out of the ring, getting in Punk's face on commentary. The crowd cheers as Punk rises and the two stare each other down. Punk grabs his WWE Championship and raises it. The show ends with the two staring down.
And that's the end.
Tune in next week for several huge matches as Death Rey faces Natalya, Sin Cara Azul challenges Sin Cara Negro in a Luchas de Apuestas match with Richie Steamboat as special guest referee, and the main event where the final qualifier for the Elimination Chamber match will be determined, as John Cena fights Dolph Ziggler.
Remember to rate this show on a scale from 1 (horrible) through 10 (awesome).
Due to backlog, I will not be releasing until Saturday night at 7:00 PM, but I promise to release at that time this week.
Leave any comments—and thanks for reading!
Archive for previous episodes numbered by weeks:
1 | 2 | 3 | 4 | 5 | 6 | 7 | 8 | 9 | 10 | 11 | 12 | 13 | 14 | 15
Past PPVs for SmackDown: