Africa Cup of Nations: Previewing All 4 Quarterfinal Matches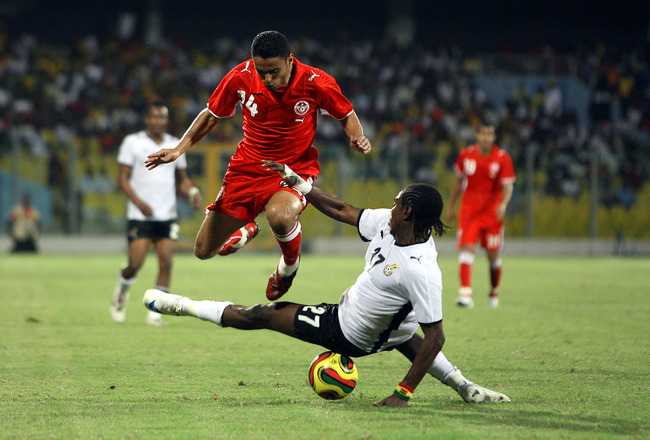 Getty Images/Getty Images
This year's Africa Cup of Nations has been one of the most interesting and entertaining international tournaments in quite some time.
Despite not having African powers including Egypt, Nigeria and South Africa, this tournament has not lacked for spectacular play.
We saw African powers such as Senegal and Morocco get eliminated in the group stage while minnows Equatorial Guinea and Sudan have reached the quarterfinals.
With quarterfinal matchups coming up in the next several days, here are my previews of all four quarterfinal matches
Zambia vs Sudan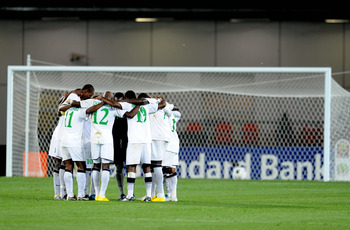 Gallo Images/Getty Images
Group Stage Finish:
Zambia: First in Group A (seven points)
Sudan: Second in Group B (four points)
Best Player:
Zambia: Emmanuel Mayuka
Sudan: Mudather El Tahir
At the beginning of the tournament, it would have taken a very wise person to say that these two sides were going to meet in the quarterfinals. Yet two of the lesser-known footballing sides in Africa will meet in the first quarterfinal matchup of the tournament.
Zambia have been in the quarterfinals before, losing to Nigeria back in the 2010 edition of the AFCON. Meanwhile, Sudan have reached the knockout stage of the tournament for the first time since they won the AFCON back in 1970.
In the group stage, Zambia were able to play some strong football, which resulted in The Copper Bullets finishing first in a group that featured a highly-touted Senegal side.
Sudan were able to get through on the skin of their teeth after Angola failed to beat the Cote d'Ivorie in the final group stage match.
I don't see any way that Sudan can beat Zambia. Zambia are a more complete side with better players and have played better than Sudan. Zambia will win to reach the semifinals for the first time since 1996.
Result: Zambia 2 Sudan 0
Côte D'Ivoire vs Equatorial Guinea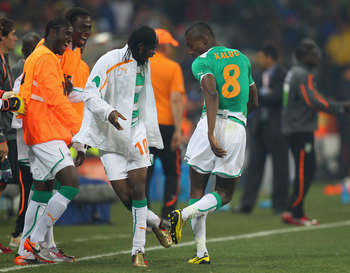 Cameron Spencer/Getty Images
Group Stage Finish:
Côte d'Ivoire: First in Group B (nine points)
Equatorial Guinea: Second in Group A (six points)
Best Player:
Côte d'Ivoire: Salomon Kalou
Equatorial Guinea: Rodolfo Bodipo
At the beginning of the Africa Cup of Nations, no one thought that co-host Equatorial Guinea would have had a legitimate chance of winning any matches, let alone advancing into the knockout stage. Yet the Nzalang Nacional were able to defeat Libya and group favorite Senegal to reach the quarterfinals.
In their way is a Côte d'Ivoire side that certainly is among the best in this entire tournament. The Côte d'Ivoire won all three of their matches with relative ease, not conceding one goal in the process.
Of course, when you have to face the Kolo brothers, Didier Drogba, Salomon Kalou and whole host of African stars, it always will be a difficult matchup, no matter who you are.
For Equatorial Guinea, it appears that they will need to play for honor. Their players are not going to be skilled enough to have a legitimate chance to knock off the Côte d'Ivoire; they can only hope to make the match entertaining.
Result: Côte d'Ivoire 4 Equatorial Guinea 0
Ghana vs Tunisia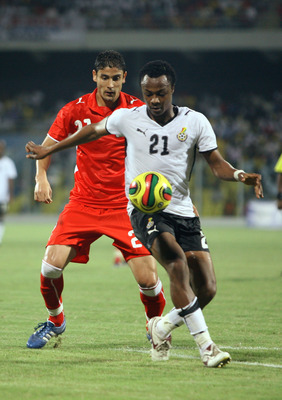 Haydn West/Getty Images
Group Stage Finish:
Ghana: First in Group D (seven points)
Tunisia: Second in Group C (six points)
Best Player:
Ghana: Asamoah Gyan
Tunisia: Youssef Msakni
Out of these four quarterfinal matchups, this matchup is probably the most fair grouping of all eight nations.
Ghana and Tunisia both have strong squads that have succeeded in the past in international competitions, and both were once again able to do so in the group stage.
Ghana were stellar, winning their first two matches before sitting many of their regulars in the group stage finale against Guinea. Tunisia was able to defeat archrival Morocco and Niger before falling to co-host Gabon in the final match of the group stage.
Both sides were strong in the group stage and this should lead into what will probably be the most entertaining match of these quarterfinals.
Unfortunately for Tunisia, Ghana's quality will be too much to overcome on this day. Despite having a strong side, Ghana is probably the best national side in this tournament and they will make Tunisia pay if they make any mistakes.
Result: Ghana 2 Tunisia 1
Gabon vs Mali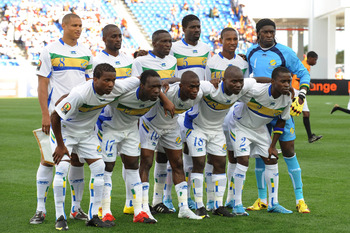 Gallo Images/Getty Images
Group Stage Finish:
Gabon: First in Group D (nine points)
Mali: Second in Group C (six points)
Best Player:
Gabon: Pierre-Emerick Aubameyang
Mali: Seydou Keita
Two sides that were projected to go through into the quarterfinal before the tournament, both Gabon and Mali have fulfilled their expectations and will meet in what should be a fantastic quarterfinal matchup.
Gabon were able to go through the group stage without a single loss in what was a difficult group that contained both Morocco and Tunisia. Yet playing at home certainly has its advantages and Gabon proved that to be true in all three of their matches.
Mali were put into a difficult group with Ghana and Guinea, yet Les Aigles were able to beat that previously mentioned Guinea side along with Botswana to advance to the knockout stage of the Africa Cup of Nations for the first time since 2004.
Unfortunately for Mali, they will have to play Gabon at a stadium that the co-host has already won twice at. Playing a host nation is something that is difficult, and I don't think that Mali will be up to the challenge in this quarterfinal.
Result: Gabon 1 Mali 0
Follow me on Twitter @Andrew_Jordan
Keep Reading