Top 10 San Francisco Giants' Spring Training Storylines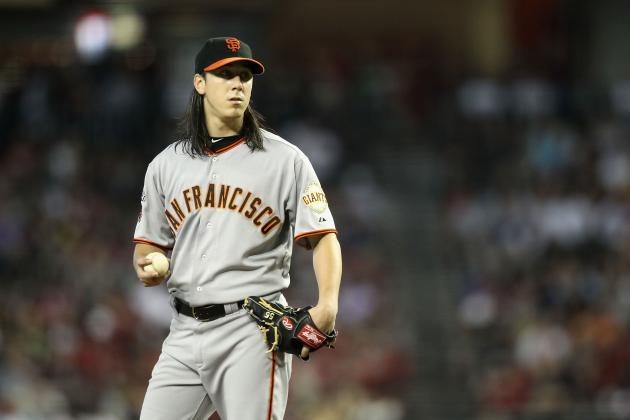 Christian Petersen/Getty Images
Tim Lincecum signed a two-year contract extension
Spring Training is almost upon us, as baseball fans everywhere are chomping at the bit for pitchers and catchers to report. At this stage, hope springs eternal, as players and fans gear up for another season of baseball.
The crack of the bat, the smell of freshly cut grass and the scent of hot dogs wafting through the air. I can hardly wait.
The San Francisco Giants made several offseason moves in hopes of strengthening their team. Although the Giants were unable to land the big power-hitting bat they wanted, they did make incremental improvements.
Several newcomers should make an impact this year, as Melky Cabrera, Angel Pagan and Ryan Theriot will all don the orange and black for the first time.We will also get our first glimpses of Buster Posey, Brian Wilson and Freddy Sanchez, to see how they're doing after their injuries in 2011.
Let's take a closer look at the Top 10 storylines for the Giants as we approach spring training.
Begin Slideshow

»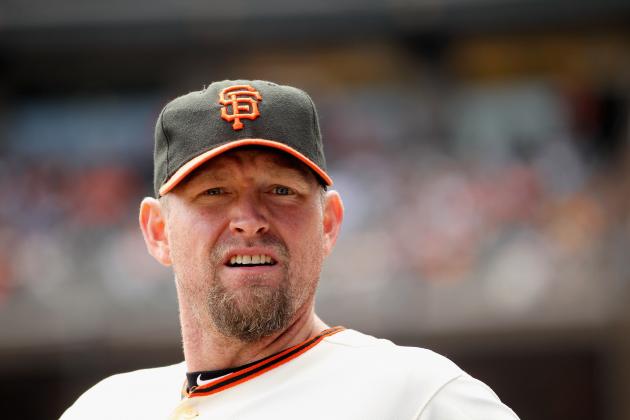 Ezra Shaw/Getty Images
A leader in 2010, Huff slumped badly in 2011
Aubrey Huff was one of the cornerstones of the Giants' World Series winning season in 2010. He hit .290 with 26 home runs and 86 RBI.
2011 was an entirely different story. Huff admittedly did not work out as hard prior to the season and came into camp in less than stellar condition. This caused him to get off to a slow start and he could never really get himself on a positive roll.
Huff hit only .246 with 12 home runs and 59 RBI. Now at the age of 35, there are many who wonder whether Huff is capable of producing at a high level again.
If you were to look at Huff's baseball card you would see an interesting trend. His tendency is to have a good season in the even numbered years, followed by a bad season, then another good season. The Giants are hoping that 2012, an even numbered year, will mean a good season for Huff.
General manager Brian Sabean made comments designed to light a fire under Huff this winter. Huff himself is a very proud player and made a commitment to get into top physical shape this offseason.
If Huff struggles, look for him to lose his spot to Brandon Belt or Brett Pill. Huff is also in a contract year, so I fully expect him to have a solid bounce-back season.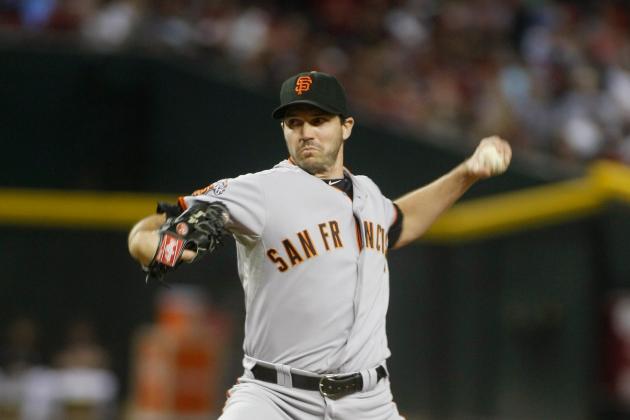 Ralph Freso/Getty Images
Barry Zito has the inside track on the fifth starter role
The San Francisco Giants still owe Barry Zito a total of $46 million. This breaks down to $19 million in 2012, $20 million in 2013 and a $7 million buyout for 2014, which will certainly be paid.
For this reason, Zito will have every chance to start the season as the Giants' fifth starter. The question is, will he be effective enough to warrant keeping the job?
Watch Zito's velocity in the spring, as that will be a tell-tale sign of whether he has a chance to be even modestly successful in 2012. If Zito is throwing the ball up in the 86 mph range and commanding his breaking pitches, he has a chance.
However, we have seen all too often Zito's fastball dip down to 81 or 82 mph. That is simply too slow and major league hitters will sit on his breaking stuff knowing they can get around on his fastball.
My gut feeling is that Zito will be out of the rotation by the All-Star break.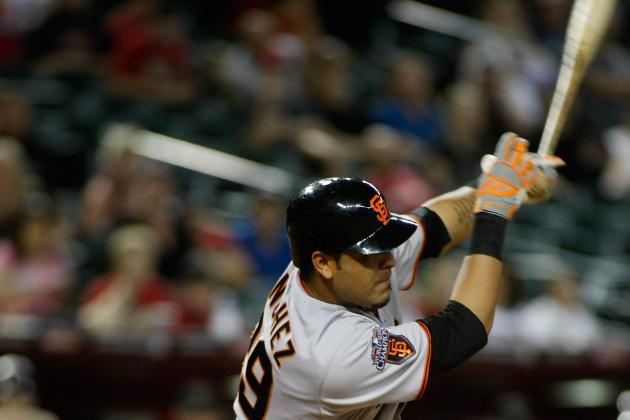 Ralph Freso/Getty Images
Hector Sanchez showed a decent bat last season
The backup catcher position will be very important for the Giants this year. With Buster Posey returning from his devastating injury last season, he will not be asked to catch every day and will be given plenty of rest and time at first base.
This means the backup catcher will receive lots of playing time. There are three candidates for this job. Veterans Eli Whiteside or Chris Stewart is one direction the Giants could take. The other option is rookie Hector Sanchez.
If there was one thing both Whiteside and Stewart proved last year was that neither is a competent major league hitter. Whiteside batted .197 with four home runs, 17 RBI and an OBP of only .264. Stewart hit only .204 with three home runs, 10 RBI and a .283 OBP.
Defensively, Stewart was superior to Whiteside. He's also a much better thrower, gunning out 39 percent of would-be base stealers, compared to Whiteside's 25 percent.
Both Stewart and Whiteside know how to call a good game, but Stewart is a much better receiver. There were times last year when Whiteside would simply miss the ball.
At the age of only 22, Sanchez is by far the youngest of the three options. He hit .258 with an OBP of .324 in a September call-up role.
In the minors with both San Jose and Fresno, Sanchez hit a combined .285 with 12 home runs and 84 RBI. He also had an OBP of .328 and an OPS of .780. He is by far the best hitter of the bunch.
If the Giants believe Sanchez can handle things defensively, he will make the team. If not, look for Chris Stewart to handle the backup role.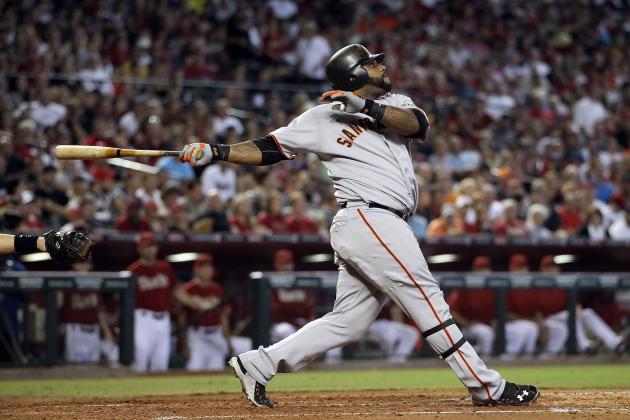 Christian Petersen/Getty Images
The Kung Fu Panda unloads
Pablo Sandoval almost ate himself out of the league in 2010. His weight ballooned up, well above his batting average and that slowed his bat considerably. Sandoval hit only .268 with 13 home runs and 63 RBI after coming off of a .330 season with 25 home runs and 90 RBI.
GM Brian Sabean gave Sandoval an ultimatum following that 2010 campaign. Either he lose weight and get himself in shape, or he would find himself in Fresno, off the big league roster.
Sandoval went on a rigorous offseason nutrition and conditioning program. He came into spring training having lost 40 pounds. He still was not thin, but at least much of the excess weight was gone.
Sandoval has a jovial, upbeat personality and is a fan favorite. Nicknamed the Kung Fu Panda, Sandoval had a fine, bounce-back season in 2011. He hit .315 with 23 home runs and 70 RBI, even while missing five weeks due to a broken bone in his hand.
Sandoval also played outstanding defense at third base and was a Gold Glove candidate. His range and mobility improved, after his weight loss.
The Giants rewarded Sandoval with a lucrative three-year contract in excess of $17 million. It will be critical for him and the success of the team that Sandoval continues to keep himself in good shape. We will soon see if he was able to do that over the winter.
The Giants allowed Sandoval to handle his own nutrition and conditioning program this winter. Hopefully, he had the discipline to stay on track and not put on any additional pounds.
The Giants are counting on a big year from the Panda, which will not happen if he has gained weight.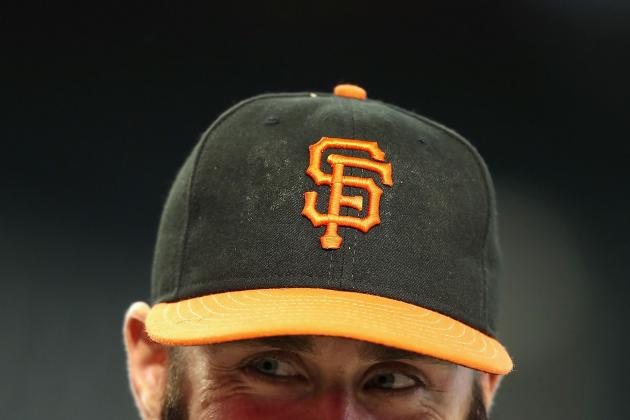 Christian Petersen/Getty Images
Brian Wilson had arm trouble last year
The San Francisco Giants rely heavily on their stellar bullpen. They play so many close games that the bullpen must be lights out for them to win. At the back end of that pen is closer Brian Wilson.
During the Giants' World Series season in 2010, Wilson saved 48 games with an ERA of 1.81 and WHIP of 1.179. He threw 74.2 innings, with 93 strikeouts.
Wilson also performed quite well in the postseason, earning six saves in 11.2 innings of work without allowing an earned run. He had a great WHIP of 0.771 and struck out 16 batters.
Perhaps the toll of throwing over 86 innings in high-pressure situations caught up with Wilson in 2011. He started the season with a bad back and ended the season with a sore arm.
Wilson's innings pitched dropped to 55 and he collected 36 saves. He was also far less dominant as his strikeouts declined to 54. Wilson's ERA spiked to 3.11 and his WHIP also increased to 1.473.
Wilson avoided surgery after the season and is hoping that rest will cure his ailing arm. If he can return to the dominance he displayed in 2010, the Giants' bullpen will be all the better. If not, Wilson's days as a Giant could be numbered.
Wilson is in the final year of a contract that pays him $8.5 million and will be in his final year of arbitration status heading into 2013. With the big money planned for Matt Cain and Tim Lincecum and still owed to Barry Zito, the Giants may decide that Wilson isn't worth it.
The 2012 season is an important one for Wilson and his dependability will go a long way towards the team's success.
Ezra Shaw/Getty Images
Javier Lopez is especially tough on left handed hitters.
The San Francisco Giants historically have gone with a 12-man pitching staff. I see no change to that philosophy, which means that after the five starters, there are seven relievers.
Barring injury, the first five relief spots are set with Brian Wilson, Sergio Romo, Santiago Casilla and lefties Javier Lopez and Jeremy Affeldt. This leaves two remaining slots.
The top four candidates at this time appear to be veteran Guillermo Mota, Dan Runzler, Heath Hembree and newly acquired Clay Hensley.
Mota, who is 38 years old, has pitched effectively for the Giants over the past two years. He has been a solid long man out of the pen and provided the Giants with some valuable innings. If he throws the ball well in the spring, I believe he has the inside track on one of the two openings.
Runzler is an intriguing case. He would be the third lefty out of the pen if the Giants decided to keep him. He can be dominating at times, but have other outings where his command is way off. He either cannot find the strike zone or is very hittable, leaving the ball out over the plate.
Runzler drives me crazy, just like Jonathan Sanchez used to and we saw what the Giants did with him. Runzler will be 27 years of age at the start of the 2012 season. It's time for him to show the consistency that will allow manager Bruce Bochy to trust him in tight ballgames.
Heath Hembree could very well be the closer of the future in San Francisco. He dominated at San Jose and Richmond in 2011, with a cumulative ERA of 1.86 and WHIP of 1.144. He threw a total of 53.1 innings with 78 strikeouts, 25 walks and 38 saves.
It's possible, perhaps even probable, that Hembree, who has had only one season of professional ball, begin the season at the Giants' triple-A affiliate in Fresno. However, if there are any injuries or ineffectiveness to another pitcher, Hembree could find himself in the majors very soon.
The other candidate is veteran Clay Hensley, who hopes to win a roster spot. He is a decent pitcher, though does not have the upside of Hembree or Runzler. Hensley is coming off a mediocre year which saw him finish the season with an ERA of 5.19 and WHIP of 1.360.
The battle for these final two spots in the bullpen is wide open. Whoever pitches the best in spring training will likely win a job and it could even be someone else not mentioned on this list.
My gut feeling is the Giants will open the season with Mota and Runzler, but both are by no means locks to make the team.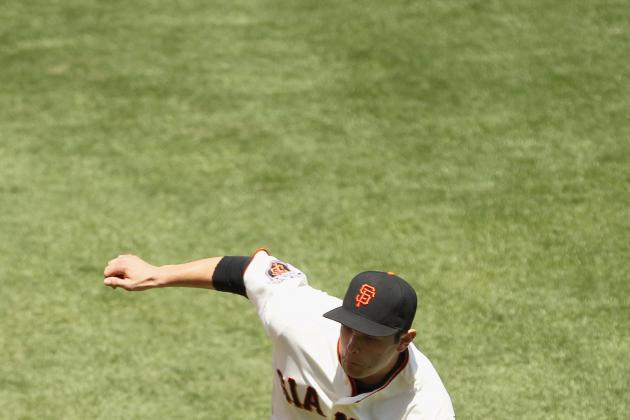 Ezra Shaw/Getty Images
Freddy Sanchez hopes to stay healthy in 2012
Freddy Sanchez has been a Giant for two-and-a-half seasons. His time in San Francisco has been marred by numerous injuries to his shoulders and knees.
When healthy, Sanchez is an ideal No. 2 hitter and a solid fielder. However, he has had multiple surgeries over the past two seasons, the most recent being a shoulder repair in 2011.
Sanchez is working hard to rehab the shoulder and the plan is for him to open the season as the Giants' starting second baseman. The Giants have acquired infielder Ryan Theriot as insurance in case Sanchez has a setback or gets hurt during the season.
Sanchez played in 111 games in 2010 and only 60 last year. He holds a career .290 BA average with the Giants and a .333 OBP.
My feeling is that Sanchez will probably open the season in the starting lineup, but will have an injury at some point in 2012. If he can play even 120 games, that would be a bonus for the Giants. It may be a reach, however, as Sanchez has not played more than 111 games since 2008.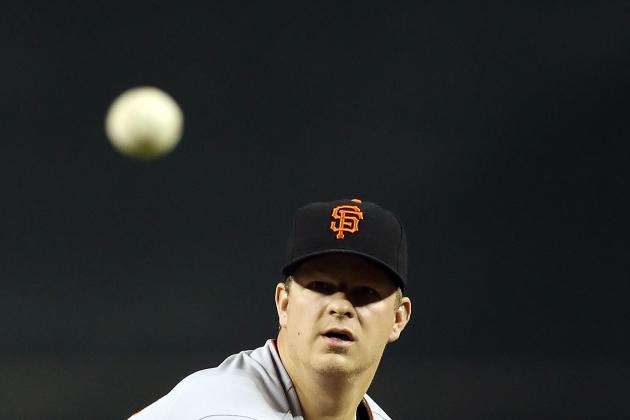 Christian Petersen/Getty Images
Matt Cain wants to stay in San Francisco
It is incumbent on the Giants to sign Matt Cain to a contract extension and not let him hit the open market, after the 2012 season. The two sides are in negotiations, but nothing is ever done until the ink is on the contract.
At age 27, Cain will be entering his eighth season with the Giants. He actually is younger than Tim Lincecum by about six months. Cain has been extremely reliable for the Giants and has thrown over 200 innings in each of the past five seasons.
Cain was instrumental in the Giants' postseason success in 2010, when he threw 21.1 innings and did not allow an earned run.
Cain had a very strong 2011 season, throwing 221.2 innings with an ERA of 2.88 and a WHIP of 1.083. He also earned his second All-Star selection.
The New York Yankees and Boston Red Sox are among several teams just drooling for Cain to become a free agent. If this happens, both teams will break the bank to get him.
GM Brian Sabean and the Giants need to get the extension done now, prior to Cain hitting the open market. In their favor is the fact that Cain is married, has a child and likes it here in the Bay Area. Unlike Tim Lincecum, who has no such ties, Cain would prefer not to uproot his family.
I do expect the Giants and Cain to reach an agreement, but until it happens, there is always a concern.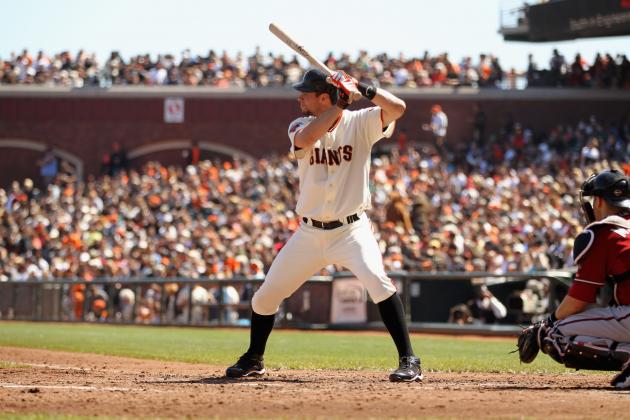 Ezra Shaw/Getty Images
The Giants are hoping for a big season from Brandon Belt
The San Francisco Giants' roster will be made up of eight starters, 12 pitchers and a backup catcher. That makes 21 out of the 25 potential spots on the team. The question then is who will earn those final four roster spots.
The main choices are Mike Fontenot, Brandon Belt, Brett Pill, Manny Burriss, Ryan Theriot, Conor Gillaspie or Gregor Blanco. That's seven players for only four spots.
I expect that Belt will make the squad, as he can play in the outfield and first base. He also should hit well in spring training against pitchers that are not fully in the groove yet. Belt is an excellent mistake hitter.
It is in the regular season where Belt struggled in 2011. His long loopy swing made him vulnerable to the hard fastball inside on his hands. He simply could not hit that pitch. When he tried to overcompensate, then he was fooled by soft stuff away.
The key for Belt in 2012 will be whether he can adjust to handle the hard stuff on the inside corner. Nevertheless, I do expect him to win one of the four spots out of spring training.
With Brandon Crawford at shortstop and Freddy Sanchez at second base, the Giants would be wise to carry two backup middle infielders. Crawford has never shown the ability to hit big league pitching and Sanchez is likely to miss time due to injury.
Two players I expect to see on the team are Mike Fontenot and Ryan Theriot. Fontenot can play second, short or third and has proven valuable as a utility man.
The recent acquisition of Ryan Theriot was an excellent move for the Giants. He was the starting shortstop for the Cardinals before they got Rafael Furcal in midseason. Theriot is a career .282 hitter and a good defensive player.
Theriot's reliability and versatility will make him a favorite of manager Bruce Bochy and Giants fans. He actually could beat out Crawford as the starting shortstop, but at worst will be an ideal platoon partner. Crawford is a weak hitter to begin with, but was abysmal against left hand pitching.
That leaves one roster spot and I believe it will go to Brett Pill. He is the best hitter of the bunch and can provide power off the bench. In Fresno last year, Pill hit .312 with 25 home runs and 107 RBI.
In a very small sample size of 50 at-bats as a September call-up, Pill hit .300 with two home runs and nine RBI. His OBP was .321 and his OPS was a very strong .881. Pill showed a good ability to make adjustments to pitchers and was significantly ahead of Belt in this regard.
The one thing that may work in Burriss' favor is he is out of minor league options. If he does not make the team, the Giants would need to expose him to waivers and he could be claimed by another team. As far as I'm concerned, that's a risk worth taking.
Burriss has absolutely no power and is not a strong hitter, with only one career home run in 584 at-bats. He hit only .204 last year with no home runs and four RBI in 137 at-bats. Compare that to Pill and you see why I prefer him as the 25th man. Burriss' OBP of .253 is also very poor.
Burris is only an average defensive player and the combination of Fontenot and Theriot make him expendable. He does have good speed, but tops out as a triple-A player best utilized as a late season call-up to pinch run.
Blanco is a long shot, but if the Giants decide to go with speed and defense for a fifth outfielder, he may have a chance. I actually see him as the first player recalled in the event one of the starting outfielders gets injured.
Gillaspie is also a long shot and has minor league options left. I like him and think he has potential, but at this stage of his career, he is unlikely to make the team.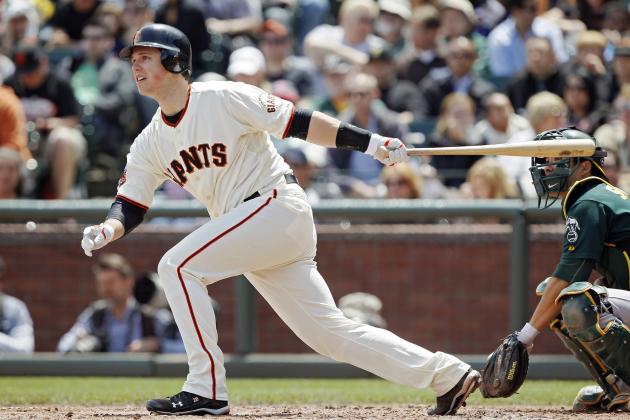 Brian Bahr/Getty Images
A healthy Buster Posey is a big key to the Giants' season
When Buster Posey sustained his devastating, season-ending injury in late May of last year, it essentially ruined the Giants' season. The Giants battled into September, but just did not have the horses to beat the Arizona Diamondbacks.
Posey has been working very hard at his rehab and is actually a bit ahead of schedule. All signs point to him being able to open the season as the Giants' starting catcher.
The Giants desperately need a healthy and productive Posey to play as much as possible. With this in mind, they are planning to use him at first base frequently in order to give him a rest from the rigors of catching.
Posey was the Rookie of the Year in 2010 and the Giants expect big things from him this season. Posey also expects a lot out of himself and I expect him to bounce back strong in 2012.
My projection for Posey is for him to catch 118 games and play 35 games at first base. If he can do that, you can expect him to hit .300 with 20-25 home runs and 85-100 RBI. The Giants' offense needs that kind of production from Posey in order to win games and help their pitching staff.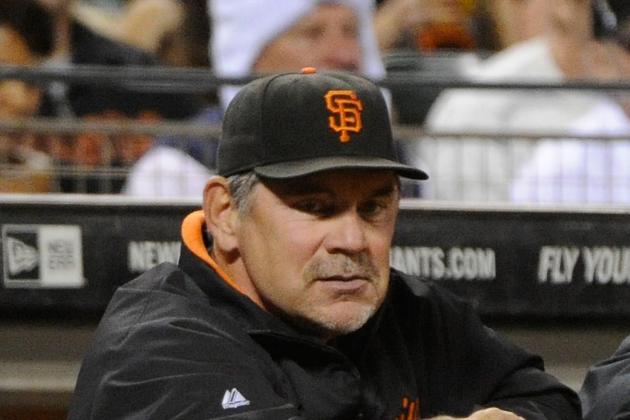 Thearon W. Henderson/Getty Images
Manager Bruce Bochy will guide the Giants to the playoffs
The San Francisco Giants were unable to land the big-time power bat they coveted. However, the cumulative effect of the roster moves they made this winter will help them immensely.
If Melky Cabrera comes anywhere near the numbers he put up last year in Kansas City, he will be a major upgrade in the outfield for the Giants. In 2011, he hit .305 with 18 home runs, 87 RBI and 20 steals. Even if his power numbers decline by 10 or 12 percent, that will still be a plus.
Angel Pagan gives the Giants a leadoff hitter that can get on base and has speed. Andres Torres is a better defensive player, but just could not get his bat going last season.
As I mentioned earlier, the acquisition of Ryan Theriot was a great move for the Giants. He is a solid veteran that enables the Giants some flexibility with Brandon Crawford. He also provides extra insurance in the event Freddy Sanchez gets hurt again, which I frankly think is probable.
The Giants suffered through a dizzying array of injuries last year. Every starting position player, outside of Aubrey Huff spent time on the disabled list. With the healthy return of Buster Posey, the Giants have an excellent chance to challenge for the division title or earn a wild-card spot in the playoffs.
The Diamondbacks have made several improvements over last year and are still young. They are the team to beat right now, but the Giants are not that far behind.
The Giants' pitching staff will give them a chance to win every series and if the team can stay reasonably healthy, I fully expect them to be playing into October.