2012 NFL Draft: 10 Big-Name Players Who Could Experience Draft-Day Falls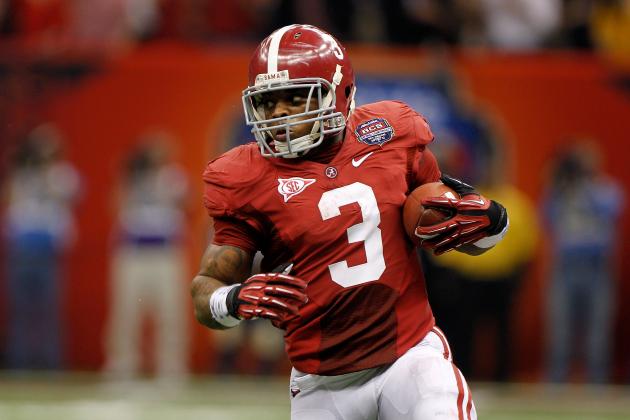 Chris Graythen/Getty Images

The 2012 NFL Draft is on the horizon and with it comes the inevitable shocking draft-day falls. Who could forget big names that have fallen in recent years such as Da'Quan Bowers in 2011, Aaron Rodgers in 2005 and Drew Brees in 2001?
A big name wasting away in the back room waiting to hear their name called to the stage by a team—any team, happens for several reasons. Whether it's legal issues, concerns about size, attitude or college scheme, there are several big names this year that will fall come draft day.
While experiencing a draft-day fall is bad for the player, it can be great for fans and the team that lands the player in free-fall. The player comes in with the proverbial "chip on the shoulder" to get revenge on the teams that passed him and generally turns out to be a great player.
Taking these factors into account, here are 10 big name players that could experience draft-day falls in the 2012 NFL Draft:
Begin Slideshow

»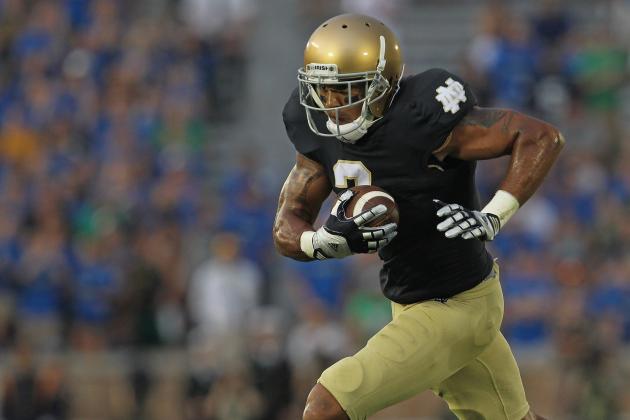 Jonathan Daniel/Getty Images

Michael Floyd is the best receiver in the 2012 NFL Draft not named Justin Blackmon. At 6'3" and 224lbs, Floyd is a massive target that accumulates large quantities of yards after a catch. He is a very similar player to the Miami Dolphins' Brandon Marshall and should have an easy transition to the NFL.
So why could Floyd fall in the draft? He was involved in three off-field alcohol related incidents during his tenure at Notre Dame. He also didn't play in the Senior Bowl, where he could have made an appearance and reassured NFL scouts that he was worth the risk.
Now Floyd's fall is all but assured. The team lucky enough to catch him will get a great player at the NFL level, but one prone to off the field issues. If Floyd can keep his head on straight in the right locker-room environment, he could have a very long and fruitful NFL career.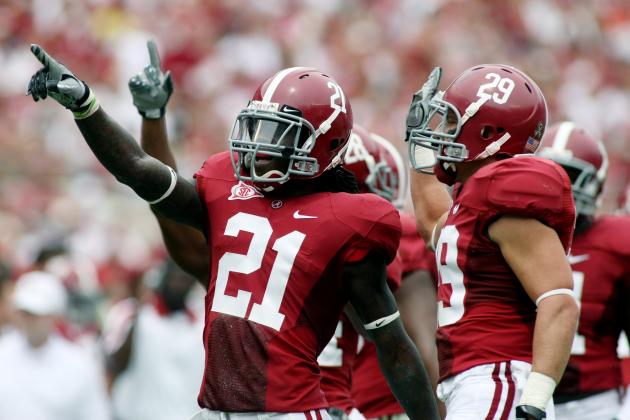 Greg McWilliams/Getty Images

Dre Kirkpatrick is in contention with LSU's Morris Claiborne as the best cornerback in the 2012 draft class. Kirkpatrick has all the physical tools to be a great NFL player for years, but recent character issues could take Kirkpatrick out of the top 15 or more.
Kirkpatrick was recently arrested in Florida and charged with marijuana possession. Now, a college kid with marijuana isn't the most shocking thing in the world, but the timeliness of it is. The arrest came right before the Senior Bowl, which is a time Kirkpatrick needed to be at his best or potentially cost himself millions and millions of dollars come draft-day.
Kirkpatrick's decision making off the field has to be in question with a plethora of teams now who want to invest millions of dollars into a franchise-changing player, not one who makes silly mistakes that will get him suspended.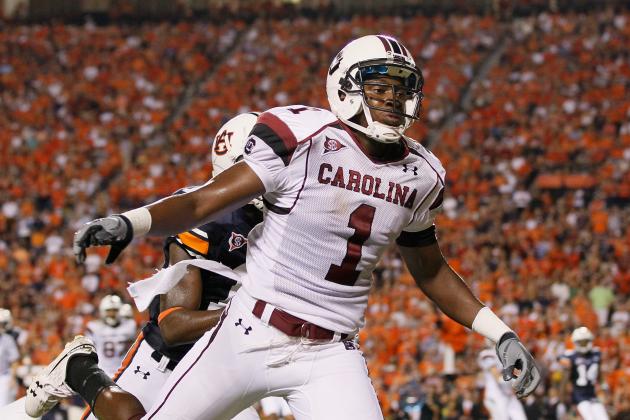 Kevin C. Cox/Getty Images

Alshon Jeffery is a big name receiver who set school records for receiving yards at South Carolina in three years. Jeffery is one of the biggest receivers in the draft at 6'4" and 230lbs. Jeffery was a threat on every down because of his size and physicality.
Jeffery would be a higher pick if he can control himself. He was the Capital One Bowl MVP, but was kicked out in the second half after being involved in a fight. This display of immaturity right before the draft could hurt Jeffery.
There have also been concerns about the shape Jeffery is in. While this is something minor right now, teams could take it as an indicator that his work ethic is questionable. Jeffery has to do a lot to wow potential suitors this offseason if he doesn't want to experience a fall.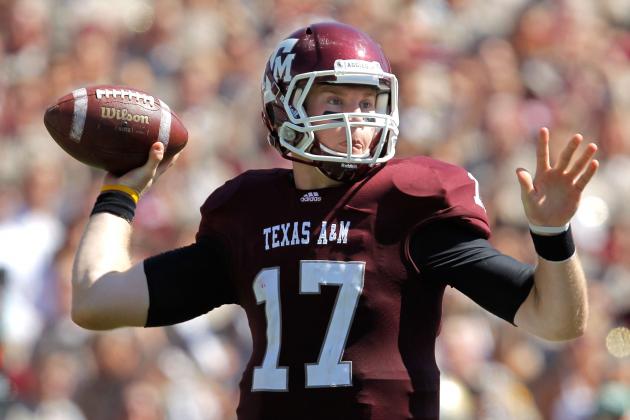 Sarah Glenn/Getty Images

Ryan Tannehill is a quarterback with four years of experience at the collegiate level. While at Texas A&M, he was a great player which allowed him to position himself in this year's draft as the third best quarterback.
Quarterback is the most important position in the NFL and is typically picked early in the draft, even if the player being picked is only the third highest-rated. Tannehill is only behind Stanford's Andrew Luck and Baylor's Robert Griffin III, which could have potentially made him a top 15 pick.
Unfortunately for Tannehill, he broke his foot while training recently. The injury caused him to miss the Senior Bowl, which would have been critical in establishing himself as a sure-fire first round pick. Now Tannehill may not be able to work out for teams until right before the draft itself, causing him to fall in the draft drastically.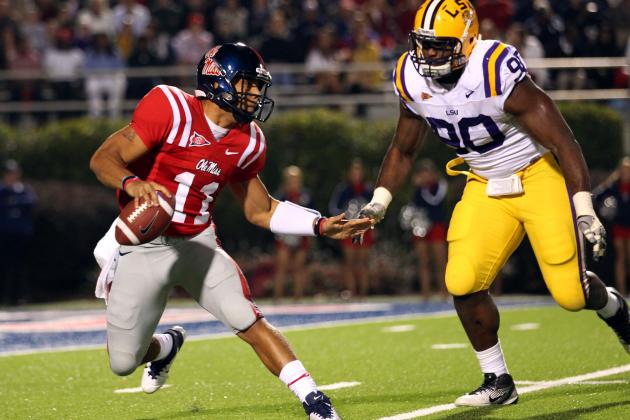 Joe Murphy/Getty Images

Michael Brockers debuted on the national stage last season with LSU while absolutely terrorizing opponents with ease.
Brockers' size, ability to rush the passer and clog up running lanes will surely make him an attractive option for teams in need of defense. Brockers can play defensive end in a 3-4 system or defensive tackle in a 4-3.
The knock on Brockers is his inexperience. He is entering the draft as a redshirt sophomore after only one season of dominant play. Keep in mind this dominant play was while he was surrounded by elite talent at LSU. This is the same talent that led draft busts Tyson Jackson and Glenn Dorsey be picked in the first round in recent years.
It's not a guarantee that Brockers will fall, but he certainly could because of his inexperience and similarities to past LSU players.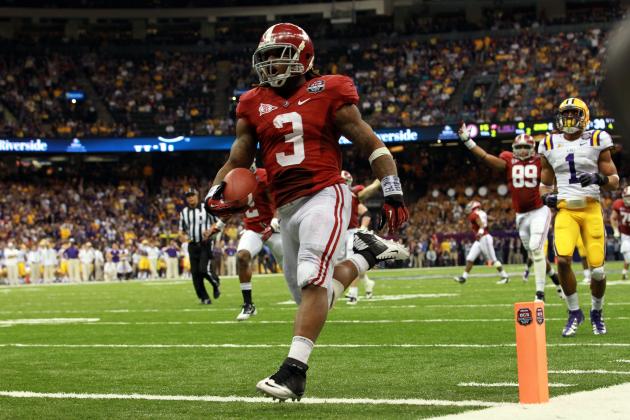 Ronald Martinez/Getty Images

Trent Richardson is easily the best running back in the 2012 class. Unfortunately for Richardson, the running back position continues to devalue as the NFL evolves into a more passing-oriented league. The two-back system is now extremely popular as well.
Richardson's predecessor at Alabama, Mark Ingram, was in fact the only running back taken in the first round of the 2011 NFL Draft—28th overall. Ingram's fall was a telling sign of teams not wanting to risk high picks on a running back when quality options can be found in the later round of drafts or free agency.
If Richardson falls, the team that lands him will be extremely happy to have him. He is a work-horse back with a great attitude and work ethic. Think Steven Jackson falling to St. Louis at 24th overall in 2004. Richardson will surely look to follow in Jackson's footsteps and make the rest of the league pay.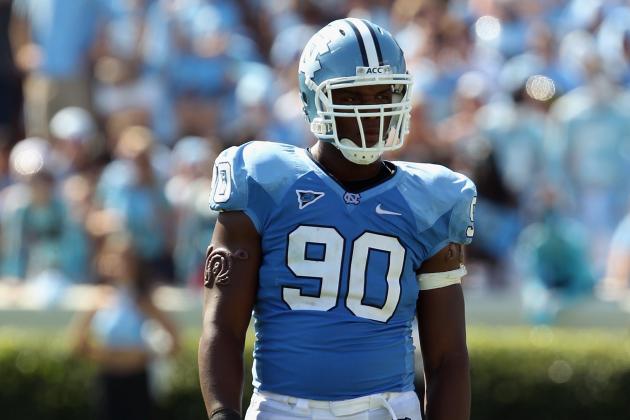 Streeter Lecka/Getty Images

Quinton Coples burst on to the scene in 2011 with a ridiculous 15.5 tackles for a loss and 10 sacks while being the leader of North Carolina's defense. His great measurables allow him to stay at the defensive end position in the NFL or add some bulk and be a pass-rusher from the defensive tackle position.
The problem for Coples is that he hasn't done much outside of one season of success. There are other prospects in the draft that have done more in the same amount of time as Coples. Some teams may feel safer picking a player with more experience.
While experience is an issue, potential is not. Coples has the potential to be an elite player at the next level, and any team lucky to take him if he falls has the opportunity develop him into a top talent.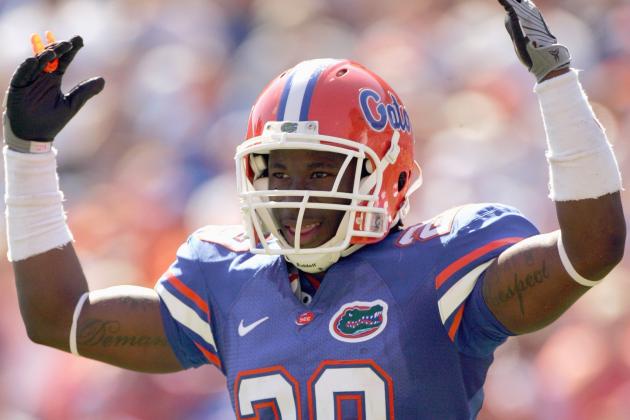 Sam Greenwood/Getty Images

Janoris Jenkins is arguably the most talented cornerback in this year's draft, but comes with a massive amount of baggage. Jenkins possesses rare instincts for the position that all NFL teams covet, despite his smaller frame.
Not many corner backs can claim that they stood out as a lock-down corner in the SEC during their freshman year, but Jenkins can and did while playing for the Florida Gators. Many can also not claim to have been kicked off the Gators' team for two arrests in one offseason.
Jenkins will fall because of his horrible off-field decision making and lackluster senior year with North Alabama. However, Jenkins was a standout at the Senior Bowl and is improving his stock already.
Whichever team takes the risk on Jenkins is getting a player that will probably turn out to be the best at his position in this draft when looking back on it five years from now—if he can stay on the field.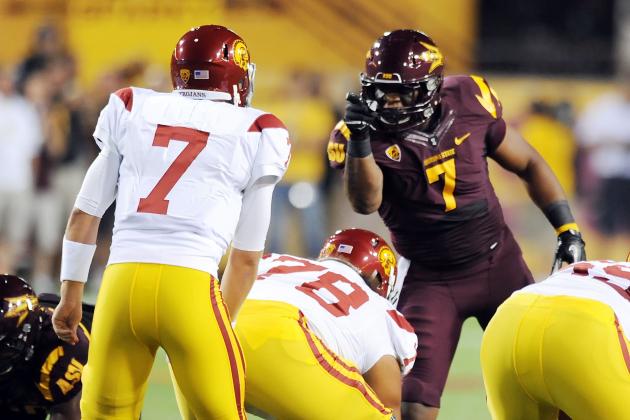 Norm Hall/Getty Images

Vontaze Burfict has been compared to Ray Lewis throughout his collegiate career because of his jaw-rocking hits and athletic ability. He is a leader in the middle of any defense and brings an intensity to the position that hasn't been seen in a long time.
However, Burfict's intensity will doom him. His intensity has led to stupidity in some situations, killing his team on important drives by getting personal foul penalties on late hits. He has been benched by his coaches several times for racking up personal fouls, and this won't go unnoticed by NFL scouts.
Burfict has the hype and skills to be an NFL great, but his over-aggressiveness and periodical issues off the field will cause him to fall in the draft. In the right locker room environment, Burfict can excel into one of the better players at his position. If picked by the wrong team, he could be out of the NFL in a few years in a similar fashion to ex-Cincinnati Bengal Odell Thurman.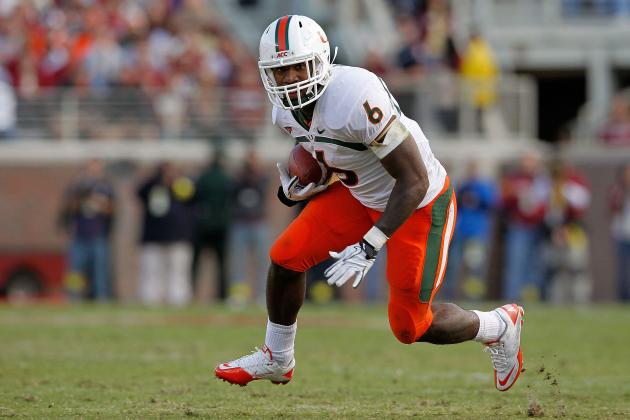 Mike Ehrmann/Getty Images

Lamar Miller is a dual-threat running back that will find a home with an NFL team likely running an offensive scheme where the back catches a lot of passes. Miller is shifty and has great speed when given the opportunity to break away.
A couple things are working against Miller: For one, the devaluation of the position will bump him into the late first to mid-second round. Secondly, he is in stiff competition with Washington's Chris Polk to be the second running back taken after Alabama's Trent Richardson. Polk is a better overall back more fit to carry the load, and has a much better track record given Miller only has one season of starting under his belt.
Miller will likely fall, especially as other backs in the draft continue to rise up big boards. He is versatile enough that the team that lands him will have a quality back that will fit nicely into a two-back system.