2012 NFL Mock Draft: Predicting Every First-Round Pick
Geoff Burke/Getty Images
It's Super Bowl week in the NFL and the 2012 Senior Bowl is in the rear-view mirror. While some players boosted their stock for this April's NFL draft (North Carolina defensive end Quinton Coples was reportedly a monster all week) others saw theirs take a hit.
I'm guessing Nebraska cornerback Alfonzo Dennard wishes he owned a flux capacitor.
Given these developments, it's time for another look at how the 2012 NFL draft's first round could shake out, from locks to shockers and a trade or two just to keep things lively.
Not that they aren't already, mind you. Trying to figure it what 32 NFL general managers will do in a draft is almost as impossible as figuring out how a few got their respective positions in the first place.
1.01: Indianapolis Colts: Andrew Luck, QB, Stanford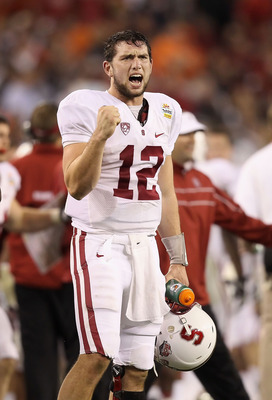 Christian Petersen/Getty Images
With each passing day it seems less and less likely that we'll see quarterback Peyton Manning under center for the Indianapolis Colts in 2012, and it's a real possibility that he might not ever play again as questions continue to swirl around his recovery from neck surgery.
Should either of those unfortunate situations come to fruition, not only is Stanford quarterback Andrew Luck the lock of all locks as the first overall pick, but he may well, like Manning before him in 1998, start at quarterback for the Colts from day one.
1.02: Cleveland Browns (from STL): Robert Griffin III: QB, Baylor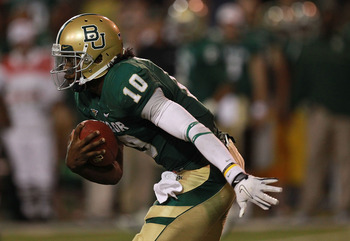 Ronald Martinez/Getty Images
Now that Brad Childress is on board as offensive coordinator for the Cleveland Browns, a trade I saw as unlikely before may have a much better shot at happening, with the Browns outbidding several other suitors by offering up two first-round picks just to bump up two spots.
That's how hot the bidding for this pick is going to be in April.
If Cleveland does pay that steep a price to acquire the services of the Heisman Trophy winner, Browns fans had better hope that Brad Childress is as good as advertised and that Griffin's for real.
If they are, then Cleveland gets an electric young quarterback and everyone's a genius.
If they aren't, they're, well, they're the Browns.
1.03: Minnesota Vikings: Matt Kalil: OT, USC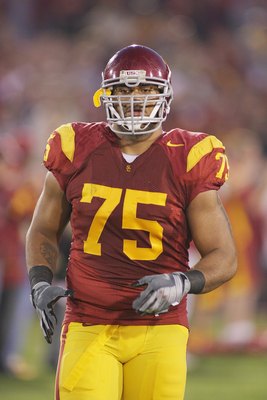 Jeff Golden/Getty Images
This is one of those picks that makes so much sense that it makes you afraid it won't happen.
Charlie Johnson isn't the future at left tackle for the Minnesota Vikings, and if the Vikings want to keep quarterback Christian Ponder upright, he won't be the present either.
Elite tackle prospects don't grow on trees, so when you find one like Matt Kalil, who allowed all of zero sacks last year, you don't overthink things.
Which is what scares me, especially given that this is a team that once let the clock run out on their first-rounder while "thinking."
1.04: St. Louis Rams (from CLE): Justin Blackmon: WR, Oklahoma St.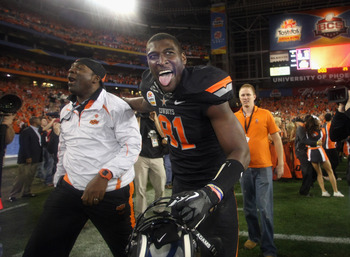 Donald Miralle/Getty Images
In a perfect world for the Rams, either Kalil would be here or they could trade down a few spots and grab an extra pick while waiting until later in the first round to upgrade an offensive line that allowed the most sacks in the NFL last year.
However, if they do make a choice with the fourth selection, the Rams will likely snag the draft's best wide receiver in Oklahoma State's Justin Blackmon, with new head coach Jeff Fisher and the Rams hoping that they can improve the offensive line enough to give quarterback Sam Bradford time to get Blackmon the ball next season.
1.05: Tampa Bay Buccaneers: Morris Claiborne: CB, LSU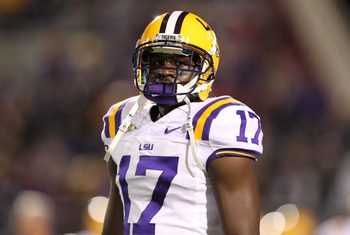 Joe Murphy/Getty Images
With the surprise hiring of Rutgers head coach Greg Schiano, a new era is dawning for the Tampa Bay Buccaneers, but an old problem remains.
Cornerback Ronde Barber is old.
No offense to Barber, who's had a sterling career, but he looked his age last year and the Buccaneers can't count on Aqib Talib to stay out of trouble for more than two days at a time.
Morris Claiborne is easily the top defensive back available in this year's draft class and possesses true "shutdown" corner ability, making him a fairly easy choice for a club with a need at the position.
1.06: Cincinnati Bengals (from WAS): Trent Richardson: RB, Alabama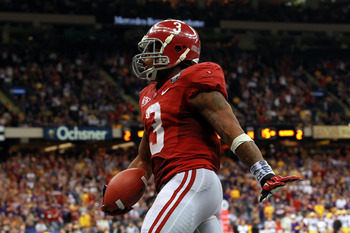 Ronald Martinez/Getty Images
If there's one team that might allow their 15-minute clock to expire this year, it's the Washington Redskins, as owner Daniel Snyder would likely be apoplectic about losing out on Griffin if the Redskins don't get better at the quarterback position in free agency.
The Bengals, on the other hand, are a playoff team with a glaring need at running back that could use the extra first-round pick they obtained in the Carson Palmer trade with the Oakland Raiders to offer the Redskins a "Julio Jones" deal such as a 2012 first-rounder and the Bengals' second-round selection this year and first next season.
The Bengals get their running back, the Redskins get a good deal and Daniel Snyder can stop turning colors.
1.07: Jacksonville Jaguars: Quinton Coples: DE, North Carolina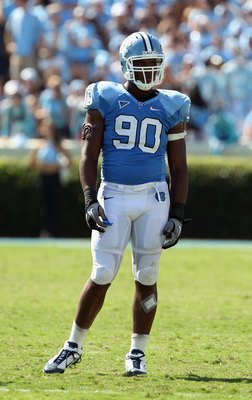 Streeter Lecka/Getty Images
Here's where playing well at the Senior Bowl can make a kid a few bucks.
The Jacksonville Jaguars ranked 25th in the National Football League in sacks last season, and their best pass-rusher, defensive end Jeremy Mincey, is set to hit free agency.
Should Mincey depart, the Jags would be absolutely desperate on the defensive front, and the 6'6", 285-lb Coples, who was a beast in Mobile, may just find himself called upon to fill that void.
1.08: Carolina Panthers: Michael Brockers: DT, LSU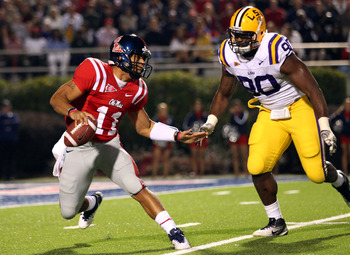 Joe Murphy/Getty Images
There are a number of directions that Carolina could go in here, but the Panthers need to upgrade more on defense than on offense, including a run defense that ranked in the bottom third of the NFL in 2011.
Michael Brockers may not be the highest-ranked defensive tackle on a lot of draft boards right now, but after a strong combine, the 6'6", 306-lb LSU star could be (and should be). Brockers would instantly improve the interior of the Carolina defensive line.
1.09: Miami Dolphins: David DeCastro: OG, Stanford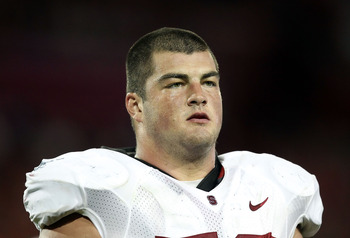 Christian Petersen/Getty Images
The Miami Dolphins could well be one of the teams in on the Robert Griffin sweepstakes, but should they lose out or get Matt Flynn in free agency, they will likely look to address an aging, so-so offensive line.
As much sense as it makes for the Dolphins to take Iowa tackle Riley Reiff here—Marc Colombo was horrid in 2011—two-time All-American David DeCastro is the best guard prospect to come out of the collegiate ranks in a while, and it's not like Richie Incognito and Vernon Carey are world-beaters.
1.10: Buffalo Bills: Melvin Ingram: DE, South Carolina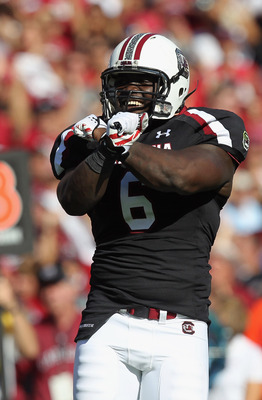 Streeter Lecka/Getty Images
No team in the AFC allowed more points last season than the Buffalo Bills, who are switching to a 4-3 defense in 2012. If Buffalo is going to make that transition smoothly, they're going to need help both rushing the passer and at the defensive end position.
If South Carolina defensive end Melvin Ingram can perform as well at the NFL combine as he did at last week's Senior Bowl, then he might just make sense to the Bills here as a solution to both problems.
1.11: Kansas City Chiefs: Riley Reiff: OT, Iowa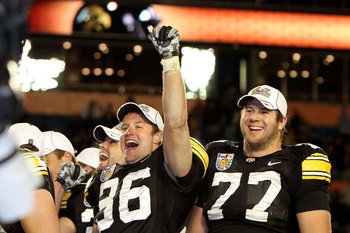 Doug Benc/Getty Images
The Chiefs have a number of needs under new head coach Romeo Crennel, "chief" among them both the offensive and defensive lines.
Reiff is a rock-solid prospect capable of playing both tackle positions and would present an excellent value here. It's not hard to see Scott Pioli pulling the trigger on Reiff given his relationship with Iowa head coach Kirk Ferentz.
1.12: Seattle Seahawks: Alshon Jeffery: WR, South Carolina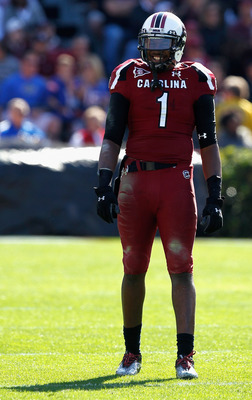 Streeter Lecka/Getty Images
With three concussions and two shoulder surgeries in the past year, the future of Seattle Seahawks wide receiver Sidney Rice has become very cloudy, leaving the Seahawks with a hole in a position that they thought they'd filled by signing Rice a year ago.
The 6'4" Jeffery would provide the Seahawks with a big target in the red zone, and if he can alleviate concerns about his straight-line speed with a solid showing at the combine or his pro day, it's not hard at all to see him as a good fit here.
1.13: Arizona Cardinals: Jonathan Martin: OT, Stanford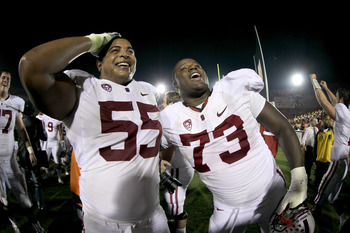 Stephen Dunn/Getty Images
If you're going to invest $63 million in a quarterback (such as the Arizona Cardinals did last year with Kevin Kolb) it might be a good idea to protect his blind side.
Levi Brown may be the worst starting left tackle in the National Football League. The Cardinals gave up the second most sacks in the NFL in 2011.
Tackle Jonathan Martin of Stanford is a two-time All-American.
See where I'm going with this?
1.14: Dallas Cowboys: Janoris Jenkins: CB, North Alabama
Were it not for the "character issues" (i.e. getting kicked out of the University of Florida for smoking too much weed) that swirl around North Alabama cornerback Janoris Jenkins, he may well be a top-10 pick.
On top of that, Jenkins had a very strong showing at the Senior Bowl.
According to Bleacher Report's own NFL draft guru Matt Miller, Cowboys owner Jerry Jones liked what he saw from Jenkins in practices in Mobile.
Jones has never been afraid to roll the dice on players with checkered pasts, and Dallas badly needs a boost in the defensive backfield.
1.15: Philadelphia Eagles: Dont'a Hightower: ILB, Alabama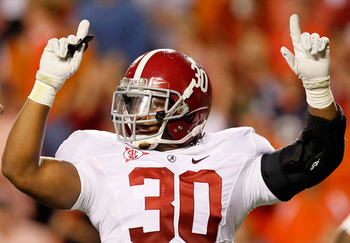 Kevin C. Cox/Getty Images
For reasons known only to, well, no one, the Philadelphia Eagles have decided to retain the services of defensive coordinator Juan Castillo for 2012.
That rather odd choice aside, the fact remains that the Eagles have a dire need at linebacker, and 2011 first-team All-American Dont'a Hightower is the most athletically talented inside linebacker available in this year's draft and a logical fit here.
Which means there's very little chance it will actually happen.
1.16: New York Jets: Courtney Upshaw: DE/OLB, Alabama
Kevin C. Cox/Getty Images
Roll Tide roll!
The New York Jets could use help at wide receiver, especially if the team can't mend fences with Santonio Holmes, but New York also needs to upgrade a pass rush that forced head coach Rex Ryan to rely on a lot of blitzes last year to generate pressure.
Not only could 2012 BCS National Championship Game MVP Courtney Upshaw provide just that upgrade, he also has ample experience in the 3-4 from his time at Alabama, which would shorten his learning curve considerably.
1.17: Washington Redskins (from CIN Via OAK): Ryan Tannehill: QB, Texas A&M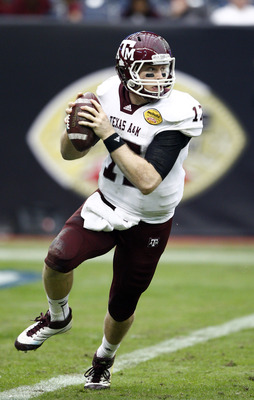 Bob Levey/Getty Images
This may be viewed as a reach by many, especially in light of the foot injury that cost quarterback Ryan Tannehill a spot in the Senior Bowl and could even keep him from participating in the NFL combine.
However, even if the Redskins trade down, owner Daniel Snyder is still going to be obsessed with getting Washington's "quarterback of the future."
Tannehill's 6'4" frame, experience in a pro-style offense at Texas A&M and "potential" may just be too enticing for Washington to pass up.
1.18: San Diego Chargers: Whitney Mercilus, DE/OLB, Illinois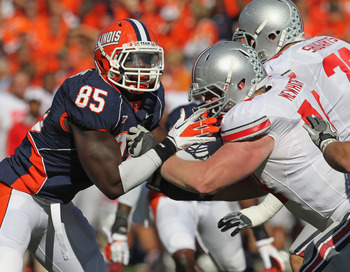 Jonathan Daniel/Getty Images
The San Diego Chargers had quite a bit of trouble getting after the passer in 2011, ranking 23rd in the National Football League in that regard, and with only linebacker Antwan Barnes providing steady pressure the Bolts need to address that area.
There are concerns that 2011 NCAA FBS sack leader Whitney Mercilus may have been a one-year wonder, but his upside and 16-sack production from a year ago make him a valid consideration for general manager A.J. Smith and the Chargers at this point.
1.19: Chicago Bears: Michael Floyd: WR, Notre Dame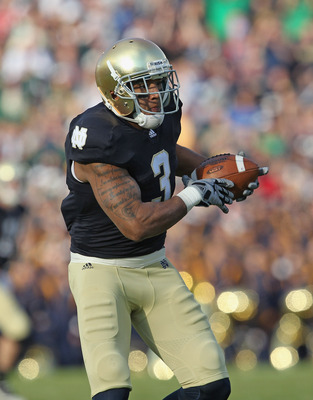 Jonathan Daniel/Getty Images
This pick would likely make many fans in the Windy City very happy, as Chicago Bears fans have been clamoring for a true No. 1 receiver for some time.
The Bears would be quite fortunate if the 6'3", 224-lb Floyd fell to this point in the first round, as he could easily fill that role and would instantly give Jay Cutler a "big target" at wideout, the likes of which he hasn't had since coming to Chicago.
1.20: Tennessee Titans: Cordy Glenn: OT/OG, Georgia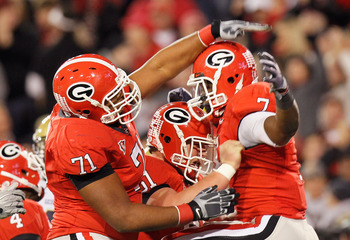 Kevin C. Cox/Getty Images
Tennessee Titans head coach Mike Munchak criticized his offensive lines at times for failing to open holes for running back Chris Johnson in 2011. Upgrading that unit will certainly be a priority for the Titans in the offseason.
Georgia offensive lineman Cordy Glenn is a 6'5", 340-lb monster of a man who was among the best players on the field at the Senior Bowl, and his skill and versatility would be an asset to the Titans and a borderline steal at this point in the round.
1.21: Cincinnati Bengals: Dre' Kirkpatrick: CB, Alabama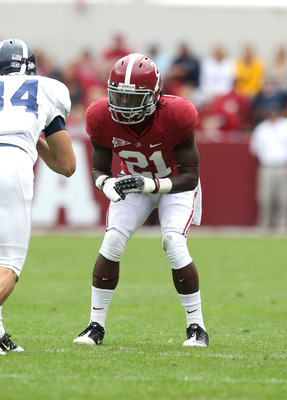 Mike Zarrilli/Getty Images
Yay marijuana!
(No, not like that.)
Were it not for a recent arrest for possession of marijuana, Alabama cornerback Dre' Kirkpatrick almost certainly wouldn't have lasted into the second half of the first round, and the 6'2" second-team All-American may have been a top-10 pick.
However, that bust may cause a draft-day slide that drops him into the laps of the Bengals, who could absolutely use an upgrade at cornerback for 2012 opposite Leon Hall.
1.22: St. Louis Rams (from CLE Via ATL): Mike Adams, OT, Ohio State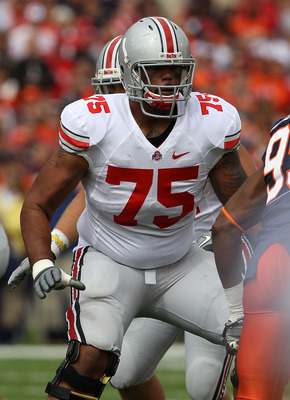 Jonathan Daniel/Getty Images
Should offensive tackle Mike Adams of Ohio State make it this far down the draft board (which is a distinct possibility, even after a good showing at the Senior Bowl) the St. Louis Rams would likely be sorely tempted to make the choice, and it's a logical one.
As I said earlier, no team in the NFL gave up more sacks than the Rams in 2011, and while Adams isn't a prospect on the level of Kalil or Martin, he's a solid player with excellent technique that could be a quality NFL starter for several seasons.
1.23: Detroit Lions: Peter Konz: C, Wisconsin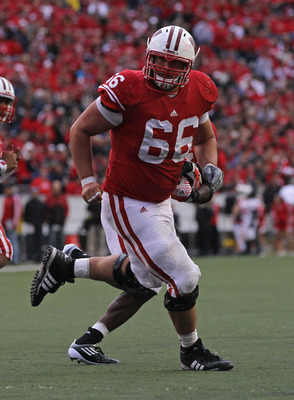 Jonathan Daniel/Getty Images
Should Nebraska cornerback Alfonzo Dennard salvage his plummeting draft stock somewhat with a great Combine and Pro Day and be available at this spot, the Lions may look hard there, as Detroit could absolutely use help at that position.
However, if he doesn't, we come back to Wisconsin center Peter Konz, who I seem to keep mocking to Motown. The All-American would be an instant improvement over 33-year-old journeyman Dominic Raiola.
1.24: Pittsburgh Steelers: Kelechi Osemele: OG/OT, Iowa State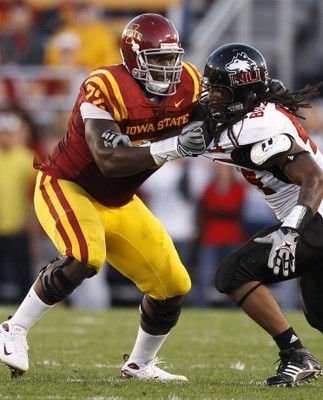 If there's two things that appeared very evident in the Pittsburgh Steelers' surprising playoff loss to the Denver Broncos, it's that their defense is getting old and their offensive line needs serious work.
With Dont'a Hightower off the board, the Steelers will forgo the former to address the latter in the first round, choosing the 6'5", 333-lb former Cyclone, who was yet another example of a player whose draft stock has been helped by a great showing at the Senior Bowl.
1.25: Denver Broncos: Devon Still: DT, Penn State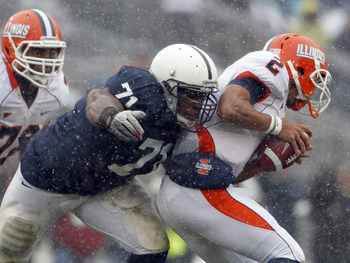 Justin K. Aller/Getty Images
The Denver Broncos enjoyed a somewhat miraculous (sorry, I couldn't help myself) second half of the 2011 season, but if they're going to take the next step in 2012, a couple of things will need to happen.
There's that thing about the development of the quarterback. Stories for another day.
Another is to upgrade a run defense that ranked in the bottom half of the National Football League a season ago, and adding the 2011 Big Ten Defensive Player of the Year would certainly help in that regard.
1.26: Houston Texans: Kendall Wright: WR, Baylor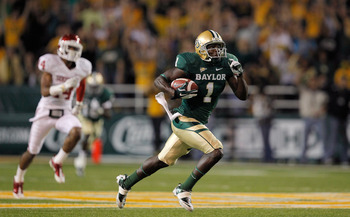 Sarah Glenn/Getty Images
The Houston Texans appear poised to take the perch atop the AFC South that was long the kingdom of the Indianapolis Colts, but to stay there the Texans could desperately use a wide receiver to complement Andre Johnson.
Wright would not only provide that complement but challenge defenses in his own right, as his blazing speed could penalize teams double-teaming Johnson.
Wright would also upgrade the Texans' return game significantly, as it seems Jacoby Jones is prone to the dropsies.
1.27: New England Patriots (from New Orleans Saints): Lamar Miller: RB, Miami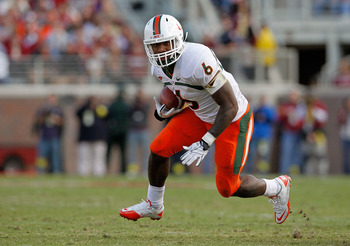 Mike Ehrmann/Getty Images
At first glance (well, second and third glances actually), the New England Patriots' biggest need would appear to be in the secondary.
That's because it is, and this may well be all be moot if the Patriots perform one of their textbook trade-downs.
However, Miami running back Lamar Miller is an explosive player with burst, agility and the ability to catch the ball out of the backfield, and while the Patriots don't necessarily have a "need" at the position, head coach Bill Belichick may be tempted to just go the BPA route, as they've been known to do in the past.
1.28: Green Bay Packers: Nick Perry: DE/OLB, USC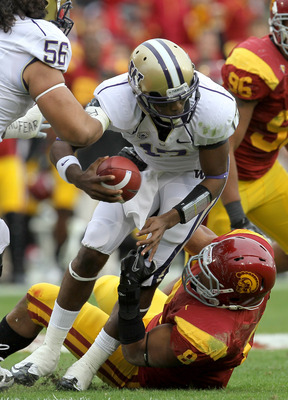 Stephen Dunn/Getty Images
The Green Bay Packers, much like the Patriots, are a team that could use secondary help, especially if cornerback Charles Woodson moves to safety next season as has been speculated.
However, the Packers also badly need to upgrade a pass rush that tied for the third-fewest sacks in the NFL in 2011, and none of the cornerbacks available at this point have the upside of Nick Perry of USC, who would be a much-needed shot in the arm opposite fellow Southern Cal star Clay Matthews at linebacker for Green Bay.
1.29: Baltimore Ravens: Vontaze Burfict: ILB, Arizona State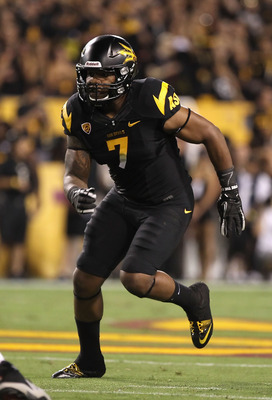 Christian Petersen/Getty Images
I've had Burfict slotted here in nearly all my mocks, so it's a near-mortal lock this won't happen.
However, while Ray Lewis is still the heart and soul of the Baltimore Ravens, he will be 37 years old when the 2012 season begins, and as last season wore on Lewis finally started to show signs that he may be wearing down.
Burfict is an immensely talented player with a head full of gravel (at least judging by the stupid penalties and off-field nonsense while he was at ASU), but under the steadying influence of veteran players and a no-nonsense head coach, if Burfict realizes that talent he'll be the steal of the first round in the 2012 NFL Draft.
1.30: San Francisco 49ers: Mohamed Sanu: WR, Rutgers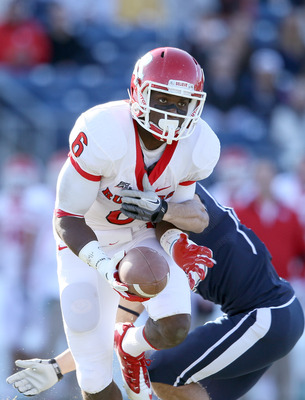 Elsa/Getty Images
Given that the San Francisco 49ers wide receivers combined for a whopping one catch in their NFC Championship Game loss to the New York Giants, I think it's safe to say that they could use an infusion of talent at the position.
Mohamed Sanu caught well over 100 passes for the Scarlet Knights a year ago and has a good combination of size, speed, and soft hands.
Not only would the 6'2" Sanu provide that infusion, he'd also give quarterback Alex Smith another viable red-zone target besides Vernon Davis.
1.31: New England Patriots: Chase Minnifield: CB, Virginia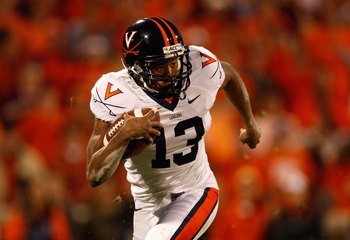 Streeter Lecka/Getty Images
After using their first pick in the round to go best player available, it's time for the Patriots to address that mess of a secondary, and there are several similarly-ranked prospects available.
We're going to go with Chase Minnifield of Virginia, who may be ranked lower than other names on some folks' boards, but he possesses a nice blend of size, speed and solid technique.
Also, I'll freely admit, as a Browns fan who grew up watching his father Frank patrol the secondary in Cleveland in the "Dawg Pound" heyday of the '80s, I have a soft spot for his kid.
If he becomes half the cornerback his father was, then he'd be a steal here.
1.32: New York Giants: Zach Brown: OLB, North Carolina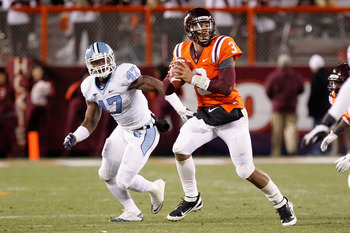 Geoff Burke/Getty Images
Regardless of the outcome of Super Bowl XLVI, one of the big issues facing the New York Giants in the offseason is at linebacker, as they've spent much of the season cobbling that group together while battling a number of injuries.
From a "fit" standpoint, I think Luke Kuechly of Boston College would be a fine choice and that the NCAA's leading tackler in 2011 would be a quality 4-3 MLB in the NFL.
However, after reading about and watching Zach Brown's impressive display of athleticism at the Senior Bowl last week, I find myself torn (as may be the Giants) between going for "fit" vs. upside, and in this mock the latter wins out.
Keep Reading