Los Angeles Galaxy: Ins and Outs, February 1, 2012
February 2, 2012

Victor Decolongon/Getty Images

Welcome back, Budson
Apparently one season with FC Ingolstadt 04 proved to be enough for Edson Buddle. The forward who made quite a splash in 2010 is coming back with a second run with the Los Angeles Galaxy after being acquired on a free transfer.
Actually, it was not just 2010 where Buddle shined. From 2007 to 2010, Buddle was among the top two scorers on the club. In 87 league appearance, Buddle scored 42 goals.
As a member of Ingolstadt, Buddle saved the club from relegation in 2011. Buddle also was on the 2010 USA Men's National Team on their journey to South Africa.
"I am thrilled to be able to return to MLS and a club that has meant so much to me in my career," Buddle told reporters. "When I left for Germany last winter, I said that I hoped to be able to one day return to the Galaxy and help lead the club to an MLS Cup championship. That day is today and I look forward to the challenges that now lie ahead."
Manager Bruce Arena was pleased to hear the news.
"We're really excited to have Edson re-joining the LA Galaxy,"  Arena said. "He has been an outstanding player for us in the past and we look forward to him continuing that success for many years to come."
Buddle is expected to line up alongside Robbie Keane up top. This will result in one of the most potent offensive combinations on the pitch: Buddle, Keane, Landon Donovan, David Beckham, Marcelo Sarvas and Mike Magee.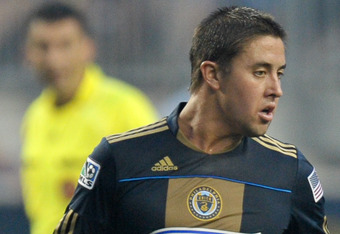 Drew Hallowell/Getty Images

A Hometown Hero's Grand Return
Midfielder Kyle Nakazawa, a local product from Torrance, is coming back home.
The former UCLA Bruin was acquired, along with a second-round pick in the 2013 MLS SuperDraft, from the Philadelphia Union. The Union also acquired one of the Galaxy's eight international player roster spots.
Nakazawa made 36 league appearances for the Union during its first two seasons, scoring once.
With the trade, LA will now be able to have seven international players on their roster for the upcoming season.
The Galaxy will the return one international spot to D.C. United as part of a previous trade while receiving spots back from the Union and the Portland Timbers, who also acquired an international spot from the club in a prior trade.
A special on Nakazawa as part of the This is The Los Angeles Galaxy series will be posted on the View from Victoria Street and Bleacher Report.

No Ordinary Donkey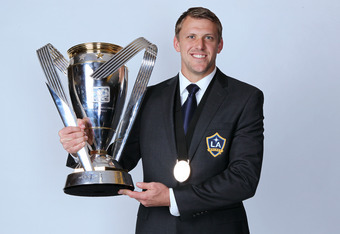 Jeff Gross/Getty Images
The local denizens on the BigSoccer Los Angeles Galaxy forums may label Adam Cristman as Donkey from the Shrek franchise, but this is no ordinary you-know-what.
The forward was asked to take part in an anti-bullying initiative in Henrico County (Va.) that has been inspired by the 2009 documentary "Race to Nowhere," which contains stories of various youths as they struggle to adjust to society and educators who question if they are properly shaping those skills.
"The basic point I tried to convey was I can do anything," he said at his old alma mater of 10 years, Godwin High, according to LAGalaxy.com's Larry Morgan. "It's an amazing lifestyle to be a professional soccer player, but at the same time it gives you a great platform and position where you can influence people for the better.
"A lot of young people, young soccer players see the glitz and the glamour. That might be part of it but there's a balance to it as well, and I want people to understand that.
"If you want to aspire to do this there's more to it."
More fun from Landon Donovan
As long as Landon Donovan is playing for Everton, the Toffees are going to stay up. 
On Tuesday, Donovan set up a delivery to Darren Gibson, who notched home the game-winner in Everton's 1-0 victory over Manchester City at Goodison Park.
The assist was the third in five days for the LA Galaxy loan star, and his fifth since returning to Everton seven match days ago.
With the win, Everton move up to ninth in the Premier League standings.