Chan Gailey Will Right the Buffalo Bills' Ship in Third Year as Head Coach
February 2, 2012

Donald Miralle/Getty Images
Like a true Buffalo Bills nerd, I based my Monday this week around watching the brief press conferences on BuffaloBills.com, which featured head coach Chan Gailey, new quarterbacks coach David Lee, wide receivers coach Bob Bicknell and new assistant defensive line coach William Inge.
I'm stoked on Chan's new scruffy beard at the moment.
I think Coach Inge will bring some excitement to the defensive line in his first stint in the NFL.
And I love what Coach Lee had to say about why he decided to join Buffalo's staff. 
His answer?  He was excited to join Chan Gailey, because everywhere that Chan's been, he's had success.
The Bills are on the cusp heading into next season.
When Gailey was first announced as the new head coach of the Buffalo Bills in January of 2010, most fans were not overly thrilled.  The media was throwing out big names for possible candidates in Buffalo like Bill Cowher, Jon Gruden, Brian Billick and even Marty Schottenheimer.  Cowher and Gruden were never seriously interested in the Bills, and the Bills, for whatever reason, were never seriously interested in Billick or Schottenheimer.
In came Chan Gailey, and out came the frustrated groans of thousands of Bills fans.
At the time, I really didn't know too much about Gailey, but I quickly learned that he had a pretty solid track record and a whole heck of a lot of coaching experience.  Bill Cohwer endorsed him and insisted that the move would be a good one for the Bills.  Sure, he wasn't flashy.  But as an offensive guru, he could be.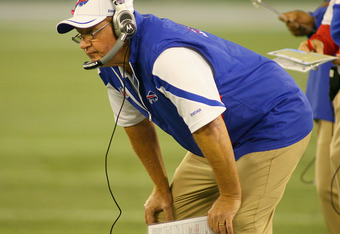 Rick Stewart/Getty Images
I crossed my fingers and began my usual "next year" optimism.
Gailey's first season got off to a horribly rough start, an 0-8 skid to be precise.  After a colossal misinterpretation of Trent Edwards' abilities at QB, the front office finally turned to Fitz, who instantly sparked both the offense and fan base.
But the team was also transitioning to a 3-4 base defense that year—an enormous change considering the Bills had been long built as a 4-3 Tampa-2 type cover team.  The defense was full of lighter, faster guys while Buffalo needed bigger bodies up front.  Consequently, they struggled mightily to stop the run.
Despite the dreadful start, year one under Gailey actually ended on a positive note, as the Bills finished the second half of the season 4-4.  After turning to Fitz, Buffalo also lost two overtime games to Baltimore and Pittsburgh, two heart-breakers that certainly slipped away.
Heading into Gailey's second season in 2011, fans began to "Billieve" that there was real reason for hope.  The team was healthy, the front office had a strong draft and Fitz was the clear starter heading into the opener.  Both the players and the coaches rose to the occasion as Buffalo got off to a scorching 5-2 start.  They even ended their losing streak to the Patriots with an incredible comeback win after trailing 21-0.  Excitement was boiling.
But as everyone knows by now, injuries and inconsistencies soon turned the season into a tailspin, and Buffalo missed out on the postseason yet again.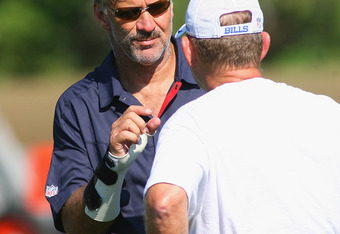 Rick Stewart/Getty Images
In Gailey's third year, fans should expect their hopes for a turnaround to come to fruition.
With the promotion of Dave Wannstedt to defensive coordinator, Buffalo is backing off their movement to a 3-4 and admitted that they'll be shifting back more toward a 4-3.  The team is already strong at tackle with Kyle Williams and Marcell Dareus, and I, for one, am really excited to see Kelvin Sheppard man the middle linebacker position.  Buffalo should also have a chance to land a quality pass-rusher in the draft.  Combine all these factors, and the defense should have a better foundation and a clearer plan in 2012.
But the pressure will be higher on Gailey to establish stability on offense in his third year as head coach.  As the play-caller and mastermind of the offense, Gailey will be responsible for scoring points and winning games.  Year three is typically the pivotal year for NFL head coaches, and Gailey will need to prove to owner Ralph Wilson and Bills fans everywhere that he's the right man for the job.
I'm confident that 2012 is the season Buffalo ends their playoff drought.  The new regime has made smart decisions and has drafted well overall.  Another strong offseason will equate to success in Gailey's pivotal third year as head coach.