Orlando Magic: 4 Changes the Team Must Make Now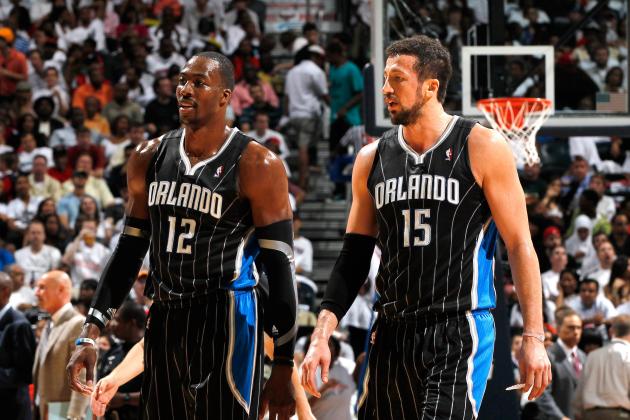 Kevin C. Cox/Getty Images
Dwight Howard and Hedo Turkoglu
To start the season off, the Orlando Magic came out of the gates in spectacular fashion, as they accumulated an elite 10-3 record. Not only was the team winning games, but they were even starting to be labeled a title contender.
However, all the magic from the beginning of the season has vanished, as Orlando has dropped six of their last eight games. Three of these defeats were dealt by a margin of larger than 20 points, including a record-setting 87-56 loss to the mediocre Boston Celtics.
If there is one takeaway from this rough patch, it is the Magic's dire need to start making some changes to the personnel and game plan. So without further ado, here are the four changes Orlando needs to make now.
Begin Slideshow

»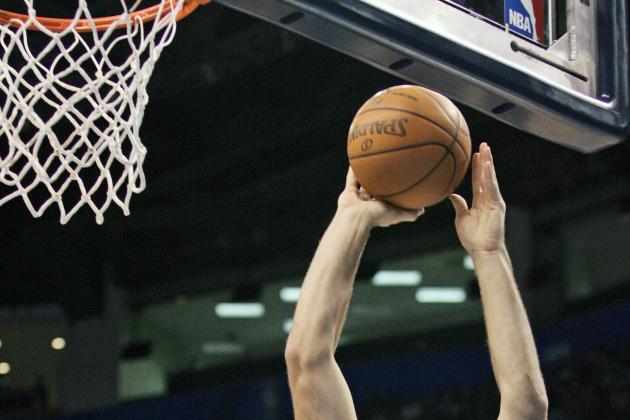 Brett Deering/Getty Images
Ryan Anderson
Despite ranking 11th in rebounds per game, the Orlando Magic only have one player who brings down more than eight boards per game. This player is, of course, Dwight Howard.
Other than Howard, nobody on Orlando's roster has crashed the glass with much effectiveness. After all, Howard is grabbing nearly 35 percent of Orlando's rebounds per game.
The team can't rely solely on Howard to do all the dirty work.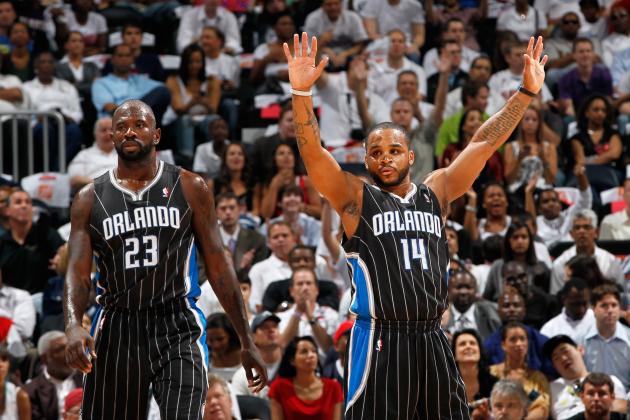 Kevin C. Cox/Getty Images
Jason Richardson and Jameer Nelson
Jameer Nelson, who was once regarded as Orlando's second-best player, has regressed to the point where Orlando may want to consider starting the healthier Chris Duhon. Not only does Nelson look like a shell of his former self, but he is also becoming a liability on the defensive side of the floor.
Between back spasms and a concussion, Nelson is averaging only eight points and five assists per game, which is quite low for his standards.
However, his backcourt mate, Jason Richardson, isn't faring much better in terms of production. The veteran shooting guard out of Michigan State is averaging a measly 10 points per game with an inefficient 41 percent field-goal percentage.
If Orlando wants to make a run at the playoffs, they absolutely need more contributions from these two former stars.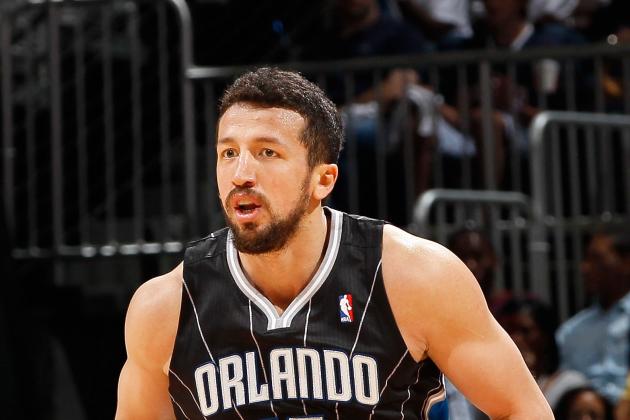 Kevin C. Cox/Getty Images
Hedo Turkoglu
Due to the rapid decline of veteran ball-handlers Jameer Nelson, Hedo Turkoglu, Chris Duhon and Jason Richardson, the Orlando Magic are giving up a shade under 16 turnovers a game.
The sad reality is, however, that the aforementioned four players make up for nearly half of the turnovers committed.
In a league where possessions are invaluable, Magic coach Stan Van Gundy needs to find a way to make these four players less reckless while facilitating the offense.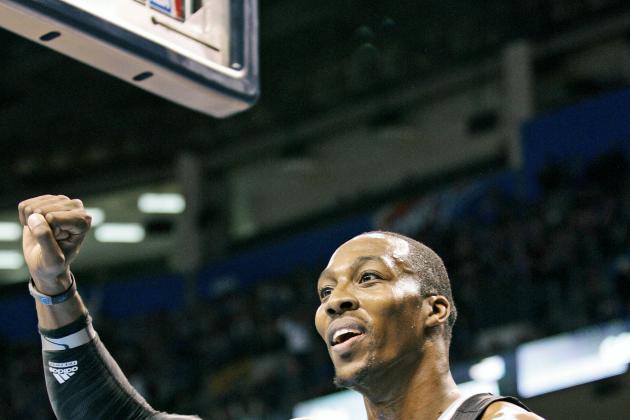 Brett Deering/Getty Images
Dwight Howard
Earlier this week, Magic GM Otis Smith stated to the media that no roster moves were imminent.
"If a string of losses causes you to change your plans, then I'm in the wrong job," Smith said Monday night, before the Magic fell 74-69 to the Philadelphia 76ers.

"I think you look at your team as a whole and understand that we have to fight through whatever we have to fight through and you continue to evaluate everything top to bottom. That's what you do. When it's time to make a change, you make a change."
I disagree with Smith, as complacency is the absolute worst thing Orlando can do in their state of crisis. Orlando is about to lose superstar Dwight Howard, and the Magic need to either bring another star in to convince D12 to stay or ship him out.
Due to Orlando's lack of enticing trading assets, it seems as if it is time to part ways with the All-NBA talent.
After all, Orlando can't afford to pull a "Cleveland" and lose their superstar in free agency.