Devin Hester: Should the Chicago Bears Trade Their Elite Return Man?
February 4, 2012
Justin Edmonds/Getty Images
Drafted in the second round of the 2006 NFL Draft, Devin Hester quickly became one of the league's biggest weapons.
The Bears were going to use Hester, who came out of college as a cornerback, as their return specialist to replace Jerry Azumah and Bobby Wade. Many fans initially criticized the decision to draft Hester because they wanted the Bears to draft offensive prospects high in the draft.
I guess they didn't know that Hester was going to help the Bears' offense exponentially without even playing snaps there.
In his first game in the NFL, Hester returned a punt for a touchdown against the Green Bay Packers. This set the tone for what was a ridiculous season in 2006.
Hester returned a clutch 83-yard punt for a touchdown in a game against the Cardinals, a then-NFL-record-tying 108-yard return on a missed field goal by the New York Giants and two kickoffs for touchdowns in a game against the St. Louis Rams.
He was a big reason the Bears made it all the way to the Super Bowl in 2006, and he even scored a touchdown on the opening kickoff of said Super Bowl. After that, the Colts purposefully kicked away from Hester, and that really limited the Bears' return opportunities throughout the rest of the contest.
After his remarkable 2006 season, Hester has continued to be the league's best return man. Even though he had a drought in 2008 and 2009 of not returning a single touchdown, that was because the Bears were trying to incorporate him into the receiver position and they gave Daniel Manning the kickoff return duties.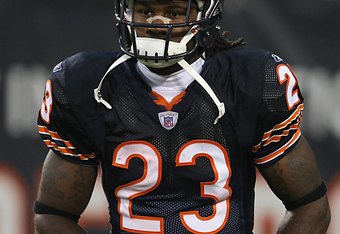 Jonathan Daniel/Getty Images
Even after the 2008 and 2009 seasons, Hester has returned to form the past two years with many more return touchdowns. He is still playing receiver and isn't always on kickoff return duties, but he is definitely still an elite punt returner in the NFL.
After re-reading the title of this article, many people are probably asking why the Bears would trade Hester. Well, that is a good question because it is very unlikely that the Bears actually trade their elite returner this offseason.
However, there are some things to think about when it comes to the discussion of letting go of Hester.
We all know that Hester is definitely the best return man in the league, and he is probably the best all time. Every time he steps back to receive a kick, one of three things usually happens.
Hester will either return the kick, which is always good news for Chicago, watch it go out of bounds or let it be a touchback. All of those things set up the Bears' offense nicely, and it makes Hester's value that much greater, even when he is not actually returning the kicks.  
However, a big reason Hester's impact is so important is because the Bears' offense lacks playmakers. Too many times between now and 2006, the Bears have relied on Hester to get them in either good field position or to net them six points. That's not necessarily the reason to trade; it's just saying that if the Bears had weapons on offense, they wouldn't need to rely on Hester.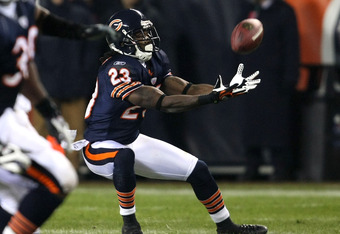 Jonathan Daniel/Getty Images
This lack of offense is a big reason Hester is still playing wide receiver. The Bears have lacked a true number one receiver for a long time, and they were hoping Hester could re-create what he does on punts on offense.
So far, that experiment has been unsuccessful. Hester has shown that he is not a reliable receiver over these past few seasons, and that's why getting an elite receiver this offseason is a top priority for Chicago.
If the Bears got that receiver, it would make their offense so much better. They should be looking to form an offense that's centered around Jay Cutler and Matt Forte, with plenty of options across the field for Cutler to throw to. Hester cannot be one of those targets next season, for the Bears are going to want to get Vincent Jackson, Dwayne Bowe, Michael Floyd, maybe Justin Blackmon if they trade up, or…
DeSean Jackson.
This is where we get to the real reason to trade Devin Hester.
DeSean Jackson is a free agent this offseason after an inconsistent season in Philadelphia last year. He basically held out for a new contract in 2011 by not going over the middle on routes, not being as physical as he usually is, and lacking effort on some plays. Why would the Bears want to bring this guy in?
Well, he still is a great player. He is lightning fast, just like Hester. He has crazy agility and quickness, just like Hester. He also is one of the best punt returners in the league, just like Hester. He is listed as a wide receiver on the depth chart, just like Hester.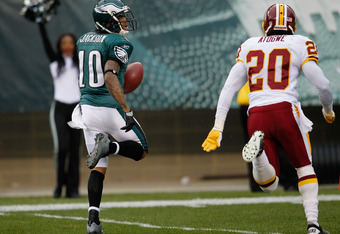 Rob Carr/Getty Images
What is not just like Hester about Jackson? He can actually play wide receiver, unlike Hester.
Jackson would come in to Chicago and instantly become (not including other upgrades at WR the Bears might make) the top target for Jay Cutler. Cutler has the strongest arm in the NFL and loves to throw the deep ball. Jackson is a player that can out-run the defense and provide Chicago with a great big play threat.
He'll simply out-run the defense and beat his man deep on multiple occasions if he comes to the Bears. This is what they thought Hester could do, but it just never materialized. The Bears could even bring in both DeSean Jackson and Vincent Jackson if they wanted to, but a more likely scenario is drafting a wide receiver instead of signing two.
But why would the Bears trade Hester after signing Jackson? They wouldn't have to, obviously, but a big part of Jackson's game is that he is a game-breaking punt returner. If you trade Hester and sign Jackson, Chicago isn't losing their game-changing ability in the return game. You can argue that Hester is better than Jackson in the return game, and you are probably right, but with DeSean Jackson the Bears will still be elite.
So you can trade Hester and not see the loss of the Bears' sick return game, but what else is there to gain? Two things.
First, you obviously get whatever some team is willing to pay for Hester. Hester is in the prime of his career at the age of 29, and he is the best return man in the game. Some teams are going to jump at the opportunity to grab him. But how much are they going to pay?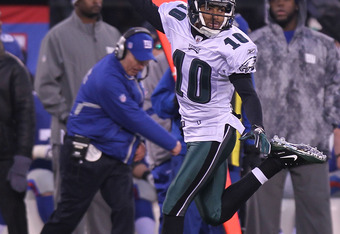 Nick Laham/Getty Images
Obviously, you trade him to the team with the best offer, and that is always hard to predict. There's a chance the Bears can get a second round pick for Hester, but a more likely scenario is seeing him traded for a third-round pick (maybe a third and a sixth rounder).
Or, the Bears could see if they can trade him for a player. They can try to get a quality corner or a good lineman to add some needed depth to their team. Obviously they wouldn't get Darelle Revis for Hester, but they could get a good player that can be a third or a fourth cornerback. This could be useful to the Bears since both Tim Jennings and Zachary Bowman are free agents.
I would rather trade Hester for the draft picks, though, and if the Bears are lucky they can get a second round pick for him.
After receiving some draft picks for Hester, the last thing this scenario would bring to Chicago is an upgrade at receiver.
I hope you realize by now that trading Hester revolves around the Bears wanting to sign DeSean Jackson. If they can do that, then the Bears would be getting the player that they thought Hester could be: an elite punt return man that has the ability to make huge plays for his quarterback as well. Jackson has proven he can do that throughout his career, while Hester has shown he lacks in the receiver department.
The opportunity to add a playmaker to the Bears' offense and have an additional second- or third-round pick in the draft this offseason is a pretty good opportunity.
The Bears would trade Hester for the draft pick, and they wouldn't lose the ability to house every punt because they would sign DeSean Jackson. Jackson would also be the playmaker in the passing game the Bears have been waiting for.
Obviously, Jackson has holes. He dropped a lot of passes last year, and he's not a physical receiver.
However, that's only assuming the Bears have the opportunity to go out and get better receivers. I don't think anyone would actually complain about the Bears signing DeSean Jackson if Vincent Jackson and Dwayne Bowe both got signed elsewhere. And they shouldn't, for DeSean is one of the league's best playmakers.
This article was not written to say that the Bears should trade Hester this offseason for whatever they can get and then roll with it. The point of this piece was to explain a way in which the Bears could really improve this offseason without giving up a whole lot.
What Hester brings to the table in the return game is special, and what he has brought to Chicago so far in his career will never go away. I mean, we're talking about a return specialist that may be voted into the Hall of Fame someday. That is pretty remarkable.
Yet, as great as that all is, the Bears have a lot of goals this offseason, and one of them is to improve the consistency of the offense so that they don't need to rely on Hester. A way to do that was explained in this article, and the point of it was to promote discussion on whether it was a good idea or not.
Maybe people out there have better ideas, different views, or flat-out disagreement of the opinions in this article, and that's okay.
However, trading Devin Hester this offseason when he's at one of highest value levels in his career is something to consider.
As long as they can sign DeSean Jackson, the Bears will only miss what Hester did back in 2006, not what he could have done in 2012.