Georges St-Pierre vs. Nick Diaz: 8 Reasons We Really Want This Fight to Happen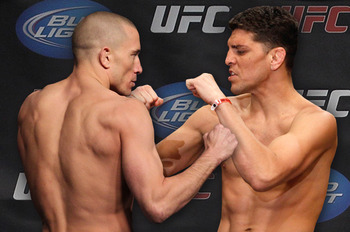 At present, Georges St-Pierre vs. Nick Diaz is akin to Jon Jones vs. Rashad Evans and MMA's equivalent to boxing's Floyd Mayweather vs. Manny Pacquiao, in the sense that anyone even with slightest interest in the aforementioned fighters wants to see it happen.
Diaz, the Stockton native, lit the fuse when he called out St-Pierre following his unanimous decision win over B.J. Penn. "Rush" took the bait and now all that's left to cement this fight is a victory for Diaz against Carlos Condit at UFC 143—that and the health of both combatants leading up to the bout.
That said, let's take a look at the reasons we really want to see a St-Pierre vs. Diaz throwdown.
8. Georges St-Pierre Knee Injury and Cage Rust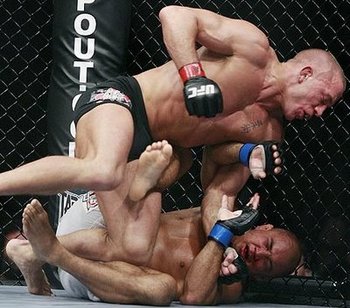 St-Pierre hasn't set foot in the Octagon for nine months and depending on when his anticipated fight with Nick Diaz takes place, it could run on to anything up to 18 months or more.
In the lead-up to his projected title bout with Carlos Condit at UFC 137, St-Pierre suffered a knee injury sustained whilst training, which put the fight on the back burner.
The same thing happened with his proposed matchup against Nick Diaz (he tore an ACL and incurred MCL damage to his right knee), which was supposed to take place at UFC 143, but instead, Diaz will now face Condit for the interim 170-lb crown.
The thing is, how will he fare when he eventually steps into the cage? Will his knee injuries have hampered his movement? Will he be overly cautious to ensure he doesn't have a recurrence of said injuries?
Will cage rust be a factor or not in the outcome of the fight?
Those are questions we want answered.
7. Gauge Where GSP Is At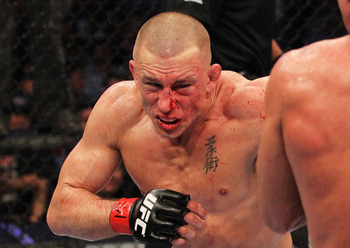 Following his injuries and hiatus from the sport, coupled with the fact that the athletes contesting in the cage are always improving, we'd like to gauge where the No. 2 pound-for-pound king is at.
And even if his injuries and absence have no significant bearing on the end result, we'll still want to know.
Will he show signs of decline or will we witness a new and improved St-Pierre?
6. Is Diaz Overrated?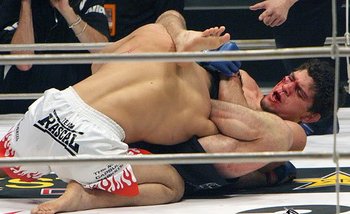 The former Strikeforce welterweight champion has been continuously accused of fighting a bunch of low- to mid-tier fighters throughout his career.
Even his win against the two-division titlist and MMA great B.J. Penn, Diaz did nothing to dissuade the opinions of those who feel he doesn't deserve a title shot against St-Pierre.
That said, we'll want to see whether he can prove his naysayers wrong and justify his status as a purported upper-echelon mixed martial artist.
Conversely, we'd like to see if he really is an overrated bum with a rick of stiffs in his win column.
5. Can Georges St-Pierre Finally Finish a Fight?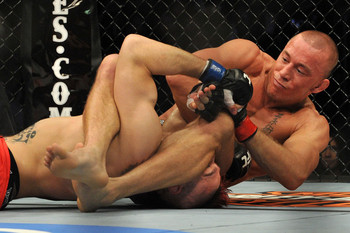 The welterweight linchpin's last stoppage victory was two years ago against B.J. Penn at UFC 94.
Since then, the Canadian has gone on to register unanimous decision wins against Thiago Alves, Dan Hardy, Josh Koscheck and Jake Shields.
Nevertheless, if you want to be the champ, you've got to beat the champ and any methods said titlist employs to retain that crown is his prerogative. However, some of the paying public want to see overly entertaining fights (TKO and/or submissions), which St-Pierre has failed to deliver on four occasions.
Though the most ardent supporters of MMA will acknowledge his skill set and what it actually entails to execute certain game plans, the casual or bloodthirsty contingent want the whole enchilada. Anything else will not suffice.
So the question is, can St-Pierre finally get that monkey off of his back? Or more to the point, can he finish Nick Diaz come fight night?
That's what we want to see.
For St-Pierre, the pressure will be on to accomplish that feat.
4. We Want to See GSP Wreck Diaz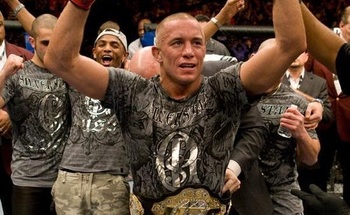 For the St-Pierre (22-2 MMA, 16-2 UFC) partisans, they'd love nothing more than to see their hero put an end to the trash-talking Diaz once and for all.
Along the way, Stockton's finest has garnered a vast amount of haters due to his antics, ranging from foul-mouthed abuse to everything which some deem unseemly coming from a sportsman in a professional capacity.
Long story short—for the pro-St-Pierre posse, only a complete Diaz blitzkrieg will do.
3. We Want to See Diaz Wreck GSP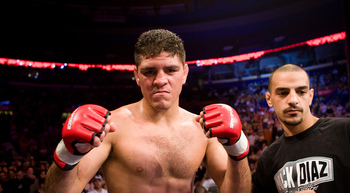 Georges St-Pierre has reigned supreme at the apogee of the welterweight division for nigh on four years. However, with some folks believing his fights have become boring, a change of the guard would breathe fresh air into the weight class.
The Nick Diaz (26-7-1 MMA, 7-4 UFC) advocates, for some reason, have an acute aversion to the 170-lb titlist and want to see him unseated, possibly in a steamroll-esque manner.
2. GSP vs. Diaz Will Probably Be One of the Biggest MMA Fights Ever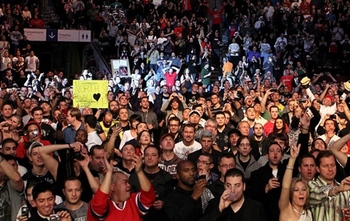 As alluded to in the intro, this fight is one of the most anticipated clashes in professional mixed martial arts.
The normally serene St-Pierre has taken a dislike to Diaz's disrespectful approach towards him, more so following Diaz's victory against B.J. Penn when the former put on some Stockton trash talk.
"Where you at, Georges? Where you at, (expletive)?" he shouted as he paced the cage.

"I don't think Georges is hurt. I think he's scared," said Diaz with St-Pierre sitting cageside. "Where you at, Georges?"
St-Pierre responded by cajoling Dana White into revamping his fight with Carlos Condit so as to accommodate Diaz into his Super Bowl weekend main event card.
White said:
I've known Georges St. Pierre since 2004. He's one of the nicest guys I've ever met, and he's always exactly the same no matter what the situation is, no matter who he's fighting. Since 2004, I've never seen him like he was tonight. Georges St. Pierre flipped out tonight after Nick Diaz was in the ring, and Nick needs motivation, he's got it. He's going to fight Georges St. Pierre. [St. Pierre] said, and I quote -- you're going to think I'm full of sh*t but this is the truth -- I quote, 'He's the most disrespectful human being I've ever met, and I'm going to put the worst beating you've ever seen on him in the UFC.
At the moment, St-Pierre is so fired up for the proposed clash to take place, that he has now resorted to siding with Diaz in his slated matchup with Condit at UFC 143.
"It will be a weird feeling, sitting at the Mandalay Bay wanting Nick Diaz to win," St. Pierre said in a Yahoo! Sports interview. "I want this fight with Diaz so badly."
This could bear all the hallmarks of the greatest fight in MMA history and that's just one of the reasons we're gnawing at bone in anticipation of it.
1. How the Fight Will End?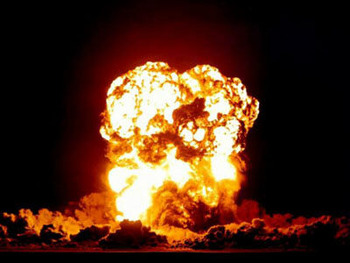 In comparison to the sweet science, MMA is the most unpredictable of sports—favorites end up annihilated whilst underdogs make laughingstocks of those who had previously written them off.
St-Pierre is arguably the greatest all-around exponent of professional mixed martial arts on the face of the planet. However, he was astonished—as were those in attendance and watching at home—when Matt Serra ripped the title from his grasp at UFC 69.
Still, that was almost five years ago, but as mentioned earlier, unpredictability is the name of the sport.
Nonetheless, we want to see whether the fight will be a bore fest à la lay-and-pray from St-Pierre (some see it as technical genius whilst others are in favor of the aforementioned tedium) or a slugged-out war for the ages.
Will the fight end in a draw, TKO or submission? That is just one of the many questions we want answered, as well as one of the reasons we want to see this soon-to-be historic fight happen.
Though, fireworks and atomic decimation is really what we want to see.
For additional information, follow Nedu Obi on Twitter.
Keep Reading