Everton: The Best XI for the Rest of the 2011-12 Season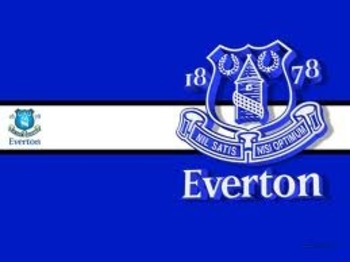 The 2012 January transfer window was not a truly memorable one from a world perspective.
Many of Europe's largest teams did not buy star-caliber players, and no transfer records were broken, as much of the signatures were acquired by Non-Champions League Sides.
Everton though, was one of those sides, and many Everton fans will never forget January 31st, 2012.
In January, Everton surprised all of their fans by signing players all over. First to join was Landon Donovan to the delight of many American soccer fans, hen there was Darron Gibson and on deadline day the signings of Nikica Jelavic and Steven Pienaar made this an overall special month for the Toffees.
The Toffee faithful, too used to not signing anybody, this marked a complete change in Everton's entire structure.
Coupled with the excellent win over Man City and the sale of Diniyar "Arshavin" Bilyaletdinov and Louis "Glasslegs" Saha, many Everton fans will be in good spirits for days to come.
But the reality of the Post-Transfer situation is that Everton have a new dilemma, the dilemma of a top team. That is squad selection.
In this article, I will take a look at some possible ideas for the best Everton squad.
Goalkeeper: Tim Howard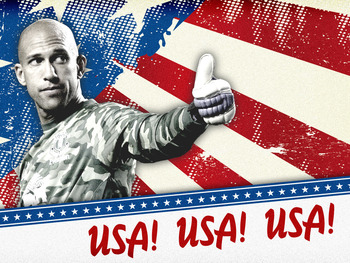 This one is obvious really. Tim Howard has been a wonderful servant to the Club, and in so many situations has saved Everton from crushing defeats.
He has been instrumental in every Everton win throughout the past 4 years, and is truly one of the best keepers in the EPL.
Second String: Jan Mucha
Right Back: Phil Neville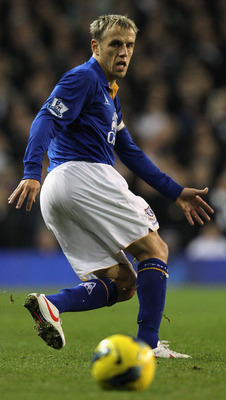 Dean Mouhtaropoulos/Getty Images
Phil Neville is all about one thing: command.
He may seem like a quiet person at first sight but he is not.
Everton's captain, Phil Neville has the drive and spirit and has been extremely reliable. Rarely injured, Neville is a constant force on Everton's side. He can also play at central midfield, and on the other side making him highly versatile as well.
Second String: Tony Hibbert
Centre Back: Phil Jagielka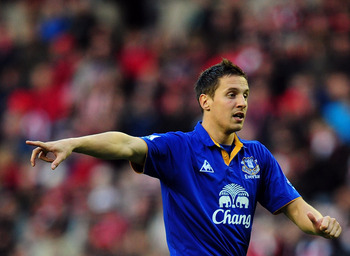 Stu Forster/Getty Images
Since joining the team from Sheffield United in 2007, Phil Jagielka has been a rock for Everton.
He is currently injured, but when he comes back he will surely continue to play well. Jagielka has a reputation as one of the finest one-on-one defenders in England, and he always seems to live up to the expectations that his vice-captain status has given him over the years.
Second String: Shane Duffy, Shkodran Mustafi, John Heitinga
Centre Back: Sylvain Distin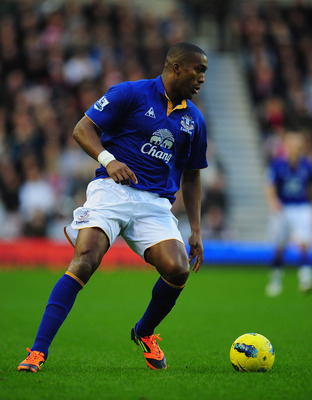 Stu Forster/Getty Images
Although he is currently injured, and deep into his 30's, Sylvain Distin can continue to be a beast for a while after he comes back.
A superb marker and tackler, the sheer sight of Distin drives forwards away from the goal. In many matches against supposedly "stronger" opposition, Distin has marked a forward out of the game.
Although he may retire soon, one more year should do it for the Frenchman, hopefully another year of beastness.
Second String: see previous page
Leighton Baines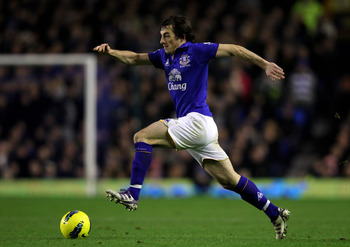 Alex Livesey/Getty Images
Notice how i didn't include "left back" in the slide's title.
That is because Leighton Baines OWNS the position of Everton's left back.
Every game he runs his socks off and is a sound passer, crosser and shooter. Baines is consistently the best player on the field and is an established international.
Just for good measure, he did this:
http://www.youtube.com/watch?v=ahuZeSyw3No
Second String: Phil Neville, Royston Drenthe
Defensive Midfielder: Marouane Fellaini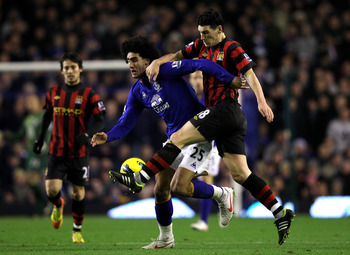 Alex Livesey/Getty Images
Fellaini is a great player.
Still young, the Belgian international has the ability to dominate the midfield, as he did against Manchester City.
He can also score goals and he does often. He can serve as the link between attack and defense time and time again, and he truly is one of Everton's finest assets.
Second String: see next slide
Defensive Midfielder: Rotation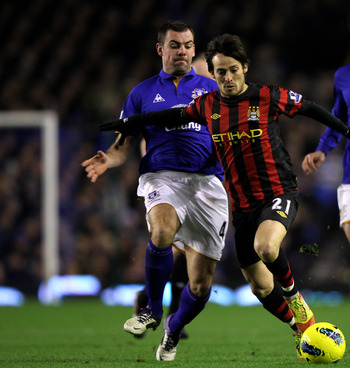 Alex Livesey/Getty Images
Everton have an over-abundance of Defensive Midfielders.
Fellaini, Darron Gibson, Jack Rodwell, Ross Barkley, John Heitinga and Phil Neville can all play there, leaving this spot always strong.
This makes the formation a 4-2-3-1 with much of Everton's strength on the wings being supported by the defensive orientation back here.
Now, Gibson is very much the first choice for good reason, but playing Rodwell and Barkley often can be very helpful in the development of those youngsters. Thus the idea of a rotation is very smart, with Heitinga able to add extra defensive push as a natural central defender.
Rotation should be based on fitness, form, opposition style of play, ect.
Right Winger: Steven Pienaar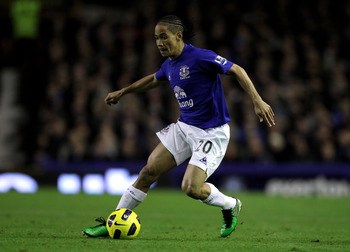 Alex Livesey/Getty Images
Hey everyone! Peanuts is back!
This is excellent as it allows Landon Donovan to be the playmaker, with Pienaar providing strong service to the forwards and using his pace to get past defenders.
Pienaar's return is a massive morale booster for many players and it gives Everton an explosive and pacey attack, something they have lacked for a long time.
Second String: Victor Anichebe, Landon Donovan
Attacking Midfielder: Landon Donovan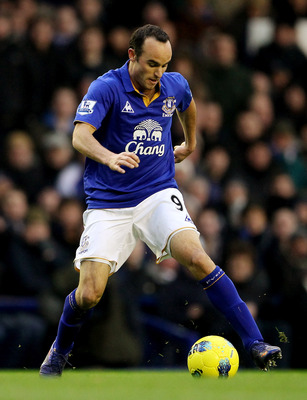 Scott Heavey/Getty Images
As all Everton and American fans know, Landon Donovan is a wonderful player to have.
He is one of the best American players of all time and can change games when he shows up. He can set up plays, and finish them; and while my omission of Tim Cahill might be controversial, Landon Donovan is simply the better player as demonstrated by recent form.
Donovan can also play on the wings and will be able to make many overlapping runs with Pienaar and Drenthe if he ends up playing in the centre.
Second String: Tim Cahill, Ross Barkley, Jose Baxter
Left Winger: Royston Drenthe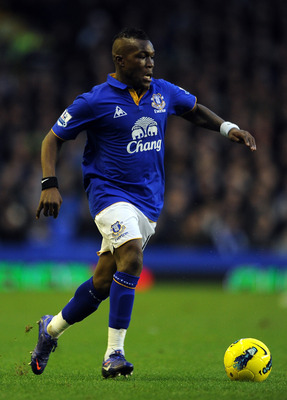 Chris Brunskill/Getty Images
I'm going to start by admitting something.
I had not seen Drenthe play in an Everton shirt until last Friday as i have been very busy this year. But when I did, I saw something incredible.
Every time this man gets the ball, he goes somewhere.
He is the definition of explosive pace, and coupled with Leighton Baines, will make the left side a machine-gun shooting holes in the opposition's defense.
He is our own Gareth Bale, beating defenders and crossing, then beating defenders again. His only problem is the fact that he leaves holes in the defense behind him, but the two defensive midfielders set will be very useful in that situation.
Second String: Magaye Gueye, Landon Donovan, Steven Pienaar
Striker: Nikica Jelavic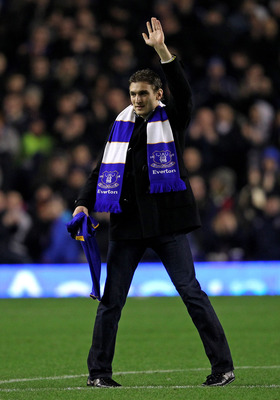 Alex Livesey/Getty Images
"I've always heard of Everton mentioned in Europe but it wasn't till i signed for them tonight i found out there is a smaller other team here in Liverpool that play across the park," quoted of Jelavic, according to sources.
Sources say that Everton's new striker said that last night.
If he did, then he is automatically a legend already, and he is guaranteed a spot in this line-up. But even if he didn't, he is still a wonderful striker, with a fantastic scoring record for Rangers.
The Croatian international was expected to sign for a bigger club than Everton, but he signed for the Toffees and the results should be fantastic.
Second String: Stracqualarsi, Anichebe, Donovan
Your Thoughts?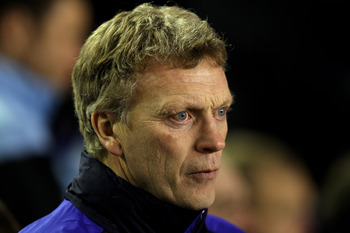 Alex Livesey/Getty Images
What did you think of the players I listed as worthy of David Moyes' teamsheet?
Remember to post your feedback, and thanks for reading.
Keep Reading

Everton: Like this team?