The 10 Most Freakishly Athletic Players in the NBA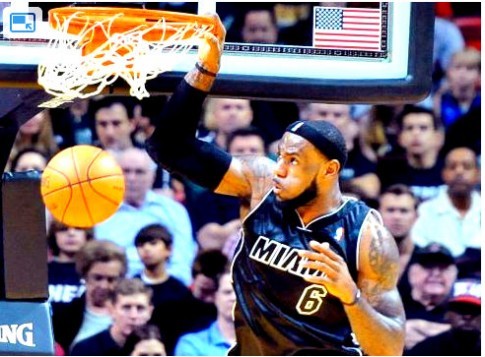 These days, the NBA is filled with some of the most athletic players to ever play in the league.
It's hard to narrow it down to the top ten most athletic players, but these ten guys are simply freaky athletic.
Every time these players step on the court, fans are on the edge of their seats not knowing what's going to come next, but fully aware of what these these guys are capable of (thanks to YouTube and SportsCenter Top 10 plays).
Not only are these ten guys among the most athletic players in the league today, but they also rank very high on the list of most athletic players to ever play the game.
Begin Slideshow

»
Ever since Lebron James came into the league, he has been labeled a physical beast.
Standing at 6'8, he has the size of a power forward, but the speed of a point guard. I wouldn't bet against him in a foot race against any other player in the league.
He's often been labeled the most athletic player in the league, and has made many plays to back up this proclamation.
Just the other day, John Lucas was standing between him and an alley-oop, so he did what any other basketball player would do: He jumped over him.
The Blake Show is one of the greatest shows on television today.
Even before Chris Paul came to the Clippers, Blake was on his way to becoming the next human highlight reel. With the addition of Paul and his precision passing, Blake has become one of the most exciting and punishing finishers to ever play the game.
He plays recklessly at times, and if someone gets in his way on the way to the rim... well, watch what happened to poor Kendrick Perkins just the other day.
If you haven't seen this dunk by now, I'm not sure where you've been.
When Dwyane Wade was sitting out games in January due to minor injuries, I began to hear talk about how Wade is not the same player he used to be. Some say he's over the hill and on the decline, and how his career is beginning to take a dip.
Well, he came back looking healthy, young, and more athletic than ever, finishing with 5 dunks against the Knicks.
Everyone is talking about Blake's dunk on Perkins, but let's not forget what Wade did to him last year.
He may be a seven-footer, but Dwight Howard can still jump out of the gym.
Not only does he have an astonishing physical build, but he has amazing leaping ability.
Some people may argue that Howard is not athletic and that he simply dunks because he's tall. But when one compares his alley-oops with Andrew Bynum's, and sees how high he gets off the ground, I don't think there is any disputing this man's athletic abilities.
Josh Smith is often overlooked and forgotten, playing for an Atlanta team that always seems good enough to make the playoffs, but that can't do anything when they get there.
However, Smith's athleticism is OFF THE CHARTS.
He is an impeccable shot-blocker and a smooth left-handed slasher who will dunk the ball anytime he gets a chance.
Take a look.
One of the shortest players in the league, but also one of the most athletic.
Despite being just 5'9, Robinson competes in (and wins) dunk contests, meets seven-footers at the rim, and posterizes players who get in his way.
Russel Westbrook may have some locker room issues, and he may be out of control sometimes, but boy oh boy is he fun to watch.
Sometimes it feels like he's out there playing on a trampoline.
I'm not sure why people overlook Iguodala as a player and as one of the most athletic players in the league.
Not only are the 76ers playing well and leading their division, but Iguodala is playing some of the best basketball of his own career.
Of course you can see his athleticism when he finishes at the rim, but what he does better than most comes in utilizing his athleticism on defense.
Nevertheless, it's still fun to watch him dunk.
The reigning MVP is one of the league's best finishers at the rim, whether he is throwing it down or triple clutching.
He is a prime example of the new breed of superbly-athletic point guards in the NBA.
He may even be the most athletic one.
Kevin Durant is long and lanky.
He is a 6'11 guard who can shoot over you, drive by you, or dunk on you like you're not even there.
Durant was gifted with a unique build, and he sure knows how to use his body to his advantage.
For those of you who haven't seen some of Durant's dunks from the summer, check out the video.