Auburn Basketball: 5 Changes the Tigers Need to Make Immediately
Chris Chambers/Getty Images
After being embarrassed 64-49 at Tennessee over the weekend, it is time for head coach Tony Barbee to make several changes immediately.
The Tigers currently sit at 12-9 (2-5 SEC), which has Auburn at the bottom of the SEC.
Despite not having a chance at a postseason tournament, there are a few ways Barbee and Co. can salvage the season and give fans something to look forward to next season.
Barbee Must Find a Center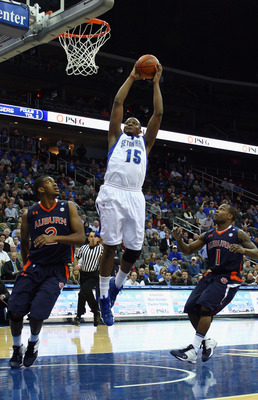 Chris Chambers/Getty Images
There's no denying that center Rob Chubb has improved for the Tigers, but by no stretch of the imagination is he an SEC-caliber center.
Chubb is averaging 7.1 points and 6.6 rebounds per game in conference play. In comparison, Kentucky center Anthony Davis, arguably the nation's top center, averages 10.2 rebounds a game.
The main problem Auburn is facing is there is no one better to put at the position.
Adrian Forbes has gained substantial playing time in conference play, averaging 16.4 minutes a game, but doesn't provide the offense Chubb does.
Saying that, Chubb has actually only scored 11 points in the past three games, after completing a double-double against LSU.
Willy Kouassi, who at the beginning of the year seemed to be Chubb's backup, is a third option, but is rarely seen on the court anymore.
While he has played in four SEC games, he's averaging a minimal 5.5 minutes a game.
Kouassi was praised early in the season for his aggressive play, but was called a "blank canvas" by Barbee, saying he still needed to learn the game.
To develop Kouassi's basketball IQ to go along with his aggressive play, Barbee needs to play him more. This would also keep Chubb out of foul trouble, which has been a theme this season.
Frankie Sullivan Needs More Open Looks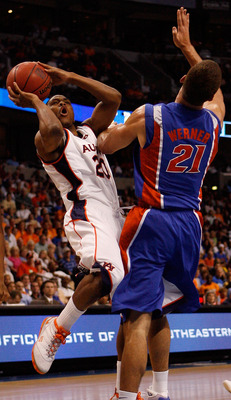 Chris Graythen/Getty Images
Guard Frankie Sullivan has had an inconsistent season.
During the Diamond Head Classic, he put on a shooting clinic. However, his shooting declined to the level in which he wasn't a starter in Auburn's first three SEC games.
Saying that, Sullivan's great shooting is back.
However, the Tigers are living and dying with how well Sullivan plays.
In last week's losses, Sullivan scored 10 points against Arkansas and five points against Tennessee. The problem wasn't his shooting, though.
Sullivan's looks have not been as nice since teams realized he was the main scoring threat. That's where his teammates need to come in and help.
Barbee needs to acquire plays that will give Sullivan a clean feed and an open shot.
If Sullivan continues to shoot the way he has been and the plays are ran enough, Sullivan has a good chance to score 20-plus each game.
Other Tigers Must Shoot Better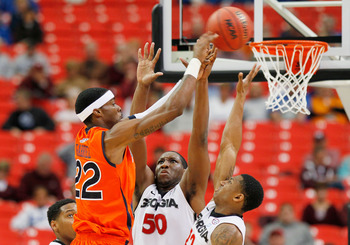 Kevin C. Cox/Getty Images
Again, Auburn has lived and died with guard Frankie Sullivan's shooting.
Statistics of wins and losses show that when Sullivan is on, Auburn is on. And vice versa.
That is one of the biggest things that needs to change. Auburn is far too talented to be essentially one-dimensional on offense.
Forward Kenny Gabriel has led the Tigers in scoring and rebounds the last two games and is the guy that can turn Auburn's lack of offense around quickest.
Gabriel is second on the team in scoring—in both non-conference and conference play—and also leads the team in rebounds.
Guard Chris Denson is another player that has the abilities on offense to give the Tigers big numbers.
Denson, who shots 37 percent from the field in conference play, was also the player that took Sullivan's starting spot. He also shots 40 percent beyond the arc.
Lastly, center Rob Chubb has the same abilities as the other two. Chubb has the potential of averaging 14 points and 10 boards a game.
When Chubb is on, he's on. But, like Sullivan, he's found his way to become Mr. Inconsistency.
Auburn Must Get Healthy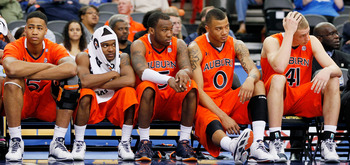 Kevin C. Cox/Getty Images
Injuries are ultimately out of a team and coach's hands, but they certainly affect a team as much as anything else.
Starting guards Varez Ward and Josh Langford both were injured against Arkansas last week, and it's only hurt Auburn since.
Ward took a knee to his quadriceps within the first minute of the game. After collapsing to the floor, he remained out the rest of the game.
Langford's later left the game after hitting his head on the floor. Head coach Tony Barbee, however, addressed the matter honestly in the postgame press conference.
"He got tripped and he got fouled and there wasn't a call made and then he hit his head," Barbee said. "That's what happened."
Ward was able to play 28 minutes over the weekend against Tennessee. He scored 12 points and had five rebounds off the bench.
Langford did not compete Saturday and was listed out with concession-like symptoms. It's also predicted he will miss the Georgia game tonight.
Langford's absence was seen at the beginning of the season when he was suspended indefinitely. Since returning to the team, he became a starter and nightly contributor to the team.
Ward, who wasn't back to 100 percent after an injury two seasons ago, now has more concerns about getting back to full health.
With Auburn not being a team with much depth, Ward and Langford, along with forward Noel Johnson, are players the Tigers can't have sidelined through injury.
Auburn Must Play with More Heart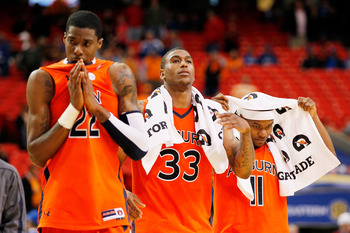 Kevin C. Cox/Getty Images
Head coach Tony Barbee made it known early in the season there was one thing Auburn lacked this season: heart.
While still in the non-conference part of the season, Barbee pointed out that this year's team was better than last year, but last season's team would play better than they were.
Seven games into SEC play, that continues to still be true.
After nearly upsetting Kentucky, it appeared Auburn had figured out the way to play well. In fact, the Tigers beat Ole Miss in double-overtime three days later.
That collapsed four days later when Auburn had a meltdown during overtime in Baton Rouge, only scoring two points in the five-minute period.
However, Auburn came back to win at home the following Saturday over South Carolina. Things were good again.
But almost like it was scripted, the Tigers fell to Arkansas last week by three and then were embarrassed by Tennessee Saturday.
Simply put, Auburn can't finish. It's inexcusable.
After the Tennessee loss, Chubb put things short and sweet:
"People just started giving up. You could see it in their eyes. There was no one fighting...which I just can't frickin' stand," Chubb said. "It'll definitely get better. It's just not our day today."
That's the biggest change Auburn needs to make. It's square one in rebuilding the season and program.
Keep Reading