Super Bowl 2012: Matt Light's Return to Practice a Terrific Omen for Patriots
February 1, 2012

Scott Halleran/Getty Images
The most important aspect of this Sunday's Super Bowl is the protection of QB Tom Brady.
The biggest knock on Brady over the years has been his tendency to get rattled when hit and flushed from the pocket with consistency. He simply doesn't hold the ability to tuck the ball and run the way John Elway or Steve Young could.
Protecting him is priority No. 1—that's why it's so important that star left tackle Matt Light is finally back on the practice field. He missed Monday's practice and Tuesday's media day with an illness but laced  up his shoes earlier today.
Light's task will be to block Giants stud defensive end Osi Umenyiora, who is all too familiar with the bearded and sarcastic Light.
Earlier in the week, Umenyiora told reporters he was excited to "rekindle" their rivalry that began in the 2008 Super Bowl. Light's not sure exactly what he's talking about:
I thought rivalries were maybe between teams in general. Hey, look, I'm ready to go out there and play whatever game I've got to play, we'll have fun doing it. I'm not sure that comes with a personal level, though.
In their Week 9 regular season matchup, the two players were shoving each other and Umenyiora admitted Light was the only person he has ever fought on the field:
It's something he's doing that really gets under my skin.
That's the biggest compliment Light could ever receive. Getting into the head of an opponent is a key aspect of the gamesmanship that goes on in the trenches. Light is an 11-year veteran that has spent his entire career in New England for a reason.
Light plays the mind games, even if he plays dumb with the media and pretends to be oblivious.
The Giants' pass rush is what hides their 29th ranked pass defense. Getting heavy pressure on Brady was the key in the 2008 Super Bowl, and nothing has changed in 2012.
With Light over his illness and as close to 100 percent as one could be this time of year, the Pats' line is going to be ready to roll.
Will they be able to keep Brady's uniform clean?
The odds certainly increase with Light.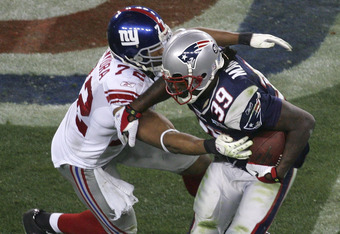 Jim McIsaac/Getty Images