2012 NFL Mock Draft: Houston Texans' Full 7-Round Post-Senior Bowl Prediction
February 2, 2012

Jeff Zelevansky/Getty Images
With the 2012 Senior Bowl events in the books, things have already started to clear up on some of the biggest NFL prospects out there. It's only a small number of participants that actually show up to Senior Bowl week, but the changes to my mock draft from just over a week ago for the Texans is quite different based off of it.
With the NFL Combine still about three weeks away, there are still many changes to come, but the first round is becoming more and more clear. Many in the Texans camp are in agreement that the team must address the receiving corps and that's a good thing, because this is a deep draft at the position. A lot of teams don't like to take a receiver in the first round and that, along with the fact that I believe Houston is going to be taking best player available in the first, doesn't make it a slam dunk that this is the way they go with their first-round selection.
With that said, here is my unlikely situation of being at the head of the war room on draft weekend. I say unlikely because the Texans never seem to go the way we're all thinking on draft day. So if I hit on even one of these seven selections, it'll be by sheer dumb luck. But, mock drafting is never a science and it's pretty dang fun. So let's get going on my post-Senior Bowl mock draft.
Round 1: Dontari Poe, NT, Memphis
Like I mentioned in my post earlier this week, I've let myself fall into that trap again of thinking that this will be the year the team finally addresses the need for a fat, space-eating nose tackle to anchor the middle of the defense for the next six to eight years. In Poe, they would get that plus a whole lot more.
If the Steelers surprisingly pass on him to rebuild their shoddy offensive line, Poe should be available when the Texans go on the clock and they would be foolish to not select him. At a monstrous 350 pounds, Poe is every Texans fan's dream of a nose tackle. He is the definition of a space-eater and he always commands multiple blockers to contain him. This is a guy that, if paired up with J.J. Watt and Antonio Smith, could do some serious damage to the opposition. Forget running the ball, you're going to have to air it out to have a chance.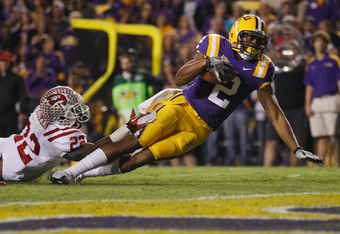 Chris Graythen/Getty Images
Previous pick: Dwight Jones, WR, North Carolina
Round 2: Rueben Randle, WR, LSU
I went with a wide receiver in the first round in most of these mocks so far, but I still believe with the team going best player available, they decide to take Poe over Mohamed Sanu in the first and are pleasantly surprised when LSU standout Rueben Randle falls to them at pick 58 in the second.
It's not Randle's fault that his numbers don't jump off the page at you, it's the poor quarterback play that the Tigers constructed last season. When he was thrown the ball, he produced. At 6'4" and 210 pounds, he fits what the Texans are looking for in a legitimate #2 wide receiver.
Previous pick: Josh Chapman, NT, Alabama
Round 3: Ricky Wagner, OT, Wisconsin
A lot of people accuse the Texans of using Alabama and Wisconsin as their "minor league" system, but the fact is that those two schools are simply NFL factories in regards to the talent they reel off each and every season.
In Wagner, not only would they add another Badger, but they get a guy who is insurance for Eric Winston and maybe even a possible future replacement. Unlike Winston, he excels at both run blocking and protecting the quarterback. 
Previous pick: Ryan Broyles, WR, Oklahoma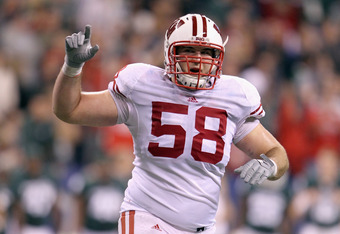 Andy Lyons/Getty Images
Round 4: Brian Quick, WR, Appalachian State
Like I mentioned in the opening, I believe that Houston does realize that it needs to upgrade its group of wide receivers and I don't see them leaving draft weekend without two new ones. Instead of opting for a smaller slot guy, they go with Brian Quick, who has more than just a clever name.
At 6'4 and 220 pounds, he looks like the red zone target that Matt Schaub has been dreaming of for years. He has incredible leaping ability and is just a playmaker. He doesn't have elite speed and that is what drops him to the fourth round.
Previous pick: Bobby Massie, OT, Ole Miss
Round 5: Carmen Messina, ILB, New Mexico
My only pick that remains the same from the previous mock, this is another one of those selections that probably have people counting the Texans' linebackers and saying that they don't get why I would make this pick. Well, it's quite simple really. In the 3-4 scheme that Wade Phillips runs, you can never have enough linebackers. Remember that this is a draft about depth and a lot of these selections are going to seem like luxury picks. It's what good teams do in these situations.
As for Messina, the guy is simply a flat out tackling machine. With 142 tackles, including 12.5 for a loss, he was one of the most productive at his position in the nation this past season. He's no flash in the pan either, as it was his third consecutive year to be at the top or near the top of that category in all of college football. He has a nose for the ball and amazing instincts. To scoop him up in the fifth round would be a coup.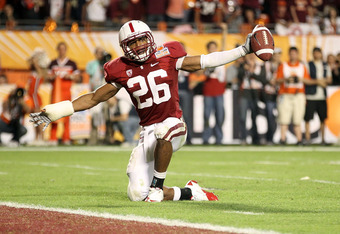 Streeter Lecka/Getty Images
Previous pick: Carmen Messina, ILB, New Mexico
Round 6: Delano Howell, SS, Stanford
Another pick for depth, but this one also includes some security. Glover Quin is a free agent after the end of the 2012 regular season and while he isn't going to take much to retain, Houston is going to have to start making some tough decisions with their cap situation and a bunch of guys in need of new deals.
Howell has the tools to step in after a year of learning behind Manning and Quin and take on the role full time. He isn't quite a ball hawk, but neither is Quin. He is a solid tackler and can make a play on the ball as his five interceptions a year ago indicated. He was projected as a second rounder before his average season this year dropped his stock. Potential gem.
Previous pick: Jonathan Massaquoi, DE, Troy
Round 7: Kellen Moore, QB, Boise State
I realize that whenever I take a quarterback in these mock drafts that most of the readers can't grasp the concept, but you have to realize the whole value pick rationale of the later rounds in the draft. Matt Leinart is highly unlikely to be back next season after the emergence of T.J. Yates, who is undoubtedly the number two quarterback in town going into 2012. Therefore, at this point in the draft, Gary Kubiak is going to be all over getting another project in the late rounds to be third string.
With his poor showing at the senior bowl, Moore really lowered his draft stock when his size and ability to throw the deep ball were concerning. Sounds exactly like the type of guy Gary would want to work on. The guy is a winner and a hard worker and at this point in the draft, I don't think Houston could or will pass on him.
Previous pick: Tauren Poole, RB, Tennessee
I realize it may not be as flashy as many were hoping for, but I can't remember the last time I left draft weekend with the feeling that the Texans had a "sexy" draft. For a team drafting for depth and best player available, this is the type of draft I'm expecting. But, much like the weather in Houston, if you don't like it just wait a minute and I'm sure it'll change.
Mike Kerns is a Featured Columnist for the Houston Texans at Bleacher Report. Feel free to follow him on Twitter and catch his latest Texans podcast on iTunes.