Where Does Dani Alves' Blast Rank Amongst Prettiest El Clasico Goals?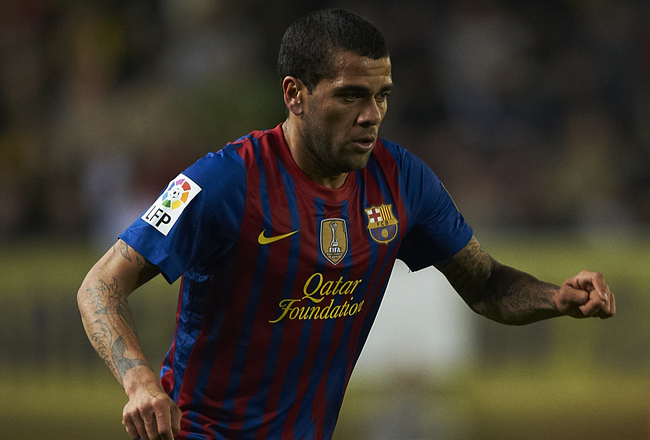 Manuel Queimadelos Alonso/Getty Images
El Clasico. That's the big game in the La Liga BBVA every year. Yes, I love the Manchester City Vs. Manchester United derby—but when it comes to the mother of all derbies, the Spanish one draws just as much attention, if not twice as much as the English one.
With the Copa Del Rey coming to a close this year, we saw Barcelona vanquish Real Madrid—yet again.
Stats reveal that Mourinho's arrival has done nothing much, just yet, when it comes to halting the progress of the Barca juggernaut that runs on unabated. And Dani's "scorcher" in the last meeting of these two Spanish giants made me take a walk down memory lane in asking the question—any prettier goals than Dani's?
So, here are a list of goals in the El Clasico in recent years that have really turned people's heads over the last few decades...
And why not? It's a rivalry that will never die.
No 10: Luis Figo

Luis Figo for Barca before he signed on with Real Madrid

This goal was a tough one! The angle's really sharp. The Cules literally adored him until he did the unthinkable. Yes, he switched over to play with Real Madrid at a time when Barca needed him most!
No 9: Cristiano Ronaldo

The Ronaldo goal when it really mattered!

Many goals have been scored in this fashion. Try Raul who had a reputation for bringing Barcelona down almost every time he played. While this was a super header, the reason why it's in this list is because of the sheer importance of this goal.
Real Madrid were Copa Del Rey winners in 2011, thanks to this "tight" goal from Cristiano Ronaldo.
No 8: Carles Puyol

Puyol does this again in 2012

This is not the first time that Carles Puyol has come out of nowhere and headed the ball into the net.He did it in El Clasico in 2009.
An unsung hero—but a great goal all the same!
No 7: Zinedine Zidane

Zidane is a phenomenon, seriously!

Zidane, with a host of stars, dominated Spanish football before the resurgence of Barca, thanks to Laporta. But before that, Real Madrid had the stuff and this goal is evidence of it!
What a header!
No 6: David Villa

Villa just makes it look so easy

When Villa was transferred from Valencia, very few thought he would do anything of consequence at Barcelona. And he's really cemented a place in this invincible Barca side—with goals like this when it mattered most.
No 5: Dani Alves

Dani's [insert adjective here] goal

What a goal! With Sanchez and Alves being my favorite players with this current Barca side, nothing makes me happier. This man has the ability to come up with goals like this time and time again! Goosebumps, seriously.
No 4: Diego Maradona

Maradona Vs. Messi - This one's difficult, honestly!

For all practical purposes, this one's a "pretty goal" during the short period when Maradona was with Barcelona for a world record signing of about 5 million pounds. Don't we all love to compare Maradona and Messi?
This one should tell you why Messi is considered the next Maradona—the insulting part is how he evaded the defender at the end. That makes you go, "ouch!"
No 3: Roberto Carlos

Roberto Carlos is the man!

Also known for that impossible goal from another freekick against France, Carlos scored this whopper of a goal from quite a distance against Barca. He is the king of free kicks.
No 2: Ronaldinho

Ronaldinho is "numero uno", indeed

Say what you want about the current Barca side, but there was a time when the team under Frank Rijkaard gave us Barca fans so much to cheer about. This match was at the Santiago Bernabeu, and with Ronaldinho's two goals, the Madridistas did something no one would have expected.
They gave him a standing ovation.
No 1: Lionel Messi

Messi's goal which sealed the deal!

The less said the better! This goal was during last year's UEFA semifinals against Real Madrid. Sheer genius.
Keep Reading

FC Barcelona: Like this team?